Event Highlights
Opportunity to identify, forage and process life saving plants
Connect energetically to plant allies
Awareness training/practice
Waterfall swimming
Forest bathing
Fire circle
Star gazing
Three seasonal, local plant-based meals/day
Lodging or camping on the Tourmaline Center property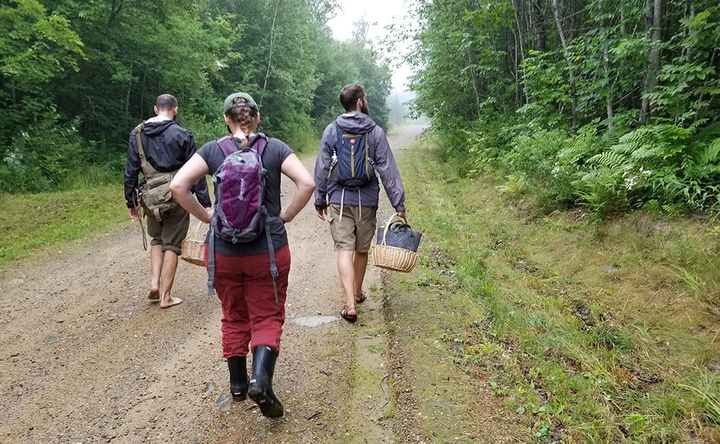 Schedule
6 am - Personal practice/meditation
7 am - Breakfast
8 am - On site instruction about plant identification, shamanic journey, awareness training, making allies with plants, primitive skills etc.
11 am - free time or leave for excursion
12 - lunch (on site or picnic)
1 pm - Off site excursion that integrates the day's (contact info blocked) bathing, hiking, waterfall swimming
5 pm - free time + fire building
6 pm - dinner
7 pm - fire ceremony (some days)
8 pm - free time + star gazing around the fire
About This Event
Escape the overwhelm of everyday life and rediscover a deep foundational connection to mother earth and her flora.
This retreat will deeply connect you with the earth + elements. We will spend the week learning to forage responsibly for wild medicinal herbs, connect with plant spirits + energies, make healing remedies, attain greater awareness + connection to our surroundings, make friction fire, learn the basics of tracking in the woods, and more. Colin Richardson from the Maine Primitive Skills School teams up with Tourmaline Center founder, Enya to submerge you in the healing energies of the Maine woods. Last season we made sumac lemonade, harvested balsam fir sap, ate wild mushrooms, watched a meteor shower and swam in glistening waterfalls…in excess of what we learned!
This year at Tourmaline Center we are exploring our relationship with the land and how we can work with the land to heal ourselves and build a more intimate relationship with our environment. We will be foraging in the forest, practicing awareness (forest bathing!), harvesting from Enya's organic garden, cooking amazing seasonal, local, plant based foods, swimming in waterfalls, practicing yoga, hiking mountains and preparing healing herbal concoctions. Each retreat is designed to heal, instruct and integrate daily through experiences in nature. All retreats take place at our humble off-grid center and conventional production kitchen in the western mountains of Maine.
Our retreats are one of a kind and may not happen ever (contact info blocked)'s your chance to experience the amazingness!!!
"Thank you for your generosity- and for creating such a sacred, magical space to explore, rejuvenate & heal within. The retreat was pure (contact info blocked) hard to convey the depth of awesomeness that unfolded...People NEED this!!" — -JULIE, PLANT MEDICINES OF MAINE RETREAT GUEST
Venue Highlights
Tourmaline Center is located in the western mountains of Maine. We are a four hour drive from Boston. The center is rustic and off grid providing a venue that is well integrated with the natural environment. We are 20 minutes from the Appalachian Trail, near multiple mountain day hikes, less than an hour from many waterfalls + swimming holes, and far from city lights for awesome stargazing.
Accommodations
Tourmaline Center is a rustic, off grid cottage. There is one sleeping loft (must be able/willing to climb a ladder), two tiny sleeping huts with platform beds and bed rolls, one large tent with three cots (shared), and one medium tent with two cots (shared). Guests are welcome to bring their own camping gear as long as they make prior arrangements so we can prepare a tent location.
The center has two composting toilets and no running water. We have a few solar shower bladders available for guests to use. There is no electricity at the center save a few solar lights and a solar charging station.
Airbnb has many vacation rentals in the area. Mt. Blue State Park is nearby and has camping with full facilities. Kawanhee Inn has luxury lodging for those who want to sleep in comfort. No discounts will be made for choosing to sleep at another location as staying on the Tourmaline Center property is free of charge.
Amenities
Free Parking
Kitchen
Coffee/Tea
Menu Types
Vegan
Vegetarian
Organic
Gluten Free
Dairy Free
Menu/Cuisine
Meals at the center are plant based with a focus on local and seasonal foods. We can accommodate a wide range of dietary restrictions with notification of dietary needs.
Breakfast for all guests includes homemade muesli with dried fruits + nuts, alternative milks, fresh fruit, and fresh eggs. Breakfast on the last day will be specialty pancakes with local maple syrup and fresh fruit. Coffee, teas, chaga kombucha and other healthy elixirs.
Lunch for all guests includes a selection of salads - one grain, one legume/bean and one vegetable salad will be offered.
Dinners will be dictated by what is seasonally available. For years Enya has been hosting garden dinner parties where guests arrive, harvest vegetables from the garden and then each prepare a dish from the harvested foods. Dinner will be akin to this with optional participation from guests. Dinner will be provided for all regardless of their participation in the preparation of the meal. Some of our favorite dishes are grilled ratatouille, handmade flat breads, chilled soups, lemon + borage zucchini, roasted pepper + purslane tamales, stuffed zucchini flowers, sauteed beans with toasted (contact info blocked) love to cook straight from the garden!
Directions
It is best to drive to Tourmaline Center. A few guests can be accommodated for transfers from Portland or Augusta, Maine. We are located on Rt.142 between Weld and Phillips.
Reviews To review this event, visit the page for the venue or retreat leaders (above).
Similar Retreats You Might Like
Jul 10 - 15, 2020 (6 days)

Jul 31 - Aug 3, 2020 (4 days)

Thank you!
We're glad you've joined our retreat community. See you around :)
Return to my event
×