200 Hour YTT - Traditional Tantric Kundalini, Chakras, Meditations Yoga Training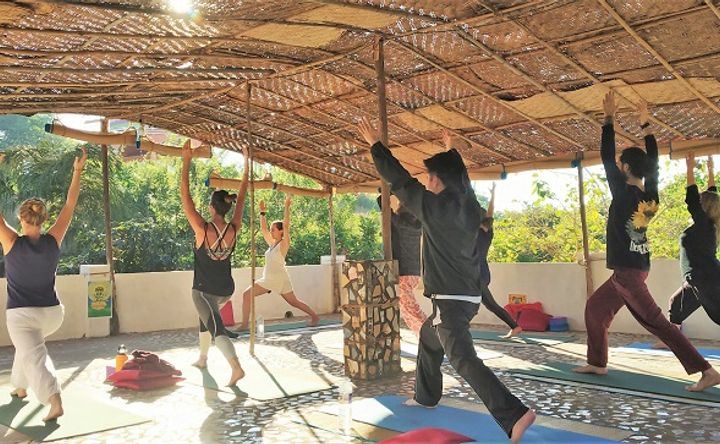 Event Highlights
Practical spirituality for daily life in bliss
Practical understanding of the essence of Tantra and Indian Mysticism
Understand through right knowledge and practical philosophy to go beyond self centeredness and sufferings
Learn to sustain freely in this chaotic world
Awaken of the Intelligence and true freedom in the Light of Traditional Tantra Yoga
Rewire our brain
Create Abundance
Become your own guru/master then share with others
Schedule
7:30 – 8:30 Awakening of Prana (Tantric breath)
8:30 – 10:00 Tantra Yoga Asana Practice (Chakras / Kundalini) & a blend of Tantric Meditation
10:00 – 11:15 Breakfast
11:15 – 12:15 Energetic Anatomy of Chakras / Philosophy on Tantra Yoga
12:15 – 13:15 Practical Philosophy of Shiva, Self Inquiry, Questions / Art of Teaching & Energetic Alignments
13:15 -15:30 Lunch, Self Study/Care
15:30 – 17:00 Tantra Yoga Asana Practice (Chakras / Kundalini)
17:00 – 18:00 Tantric Meditation
About This Event
Traditional Tantra Yoga Of Sounds, Vibrations, Kundalini, Chakras, Mantras, Light, Prana, Elements, Soma, Recognition And Meditations. For Awakening Of The Intelligence
Mukta Tantra Yoga for all those who are looking for practical spirituality and who are ready to manifest and liberate their true blissful selves. For those who are ready to see in the light of their own intelligence not following blindly any pattern, system of philosophy or Guru. If you count yourself to those, a Teacher Training Course with Mukta is exactly what you are looking for. It is inspired by Traditional Tantra Yoga and Kashmir Shaivism (also called Himalayan Tantra, Agama, Trika, etc.) from his Father and various other enlightened Mystics.
Mukta Tantra Yoga is not Hatha Yoga or Kamasutra/Neo-Tantra/Spiritualised Sex or Western Kundalini Yoga or black-red-white Tantra. It has evolved very differently in non-dualistic environment and passed through generation to generation in a traditional way and not to be found in books. Sure we can find many philosophical books but not practical approach.
Mukta Tantra Yoga is a Traditional Tantra Yoga of Sounds, Vibrations, Kundalini, Chakras, Mantras, Light, Prana, Elements, Soma, Recognition and Meditation, rightly and systematically using Tantric Asanas, Mantras, Bandhas, Prana, Visualization, Meditations, Tantric Breath to remain aware and present in the moment and reflect our true nature without the interference of ones own conditioned mind. We are using our body, mind & senses to express our true freedom (also called Pure Consciousness by Shiva), which is already inherited in the present moment.
Mukta Tantra Yoga supports self-awareness born out of direct observation. Awareness makes us present to face daily life as it comes and responding with the fresh intelligence of the moment.
Why You ShouldDo A 200-Hour Tantric Kundalini and Chakra Yoga Teacher Training Course With Mukta?
*Become your Own Teacher first: if you are a good learner or not just looking for certification but putting your passionate efforts to understand and experience yourself in the light of Tantra Yoga, only then you can begin your teaching journey. This course is not to get lost in philosophies but to get an understanding of practical Asiatic and Indian Mysticism, and the psychology of non-dual way of living your day-to-day life in bliss. Then only you can become an integrated Mukta Tantra Yoga Teacher and teach various groups spiritually and worldly.*Mukta Tantra Yoga is not a commodity one can buy, it is rather a direct perception one can perceive only with humbleness and an open heart. Mukta's wisdom is born out of an unconditioned mind of Asia. His passion is to share his practical understanding of the essence of Tantra and Indian Mysticism to live daily lives in the moment. After learning from him you will find yourself and the world around you with a direct perspective beyond all moralities and beliefs.*Kundalini and Chakra Yoga helps to vitalize the Brain/Neuroplasticity through self-awareness and rewire the brain according to the essential nature of the individual, and activate the Soma (Natural DMT, Eternal Bliss state/Joy)*Tantra Yoga is there to use it, not to be used by it. Understanding of oneself helps to let go the self*Study in depth the Science and Energetic Anatomy of Traditional Tantric Chakras and Kundalini and their implications in daily living*Learn and experience the Science of Tantric Mantras, Elements, Yantras, Light and Tantric Breath (Prana)*Experience Tantric meditations from Shiva beyond body, mind and self*Experience Ancient Tantric Breath from Shiva, highly important to experience no-thinking or no-mind*Learn Energetic Alignments to express your essence through your body, mind and soul/feeling*Get a spiritual understanding of the Bandhas, Mudras, 7 Bodies, 5 Pranas, 36 Elements, Divine Goddesses (Shakti/Energy) and their importance in relation to Chakras Yoga and Kundalini Yoga in tantric asanas and on all other levels*Get the essence of the heart of Shiva's teachings (the first God of India) and direct understanding through right knowledge what is mind, feelings, relationships, sufferings to have a clear perception to respond effectively in the moment, beyond all conditioned perspective. False knowledge becomes the cause of all sufferings and without right understanding, there is no true freedom. Only a mind which is free can live in freedom*Understand that life is not goal-oriented emotionally it is rather experiencing the true bliss of life here and now beyond all sufferings*Understand that following blindly any system or anybody which are based on greed and hope in the future leads to all sorts of illusions and eventually breeds psychosomatic problems and leads to slavery. Right doubting and inquiring is the essence of Mukta Tantra Yoga*Learn how to be an integrated self who has true practical understanding through direct observation and self-inquiry*Learn for yourself how to live and sustain freely in this chaotic and competitive world and to express your freedom biologically, emotionally and mentally*Our ritual is living choicelessly aware in all the mundane activities of life*Come to beautiful Rishikesh to taste your true self!
"Great school if you want to learn to apply 'spirituality' to day to day living. A course to end all courses and let the seeker rest." - Jessie
What's Included
19 days of teaching
24 nights accommodation
3 meals per day from Monday to Friday
What's Not Included
Travel cost
Insurance
Venue Highlights
Our naturally built yoga hall is located on the rooftop of Tapovan Homestay, nested in nature with amazing view of the lush forest, fields and mountains all around. We are only few minutes' walk to small market streets and the main market.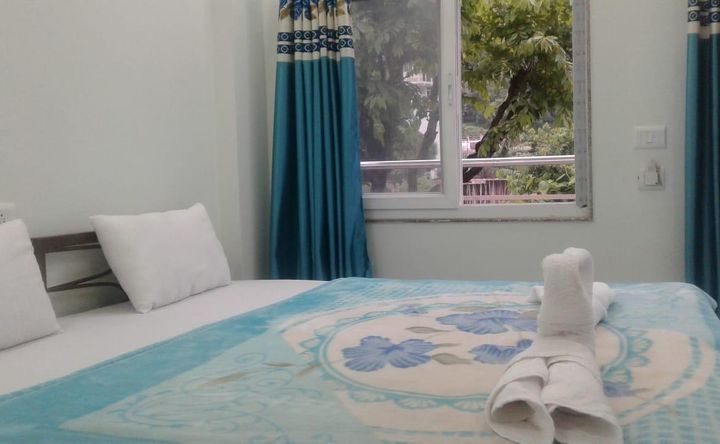 Accommodations
You will be accommodated in a private room with private bathroom, either in a room onsite or just around the home stay depending on the availability at the time of booking. Either way, we always do our best to provide the same standard of room and ensure cleanliness at all time. Package with accommodation includes 24 nights. Check in one day prior to starting course date (31st July at 12 noon).
Menu/Cuisine
Onsite, we prepare for our students 3 vegetarian healthy yogic meals per day. Western style breakfast and Traditional Indian food for lunch and dinner. We serve food from Monday to Saturday included.
Directions
Rishikesh is less than an hour by domestic flight from New Delhi International airport with few flights per day. Rishikesh nearest airport is Jollygrant at Dehradun town which is 21 kms away. A prepaid taxi booth is at the arrival where you can book a taxi for a fixed price.
You can also access via train or bus from New Delhi and others main cities
Reviews To review this event, visit the page for the venue or retreat leaders (above).
Similar Retreats You Might Like

Thank you!
We're glad you've joined our retreat community. See you around :)
Return to my event
×