200 Hour Yoga and Meditation Teacher Training - July 2019 Dharamshala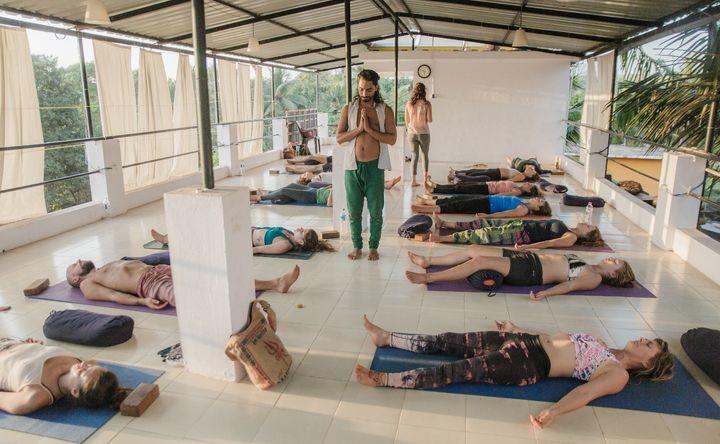 Event Highlights
We offer small class sizes so that each student can receive the individual attention they need in order to grow and thrive during this intense period
We offer a multi-style program so you will be qualified to teach traditional Hatha, Ashtanga/Vinyasa Flow and Yin Yoga classes
Daily practice of meditation, pranayama, and asana
Study of the asanas and their musculoskeletal alignment
Verbal and hands-on adjustments and their benefits and contraindications
Scientific background of hands-on adjustments
Study of the Vedic and Upanishadic mantras
Chanting and meditation studies, movement meditations, heart meditations, and buddhist meditations.
An understanding of different chakras and how to address and treat them
Practices like breath awareness, basic pranayamas, kriyas (cleansing techniques), and mantras will be presented and practiced within the course from the very beginning.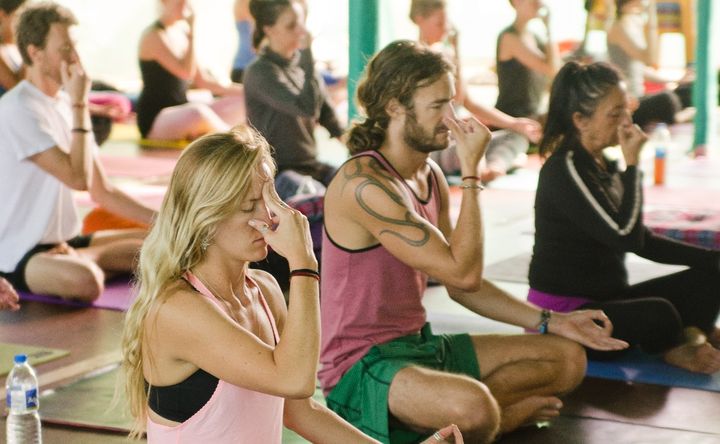 Schedule
07:00 - 09:00 Asana, Pranayama & Meditation
09:00 - 10:00 Healthy Vegetarian breakfast
10:00 - 11:15 Applied Anatomy
11:15 - 12:30 Alignment
12:30 - 15:00 Lunch and Rest
15:00 - 16:15 Philosophy
16:30 - 18:00 Asana/Art of Teaching (Alternate days)
18:00 - 19:00 Meditation/Yin/Restorative
19:00 - 20:00 Dinner and Rest
About This Event
Parimukti's 200 Hours Yoga Teacher Training Course will prepare you to introduce people to yoga with confidence. You'll have a solid foundation in asana, and feel confident to guide people using breath awareness, pranayama, mantras, meditation and relaxation. Most of all you'll have an understanding of what the Yoga path really is. Successfully graduated students are aware of their own unique presence, energy, message, and teaching style.
In this phase you will undergo a profound realignment and purification of the physical body, experiencing the results in your own energy. Starting from the most tangible in this 200 hours training we will proceed to the most subtle in the 300 hours training: from the physical body to the mind. When you have accomplished this training with commitment and dedication, you will feel confident to share with others what you have learned through self-investigation and self-practice.
Our program is registered with the American Yoga Alliance (YA), and meets the established standards. Completing our program will allow you to register with the Yoga Alliance as a RYT-200.
Course Curriculum
PRACTICE – Your practice is your foundation, your real teacher. In the training, you will commit to daily practicing asana, pranayama, and meditation. Your practice will allow you to experience the effects on your body and mind. What you experience, you will understand. What you understand, you will be able to share with others.
ASANA – You'll practice asana, pranayama techniques, and different meditations 2-6 hours every day. Since a Parimukti training is demanding and challenging physically and mentally, we find it important to have a good balance between more dynamic physical practice and classes to restore and rejuvenate (yin, yoga nidra, restorative).
PRANAYAMA – A variation of different pranayama techniques is integrated into our your daily practice. Consequently, you will become familiar with key verbal instructions, function, benefits and contraindications of the most important pranayamas. At the end of the program you will have integrated these practices and, thus, will be able to incorporate pranayama into your teaching, as well.
MEDITATION – Meditation is a very important element of Parimukti trainings. In this 200 hours training you'll develop an understanding of what meditation is and how it helps to gain insight into ourselves and our relationship with the world. You will be introduced to meditation techniques like silent sitting, movement meditations, heart meditations, and buddhist meditations. Also, every student can choose to have a day in silence. This day you will receive teachings and practices silently, allowing yourself to observe your beliefs and thoughts more closely.
MANTRA – You will be introduced to chanting mantras in a more classical setting (start/end of the class) as well as a more joyous setting in a kirtan evening. You will be chanting some of the most important mantras and understand by experience how sound can positively charge oneself and the environment.
ALIGNMENT – You will have a daily alignment class, in which you learn the most important asana postures addressing their alignment. These classes include Sanskrit and English names, key verbal cues, function of the postures, basic hands-on adjustments, benefits and contraindications. All types of asana are covered: standing, standing balancing, sitting poses (forward bends and twists) forward bends, supine, back bending, core awakening, arm balance and inversions.
PHYSICAL ANATOMY – Proper understanding of anatomy is crucial for a yoga (asana) teacher. During this course you will study the functional applied anatomy of the major joints (knee joint, hip joint, shoulder joint, and spine), fundamental bones and basic muscles throughout the course. This will help you to understand and identify differences in students and corresponding needs.
YOGIC ANATOMY – We will introduce you to different models of how the body is being perceived by the yoga tradition. Therefore we will discuss the chakras, nadis, kriyas, mudras, bandhas and koshas. This will help you to more fully understand the process and benefits of yoga.
YOGIC PHILOSOPHY – You will gain insight into the evolution of yoga from the vedic to these modern times. We guide you in how to apply yoga philosophy in your yoga practice, your teachings, and most importantly, in your everyday life. The Yoga Sutras of Patanjali, with a particular focus on the 8 limbs of yoga, will be studied in depth.
ART OF TEACHING – Teaching is a great medium to learn about yourself and others. Therefore, you will be asked to work with the other students, in groups, on teaching assignments from the very beginning. Our teachers will give you practical tools and constructive feedback that will help you grow rapidly and confidently. The Art of Teaching classes are a great platform where you can integrate what you have learned in the alignment, anatomy and philosophy classes. Above all you will be invited and challenged to find your unique way of teaching a class.
Depth and understanding:
The focus of the second half of the training consists in a deep studying and understanding of the Yoga practice which we ultimately want to share. Deep understanding and awareness both enriches your own daily practice and will create a fertile soil for your own unique teaching foundations and ensure a successful and enriching process.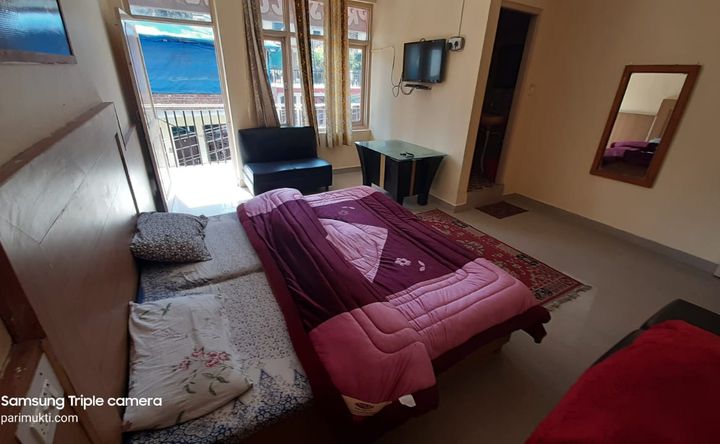 Accommodations
Our Dharamshala center can accommodate up to 35 in and around the campus. Along with spaciousness and comfortable cozy furnishings these rooms are well appointed with comfortable amenities. The ambiance provided by the facilities allows you to focus on your yogic studies and have a peaceful rest and relaxing down time . The facilities included are memory foam mattresses, hot and cold water, security, and attached toilets. Air conditioning and heaters are available on request for an additional charge.
Menu/Cuisine
During this training, you will be served a daily breakfast, lunch, and dinner. Saturday dinner and all meals on Sundays are excluded. This way you can explore all the nice restaurants in the area. Our meals are vegetarian, but we do serve eggs and dairy, no meat and no fish. Meals are a combination of Indian home cooked and occasionally a more Western style. Please feel free to buy your own snacks and food to add on to our meals. We provide student fridges to store your stuff. We provide the three meals and nothing in between, you can get some bananas or other snacks in case you get hungry in between.
Please inform Parimukti of any special diet needs and allergies so that we can cater to you accordingly.
Example of breakfast:
Porridge with fruits
Bread with boiled eggs and jam
Vegetable poha
Vegetable paratha
Example of lunch:
Vegetable curry
Dahl
Rice and/or chapati
Fresh salad with cucumber and tomato
Example of dinner:
Vegetable curry and rice
Pasta with vegetables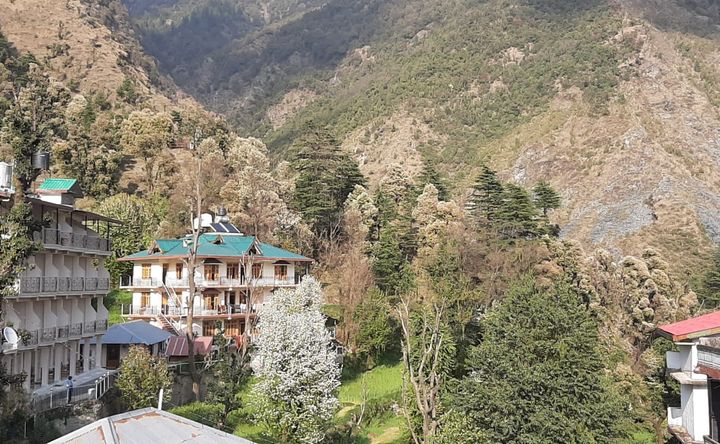 Directions
The best way to reach Dharamshala is to fly into Dharamsala Gaggal Kangra Airport (DHM).You can arrange a taxi from the airport to our center once you arrive. Most taxi drivers speak English and are used to working with tourist, so you can feel comfortable taking a taxi from the prepaid taxi stand.
Pick up from the airport is available for an additional fee. Please inform us in a timely manner of your arrival date and time if you would like to arrange an airport pick up through us.
Reviews To review this event, visit the page for the venue or retreat leaders (above).
Similar Retreats You Might Like

Thank you!
We're glad you've joined our retreat community. See you around :)
Return to my event
×