2,5 day Ayahuasca ceremony + Trauma Release Breath Workshop - inclusief overnight stays
Event Highlights
2x Ayahuasca
Rapé
Sananga
Crystal singing bowls
Crystal Tuning Forks
Schedule
1st day Ayahuasca
2de day Ayahuasca
including Rapé, Sananga, Moxa, Crystal singing bowls, Crystal Tuning Forks
About This Event
3 day Ayahuasca weekend
2x Ayahuasca, Rapé, Sananga, Crystal singing bowls, Crystal Tuning Forks
+ Trauma Release Breath Workshop
Sometimes you just have to dare a free fall ... to find out that you can fly !!
Give yourself a new life. Dare to find the key to your soul and experience inner freedom and physical health.
During this intensive weekend we combine powerful medicines from the Amazon like 2 times Ayahuasca, 2 times Rapé, Sananga, Crystal singing bowls, Crystal Tuning Forks.
The deep inner journey that you make under the influence of Ayahuasca has proved to many the key that opens the gate to your soul.
Inner-journey helps you to find your soul again, with ayahuasca and other therapeutic methods. It is a powerful method to let go, to gain insights, to awaken, to heal and to become who you really are.
We start with an inventory. What are your life experiences, traumas, illnesses. What do you see as obstacles in your life. What are you against? What are your fears. What does it cost you a lot of energy. What do you want to work on.
Even violent traumatic experiences can be processed. After a traumatic experience, you may be regularly overcome by emotions, fears, bad sleep and you can hardly talk about what has happened. Together with our guidance you can process the event and find peace.
Because tell me honestly ... Does everyone deserve that?
This weekend is only suitable for courageous people, who are ready to take the key to their soul and who want to broaden and deepen their lives and who have already undergone the necessary personal development.
Costs 495 euros per person
From Friday 2 pm to Sunday 11am.
Including overnight stays and meals
Private, duo sessions or a ceremony at your own location with your own group can be made by appointment.
Inner-journey looks forward to guiding you on an unforgettable Inner journey.
Sandra Lagerweij
Sometimes you just have to dare a free fall to find out that you can fly !!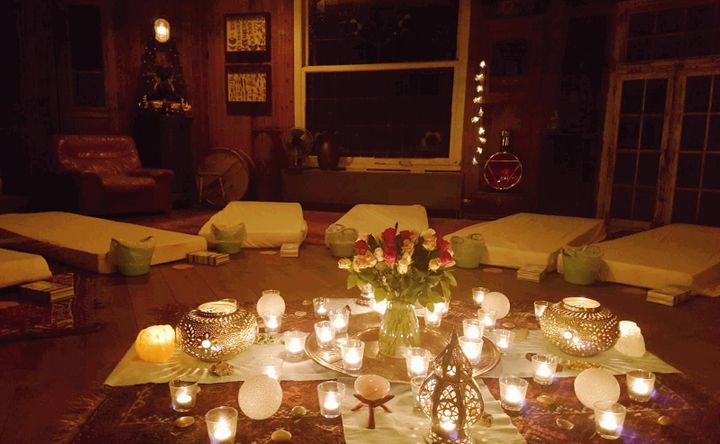 Venue Highlights
We would like to offer you a loving, warm, but also safe and professional setting in which you can experience your Ayahuasca journey.
Are you ready to make an inner journey with ayahuasca?
Do you have the idea of ​​being trapped in your life, do you suffer from complaints like depression, chronic fatigue or have you experienced things in your life that have not yet been properly processed and are still troubling you?
Ayahuasca can give you insights about the cause and help you solve your problems.
Attending an Ayahuasca ceremony gives everyone a unique experience. It offers a look into your soul and shows who you really are and can be. It enables you to make contact with your subconscious, a deep connection with your true self. Ayahuasca has a strong healing effect for both body and mind.
Inner-Journey offers professional guidance at (contact info blocked) Kambo or Ayahuasca ceremonies for personal development, spiritual growth, emotional and physical healing. An inner journey can help you to make contact with your inner wisdom in order to get to the heart of a problem. For example, physical complaints, addiction problems, depression, anxiety, grief processing and post-traumatic stress disorder.
An inner journey can give you insight into spiritual development, awareness, personal growth, healing of traumas and life issues, through which you come into contact with yourself again.
Approach
This process is suitable for you if you are really ready to take leadership over your life. If you are willing to invest in yourself and live and create from your own authentic core and strength. Are you willing to take responsibility and do you have the courage to look yourself straight in the eye? Then we are happy to work with you!
Ayahuasca is a remedy for the soul that can support you enormously in your life. It is a 100% natural shamanic tea of medicinal plants that is highly purifying on a physical, emotional, mental and soul level.
By drinking Ayahuasca an inner journey can be made where insights can be obtained in the subconscious and the soul. Ayahuasca has been used for thousands of years by indigenous peoples for healing and personal transformation. This shamanic form of therapy goes much deeper than we know here in our Western culture.
Facilities
Our beautiful location is located on the markermeer at 20 minutes from Amsterdam and offers individual, duo and group ceremonies.
To be able to completely surrender to the process, a reliable, safe and warm setting is very important. This is guaranteed in our ceremonies! Very experienced and qualified Ayahuasquere, professional, expert and loving guidance with a solid background is guaranteed with us!
Preparation
After registration, you will receive information about Ayahuasca, the diet and the list of contra-medications.
Integration
Even after the Ayahasca we remain in contact. Sometimes in Ayahuasca ceremony some difficult pieces may have passed or you notice in the days after the ceremony that you would like to discuss some things. You are not alone here, we are happy to help you with the processing and integration of your experiences in the ceremony.
Accommodations
Our Ayahuasca ceremonies take place in a calm, confidence-inspiring environment. 20 minutes from Amsterdam on the Markermeer. You will be surrounded and supported by our experienced, loving and supportive (st) ers. If you want to know more about us as a team, please read the "who are we" section on our website. During the ceremony we also have Kaya, our boxer, so if you are allergic or otherwise, let us know. Then we take that into account.
Amenities
A/C in Rooms
Free Wifi
Free Parking
Kitchen
Cafe
Ceremony Space
Menu Types
Vegan
Vegetarian
Pescetarian
Ayurvedic
Organic
Gluten Free
Dairy Free
Nut Free
Menu/Cuisine
Meals within the ayahuasca diet
Directions
We can pick you up from NIJMEGEN train station (50 minutes from Amsterdam)
---
Cancellation Policy
100% deposit refund for cancellation 30+ days before event.
50% deposit refund for cancellation 15-29 days before event.
0% deposit refund for cancellation 0-14 days before event.
The remaining balance (total price minus deposit) is due upon arrival.
Get full details...
Reviews To review this event, visit the page for the venue or retreat leaders (above).
Similar Retreats You Might Like

Thank you!
We're glad you've joined our retreat community. See you around :)
Return to my event
×