12 Day Retreat with B Prior on Crete, Greece
Event Highlights
A retreat space with B offers a powerful return to Truth, Love and Knowing. You come to truly meet and know your Self through the light of Love, who you really are as Awareness.It is truly a journey into the Unknown - the placeless place of your True Heart. There is no looking back - ever!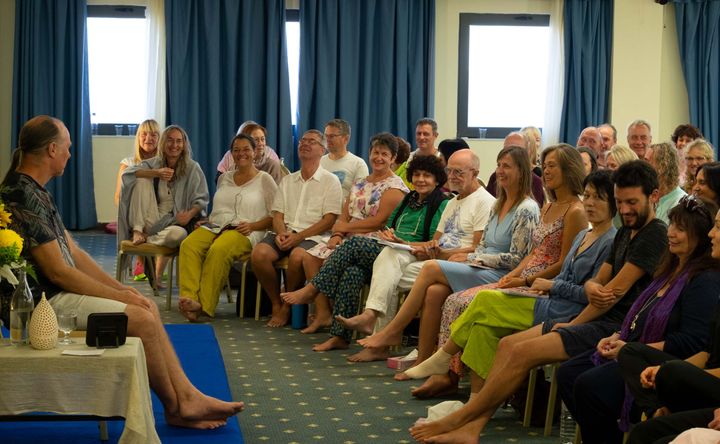 Schedule
PROGRAM
Every retreat with B unfolds in its own unique rhythm – a typical day has three sometimes four sessions and a break at lunch with plenty of time to enjoy, to explore and commune as you deepen in the heart. The retreat will be held across the whole resort space. There will be sessions in the meeting hall at the highest point of the resort (with a spectacular view of ocean), as well as informal meetings with B in several of the resort's beautiful outside locations such as the Amphitheatre or the Terrace. There will be spontaneous walks across the cliffs to the nearby beaches and tavernas and there may well be the occasional very early morning or very late night sessions.
Over the duration of the retreat you learn and deepen in The Form Reality Practice, an immensely powerful five-part movement practice and vehicle of awakening .
Much time on this retreat will be spent outdoors, enjoying all that nature has to offer as our retreat space. There will be walks to nearby beaches and spontaneous outings as well as two main full day excursions to some of Crete's beautiful sites. These are an integral part of the retreat, an opportunity to ground and embody what you are opening to on this journey. The cost for the excursions is included in your booking.
At the end of the 12 day retreat you are eligible to enter The Form Teacher Training Program, an ongoing journey of profound evolution for teachers of The Form.
About This Event
THE CALLING - INFINITELY MORE THAN USUAL 
"We are not blinded by the light - we are blinded by the known. Your Freedom is in the Unknown. "
12 amazing retreat days with B Prior - an unimaginable journey of timeless awakening to the depth of Being and Beyond, amongst the beauty, wonder and mystery of the beautiful and sacred Isle of Crete .
You are called to move a deeper place of Being into sense perception. You activate that by being deeply clear as to What You Are and what you belong to. The Truth is there is only The Self, radiant, full totally Self-realised in its own radiance.  There is no one who is not in that river from that ocean. Return to Your Heart, parts of you are coming Home to be dipped in your gold. 
"Walk amongst the dualities of life being non-dual. Singularly inspired by The Self. Feel it, it is Here Now. You laugh and may also cry and you laugh, because this is all a game - there is only God everywhere."
About B: 
B is a profound Master, a bright guide, a beloved friend and wide-open doorway to Truth. His presence and words re-ignite one's deepest inner Knowing. His call is Life's beckoning for you to be and embody the living threshold of your true nature.
The Deepening 11 - 17 October 2019
Following on from the Crete Retreat, there will be a six day deepening journey with B, held in the beautiful Milia Mountain Retreat in the north of Crete. Spaces are limited for this and are available only to Crete Retreat participants. 
Testimonial:
"I am blown away again and again by the depth of Love and its expression here. I experienced a profound shift in Awareness from identification with forms to the depths of Being. " Yvonne Ireland
"We are not blinded by the Light - we are blinded by the known. Your Freedom is in the Unknown. "
What's Included
WHAT'S INCLUDED:
Satsang with B Prior over 12 days
Learn and deepen in The Form – Reality Practice Part 1-5
All meals
Accommodation in standard twin share/double rooms (single room option and room upgrades to 'superior room' available at extra cost and strictly subject to availability)
Excursions 
What's Not Included
WHAT'S NOT INCLUDED
Transport to and from Crete
Airport transfers to and from the retreat venue are not included in the cost.
Venue Highlights
VENUE:
The retreat will be held at the beautiful ocean front  Kalypso Cretan Village Resort & Spa near the village of Plakias on the stunning southern coast of Crete. B and the retreat group were exceptionally welcomed here in 2015 and we look forward to being back in our 'home on Crete' in October. A perfect space for the retreat !
Crete is a magical place full of vitality, warmth and hospitality. It is known for its contrasting landscapes from its stunning beaches, fertile costal plains to rugged mountain areas.  The island's beautiful South is marked by its relaxed atmosphere and slow pace that contrasts the busier North.
The island has a rich history dating back to ancient times and several of the famous Greek myths. It was once the centre of the Minoan civilization, which is regarded as the earliest recorded civilization in Europe.
Accommodations
The entire venue is an ocean front resort nestled into a bay on Crete's stunning southern cost. Accommodation in Standard Twin share or Double rooms for couples.
Single Rooms and Superior Rooms can be arranged at an additional cost.
This is subject to availability.
Amenities
Free Wifi
Spa
Pool
Free Parking
Restaurant
House Keeping
Menu Types
Vegetarian
Pescetarian
Meat
Gluten Free
Dairy Free
Nut Free
Menu/Cuisine
Meals will be buffet style at the hotel with a vast choice of fresh and delicious foods. We endeavor to the best of our ability (but within reason) to cater for special dietary requirements such as: Gluten Free, Dairy Free & Vegetarian. Very strict and limited diets we may not be able to provide.
Please advise us as soon as possible if you have special dietary requirements:
(GF- Gluten Free /DF- Dairy Free / VEG = no meat/ FISH = fish only, no chicken)
Directions
Fly into either of Crete's two main international airports:
Heraklion Airport or Chania Airport. Both airports are well serviced by international providers. From either airport it will take between 1.5 - 2 hours to reach the venue by car.
Please Note: If you are participating in The Deepening, you may wish to book your return flight from Chania.
Chania Airport is about 1 hour drive from the mountain retreat, whereas Heraklion Airport is a 3 hour journey.
Shared Transport/Taxis
We are collaborating with a local travel agent in Plakias to arrange for taxis from the airport to the hotel. The transport cost from the airport to the hotel is not included in the retreat cost. The cost for a four seater taxi to the venue is approx. 80 EUR.
Wherever possible we will match you up with other participants to lower the cost. The fare will be divided by the number of passengers and is to be paid to the driver directly. Pick up details will all be pre-arranged and confirmed prior to your departure. Once you have sent in your arrival details – we will be in contact to discuss possibilities.
Hire a Car
Hiring a car to drive to the resort is an easy option if you would like the luxury of your own vehicle throughout the retreat.
Reviews To review this event, visit the page for the venue or retreat leaders (above).
Similar Retreats You Might Like

Thank you!
We're glad you've joined our retreat community. See you around :)
Return to my event
×