7 days of Nature, Yoga & Meditation on the island Brac, Croatia
Event Highlights
* Relaxing yoga sessions that help you restore inner peace
* Guided meditations to connect with nature
* Swimming in the crystal-clear water of the Adriatic sea
* Great vegetarian food (breakfast, dinner, packed lunch on two days)
* A personal 45-minute massage
* Being immersed in nature for an entire week
* A trip to the highest mountain of the island and sunset Yoga there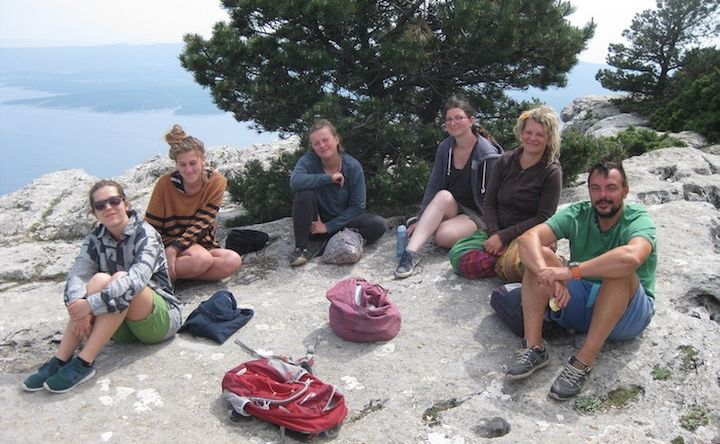 Schedule
We start the day with Yoga practice (Vinyasa flow and Hatha) from 8: 00 - 10:00 hrs, then we will have breakfast together, followed by a short break. At 11.00 hrs we have one hour for guided meditations including an exchange of experiences. Then we will have a light lunch, after which you can enjoy a free afternoon. The long lunch breaks allow a rest or time to go swimming during the hot hours of the day. On one day we will take a trip to the highest mountain of the island after our morning session, and will have an evening practice there with spectacular views. You can also join a hike to a wild beach and three further Asana evening practices from 18.00-19.30 hrs. Our Vegetarian dinner will be served around 20.00 hrs.
This retreat begins with a gentle evening class on 18.00 hrs on the arrival day and ends on the leaving day after breakfast around 8:00 hrs to give you time to travel onwards.
About This Event
We invite you on a journey to the origins of Yoga, which was first practiced in the midst of nature, in simple mountain monasteries. Our beautiful island retreat camp is an oasis of tranquility, where you can experience 1000 glittering stars, breathtaking sunsets, wake up to the sounds of nature and experience the beauty of our planet Earth with all your senses. This retreat will bring you deep relaxation and inner peace.
What is this retreat about?
During this lovingly created yoga retreat, our Asana practice is a flowing dynamic, linked to your breath. This quickly releases stress and aligns you with your inner thruth. We strongly believe that Yoga is for everyone, no matter which age or shape, and will support you at whichever level you are, from beginners to intermediate practicioners.
In mindful meditations, you will learn to communicate with nature, deepen your connection with supreme consciousness and access your own inner truth and deeper knowing. Complimented by swimming in the crystal clear Adriatic sea, your own personal massage and delicious vegetarian food make this an unforgettable and lifechanging holiday!
The Venue
Gea Viva is an eco retreat camp in a tranquil olive grove, 15 minutes' walk from the sea and the harbour village Milna on the beautiful Croatian island Brač. Being completely off-grid, Its design is based on permaculture principles featuring a geodesic dome, which is our Yoga space, a cosy Summer kitchen a stone circle for meditations, a shady pavilion to relax, a giant mosaic dragon, a Permaculture garden, compost toilets, solar showers and a straw-bale eco cabin.
Gea Viva is a beautiful place where you can learn to live with nature! People I met there were very kind. Brac island is such a nice spot to camp!
What's Included
* Five morning and three evening Asana classes
* Five guided meditations
* Vegetarian breakfast, light lunch and dinner, jointly prepared
* Seven nights' accommodation in private glamping hut, glamping tent, own camper van or own tent (camping equipment can also be hired at an extra charge)
* Hike to a wild beach
* Trip to the highest moutain of the island including an evening Asana class there
* Your private 45 - minute massage
What's Not Included
If you like additional days to relax here, you are welcome to arrive before or leave after the retreat. Additional nights are 33/40 Euros in the camping huts, 12.50/16.50 Euros (in the glamping tent/own camper van/ individual hire tent) and 9.50/12 Euros in your own tent.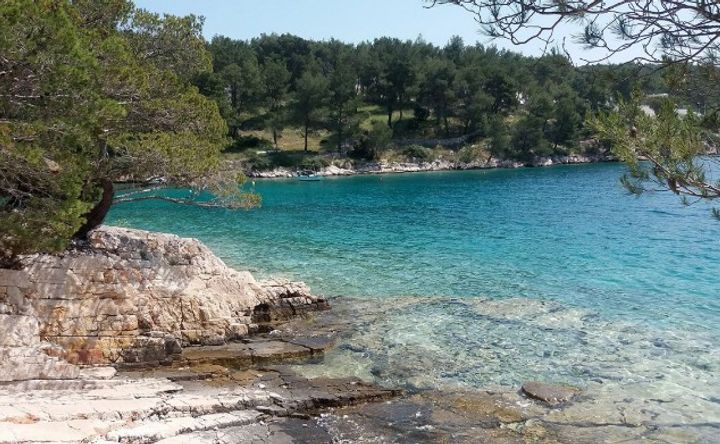 Venue Highlights
The village Milna has grocery shops, restaurants, bars, cash points, a currency exchange, a doctor and a post office.
Other things to do:
* Enjoy the nearby beaches
* Rent a boat
* Relax at our beautiful camp with sea views
* Snorkling and diving
* Beautiful nature walks
* Have a drink by the seafront
* Enjoy additional massages or Shiatsu treatments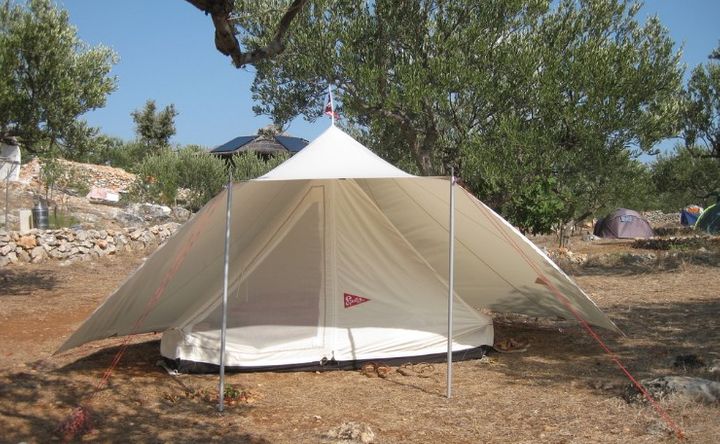 Accommodations
We offer three choices of accommodation:
1.) A glamping tent with canvas rooms and camping beds (two single 'rooms', two twins) (bed linen, blankets and sleeping bags provided)
2.) Camping in your own tent. We also provide tents and equipment for hire.
3.) Camping in own camper van. (2 spaces)
Showers and toilets are shared.
Amenities
Free Parking
Kitchen
Coffee/Tea
Yoga Studio
Ceremony Space
Menu Types
Vegan
Vegetarian
Dairy Free
Nut Free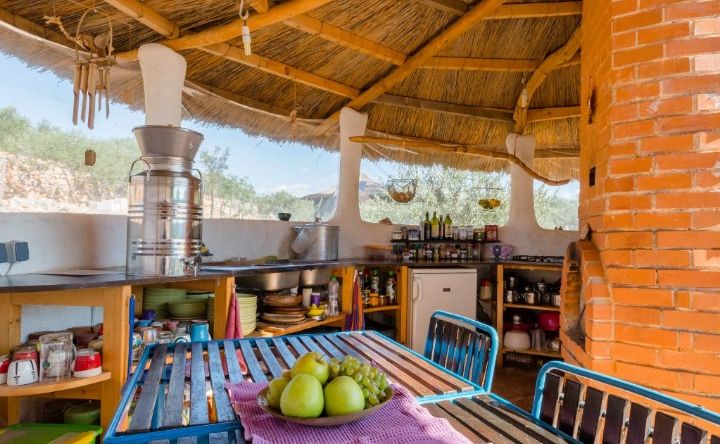 Menu/Cuisine
Food and practicalities
We have a fully equipped kitchen on site, and will prepare vegetarian meals. Jointly we take care of the washing up. If you have special dietary requirements, please let us know in the registration form.
Please note that alcohol and drugs are not allowed on site.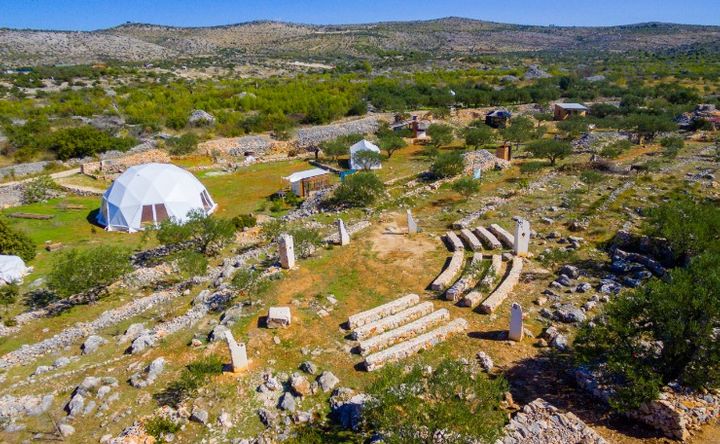 Directions
To Split
The Gea Viva site is located in Milna on the island Brač. The nearest city is Split, which can be reached by plane, coach, rail (from Zagreb), ferry (from Ancona) and by car. The coach and rail stations are in the port, for transfers from the airport of Split to the port by coach, please allow at least one hour, by taxi 45 minutes after landing.
From Split
Take one of the passenger ferries to Milna (Krilo Jet, which continues to Dubrovnik,, Naranca via Rogac on the island Solta) or the car ferry to Supetar (Jadrolinija) and then the bus to Milna (Autotrans). During the main season, there are about six buses per day to Milna, out of season approximately four on weekdays and two on Sundays.
From Dubrovnik
There is a daily passenger ferry to Milna during the high season via the islands of Mljet, Korčula and Hvar. In case you travel by car, the ferry between Makarska and Sumartin on Brač operated by Jadrolinija might also be an option.
From Supetar
Buses for Milna leave behind the main Jadrolinija ticket office.
During the tourist season, taxis are on standby next to the Jadrolinija ticket office. If you come by car, follow the signs to Milna. When descending into Milna, there is an unfinished brick house to your right. After 200 metres turn left onto the narrow concrete path. At the T-junction turn left and follow the main concrete path up the hill, which turns into a gravel road. This takes you to the lower corner of the Gea Viva site.
In case you drive a lorry or large van, descend into Milna to sea level, then turn left, driving up the serpentines, turn left at the junction (towards Maslinova), then left again onto a gravel path, then right up the hill at the T-junction, which again takes you to the corner of the Gea Viva site.
From Milna
From the passenger ferry terminal it takes approximately 30 minutes to walk all the way to Gea Viva. Head for the village along the sea front, pass the church and walk up to the bus stop.
From the bus stop it takes 15 minutes to Gea Viva. Follow the road to Supetar, then take the first turning to the right - a narrow concrete path. At the T-junction, turn left and follow the main concrete path up the hill, which turns into a gravel road. This takes you to the lower corner of the Gea Viva site.
Reviews To review this event, visit the page for the venue or retreat leaders (above).
Similar Retreats You Might Like

Thank you!
We're glad you've joined our retreat community. See you around :)
Return to my event
×