8 Days Detox, Relax and Regenerate with Fasting, Yoga, and Holistic Therapy in Koh Phangan, Thailand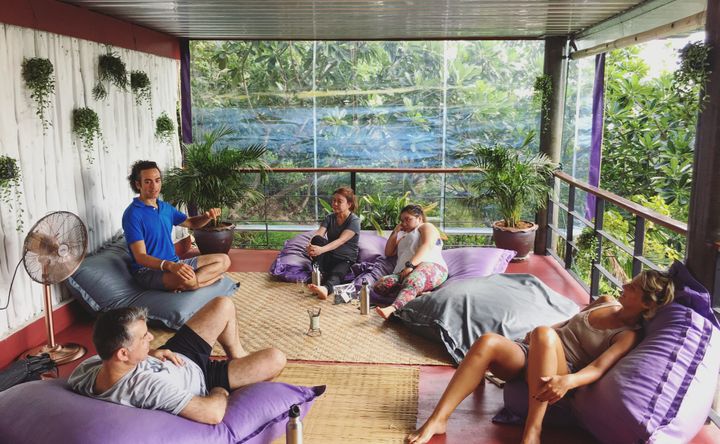 Event Highlights
The focus of the program is to achieve a higher level of consciousness and wellbeing through combining fasting, yoga and holistic classes.
It is designed to provide time and space to relax, detox and reconnect and experience the beauty of Koh Phangan in an intimate, safe and nourishing environment.
Yoga is an open source, customizable and innovative creative practice with many forms, shapes and colors.
We like to see it as a great methodology for controlling emotions, calming the mind and getting closer to your true self, as well as having a multitude of physical benefits and being awesome.
Benefits of fasting include:
Space and time to heal and repair the digestive system
Good against oxidation
A boost to the immune system
Normalises insulin levels, improve insulin sensitivity and regenerate pancreatic cells
Helps in reducing food cravings and associated mood swings
Helps develop a can-do attitude for a long term healthier nutritional routine
Can reduce high blood pressure and improve lipids profile
Great for fat loss
2 weekly holistic class, workshop or activity will amuse, engage and stimulate you. 3 massages will complete the experience leaving you pampered and regenerated.
All classes will be included and optional so you can decide when to be inspired and stimulated and when you want introspection and 'You time'.
PLEASE NOTE: THE LISTED PRICES ARE FOR HIGH SEASON. LOW SEASON PRICES WILL BE LOWER - ENQUIRE FOR MORE INFO.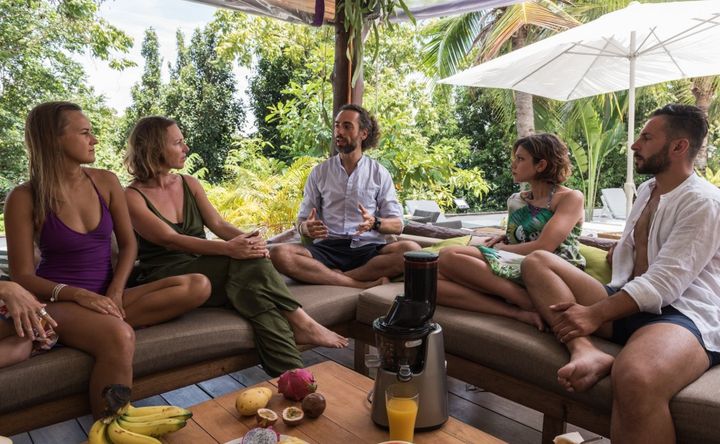 Schedule
The first full day will be a pre-cleanse day with nourishing plant food and a slightly different schedule.
5.5 days of fasting with 1 green juice, 2 coconut waters, and one evening veg broth a day.
Here is a sample daily schedule...
07:30 Coconut water and supplements
08:00 Yoga
10:00 Self-administered enema and supplements
12:00 Sharing circle and green juice with supplements
15:00 Holistic class, activity, workshop or free time
16:30 Coconut water and supplements
17:00 Dip in the pool or massage
18:00 Supplements
20:00 Warm vegetable broth
About This Event
Imagine a breathtaking seaview, a gentle breeze raising from the ocean, you lie on the mat after a yoga class feeling relaxed, connected, positive and alive.
These are the moment's life's worth living for. So join us for this 8-day retreat on beautiful Koh Phangan!
We are feeling great post-cleanse. Thank you for your guidance during the retreat, my mum and I found it to be a very enlightening and refreshing experience. - Channey, Singapore. (Attended in June 2019)
What's Included
7 Nights private accommodation from comfortable to luxury
5.5 Days of fasting: 1 daily green juice rich in micronutrients and 2 coconut waters. A warm evening veg broth, a proven methodology
One to one holistic health consultations. Let's talk about you and the way you feel
Nutritional guidance after the detox, improve upon your day to day nutrition to make the benefits last
1 Pre-cleanse day with healthy plants food, to ease you into the fast and prepare the body
Psyllium and bentonite clay for digestive health and superfoods and antioxidant supplement for a very effective detox
3 Thai or oil massages, to get pampered!
Enema bag for the self-administered enema to ensure a daily bowel movement and get rid of toxins
Daily group sharing, let's a build a community and get to know each-other, share our stories and feel connected
Access to the swimming pool and easy access to the beach
2 weekly holistic class, workshop or activity (e.g. sound healing, innerdance, juicing and nutrition)
1 Daily yoga sessions to connect & let go in the morning (Monday to Friday)
What's Not Included
Flights & transfers
Food & beverages on check-in day and after the fast
Yoga mat (please bring your own or available for purchase)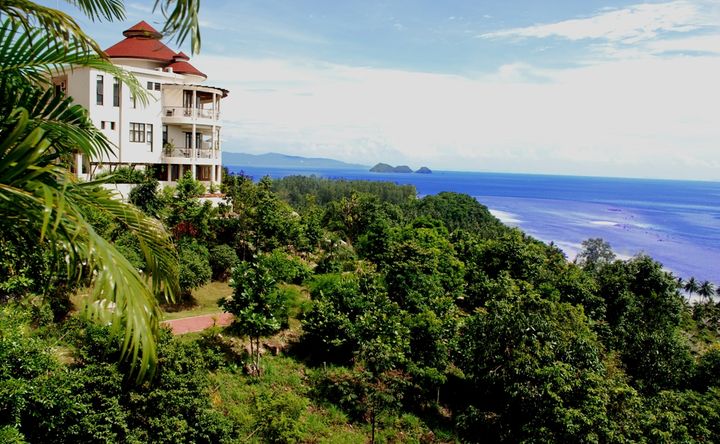 Venue Highlights
Smiley Retreat is a specialized detox and wellness retreat welcoming you on a beautiful, transformational experience in Koh Phangan based on fasting and/or whole food and yoga with holistic therapies.
SMILEY RETREAT IS CONSCIOUS INDULGENCE
Our cozy and luxurious rooms are tastefully designed and accented with natural furnishings. We offer a number of different suites located in the resort's residence to accommodate any desired living preference. Each offering either garden views or a remarkable sunset sea view for you to relax, detox and reconnect with Nature and yourself.
THE MAGIC OF FASTING
There is scientific evidence for certain benefits of Fasting. The effect on insulin, the Master hormone is truly remarkable and equally remarkable is the impact of Fasting more generally on the endocrine, cardiovascular, immune and digestive systems. A truly holistic solution, Fasting can have a rebalancing and health boosting effect across the whole organism.
Fasting is one of the most ancient healing traditions in human history. This practice has been employed by virtually every culture and religion on earth to attain better health and spiritual enhancement.
AT YOUR DOORSTEP IN KOH PHANGAN
The most inspiring teachers, workshops and classes for you to relax, move, connect and transform. Many types of Yoga, sharing circles and healing modalities.
Depending on your choice of program, Yoga, massage, traditional and new therapies will complement the physical detox, calming the mind and warming the heart.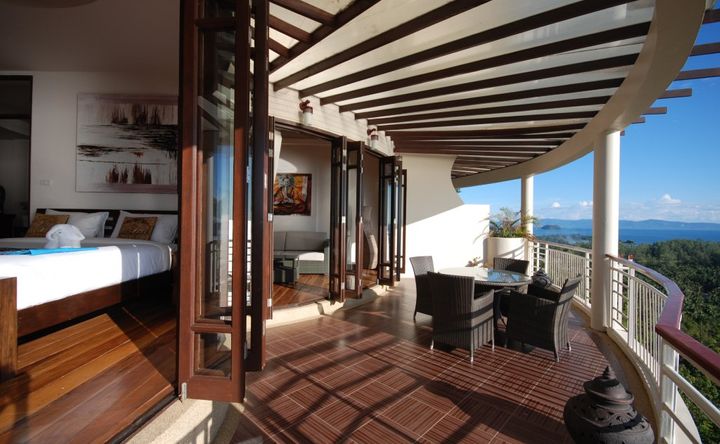 Accommodations
Our private accommodations offer you a relaxed, home away from home experience immersed in the healing beauty of Nature.
Depending on each Retreat, you will have a range of choice from comfortable to luxury.
PLEASE NOTE: WE HAVE MORE ROOM TYPES IN THE RESORT. ENQUIRE FOR FULL SEAVIEW SUITES AND PENTHOUSES.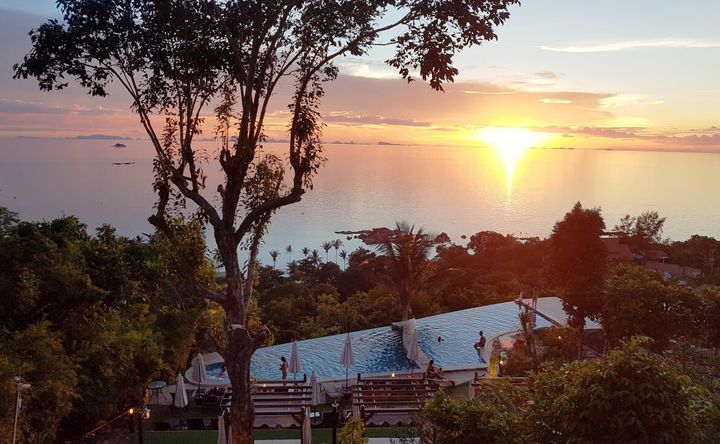 Amenities
A/C in Rooms
Free Wifi
Spa
Sauna
Pool
Towels
Free Parking
Tour Assistance
Hot Tub
Cafe
Restaurant
Yoga Studio
House Keeping
Ceremony Space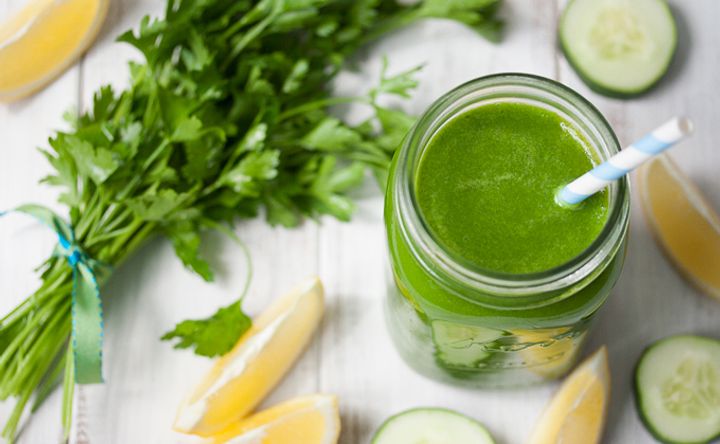 Menu/Cuisine
Enjoy a pre-cleanse day with a fruity breakfast, lunch and dinner included in the price. During the fasting days, you will get 2 fresh coconut waters, 1 green juice, and an evening warm veg broth daily, plus superfoods and other supplements.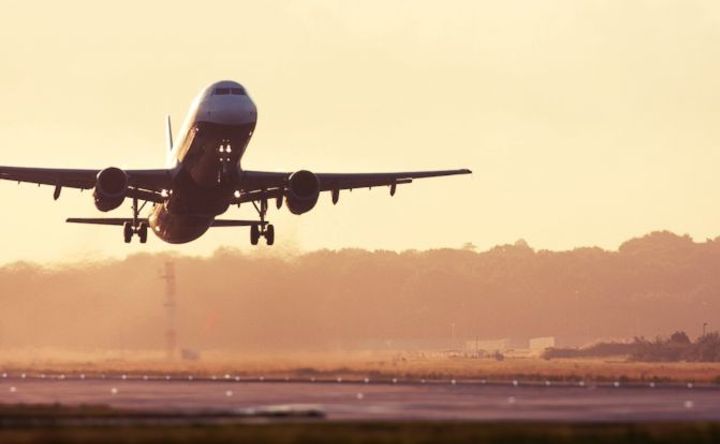 Directions
TRAVELLING TO KOH SAMUI AND KOH PHANGAN BY AIR
Flights from Bangkok to Koh Samui (the nearest airport) are run by Thai Airways or Bangkok Airways and internationally from all major Asian hubs by various carriers.
Flights from Bangkok to Surat Thani (the low cost airport) are considerably cheaper. The coach/minivan + ferry transfer takes around 4 hours and can be purchased at Surat Thani airport.
Koh Phangan Retreat
Depending on landing times, the transfer from Samui airport takes around 1 hour. Please relax on the boat, immersed in the lush beauty of this part of the World. The Smiley Retreat in Koh Phangan is just a 15 minutes taxi or shared taxi ride from Thongsala pier. Let us know and we can arrange a pick up.
Koh Samui Retreat
The Smiley Retreat Samui is a 45 minutes taxi from the airport. Let us know and we can arrange a pick up.
Reviews To review this event, visit the page for the venue or retreat leaders (above).
Similar Retreats You Might Like

Thank you!
We're glad you've joined our retreat community. See you around :)
Return to my event
×