31 Day 200 HR Vibrant People: Thriving Planet Yoga Teacher Training + 72 HR Permaculture Design Course
Event Highlights
Highlights of the Vibrant People: Thriving Planet Training;
Eat, breathe and live yoga and permaculture as you immerse yourself in the holistic lifestyle of Punta Mona, the oldest Permaculture farm in Costa Rica
Use Earth Medicine practices, sacred ceremony and the wisdom of the shamans to transform your world, understand your soul's journey and reveal your true connection to Self
Coordinate your adventure with the small but vibrant Envision Festival, Feb 25-29, known for its commitment to sustainability and embrace of yoga and holistic health
Disconnect from the swirl of the everyday world as you connect to the immense power of nature and simple living in the Caribbean coastal jungle
Experience community life on an 85-acre sustainable permaculture farm, where we live in harmony with our surroundings
Learn about and taste tropical food and herbs from the abundant jungle gardens
Feed your soul with three gourmet jungle vegetarian meals per day, mostly organic & local with many raw food options and local superfoods
Practice yoga while listening to the soothing ocean waves
Disconnect as you leave roads and phone network behind (limited wifi available)
Hiking through primary rainforest
Experience the bliss of Pura Vida!
HERE ARE SOME ACTIVITIES AVAILABLE BEFORE OR AFTER YOUR TRAINING. SOME OF THESE ARE AVAILABLE AT PUNTA MONA, SEASON-DEPENDING:
Snorkeling tropical reefs
Surfing (weather permitting)
Learn Spanish
Visit nearby traveler's mecca, Puerto Viejo
Sea kayaking
Optional raw foods or herbs workshop
Natural mud bath cleanse in nearby jungle river
Help at the Jaguar rescue center
Visit sloth sanctuary
Horse back riding along the beach
Boat tours, fishing
Massage and healing work
Beach fires with live music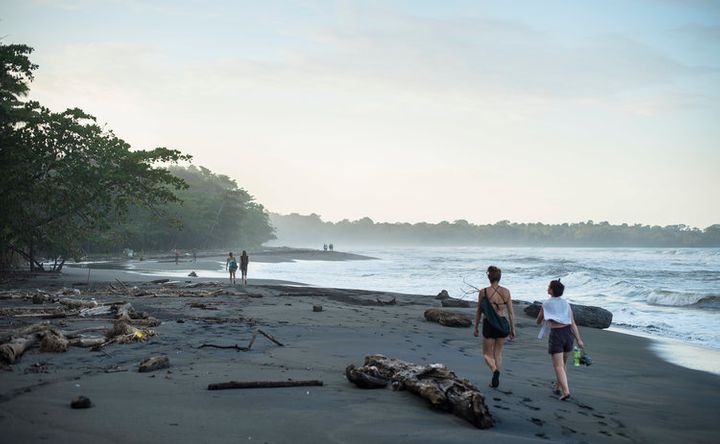 Schedule
Typical Kula Day:
6:15 - 8:30 am Art of Practice
Meditation, Pranayama, and Asana
8:30 - 10 am Breakfast
10 - 1 pm Art of Living/Teaching
Yoga Anatomy, Philosophy, Daily Intentions & Special topics
1 - 3 pm Lunch & Self-Study
3 - 5:30 pm Art of Teaching
Kula Flow, Asana Analysis, Adjustments & Creative Sequencing
5:30 - 7 pm Dinner
7 - 8:30 pm Art of Healing
Ceremony, Kirtan or Satsang sacred gathering (*every other evening)
About This Event
Are you looking to find deeper understanding of and harmony within your Self and the Earth around you?
Are you passionate about sharing your light and your gifts with your communities?
Are you looking for a group of like-hearted souls to call family?
Does the idea of disconnecting to reconnect with the earth for a month at the storied Punta Mona off-grid permaculture center light you up inside?
Imagine balancing effortlessly in Tree pose, feeling the quiet strength of your roots burying deep into the earth as you feel the ancient trunks of jungle giants silently all around…Bury your worries in soft coral sand as the caresses of a healing breeze and warm waves fill your body with vitality. At our off-the-grid, jungle farm location at Punta Mona, you will learn to deepen your Yoga practice and lead others to do the same, as well as to design Permaculture systems that heal earth and body. Drink in the smell of ginger and ylang ylang while your ears take in the symphony of parrots, howler monkeys and the slow rush of a sleepy sea.
This unique offering brings together the powerful study of Yoga with a deep dive into the regenerative practices of Permaculture Design. The practices of self care and earth care are deeply intertwined, and it is this union that will form the basis of this 31-day learning journey. By the end you'll be a 200 HR Registered Yoga Teacher (200RYT) as well as hold a 72 HR Permaculture Design Certification (PDC).
In this Yoga Teacher Training + PDC, every moment is breathtakingly intertwined with the power of nature. We start our day with what is real: waking with the sun, breathing with the sounds, meditating and moving with the rhythms of the jungle. We practice and learn in the open air, drawing constantly from the elements of the Earth to help us in our process of discovery.
We will combine this deep study of the self with the development of a keen eye to recognize natural patterns and design regenerative systems that promise to bring sustenance to our generation and those yet to come.
Experience the sweetness of life while dancing to the heartbeat of the jungle beaches by moonlight. Swim in the warm, shallow waters of the Caribbean and experience the magic of living your passion. Use Earth Medicine practices, sacred ceremony and the wisdom of the Andes to transform your world, understand your soul's journey and reveal your true connection to Self.
Draw on the healing effects that such an immersion in nature provides while learning a holistic approach to teaching and design; taste tropical, medicinal foods while filling yourself up on the experience of Caribbean rainforest living. Follow the call to la Pura Vida, where the strong bonds of lifelong practice and family friendship await you. Disconnect from the swirl of the everyday world as you connect to the immense power of nature in the Caribbean coastal jungle!
Permaculture provides you with the toolkit to create the world you dream of living in!
Permaculture is a philosophy and practice of ecological design that doesn't tell you what to do – it teaches you how to think. In the study of Permaculture, we challenge the current paradigm of where our food and water come from, the way we are constructing our villages and towns, and how we live our day-to-day. At Punta Mona, our Permaculture Design Course grads have gone on to become change-makers all over the world, designing their own land projects, founding eco-communities, redesigning their businesses, spearheading policy change and continuing to teach the permaculture principles and ethics.
We are the ones we've been waiting for.
What's Included
30 nights accommodation
3 daily meals
200 hr yoga teacher certificate
72 hr Permaculture Design certificate
What's Not Included
Airfare
Airport transfer
Venue Highlights
What you'll love about the Punta Mona Retreat Center...
Punta Mona, on the Caribbean coast of Costa Rica close to the Panamanian border, is built on the power of community and the beauty of living a simple, intentional life. We will share lodging and bathrooms in simple, sustainable community lodges, with comfortable shared spaces and hammocks. Single options are available. Compost toilets and showers are shared by all and the center doubles as a permaculture community and education center.
Punta Mona offers the unlikely experience of a sustainable, permaculture education center in the deep jungle of Costa Rica's Caribbean coast. Surrounded by unique foods and medicinal plants, and secluded from roads, modern technology and other people, this is a totally unique opportunity to "Disconnect to Reconnect". This is a unique place and one that has much to teach about the things we take for granted, the power of community, imagination, equality and the beauty of living a simple, intentional life. Eat, breathe and live yoga as you immerse yourself in the holistic lifestyle of the oldest Permaculture farm in Costa Rica.
Accommodations
Shared accommodation is available.
Menu/Cuisine
Vegetarian, farm-to-table and conscious cuisines!
Directions
Directions vary by location.
---
Cancellation Policy
100% deposit refund for cancellation 60+ days before event.
50% deposit refund for cancellation 30-59 days before event.
0% deposit refund for cancellation 0-29 days before event.
The remaining balance (total price minus deposit) is due upon arrival.
Get full details...
Reviews To review this event, visit the page for the venue or retreat leaders (above).
Similar Retreats You Might Like

Thank you!
We're glad you've joined our retreat community. See you around :)
Return to my event
×