10 Day 100/300 HR Yoga Teacher Training Empower Module in Guatemala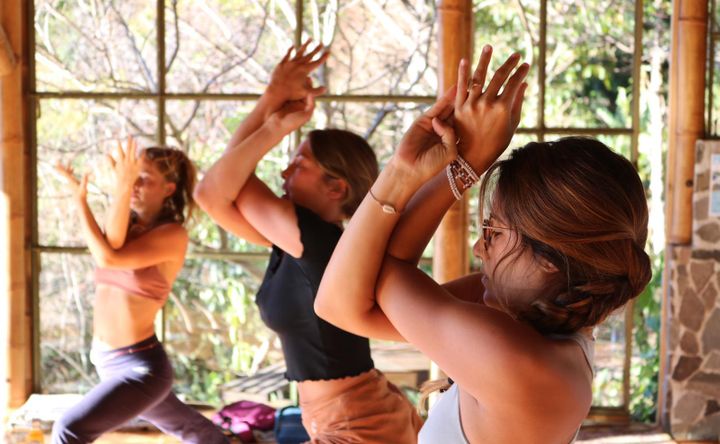 Event Highlights
Focus on the expansion of your own sacred consciousness as you dive deep into Shamanic Healing, Holistic Cleansing and Ancient Wisdom.
Co-create holistic classes from a variety of lineages, artistically woven together with themes, intentions, and therapeutically based sequencing, encouraging advanced levels of awareness throughout the program.
Uncover your heart's true voice through ancient and modern practices of Bhakti (the Yoga of devotion) with ceremonies of sacred song, Kirtan, Bhajan and Mantra practice.
Refresh your understanding of consciousness and meditation in the lessons of Yoga Nidra (yogic sleep)
Discover the science and philosophy of Nada Yoga —the Yoga of inner and outer Sound, learning how to integrate your unique creative expression into your classes using sound, mantra and mystical poetry.
Hold ceremony in an awe-inspiring and ancient cave-like fire circle, a space kept sacred and used for this purpose for many ages
Explore the beautiful forest gardens, waterfalls and natural abundance
Experience the powerful heart-medicine, cacao, in its home land.
Live in sustainably built eco-cabins and experience conscious off-the-grid living in a Permaculture Food Forest, with delicious vegetarian meals and fresh teas sourced from our own organic gardens and local producers
Help local charitable organizations with their work in our Kula Karma program
Swim, SUP or kayak in the beautiful Lake Atitlan
Shop for beautiful textiles and handicrafts in local indigenous villages
Professional Massage & Wellness Counseling and various therapies available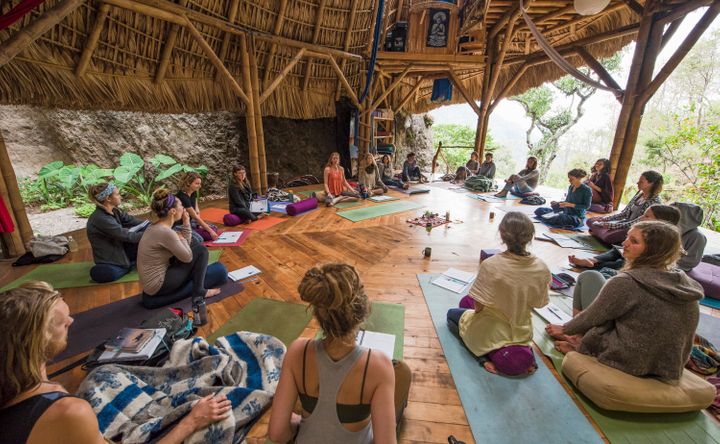 Schedule
Typical Kula Day:
6:30 - 8:45 AM: Art of Practice
9 - 10 AM: Silent Breakfast
10 - 12 PM: Art of Living
12 - 2 PM: Lunch and Self Sadhana
2 - 4 PM: Art of Teaching
4 - 6 PM: Art of Healing
6 - 7 PM: Dinner
7 - 8:30 PM: Evening Gathering, Satsang or Ceremony (alternating days)
About This Event
On the top of a mountain overlooking the magical waters of Lake Atitlan lies time and space for connection. Our module-based 300hr yoga teacher training program allows you to advance your teachings when it suits you, and empowering you as a teacher in this module.
This tropical intensive is designed to give you a wide range of tangible tools that can be incorporated into your teaching right away. Alongside advanced yogic wisdom, you will receive the opportunity to dive deep into your personal practice of meditation, pranayama and bhakti as well as creative, holistic asana. As summer is in full bloom in the mountains, lake, and forests, it is a perfect time to deepen your knowledge and reveal the wisdom to follow your passion and your purpose.
In addition to the core curriculum of yoga philosophy, energetic principles, and yoga asana (alignment, anatomy, and teaching), we will explore spiritual traditions from the South American Andean Quechua, Central American Mayan, and North American Cherokee and Lakota traditions. To connect with the land surrounding The Yoga Forest, we will collaborate with local healers from the Mayan traditions for offerings that include a traditional sweat lodge ceremony. The sacred stillness of this ancient mountain range is a deeply nurturing place to become aware of the divine reflection within yourself.
In the process of co-creating and expertly facilitating the group space, we support open sharing of passions and tools and encourage participants to grow into their role as facilitators and space holders. Drawing on the natural serenity of this idyllic valley, cleansed by the seven sacred springs of the property, and nourished by the abundance that surrounds, this training offers a space for deep and purposeful growth. With such creative freedom, our 300hr graduates leave with a strong momentum to incorporate advanced yogic principles in all aspects of daily life, feeling deeply inspired and clear in how to share their essence and live their dharma.
About the Kula's Modular program...
The Kula Collective 300-hour Module-Based YTT (yoga teacher training) program is a fusion of the ancient and mystical traditions of Yoga, Shamanism and the healing arts, offered in shorter, retreat-style intensive courses that you are free to style in your own way.
These practices, designed to grant us access to the infinite wisdom we carry within ourselves, are smoothly blended together to form an offering rooted in the principal of yoga as union, a channel for connection to the divine.
This training is designed to advance the teaching and personal practice of 200hr graduates, although some elective modules may also be available for those who wish to deepen their study without the foundational course in teaching. All of our 300hr programs offer a deeper exploration of yoga as a therapeutic healing practice. Our modules are grounded into the very foundation of yoga: the exploration of personal practice, yogic philosophy and meditation practices. These are complemented with a focus on holistic health, through shamanic healing, ayurveda and self-inquiry.
In addition to meeting the Yoga Alliance standards for teaching methodology, anatomy, yogic theory and special education, all of Kula Collective's 300hr programs focus on the expansion of our own sacred consciousness, so that we can fully embody our practice and radiate the teachings in our own presence.
Throughout the modules we engage in self-inquiry to clear space for the true teacher within to shine, sharing prayer, ceremony and Bhakti Yoga, as well as Karma Yoga - selfless service to gracefully and mindfully help the whole. By releasing the stories and holdings that no longer serve us, we create more space to see our gifts, our passions and the essence of who we are as teachers and beings on this path.
How the Module System Works…
All students on our module-based 300hr program complete the following, in no particular order:
EXPLORE - EMPOWER - EXPAND
EXPLORE: 100 HR MODULE (REQUIRED)
Daily creative asana, mantra, pranayama, conscious movement, and meditation practices
Advanced yogic philosophy: Yoga Sutras in depth, Yoga History, and the Upanishads
Theory and practice of Meditation
Advanced Pranayama and Conscious Breath work
Chakras in Depth
Ayurveda: Theory and personal practice
A Therapeutic Approach to Yoga: in depth assessment of injuries and pose modifications including holistic yoga sequencing, yoga anatomy, advanced alignment and assists
Mantra practice and Leading
Personal and co-creation based Practicums and professional feedback
Guidance in personal development, self-inquiry and clarification of unique steps towards living your dharma
EMPOWER: 100 HR MODULE (REQUIRED)
Daily creative asana, mantra, pranayama, conscious movement, and meditation practices
Advanced yogic philosophy: Bhagavad Gita
Shamanism and Sacred Ceremony, practice and leading
A Therapeutic Approach to Yoga: an in depth assessment of physiological, mental and emotional health including holistic yoga sequencing, yoga anatomy and physiology, advanced alignment and assists, and trauma sensitive sequencing
Yin and/or Restorative or Yoga Nidra
Personal and co-creation based Practicums and professional feedback, including the creation of a unique therapeutic sequence following a certain scenario
Guidance in personal development, self-inquiry and clarification of unique steps towards living your dharma in the form of a 90 day Flow Design plan
EXPAND: (contact info blocked)HR ELECTIVES
(PARTICIPANT'S CHOICE)
Choose from any of Kula Collective's diverse selection of YACEP approved programs!
We are the ones we've been waiting for.
What's Included
9 nights accommodation
3 daily meals
100 hr yoga certificate and 100 hr Continuing Education credit
100 hrs towards your 300 hr yoga teacher training certification
What's Not Included
Airport transport
Airfare
Venue Highlights
What you'll love about The Yoga Forest…
The Yoga Forest was founded as a sustainable living experiment, through a desire for living simply, greenly and in communion with everything surrounding us.
In yoga practice, we clear the body and mind making space for wisdom and deeper understanding to flow freely and openly. In making space, we allow ourselves to experience our fullness and connection to everything around us. Yoga is therefore about cultivating flow through the body and mind and opening up to optimal experience - union.
Permaculture follows the same principles. In Permaculture, we are essentially making space for the wisdom of the entire system to fully flow, to become a more open and thriving container for life. Permaculture teaches us to observe the natural environment and work with rather than against the natural order of flow. Thus, in Permaculture we are also cultivating union. Through the Yoga of Permaculture, we are facilitating the experience of Yoga as deep ecology – by allowing the ecosystem, and ourselves within that system, to demonstrate their own evolution.
Immerse yourself in an eco-friendly conscious community for a month of transformation. Enjoy the perfect sub-tropical climate in the western highlands of Guatemala, with stunning views through the Yoga Forest taking in Lake Atitlan and its magnificent volcanoes. Let your body and mind come into a tranquil balance among mystical scenery and powerful energies.
Check out testimonials of The Yoga Forest on TripAdvisor
Accommodations
There are shared and private accommodations available.
Menu/Cuisine
Vegetarian, farm-to-table and conscious cuisines!
Directions
Directions vary by location.
---
Cancellation Policy
100% deposit refund for cancellation 60+ days before event.
50% deposit refund for cancellation 30-59 days before event.
0% deposit refund for cancellation 0-29 days before event.
The remaining balance (total price minus deposit) is due upon arrival.
Get full details...
Reviews To review this event, visit the page for the venue or retreat leaders (above).
Similar Retreats You Might Like

Thank you!
We're glad you've joined our retreat community. See you around :)
Return to my event
×