25 Day 'Sacred Waters' 200 hr Yoga Teacher Training in Bali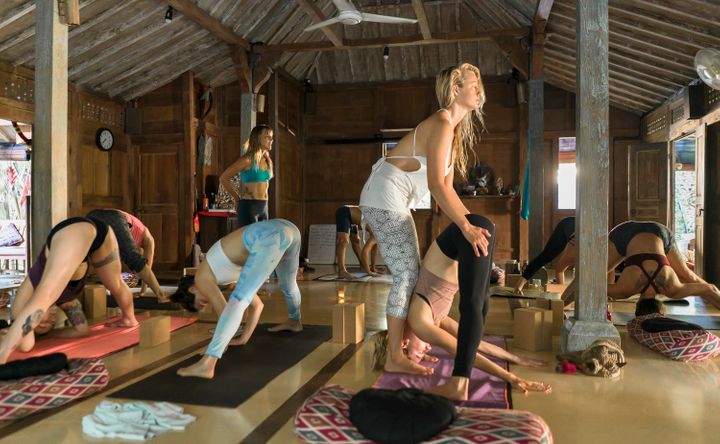 Event Highlights
Benefit from two locations in one training, experiencing the freedom of the ocean and the richness of the mountains in one, guided experience
Practice in the open air, surrounded by the abundance of the jungle mountains and traditional rice paddies at Batu Karu.
Live by the Indian ocean, meditating with the waves and breathing with the sunsets and the power of the sacred land of Kura Kura, blessed with several natural springs, feeding the pools surrounding the yoga space and nourishing the water lily pond with an affluence of crystal clear water, that according to locals are endowed with cleansing and healing powers.
Nourish yourself on high vibration foods from the local, surrounding area
Focus on the expansion of your own sacred consciousness as you dive deep into a lifestyle of yoga and holistic healing
Visit local temples, participate in traditional ceremony, and experience the beautiful, sacred nature of Balinese living
Rejuvenate yourself and inspire your life, finding sanctuary in stunning surroundings
Help local charitable organizations with their work in our Kula Karma program
Professional Massage & Wellness Counseling and various therapies available
Schedule
Typical Kula Day:
6:15 - 8:30 am Art of Practice
Meditation, Pranayama, and Asana
8:30 - 10 am Breakfast
10 - 1 pm Art of Living/Teaching
Yoga Anatomy, Philosophy, Daily Intentions & Special topics
1 - 3 pm Lunch & Self-Study
3 - 5:30 pm Art of Teaching
Kula Flow, Asana Analysis, Adjustments & Creative Sequencing
5:30 - 7 pm Dinner
7 - 8:30 pm Art of Healing
Ceremony, Kirtan or Satsang sacred gathering (*every other evening)
About This Event
On the magical island of Bali, every breath is sacred, every moment can be breathtaking. We wake with the sun, we merge with the sounds of nature, we immerse ourselves in the ancient teachings of Yoga to reveal the wisdom that lies within. As we meditate on the elements of mountains, then coast, we allow the natural flow to re-synchronize our spirits to the rhythms of this wild earth.
In this 200 hour Yoga teacher training, you will benefit from not one but two exotic destinations to inspire and clarify your vision. You will travel from the vibrant green abundance of the mountains to the raw elements of Bali's stunning coastline, facilitating a deep transformational journey. We provide the opportunity to deeply connect to your higher self while in two tranquil and sacred environments. We practice and learn in the open air, drawing constantly from the elements of the Earth to help us in our process of self discovery, connection and truth as we step courageously into our dharma.
Bali is filled with incredible nature, art and exquisite beauty. Spirituality is inherently infused into the unique culture, with a strong Balinese community spirit. Every aspect of this life involves some sort of prayer, worship or offering to the gods, as an expression of the heart. Being in this reverent setting and around such stunning natural beauty is sure to awaken the spirit within.
Join us in September as we create space for this transformational experience to unfold. Enjoy abundant tropical vegetation and jungle cuisine that will enchant your senses. In the first half of the training, we have the expanse of the Indian Ocean to aid us in exploring ourselves and releasing what no longer serves us. In the second, the elevation, jungle wildlife and fresh mountain air empower us to soar courageously into our dharma.
Form strong bonds of lifelong friendship, whilst learning how to share the deep peace of what you truly love. Feel the flow around you as you slip into the flow within.
What you'll love about the Kula Collective 200 hr Yoga Teacher Training...
The Kula Collective 200-hour training provides a deep immersion into the practice of yoga - living, learning and embracing all aspects of a yogic lifestyle and deepening the connection to oneself and the earth through the wisdom of shamanic healing practices. These traditions, designed to grant us access to the infinite wisdom we carry within, are smoothly blended together to form a holistic offering rooted in the Indian philosophy of yoga.
Kula Collective's 200hr YTT focuses on the expansion of our own sacred consciousness, so that we can fully embody our practice and radiate the teachings of yoga by united in mind, body and spirit. All of our programs meet Yoga Alliance standards for teaching methodology, anatomy, yogic theory and special education. This course will provide a solid foundation of yoga history, the four traditional paths, 8 limbs of ashtanga yoga, meditation and exploration of asana through our signature Kula Flow and its asana analysis.
After learning the Kula Flow we deepen our understanding of Self through study of yoga philosophy, cleansing, Bhakti Yoga and ceremony. We share creative teaching methodology for designing balanced and holistic classes, using the Kula Signature Sequences as building blocks and providing support for new teachers to creatively sequence their own classes. The course will give multiple opportunities for participants to teach and receive feedback, so that they leave with not only a fully prepared sequence, but multiple shorter sequences and a plethora of inspiration ready to create from the heart.
The Kula Collective 200-hour YTT provides you with concrete tools and clear strategies to live your life with passion and purpose. Perhaps you're wondering if it's really worth your time, money and effort to become Yoga Alliance certified as a 200-hour registered yoga teacher (RYT). We understand how you feel; this path is not an easy one, yet we've found that even those who have no plans of actually teaching Yoga have come away deeply transformed by this experience, with crystal clarity on steps they can take to manifest their dreams into reality.
Throughout our time together we engage in self-inquiry to clear space for the true teacher within to shine. By releasing the stories and holdings that no longer serve us, we create more space in our bodies and mind to see our gifts, our passions and the essence of who we are as beings on a path to holistic, connected living.
This training will provide a strong foundation in yogic practice and philosophy, and a fresh perspective on life. Its an opportunity to cultivate a practice if you do not have one and to deepen your existing practice if you do. Through the unique experience of uncovering and discovering our true nature, we empower our students to become inspired leaders in their communities and wherever they go in the world. Step away from the rush and come closer to your calling, through connecting to your heart and embracing the oneness within all.
FOUNDATION OF YOGA - ANATOMY & PHYSIOLOGY - AYURVEDA - PRANAYAMA - MEDITATION - ASANA ANALYSIS & ASSISTING - KULA FLOW & CREATIVE SEQUENCING - TEACHING METHODOLOGY - CLEANSING - PHILOSOPHY - SHAMANISM - CHAKRAS - SATSANG - KIRTAN & CEREMONY
Journey Through the Three Worlds of the Chakana...
Each of our training programs have been carefully designed to incorporate 200 intensive hours, as detailed by the Yoga Alliance, using the Kula Collective signature structure of the Chakana. The Andean Cross allows a transformative journey through the lower, middle and upper worlds of this ancient tradition, allowing us to explore the many levels of our being.
Beginning with the Lower World, we Explore our unconscious and physical abilities and limitations, recognizing and breaking through self-created boundaries and limiting beliefs. By releasing what no longer serves us, we create more space in the body and mind through the cultivation of awareness and the understanding of the roots of yoga, anatomy, foundational practices and selfless service. Throughout this cycle we will practice and learn in depth the poses and sequencing of our Kula Basic Flow, with daily opportunity to teach to peers and receive feedback.
In the Middle World, we Empower discovering more of who we are, through experiencing elemental awareness and self inquiry, allowing us to embody the teachings and live to our full potential. After teaching their first full yoga class, participants dive deeper into the work of Patanjali's Ashtanga (8 limbs) philosophy, applied anatomy, philosophy, pranayama, ayurveda and chakras, deepening understanding of our true nature and evoking a strong love for the self and each other.
From our work in the Lower and Middle worlds, we experience a sense of freedom in the Upper World as we Expand, shifting from gross to more subtle realms of consciousness, letting us step into our radiant power. With topics such as complementary holistic health practices, yoga sutras in depth, and the profession of yoga, we close our training with a clear personal practice and teaching plan, fueled with inspiration to grow our gifts and manifest our dreams into reality.
We are the ones we've been waiting for.
What's Included
24 nights accommodation
3 daily meals
200 hr yoga teacher certificate
What's Not Included
Airfare
Airport transport
Venue Highlights
What you'll love about Bali...
We spend the first half of our time in the lush jungle and rolling rice paddies of Batu Karu retreat in the fresh air of the mountains, held by the richness of nature. Together, we travel to the stunning, beachside Kura Kura retreat halfway through the training, unveiling and washing away the layers that form us so we can truly embody the teachings, spreading our wings and emerging into our full potential.
Kura Kura Retreat is situated in a tranquil and secluded environment, nestled in a beautiful tropical valley in the heart of Bali, far away from the crowds of tourists, and just 50 steps from the beach of Seseh. The center is located in a traditional fishing village, untouched by major tourism but close enough to the shops and buzz of Seminyak and walking distance from Echo Beach, a famous Bali surfspot. Life at Kura Kura invites you to rise to the song of the birds, walk the beach, watch the waves and lose yourself in amazing sunsets. The elegant simplicity of the cottages gives a feeling of both being away and coming home. This intimate resort offers an oasis of serenity, a sanctuary for the body, heart and mind.
Batu Karu Organic Estate and Farm sets on the dormant volcano next to the UNESCO World Heritage site of Jatiluwih. On a clear day, the Batukaru summit allows for a breathtaking view of Bedugul lakes, Mt. Agung and Java Island. People come to Batu Karu for a variety of reasons: beautiful scenery, solitude, and good eating. Meals are made up of 70% farm to table produce, much of it freshly harvested each day from the organic kitchen garden. The beautiful mountain cottages, unique and tastefully decorated, are sustainably built from material direct from the farm, along with beautiful recycled, antique javanese and balinese carved wood and bamboo.
Accommodations
There are private and shared accommodations available.
Menu/Cuisine
Vegetarian, farm-to-table and conscious cuisines!
Directions
Directions vary by location.
---
Cancellation Policy
100% deposit refund for cancellation 60+ days before event.
50% deposit refund for cancellation 30-59 days before event.
0% deposit refund for cancellation 0-29 days before event.
The remaining balance (total price minus deposit) is due upon arrival.
Get full details...
Reviews To review this event, visit the page for the venue or retreat leaders (above).
Similar Retreats You Might Like

Thank you!
We're glad you've joined our retreat community. See you around :)
Return to my event
×