The Clear Way Mastery Course
Event Highlights
Two Week Long Retreats Or One Retreat Option
Online Community
24/7 Support Directly from Kosi
Online Satsangs for Ongoing Support
The Core Practices Essential for Liberation
Many Different Modalities to Support Your Spiritual Evolution
Schedule
The core teaching is comprised of vipassanā meditation practice, vedic mantras, and self-inquiry or vichara all of which is a deep intimate inquiry into the pure happiness alive in the core of your being.
General Schedule for Spring Retreat (Webinar) 2020
13:00 - 15:30 - Satsang with Kosi
15:30 - 16:00 - BREAK
16:00 - 18:30 - Processes
General Schedule Autumn Retreat ;17th October - 23rd October 2020
There are three-four sessions each day which last approximately three hours all of which are led by kosi. There are tea/coffee breaks with time to explore the natural surroundings.
About This Event
Imagine what it would be like to really be free of the suffering nature of your mind and ego—what would it be like to live in the stateless state of perpetual bliss known as the Turiya state? How would it feel to get real support for your own direct experience of the bliss that never ends? This is the fundamental nature of the Clear Way Mastery Course—revolutionary support for real tangible progress.
The Clear Way Mastery Course is an evolutionary teaching based on over twenty years of direct experience of the sublime teaching of Sri Bhagavan Ramana Maharshi. It provides you with the essential context and support for directly realizing the Turiya state of consciousness and beyond this fourth state or the Turiyatita state—unending bliss.
The approach of Kosi is radically different from the majority of satsang teachers—it provides the essential context for understanding the simplicity, science, ancient wisdom, and endless depth of the teaching of Sri Bhagavan Ramana Maharshi. The Clear Way retreats and online satsangs are infused with a potent transmission that guides you to direct realization beyond the limitations of your mind and ego.
Most western satsang teachers focus on the immediate nature of awakening or view the teaching of Ramana Maharshi as the fastest to route to liberation or moksha—effortless being or the spiritual bypass that instantly ends eons of suffering. This approach supports an instantaneous shift in consciousness, but often leaves you in a kind of awakened limbo or stuck in a trance of spiritual concepts and repeating patterns of fear, anxiety, sadness, self-hatred, as well as many other forms of suffering.
Moments of bliss or a glimpse of your eternal nature only provide temporary relief from the suffering nature of your mind and ego, but supports little or no progress in your spiritual evolution. It is a bit like being stuck on a treadmill; you get a taste of bliss and the eternal freedom it represents, but permanent realization or lasting happiness always seems to be just out of reach. After several months, or even years, you discover there is no real progress.
The Clear Way provides noticeable results. It reveals the secret essential for real progress. Whether you are just a beginner, or see yourself as an advanced student, this course supports the direct discovery of the infinite depth of pure conscious awareness by applying the essential processes and practices that have either been misunderstood or overlooked entirely.
Feeling Called?
To receive the full benefit of the Clear Way program, it is recommended that you make a commitment of at least one year. If you are unable to attend both of the week long retreats it is possible to attend either the spring retreat or the Autumn retreat and participate for one year in the online meetings. This gives you an opportunity to see for yourself if this teaching provides the kind of support that resonates with you. Part of the beauty of the Clear Way is you are part of a group committed to diving deep into the heart of freedom. Making this one year commitment to yourself and the group is a powerful support for what can be a challenging process.
Due to the Coronavirus - The Clear Way is being offered this Spring as a webinar that you can access via your computer or smart phone.
Tuition for Spring 2020 includes
Week long Spring Webinar
Monthly meetings for one year.
Online Community
24/7 Support Directly from Kosi
The Secret Practices Essential for Liberation
Many Different Modalities to Support Your Spiritual Evolution
This retreat is a life-changing mix of ancient wisdom, silence, neuroscience, quantum physics, the potency of the mantra, and self-inquiry as well as processes and practices that serve to reveal the astonishing reality and intelligence of God—the vast silent love of the cosmos beyond all ideas of love and cosmos. The different modalities used in the Clear Way have the innate power to permanently end even the most stubborn patterns of suffering.
This radically different approach contains the intrinsic power to guide you into lasting realizations of advanced states of consciousness that provide you with quantifiable progress in your spiritual evolution. The different modalities and processes used during the retreat contain the innate power to end the underlying causes of fear, anxiety, stress, sadness, and many other forms of suffering.
This retreat provides you with both immediate and long-term results. If you are serious about liberation from suffering in its myriad of forms this course provides you with long-term continuous support.
Many different modalities support your spiritual evolution. The Clear Way Mastery Course is designed for people who are serious about moksha or liberation. It represents a quantum leap in consciousness that supports real progress.
If you are ready for a dramatic shift in consciousness the Clear Way is radical long-term support.
Please join us online for a radical shift in consciousness.
Kosi has been referred to as the "real deal" by her students and she provides the deepest support for living a natural, authentic, happy, and free life. She represents a potent transmission of light.
What's Included
The fruits of the practices and insights provided in this course are happiness, joy, love, peace, and a profound sense of well being.
A small and intimate group with plenty of time for one to interaction.
A perfect environment for going deeper away from the usual distractions of "Normal Life"
Discover the essential core practices for liberation.
A group of committed students serious about freedom.
Online Community and monthly zoom meetings after the retreat has ended.
Long-term support from Kosi following the retreat.
What's Not Included
The price listed is for Tuition only for the Spring Webinar or for Annual Tuition (Spring Webinar and Autumn Retreat in Lonay Switzerland)
There is onsite food and accomodation available for the Autumn retreat 2020. This is very reasonable priced - please contact us for further information.
Price does not include travel expenses to the venue.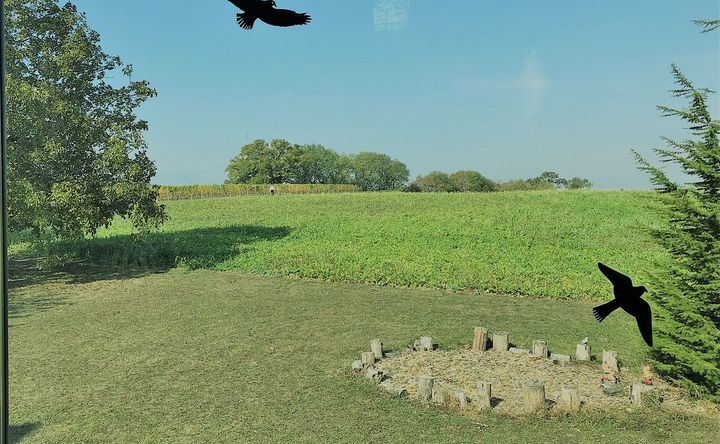 Accommodations
The venue for the Autumn retreat is set on spacious and quiet grounds with amazing views. There are private rooms available which are comfortably furnished and a shared bathroom. There is access to a fully equipped self-catering kitchen.Please contact us for further information or to book a room.
Amenities
Free Parking
Kitchen
Coffee/Tea
Menu/Cuisine
There is a delicious three course lunch provided each day during the Autumn retreat. This is a local and seasonal menu with vegetarian options available. Breakfast and evening meal are self catering. There is access to a full equipped shared kitchen. Tea/Coffee and small snacks are provided throughout the day. Food is not included in the price but will be available for participants. Please contact us for further information.
Directions
The nearest airport to the centre for the Autumn Retreat is Geneva and Lonay is accessible from Geneva Airport by train or car. The journey from the airport by train takes less than one hour and tickets can be bought at the train station. If you are joining us for the retreat, we will contact you to support with your travel arrangements.
Reviews To review this event, visit the page for the venue or retreat leaders (above).
Similar Retreats You Might Like

Thank you!
We're glad you've joined our retreat community. See you around :)
Return to my event
×