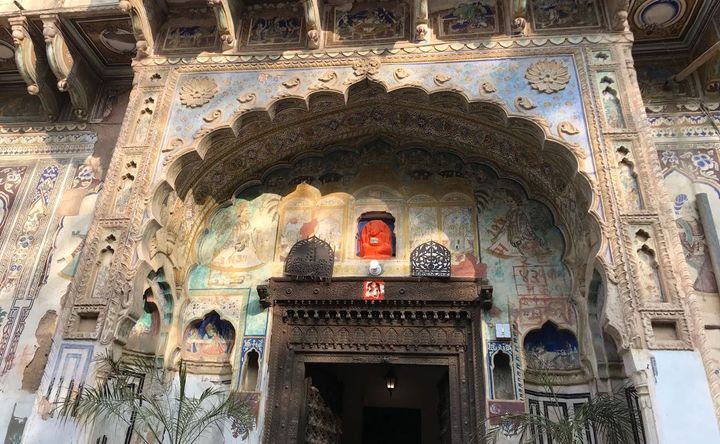 Event Highlights
Early Bird Pricing
10% discount on bookings on or before 15 September 2019
WEATHER IN RAJASTHAN IN NOVEMBER:
Average 5 degree Celsius - 20 Degrees Celsius. ( Light shawl & Jacket advised)
7 Days The Circle Of Joy Meditation & Yoga Retreat in Shekhawati, Rajasthan, India
Vedaaranya Haveli, Ramgarh Shekhawati, Rajasthan
Mind Body Spirit Rejuvenation Retreat Mindfulness Meditation
Refreshing Yoga Retreat Jaipur
The Retreat has been joyfully created to focus on inner journeys by connecting with the Higher Consciousness as our inner guidance, utilizing tools of self-awareness to re-programme negative patterns, limiting beliefs and old traumas & regain our full potentials. By dropping out of normal life for a fraction and replenishing our mind-body-soul through mindful Yoga, moonlight deep meditations over cups of de-tox cup of teas, specially curated healthy vegetarian meals and cleansing sessions through Fire ceremonies , spiritual healing and next- level nirvana seems totally achievable.
7 days with instruction in English
Spoken languages: English; German; Hindi; Malay; Punjabi; Spanish;
The maximum participants in the group is 16
Skill level
Intermediate
Retreat Style
Hatha Yoga
Drive to Ramgarh ( Shekhawati Area)
Heritage Walk
Check into Vedaaranya Haveli
Initiation Ceremony (A calm, peaceful environment soothes the soul and pacifies our deepest anxieties.) Frescos and Paintings inside mansions and publicly on walls facing streets, makes Shekhawati akin to an open-air art gallery.
Luminaries Mahesh Krishnamurthy, Minnku Buttar (Founder), Shaloo Dogra take over the sessions with concentration on:
Claiming Real Peace back
Working with concepts of Self Love - Cognitive approach to Self Forgiveness,belief systems, Self Love, Self Forgiveness.
Cutting the Ties that Bind us - Exploring Phyllis Krystal's Tools to Cut our own Limitations & explore full Potential
Fire Ceremony - ( fire ceremony is a powerful practice used to release unwanted energies and karmic baggage , attachments and new beginnings)
Absolute nature of Yoga asanas, The Absolute. Ultimate Reality. Pure Consciousness. - - Meditations : Peace, Energy, Silence. State of Shunyata!
Art of applying all the tools explored in 6 days in Real life to increase productivity at work space & have healthier relationships and mental wellness.
Drive back to Jaipur after breakfast in time for Lunch and return to respective homes
What is included
6 nights 7 days beautiful and luxurious accommodation in a Heritage resort in Rajasthan
Airport transfer
6 Breakfast 7 Lunch 6 High Tea 6 Dinner lovingly prepared by the Haveli staff from locally sourced in a cozy dining area
Heritage walk in Shekhawati
Folk dance by the locals
Rajasthani cooking demo
Interaction with the local community
CLOTHING SUGGESTED
Since there will be Yoga sessions ( Gentle to intermediate levels) and Meditation
sessions involved - Light coloured clothes, Lycra leggings/ yoga pants/ t-shirts
and loose tops suggested to allow circulation.
WHY LIGHT COLORS?
Wearing light colours is good for your aura: Your aura is the electromagnetic field that protects you and can extend from three to nine feet in all directions from our body. Light pristine colours made of Organic fabrics (specially white) are reflective so negative energy is less likely to penetrate your aura and at a conscious level, assists us in enhancing our intuitions and connections with higher consciousness, and invoke "Mindfulness".
White embodies all colours: Each chakra or energy centre in the body is associated with a colour-red, orange, yellow, green, blue, indigo and purple - the colours of the rainbow, and therefore balances our chakras or energy centres when it is worn.
Why our VEGAN Shawls are going to be a Hit with you
Wrap yourself in the Vegan shawl made out of Rose bush, we are specially weaving for you, sit sipping the De-tox teas we are offering each night, exchanging beautiful stories.
ROSE BUSH FIBER - is absolutely stunning, and a great vegan alternative to silk!We agree!
Bright white with heaps of luster to make your heart really sing
Super soft, silky texture is just divine
Made from plant fibers, no animals were shaved in the process, renewable, sustainable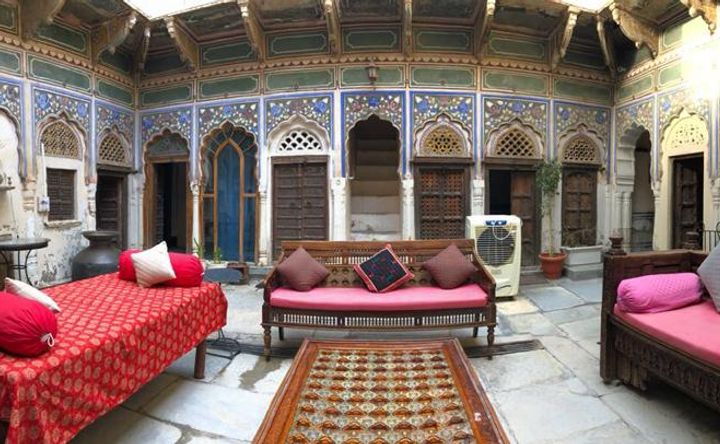 Schedule
Day 1 - 14th November, 2019
Arrive @Jaipur, Rajasthan, India (Check into Umaid Bhawan - Heritage Style Hotel, 5 star).
Day 2 - 15th November
Drive to Ramgarh ( Shekhawati Area)
Heritage Walk
Check into Vedaaranya Haveli
Initiation Ceremony (A calm, peaceful environment soothes the soul and pacifies our deepest anxieties.) Frescos and Paintings inside mansions and publicly on walls facing streets, makes Shekhawati akin to an open-air art gallery
Day 3-6 - 16th November - 19th November
Luminaries Mahesh Krishnamurthy, Minnku Buttar (Founder), Shaloo Dogra take over the sessions with concentration on:
Claiming Real Peace back
Working with concepts of Self Love - Cognitive approach to Self Forgiveness,belief systems, Self Love, Self Forgiveness.
Cutting the Ties that Bind us - Exploring Phyllis Krystal's Tools to Cut our own Limitations & explore full Potential
Fire Ceremony - ( fire ceremony is a powerful practice used to release unwanted energies and karmic baggage , attachments and new beginnings)
Absolute nature of Yoga asanas, The Absolute. Ultimate Reality. Pure Consciousness. - - Meditations : Peace, Energy, Silence. State of Shunyata!
Art of applying all the tools explored in 6 days in Real life to increase productivity at work space & have healthier relationships and mental wellness.
Day 7 - 20th November
Drive back to Jaipur after breakfast in time for Lunch and return to respective homes
About This Event
The Retreat has been joyfully created to focus on inner journeys by connecting with the Higher Consciousness as our inner guidance, utilizing tools of self-awareness to re-programme negative patterns, limiting beliefs and old traumas & regain our full potentials. By dropping out of normal life for a fraction and replenishing our mind-body-soul through mindful Yoga, moonlight deep meditations over cups of de-tox cup of teas, specially curated healthy vegetarian meals and cleansing sessions through Fire ceremonies , spiritual healing and next- level nirvana seems totally achievable.
What can you expect in your ongoing work with us?
We see, hear and hold space for you without judgement .We offer creative guidance, insight, inspiration and challenge.You will receive nurturance, understanding and support through your transformation and release processes.Connection to the deeper realms of knowing within you.Restoration of and access to personal power.Personal availability outside of session for your ongoing support .Homework practices to keep you engaged with your process of transformation.Wisdom and hand holding from three Luminaries with 20 over years of experience.
"In the end, just three things matter: How well we have lived. How well we have loved. How well we have learned to let go"- Jack Kornfield. Our concepts - invoking connection with higher consciousness and manifesting Abundance, Peace and Joy
What's Included
Airport Transfer
1 night stay at Jaipur at Heritage Resort Umaid Bhawan
Luxury Mini Bus from Jaipur to Shekhawati
5 nights in Shekhawati, Vedaaranya Haveli
Accommodation on twin sharing basis USD 1345
Private single accommodation will cost USD $1955
Transportation back to Jaipur on the 20th November 2019
Day 1 Lunch and dinner
Day 2 to Day 6 All meals
Day 7 Breakfast and Lunch
The following meals are included:
Breakfast
Dinner
Drinks (Water & Herbal Tea)
Lunch
The following dietary requirement(s) are served and/or catered for:
Vegetarian
The following drinks are included:
Coffee
Herbal Tea
Tea
What's Not Included
Airfare not included, incidentals, any form of insurance
Venue Highlights
WHY SHEKHAWATI, Rajasthan for our Retreats Venue?
With its rich tradition of ancient practises like yoga, heritage architecture and
history, India is one of the most sought after destinations for wellness, healing and
awakening one's soul.
The Circle of Joy Retreat ( 14th-20th November, 2019) is set to be a luxurious
and joyful experience to reset, reconnect, nourish and indulge from the inside out
at "Vedaranya Haveli"( Travel and Tourism award winner), located in
one of the most culturally & architecturally enriched locations of Shekhawati
region of Rajasthan, India. Established in the 18th century along a caravan trade
route & lies in the triangle of Delhi, Jaipur and Bikaner. Often referred to as
theworld's largest openair art gallery, the old havelis (mansions) walls are
adorned with intricate painted frescoes, a sign of opulence even 300 years ago.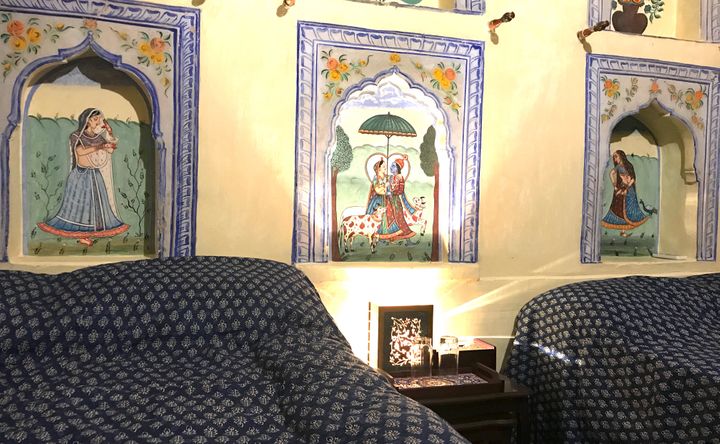 Accommodations
Rooms are on twin sharing basis - USD $ 1345 per person.
Single occupancy - USD $1955
Vedaaranya Haveli is an exquisite Heritage Haveli, in the spectacularly frescoed historical heritage town, Ramgarh Shekhawati. Its courtyard with heritage frescoed walls, its unique heritage rooms adorned with heirlooms with highly comfortable luxury beds and ultra modern washroom facilities and its luxury service will be unforgettable experience of comfort. Amazing local cuisine and the love and care of our staff at Vedaaranya will give you the "home away from home" experience like never before. The wondrous heritage adventures and creative experiences will leave you spellbound and deeply engaged, and coming back for more every time. A must experience!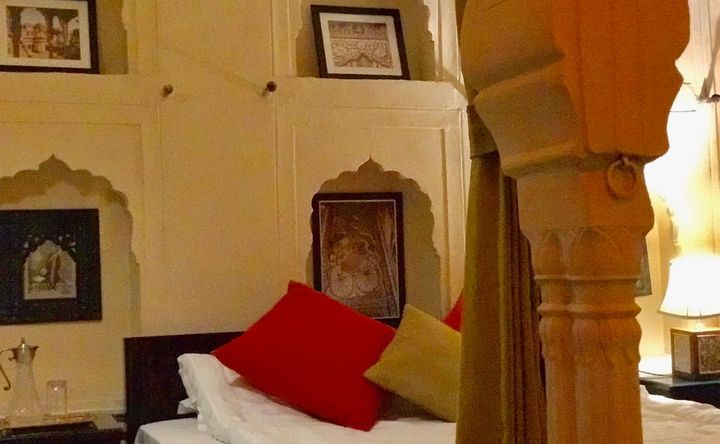 Amenities
A/C in Rooms
Free Wifi
Towels
Free Parking
Kitchen
Tour Assistance
Coffee/Tea
Cafe
Yoga Studio
House Keeping
Ceremony Space
Menu Types
Vegan
Vegetarian
Gluten Free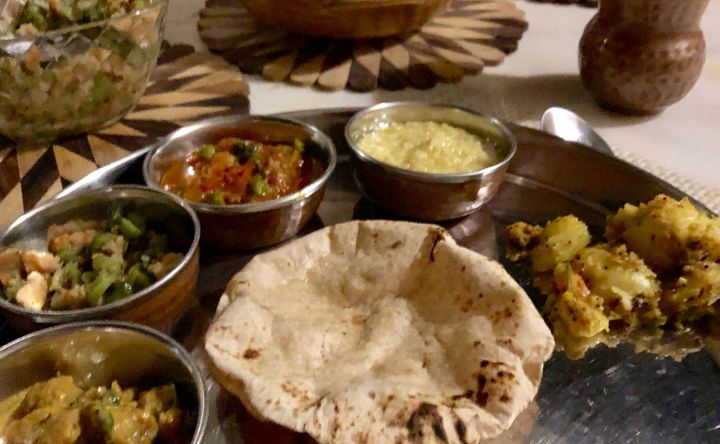 Menu/Cuisine
Specially curated Vegetarian meals.
Rajasthani cuisine was influenced by both the war-like lifestyles of its inhabitants and the availability of ingredients in this arid region.Famous dishes to be served at the Retreat will incude Bajre ki roti (millet bread) and Lashun ki chutney (hot garlic paste), Mawa Kachori from jodhpur, Alwar ka mawa, Malpauas from pushkar and Rassgollas from Bikaner
Rajsthan has 74.9% vegetarians, which makes it the most vegetarian state in India.
Typical Menu
Breakfast
Upma (Semolina)
Poha (Flattened rice)
Idli ( South Indian steamed cake made of lentils and rice served with sambhar and chutney)
Bread
Eggs
Fruits
Coffee
Tea
Lunch
Rajastani cusine
Kadhi (made from chickpeas flour and yogurt)
Dal (lentils)
Bajra ki roti (millet bread)
Rice
Pulao (vegetable rice)
Greens
Local vegetables
Paneer
Salads
Local desserts
Tea
Coffee
Biscuits
Potato chips
Local savouries
Dinner
Soups
Rotis
Vegetables
Rice
Paneer
Fruits
Salads
Indian desserts
Directions
Fly to Jaipur International Airport. India
Transfer pick up from Airport to Umaid Bhawan Heritage resorts Jaipur.
Jaipur to Vedaaranya Haveli, Ramghar Shekawati is 189kms and would take about 3hrs 07 mins to reach by our luxury mini bus.
Reviews To review this event, visit the page for the venue or retreat leaders (above).
Similar Retreats You Might Like

Thank you!
We're glad you've joined our retreat community. See you around :)
Return to my event
×