25 Day Life-Changing 200 Hour Yoga Teacher Training in Bali
Event Highlights
Become a certified yoga teacher (from Yoga Alliance USA) with the freedom of choosing your path which is in alignment with your purpose in life
Become a certified yoga teacher (from Yoga Alliance USA) with the freedom of choosing your path which is in alignment with your purpose in life
By the end of the course you'll experience a huge development of your own practice as well as your confidence in teaching
As the course goes by, you'll see yourself and those around you changing, growing and glowing
The teachers might be some of the most incredible and inspiring individuals you will ever meet
A variety of experienced teachers (each one with different strengths) will help you grow in many different ways
A daily structure course that is well planned and has a great balance between yoga practice, alignment, anatomy, teaching methodology, and philosophy
You will enjoy the surrounding valley and the beautiful nature…and of course the amazing rivers and waterfall within the resort!
Schedule
5:50 AM Meeting in Yoga Shala
6:00 AM Setting intention meditation/pranayama practice/morning detox drink
7:05 AM Hatha Yoga practice
9:15 AM Breakfast
10:15 AMTheory learning and practice sessions
1:30 PM Lunch
2:30 PM Pool time/resting
4:30 PM Theory session/practice
6:15 PM Meditation/Yoga Nidra
7:15 PM Dinner
8:15 PM Soul cinema, Kirtan, sound healing (optional)
10:00 PM In room resting
About This Event
A Life-changing opportunity to find your passion through yogic principles, techniques, practices, and philosophy.
A mix of Hatha, Ashtanga, Yin & Vinyasa course on the magical "island of the Gods" Bali, where time stops and the journey within begins.
For 25 days you will get the chance to start your new life journey and have a transformational experience that you'll remember for the rest of your life.
House OF OM Yoga School is certified by Yoga Alliance USA. It incorporates Hatha, Ashtanga & Vinyasa Yoga to give students an extensive and embracing learning experience that covers all key aspects of Yoga to become qualified Yoga Teachers.​
TEACHING VISION
Each student receives a highly engaging learning experience, which has the ability to transform their very core using ancient, traditional Yogic principles. These are trained and taught using carefully crafted methods, which will allow you to apply and incorporate what you learn into your lives and go onto becoming successful Yoga Teachers and Practitioners.
Training Goal beyond accredited teaching certificate
The course will also help you cultivate inner well being, happiness, joy, radiate greater love and compassion towards ourselves and others - it's a truly transformative experience that will accelerate your Yoga knowledge and spiritual growth.
The curriculum is approved by Yoga Alliance and led by experienced and qualified yoga teachers.
COURSE OVERVIEW
1.Yoga Postures (Asana)
Extensive knowledge of Yoga Postures
Increased strength, flexibility, and discipline
2. Anatomy and Physiology
Digestive System
Respiratory System
Circulatory System
and much more...
3.Meditation (Dhyana)
Meditation is a systematic practice that promotes physical, mental and emotional tranquility with the purpose of reaching Samadhi (self-realization).
4.Pranayama (Breathing Practices)
Abdominal Breathing Technique
Nadi Shodhana
Kapalabhati Breath
Progressive Relaxation
and much more ...
5.Teaching Methodology
Class preparation
Step by step class structure
Positive communication
Friendship and trust
Time management
Use of voice in class
6.Teaching Practice (Adhyapanam)
Demonstration
Alignment
Instruction
Correction
Observation
7.Mudras (Yoga Gestures)
Performing gestures affects the energy flow of the body and can change a person's spiritual and mental characteristics.
8.Recitation of Sacred Sound (Mantra Chanting)
Generate vibrations and connect with the universe. Each mantra is special and rich with spiritual energy.
9.Yoga Nidra (Psychic Sleep)
Moves through the various internal states of profound relaxation. This is called "Turiya," a sensation of pure bliss.
10.Yoga Cleansing (Shatkarma)
Removes blockages in your energy channels.
11.Yoga Bandhas (Energy Lock)
The practice of Bandhas expands lung capacity and breathing capabilities during yoga.
Strengthens the entire body from the inside out.
12.Yoga Philosophy (Yoga Darshana)
It is the key to earn yogic strength you will establish a solid, well-rounded yoga practice.​
EXCURSION AROUND BALI
During this training, you will have a chance to enjoy two full days of sightseeing and interesting activities where we will visit a purification temple, stunning beaches, and magical nature.
Our YTT is not just another yoga teacher training, it's a real life-changing opportunity!
In addition to gaining new skills, understanding different aspects of Asana, pranayama, meditation, anatomy, philosophy, the art of teaching, etc. we add special workshops and masterclasses about life coaching, the law of manifestation, chakra system, energy healing and much more.
We take care of all the details from the moment you arrive at the airport, the food, the music, the accommodation, the connection with other students and nature.
We believe in multi-style teaching (Hatha, Ashtanga, Vinyasa, and Yin) to give the opportunity to the students to choose and find their passion.
All with a variety of experienced, high quality, knowledgeable and passionate teachers (each one with different strengths)
Our course has been approved by Yoga Alliance USA and we abide by their strict quality standards
​Our House Of Om school is an inspiring and welcoming community, a spiritual hub for knowledge seekers to grow and nourish their souls. It's a community built on love, enthusiasm and a profound belief in the transformative powers of yoga.
Every teacher and staff member is passionate and committed to providing the best possible experience for every student.
READING RECOMMENDATIONS
On Yin Yoga:
Insight Yoga - Sarah Powers
The Complete Guide to Yin Yoga - Bernie Clark
Yin Yoga: Outline of a Quiet Practice - Paul Grilley
On Oriental Medicine:
The Spark in the Machine - Dr Daniel Keown
The Web That Has No Weaver - Ted J. Kaptchuk
On Mindfulness, Insight & Meditation:
Mindfulness in Plain English - Bhante Gunaratana
The Power of Now & A New Earth: Create a Better Life - Eckhardt Tolle
Wherever You Go, There You Are & Full Catastrophe Living - Jon Kobat-Zinn
The Miracle of Mindfulness - Thich Nhat Hanh
The Road Home: Buddhism for the 21st Century - Ethan Nichtern
The Way of Zen & Tao: The Watercourse Way & Audios - Alan Watts
Intuition: Knowing Beyond Logic & Emotions: Freedom from Anger, Jealousy & Fear - Osho
The Art of Happiness: A Handbook for Living - His Holiness the Dalai Lama and Howard C. Cutler
On Traditional Yoga Practice, History & Philosophy
Light on Yoga & Light on Pranayama & Light on the Yoga Sutras of Patanjali - B.K.S. Iyengar
Asana Pranayama Mudra Bandha - Bihar School of Yoga
The Yoga Sutras of Patanjali - A new translation and commentary by George Feursrein
Bhagavad Gita - any interpretation
Four Chapters on Freedom - Swami Satyananda Saraswati
On Anatomy:
Anatomy for Yoga DVD - Paul Grilley
Your Body, Your Yoga - Bernie Clark
Anatomy Trains - Tom Meyers
Everything exceeded my expectations: the instructors, the lessons, the location, and the activities. I would highly recommend this teacher training for anyone with an open heart who is ready for a lifetime experience. - Erika Furlong from Canada
What's Included
Full course training and materials, unique, diverse, and authentic
Accredited teacher training certificate from Yoga Alliance, valid worldwide
25 days, 24 nights beautiful and luxurious accommodation in a relaxing jungle valley
All-day delicious healthy & organic food and drinks, that will leave your nourished and content
Airport pickup and dropoff...(We will take care of you from the moment you arrive in Bali)
2 days of sightseeing around magical Bali we will visit a sacred temple, rice field, waterfall stunning beach and local market
Special gifts for all (Natural Handmade Yoga Bag, Custom T-shirt, Multi-Use Traditional Balinese Attire/Sarong, Mala beads)
Yoga instruments/tools (Jala neti, Sutra neti) for cleansing and purification
Love care and support through your yogic journey :)
What's Not Included
Airline ticket/visa
Travel insurance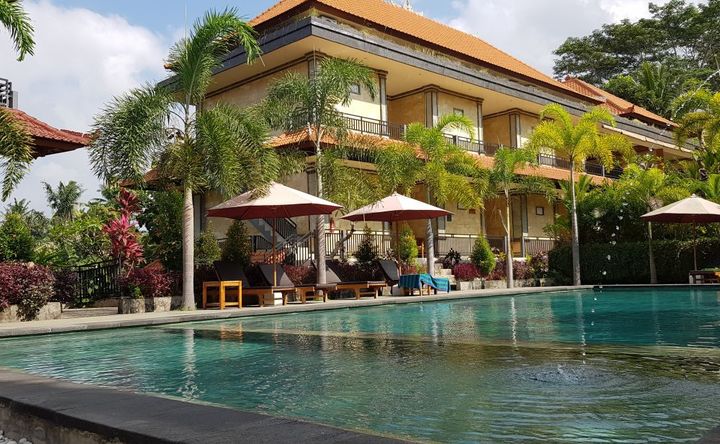 Venue Highlights
Yoga Amertham Resort is located in the heart of Bali, right in the middle of two rivers, surrounded by breathtaking greenery,
17 minutes from Ubud city and 15 minutes from the stunning beach.
Designed in classic Balinese architecture style with the outdoor pool, full comfort double/single occupancy bedrooms - all with private bathrooms, beautiful nature views & waterfall within the resort.
It offers serenity and peace, a place to clear your body, mind, and soul, to connect to nature and to your inner self.
Accommodations
There are 3 room types available:
~Private Room River View~
Spacious room, king-size bed, private bathroom, AC, hot water, safe box, coffee/team facility set, mini bar fridge, daily complimentary spring water, private balcony with a breathtaking scenic river view right outside the room, you will never feel closer to nature.
~Twin Bed Room River View~
2 comfortable beds, private bathroom, AC, hot water, safe box, coffee/team facility set, mini bar fridge, daily complimentary spring water, private balcony with a breathtaking scenic river view right outside the room, you will never feel closer to nature.
~Dorm Room Pool View~
4 comfortable beds, private room, located right above the pool, this room gives you the opportunity to live and share the space with other students. One big bathroom in the room with enough space to make everyone comfortable.
Amenities
A/C in Rooms
Free Wifi
Pool
Towels
Free Parking
Coffee/Tea
Yoga Studio
House Keeping
Ceremony Space
Menu Types
Vegan
Vegetarian
Pescetarian
Ayurvedic
Meat
Organic
Gluten Free
Dairy Free
Nut Free
Menu/Cuisine
Breakfast, lunch and dinner buffets are prepared specially for our YTT retreat. Nutritional, high vibrational, organic meals that can fit any special diet requirement, fresh juices, salads, soups, appetizers, main courses, fruits, and healthy desserts.
All-day detox drinks, tea, coffee, and water.
Directions
Please book your flight to arrive at Ngurah Rai International Airport (DPS). Transfer from and to the airport is included. House of Om provides pick up and drop off taxi service from Ngurah Rai International Airport (DPS) to Yoga Amertham Resort.
Reviews To review this event, visit the page for the venue or retreat leaders (above).
Similar Retreats You Might Like

Thank you!
We're glad you've joined our retreat community. See you around :)
Return to my event
×