Sacred Heart Yoga - 200hour Foundations of Yoga and Teacher Training Immersion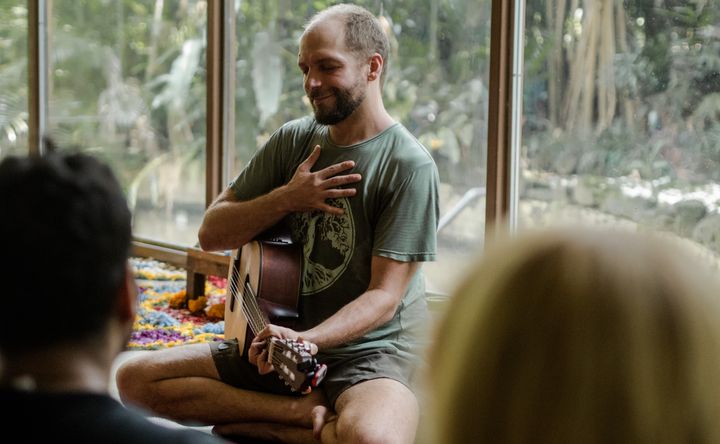 Event Highlights
Daily immersion into the lifestyle of integrated Yoga. Begin each day with Sadhana, a deep daily practise of holistic Meditation, Pranayama breathwork, Kriya purification techniques, Asana movement practice, restorative Savasana, and mantra chanting or singing - Kirtan.
Karma Yoga - A day of Seva - selfless service through volunteer projects
Bhakti Yoga Day - Experience traditional Balinese Bhakti Yoga through creation of offerings and a trip to receive a traditional blessing.
Schedule
Sample daily schedule six days per week, seventh day off after morning practice.
6:00–9:00 Daily Sadhana (practice) - Includes Kriya, Mantra, Asana, Pranayama, Meditation & Kirtan
9:00–10:00 Break
10:00-12:30 Yoga Philosophy, Mantra/Sanskrit, Western & Energetic Anatomy, Awareness Development, Teaching Methodology
12:30–1:00 Pranayama & Mantra Techniques
1:00-2:30 Break
2:30-5:30 Posture Clinic, Practice Teaching, Art of Adjustment
5:30-6:30 Restorative, Yin, Yoga Nidra, Group sharing
One evening per week we will will have an evening deepening practice (Ex: Trataka, Sound Healing, Conscious Movie)
About This Event
The Sacred Heart Yoga Teacher Training is a heart-centered and highly transformative, month-long immersion, designed to establish a solid foundation in all the essential elements of living and teaching the ancient system of Yoga.
Certified by Yoga Alliance, this training develops strong roots in all essential areas of practicing and teaching holistic yoga:
-Asana (traditional yoga postures)
-Kriya (purification techniques)
-Pranayama (breathing techniques)
-Mantra (sacred sound recitation)
-Meditation
-Kirtan (blissful group chanting of sacred mantras)
-Yogic History and Philosophy
-Western and Energetic Anatomy
-Safe Alignment, Adjustments and Posture Variations
-Basics of Yin, Restorative, and Kundalini Yoga
-The Art of Teaching and Sequencing
-The Business of Yoga (the world of being a teacher)
-Teaching Authentically, Holistically, and from the Heart
What is Unique about S.H.Y
Aside from all the foundational knowledge of a YTT, the true gem of this training is its heart-centered, Bhakti approach (Bhakti – the unselfish love and service to others, and devotion to the Divine, Sacred source of All that is; call it by any name you wish). We practice opening our hearts to see that sacredness in ourselves, each other, and the world, through:
-Heart-Centered, humble, non-competitive and holistic yoga practice
-Community deepening sharing circles
-Traditional Opening and Closing Puja (Sacred Ritual)
-Daily Kirtan (group heart opening chanting)
-Karma Yoga (a day of 'Seva' selfless service with a local Balinese charity; 5% of Sacred Heart Yoga profits go directly to a local, Bali-based charity)
The light-hearted approach of beloved lead teachers, Greg Kaps & Amit Miglani, instantly creates an atmosphere of open-hearted ease, allowing students to relax into, and engage with the transformation process. With a compassionate understanding of life struggles, as well as an abundance of Yogic wisdom, experience, and a joyous, playful attitude, Greg meets students where they are, encouraging self acceptance while inspiring to explore deeper. This will not be an easy month, as leaning beyond our comfort zone rarely is, but you will feel deeply supported through the entire process by an experienced and compassionate faculty, and experience the life changing benefits of Yoga.
Included in the course:
Sacred Heart Yoga: Teachers Handbook, Excursions to Spiritual and Nature sites in Bali, 2 Massages vouchers, Neti pot, Welcome lunch and Graduation Dinner, and so much more!
Course Investment:
3000 USD (if paid in full before November 15, 2019)
3300 USD (if paid after November 15, 2019)
*Flights, accommodation, and food are not included in the course fee
The Daily Practice & Teachings are amazing, I feel Blessed to have discovered such a Talented Teacher who is able to Teach such a range of different aspects from Asana, Pranayama, Mantra, Kirtan & so much more! Simply Amazing, Highly Recommend! -C.D.
What's Included
- 200 Hour Yoga Alliance certified course
- All course handouts
- Sacred Heart Yoga: Teachers Handbook
- Group Excursions to Spiritual and Nature sites in Bali
- 2 Massage vouchers
- 1 Neti pot and salt
- Opening Day Lunch
- Graduation Dinner
What's Not Included
Airfare, Food, accommodations
Venue Highlights
The Yoga Barn is a tropical oasis, an epicenter of self-discovery, healing and renewal tucked into the heart of downtown Ubud. A one of a kind environment, The Yoga Barn's pace is intrinsically led by Balinese culture, and is blessed by the Hindu and animistic traditions of Bali, embodying the healing medicine of Ubud.
A welcoming and naturally built environment, The Yoga Barn invites all who enter the grounds to connect within and to experience life differently; it offers an opportunity for visitors to heal, to gather and grow in community; to connect to Self and to open up towards inner transformation.
With 7 studios, The Yoga Barn offers over 130 classes a week in yoga, meditation, dance, healing, health and wellness sessions, Ayurvedic Spa treatments and more. The studios are famously known for their tropical environment which cultivate an 'in nature' connection, an aspect and feeling that is celebrated and unique to the Yoga Barn experience. In addition to classes, The Yoga Barn hosts international teachers offering workshops, retreats and teacher trainings.
As an anchor for a global yoga community since 2007, when it humbly opened with one simple studio, The Yoga Barn's expansion over the years into a 'global yoga epicenter' has been in direct response to ongoing teacher and visitor demands - fueled by the passion and positive intentions of all who participate. The Yoga Barn is an international hub that truly reflects of the power of healthy inter-personal relationships & community.
In short, The Yoga Barn contains a special energy and has an uplifting pulse that can be felt throughout its grounds. Stillness, compassion and inspiration touch its guests, embraced by top-notch teaching faculty, holistic health therapists and the local Balinese, all influencers of the individual experience.
The Yoga Barn is a world class holistic destination with a heart and purpose.
Reviews To review this event, visit the page for the venue or retreat leaders (above).
Similar Retreats You Might Like

Thank you!
We're glad you've joined our retreat community. See you around :)
Return to my event
×