Zazyoga 200-Hour Mindful Movement Yoga Teacher Training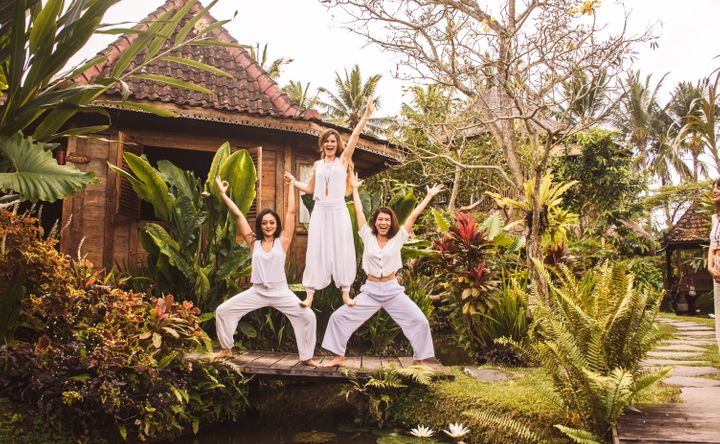 Event Highlights
Course content
Your Zazyoga 200-hour Yoga Teacher Training is an extensive immersion into the various pillars of yoga. Throughout the course, you will not only learn to master your practice and teach a class, but will take a deep journey into yourself through the eyes of a yogi. Our curriculum balances practice and theory, uncovering some of the mysteries of the body, breath, mind, and soul.
Meditation and pranayama
Yoga is a journey through the self, far beyong the physical practice. For this reason, each morning starts with a mindful ritual of meditation and pranayama. We understand that sitting in stillness may be challenging for some, so we initiate you to various meditation techniques, including moving meditation, chanting, guided meditations, etc. to build tools to transcend and master the mind.
By learning pranayama (prana=lifeforce, yama=control) you will activate and regulate your vital energy. Most importantly, you will learn the ancient practices of pranayama and their effects on the physical, mental, and energetic bodies.
Asana practice
Our daily practice includes morning Vinyasa, a dynamic style of yoga that links breath to movement in a fast pace flow. During these classes, you will experience different themes, from soft flows to powerful "sweaty sessions" . You will learn to adapt to different audiences and better understand your own body and self practice, which will shape your unique teaching style.
Our afternoon practices alternate between workshops and restorative yoga. Restorative yoga is about slowing down and opening the body with supported poses to reach both physical and mental balance. During these practices, you will learn about the use of props as introduced by BKS Iyengar, about the resistance of the body and mind, stress management, and the benefits of deep passive stretching.
Asana lab
During asana labs, you will learn to break down and teach each posture including their main benefits, contraindications, and modifications for various bodies and conditions. Moreover, you will learn to safely adjust students, use the support of props, and offer various alternatives for different levels of practice.
Yoga anatomy and physiology
Our interactive anatomy classes are far from boring! Indeed, through exercise and examples you will learn the major body systems and how they relate to yoga. By gaining a deep understanding of the human body, you will be equipped with the knowledge to prevent injuries and maximize the benefits of yoga in your own practice or in your classes. You will learn about the most common health conditions and injuries encountered by yoga teachers and how to work with them. You will get to know the incredible machine that is your body, and the many ways yoga impacts it.
Yoga philosophy
By building a deeper understanding of Yoga Philosophy you will gain tools to uncover your truthful and authentic self, both on and off the mat. Adapting the ancient wisdom of yoga texts to our modern reality and how they relate to yoga in today's world, you will study the eight-limb path of yoga and the Yoga Sutras of Patanjali, and become familiar with the how to overcome obstacles to inner peace and living a blissful yogic life.
Art of teaching
Whether it's your dream to become a teacher of not, we believe in the importance of learning the skills to confidently express yourself to the world around you. We provide the groundings to better communicate from the inside out, whether that be in a yoga class or in your everyday interactions. We cover voice activation techniques, body language and movement, class preparation and sequencing, and many other techniques allowing you to find your own personal teaching style.
Teaching practice
Building confident teachers that can clearly and authentically lead inspiring classes is one of our main focus. Throughout the training you will gradually build up your teaching practice to many styles of yoga, group sizes and yoga levels. You will learn to structure a class effectively from start to finish so you can easily build classes that flow smoothly and effortlessly.
Successful yoga business
You will learn to effectively nurture and preserve abundance through your yoga teaching career, understand different yoga business models, and explore the many paths you may chose to venture down upon leaving the training. We cover some of the most effective practices to start a successful career, such as building your own personal yoga brand, approaching yoga studios and starting up as a teacher, organizing yoga events, etc. You will be more than ready to market yourself as a passionate and successful practitioner in the area of your choice with the support and guidance from your skilled teachers.
What will you learn in this training:
Over 75 asanas and their benefits and contraindications
Yoga adjustments
Use of props
How to assess a client and teach private classes
How to teach 30, 60, and 90 minute group classes
Giving clear instructions to students
The art of sequencing a class
How to avoid common injuries
Anatomy related to the yoga practice
How to prepare for advanced poses
Biomechanics of arm balances and inversions
Various meditation practices
Pranayama practices and their effects on the body and mind
Introduction to energy bodies
Yoga philosophy and the path to enlightenment
Ayurveda in yoga practice
Building a successful yoga career and business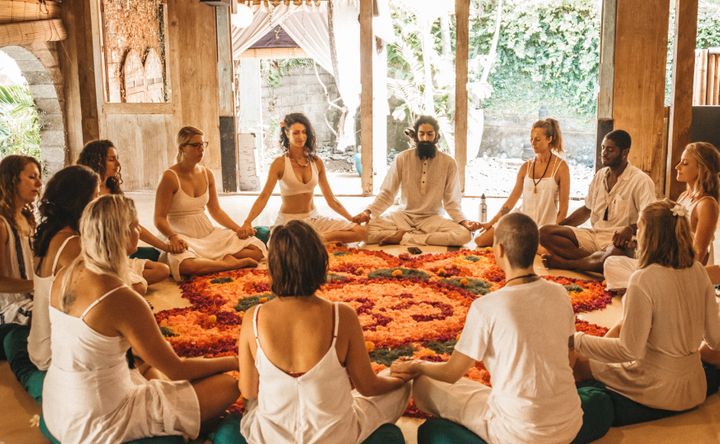 Schedule
6.00 – 7.30: Meditation, pranayama, mantra chanting
7.30 – 9.00: Vinyasa practice
9.00 – 10.00: Breakfast
10.00 – 11.00: Asana workshop
10.00 – 13.00: Lecture
13.00 – 14.00: Lunch
14.00 – 15.00: Self Study
15.00 – 16.30: Teaching skills and practice
16.30 – 17.30: Yoga Nidra
17.30 – 19.00: Restorative Yoga
19.00 – 20.00: Dinner
20.00 – 21.00: Evening meditation, workshop, or sharing circle.
About This Event
Join us in on the beautiful beaches of Bali for an intimate journey through the mind, body and soul as you explore the inner depths of yourself through a mindful movement practice.
Overview
Set in the spiritually rich island of Bali, the Zazyoga intensive 200-hour Yoga Teacher Training course (YTTC) offers students an in-depth immersion into the art of yoga.
Our program builds upon the foundations of correct alignment for each unique body. We believe that to become an accomplished yogi and inspired teacher, one must develop a deep understanding of their own body, mind and soul. Once understanding how your own body moves, we guide you through the art of teaching, assisting and adjusting others.
Our focus is on Vinyasa and Restorative yoga, and we include workshops on the other main styles of yoga and advanced postures. This course emphasizes on the detailed alignments of each pose (along with their benefits, contraindications, modifications for different conditions, etc.) and on building your teaching skills with extensive teaching practice. By the end of the training, you will confidently teach a 90-minute class.
We set ourselves apart by providing an intimate training experience. Our course is limited to 16 students and takes place in handpicked private retreat locations. You will learn and grow in a quiet and nurturing environment, while remaining close to the main touristic attractions of Ubud.
A Yoga Teacher Training is not only for those who want to become yoga teachers. In fact, most students join YTTCs to deepen their practice, learn more about the aspects of yoga that are rarely covered in studio classes, develop a home practice, or simply take a journey into the self. A yoga teacher training is the opportunity to explore the many layers of yoga, discover yourself through yoga philosophy, meet and share with like-minded souls, and experience a life-changing course.
What's Included
Zazyoga 200-hour training packages
Our October program is hosted in the lively coastal town of Canggu. The resort is strategically located in a quiet area between the volcanic sand beach and the perpetual rice fields, and a short drive away from Canggu's lively attractions.
Each tuition package includes:
Accommodation for 21 nights with daily house keeping
Three buffet vegetarian meals per day
Purified water and tea served throughout the day
Course tuition and course material
Access to salt water pool and herbal steam sauna
One Balinese ceremony experience
Course certificate (upon successful completion of the course)
What's Not Included
Visas
Flights
Travel Insurance
Transfers
Venue Highlights
A beautiful Intimate retreat centre footsteps from the beach
Accommodations
Double room – – USD 3,750
The traditional bungalows are equipped with 2 single beds and en-suite bathroom to accommodate 2 students per room.
Single room – USD 4,590
The 200 sqft private rooms host a king size bed and private bathroom.
Amenities
A/C in Rooms
Free Wifi
Pool
Towels
Free Parking
Coffee/Tea
Cafe
Restaurant
Yoga Studio
House Keeping
Ceremony Space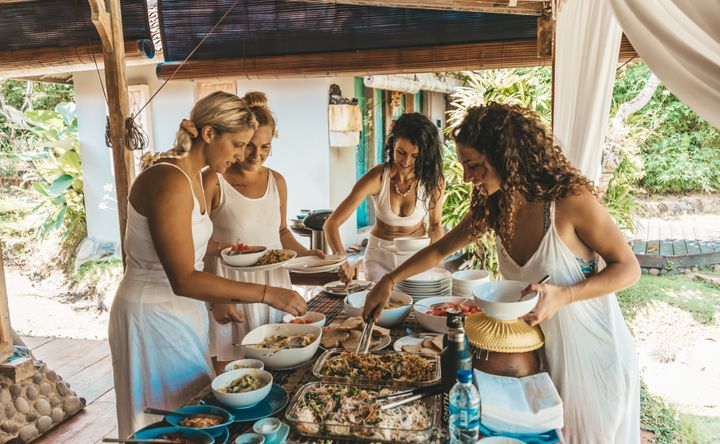 Menu Types
Vegan
Vegetarian
Pescetarian
Organic
Gluten Free
Dairy Free
Nut Free
Menu/Cuisine
Nourishing home cooked meals catered to all allergies.
Directions
around 90 minutes drive from bali's main airport
Reviews To review this event, visit the page for the venue or retreat leaders (above).
Similar Retreats You Might Like

Thank you!
We're glad you've joined our retreat community. See you around :)
Return to my event
×