Himalayan Yoga Retreat- Manali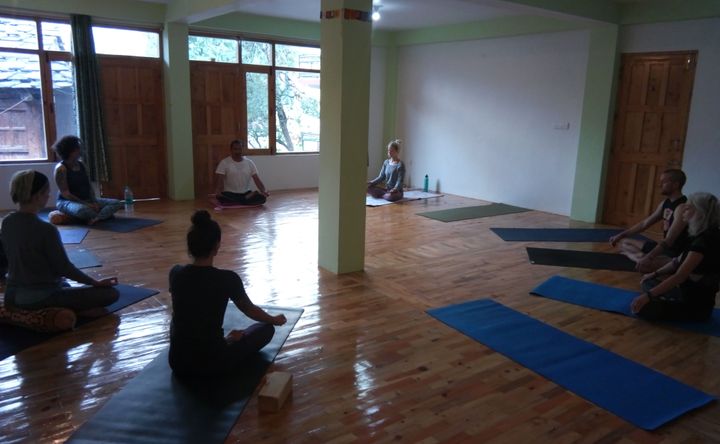 Event Highlights
In this Retreat you will stay with family , village cultures , Home made cooking food , Cooking class, hiking , Kirtan etc
Schedule
Detailed Day-to-Day Itinerary:
Day 01: Arrival Delhi
Arrival in Delhi, reception at the airport and transfer to hotel – overnight in hotel
Day 02: Visit Delhi & Night Volvo Bus to Manali
You have time after breakfast to relax or do some sightseeing around Delhi – there are many options such as visiting the Red Fort, the Jama Masjid Mosque, see Old Delhi by bicycle rickshaw, walk in Lodhi Gardens, shopping at Sarojini Market and much more! In the early evening we will drop you to the over-night bus to Manali. We suggest an early dinner / late lunch since you will be transferred from the hotel to the Deluxe Volvo Bus at approx 5:00pm. The bus provides bottled water and blankets and they stop for a late dinner (at approx. 9:30 - 10pm). There will also be additional rest stops on the way to Manali. The bus journey takes 12 - 14 hours.
Note: Option to Fly to Kullu from Delhi additional charges if you do not wish to take the night bus. Additional charges apply.
Day 03: Arrive to Manali
Arrival in Manali at around 8:00am. From here you will be welcomed and transferred to your hotel or family house 4km up the road in the town of Vashisht (Elevation 2000 meters). You can rest and relax or take your toiletries and towel and head to the local temple to bathe in the deliciously warm natural hot springs – wash away your travels and nourish yourself in these especially healing waters. Enjoy lunch at the Ram Family house. After lunch we will have a short orientation talk. In the evening you will meet the indian yoga teacher at the yoga shala, where he will talk to you about yoga and meditation. Dinner. Night in family house or preferred hotel.
Day 04: Yoga , Meditation and Short Trek
7am Yoga, Pranayama and asana practice for 2 hours. Breakfast—9:30am. After breakfast guided walk to Jogini Falls. These are beautiful waterfalls about an hour along the wall of the valley from Vashisht. These falls descend from high above and run into the Beas River below. Eveningwewill take meditation class . Dinner. Night in family house or hotel.
Day 05: Yoga , Meditation and Temple Visit
7am Yoga, Pranayama and asana practice for 2 hours. Breakfast—9:30am. After breakfast . Visit the village ofGoshal , Old Manali and the beautiful Hadimba Temple. Hadimba temple is about one km from Manali - it is very old and surrounded by the tall cedar pine trees on the edge of Dhungri village. According to legends, Bhima one of the Pandava brothers fell in love with an aboriginal woman named Hadimba, the sister of the local chief by the name of Hadimba and married her. In your own time you can take a rickshaw back to Vashisht. Dinner. Night in family house or hotel. Evening we will take meditation class after Dinner.
Day 06: Yoga, Meditation and Explore Villages Life
7am Yoga, Pranayama and asana practice for 2 hours. Breakfast 9:30am.After breakfast you will have the opportunity to take a walk to Villages . We will walk up along the valley to three distinct villages that dot along the Beas River. We will visit the village of Burwa, Shanag and Goshal, stop for tea at a local family house. Dinner. Night in family house or hotel. Eveningwewill take meditation class Either Before or afterDinner.
Day 07, Yoga , Meditation and visit Nagar castle .
7am Yoga, Pranayama and asana practice for 2 hours. Breakfast at 9:30am. After breakfast you will Drive to Nagar Visit Nagar castle and Roerich art gallery and karishna temple. back to Vashisht , evening meditation. Dinner .
Day 08, Yoga, Meditation & Visit Tibetan Medicine doctor
7 am Yoga, Pranayama and asana practice for 2 hours. Breakfast 9:30am. After breakfast you will walk to Tibetan Ayurvedic doctor for person treatment .
Day 9: Yoga and Trek to Pandurupa -3300 Mtrs —-6/7 hrs Trek
7am Yoga, Pranayama and Asana practice for 1 hours. Break fast 8:00am. After breakfast you will Trek to Pandurupa it is Long trek but very Nice trek . you will enjoy High mountains view .You have to Pack lunch/picnic today because maybe you will come back in the evening.
Day 10: Yoga and Free Visit
7am Yoga, Pranayama and asana practice for 2 hours. Breakfast 9:30am. Free time - after breakfast you will have free time to relax, enjoy the hot springs, schedule a massage or do a little exploring on your own. 5 PM 1 Hrs yoga Nidra -Dinner Night in family house or hotel.
Note: One can do Canopying or rock climbing as per your own choice for half day. We will help you to book one day in advance .
DAY 11: Pranayama and Yoga . Afternoon Volvo Bus
7am ,Pranayama class for 30 minute and 1 Hrs yoga class after you .later after transfer to bus stand to take night Volvo bus to Delhi. Night in Bus.
Day 12 : Arrival Delhi Free Visit in Delhi, Departure
On your arrival in Delhi we will transfer you to Hotel. Free day to explore Delhi. Evening transfer to airport - farewell!
About This Event
Our general tour season. When you're on top of the world it's easy to touch the sky. Breathe in the pure air and see the mountains that give Manali the nickname "The Valley of Gods. You'll stay in a family house or hotel in the small village of Vashisht. Practice yoga to join your body, mind and soul together and hike to some beautiful and interesting places in the surrounding area
We offer a trek to the holy mountain site, Bhrigu Lake. Immerse yourself in the impressive beauty of nature by staying in our basecamp above the village and enjoy breathtaking panoramic views of the mountains and valley. Details, itinerary, and photos below
What's Included
ncluded Services:
• Airport Transfer to Standard Hotel in Delhi.
• Delhi to Manali and Manali to Delhi by Volvo bus
• Arrival Manali transfer to hotel from Bus stand
• Family house or Simple hotel in Vashisht,
• Transport for sightseeing as per itinerary
• Yoga-Practice as per Itinerary
• Daily Breakfast & dinner in family house prepared by the women of the family
• Local Guide to Visit and for trekking and Hiking .
• Twin Sharing Room or Tent, Single room supplement charges
• Transport to visit Delhi without guide. Driver will manage it
• Yoga Nidra class
• Indian Cooking Class
• Govt. Service Tax
What's Not Included
Not Included:
• Additional Beverages
• Bottled Mineral Water
• Monument fees
• Food in Delhi
• Lunches While in Vashisht
• Sightseeing fees in Delhi
• Travel insurance and medical evacuation.
• Any flight
• Food and beverages while taking night Volvo bus . ( They stop for dinner you can buy as per your choice )
• Massage and other personal Activities.
• Tibetan or Ayurvedic medicine
• Thai massage on additional charges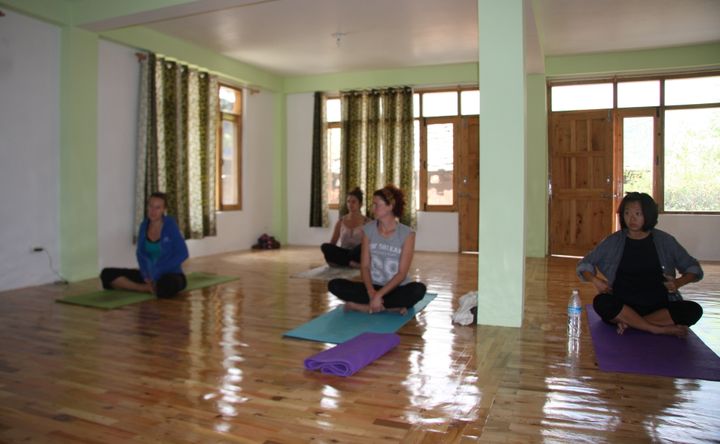 Venue Highlights
Whether you like yoga, meditation, adventure trekking, or a combination of all three, Open Lotus Yoga Retreat can provide you the best service and bring your travel desires to fruition. We look forward to serving your travel and adventure needs.
Amenities
Free Wifi
Towels
Kitchen
Coffee/Tea
Yoga Studio
Bicycles
Ceremony Space
Menu/Cuisine
Home made food
Directions
Kullu ( Bhuinter ) airport
Reviews To review this event, visit the page for the venue or retreat leaders (above).
Similar Retreats You Might Like

Thank you!
We're glad you've joined our retreat community. See you around :)
Return to my event
×