SALKANTAY SACRED TREK TO MACHU PICCHU WITH YOGA AND MEDITATION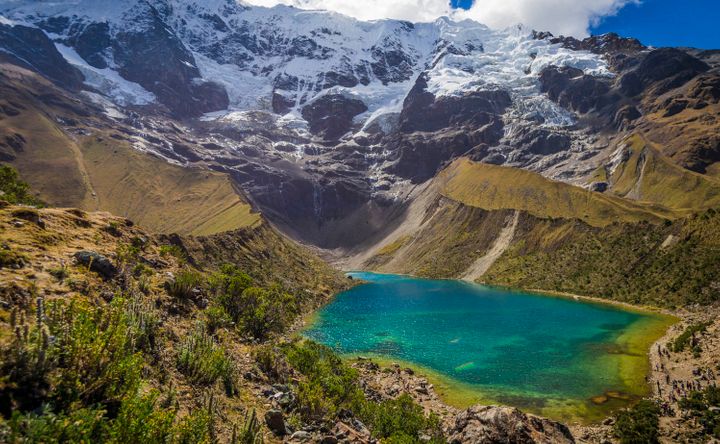 Event Highlights
5 Days hiking through varied Cusco terrain
Machu Picchu Archaeological Site
The picturesque Lake Humantay
Salkantay Mountain
Andean Cloud Forest
Natural Hot Springs
Multiple Yoga Sessions
A Personal Chef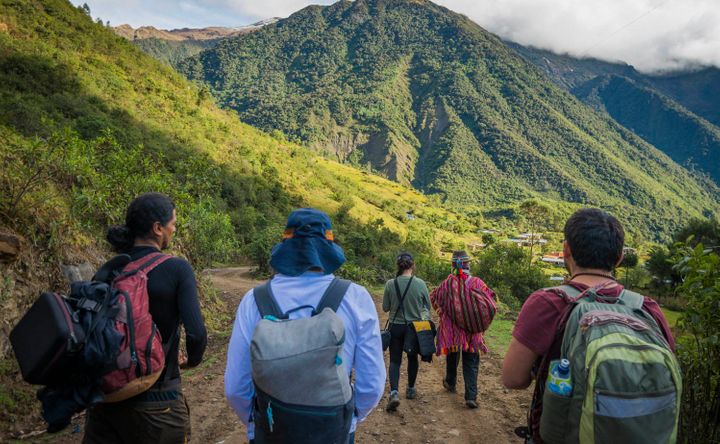 Schedule
Day 1: Water
Cusco - Mollepata - Humantay Lake - Soraypampa
On the first day of the Salkantay trek we begin by picking up our travellers from their accommodation around 5am. We will then travel by van towards Soraypampa which is located at 3,800m. On the way we will stop at the town of Mollepata for breakfast and continue to our destination.
At Soraypampa we will meet Andean healer our master Qero. Also present will be our wranglers and pack animals. Together we will do a Ceremony of offering/gratitude to the Mountains (Apus) and ask for their protection then begin our hike towards Lake Humantay. On the way we will stop at a secluded location where we will soak in the energy of the mountains with our healers (Pacco or Pampa Misayoc). This is a place conducive to meditate, do yoga and enjoy the solitude.
We will then continue to Lake Humantay which is a further 20-30 minute walk. This pretty lagoon provides mirror-like images of the surrounding mountains and is the perfect place for self-reflection.
After enjoying the views of Lake Humantay we will make our way back down to Soraypampa camp where we will partake in a yoga class before dinner and spend the night.
Holistic Activities
Yoga & Meditation:
Introductory talk on yoga, it's origins, components and benefits.
Information about meditation and benefits.
Sequence practice of joint warming exercises and posture correction.
Andean Cosmology:
Ceremony of gratitude and protection
Mama Coca spiritual leaves
Mama Coccha (Water of life)
Meals Included:
Super Food like Quinoa, Maca, Amaranto, Yellow Potato, Passion fruit are made and cook by our local mountain chef ready to share our Andean, Amazonian cuisine which is perfect for all dietary types. We provide you the experience to try food products with non chemical composition and non transgenic transformation, direct from local communities and markets.
More about our food click here
Snacks
Lunch
Dinner
Day 2: Earth
Soraypampa - Salkantay - Huayracpampa - Chaullay
We will start our day early, have breakfast and start our trek towards the highest elevation point which is Salkantay Pass (4,600m). Before departing, we will spend some time with our Yoga teacher, she will start with some breathing techniques and explain to us about the dimensions and yoga levels. After finishing our class, we will continue with the trek.
Depending on the weather and the physical condition of the travelers, there is also an option to visit a second glacial lagoon near the base of Salkantay.
From Salkantay Pass we will journey towards Huayracpampa where we will enjoy lunch and continue on into the high jungle. As we travel, the vegetation changes from the sparse grasses of the puna and mountain passes to lush cloud forest home to butterflies, hummingbirds, and a wide-variety of flora. After lunch we will veer away from the standard trekking route and head down to the river before climbing the ridge on the other side. From lunch the remaining walk will take around 5 hours before reaching our camp Chaullay where we will enjoy yoga, dinner and dessert. Our camping equipment and food will be transported by pack horses. Before dinner we will be part of the last Yoga Session of the day, exploring our bodies and performing some asanas.
Holistic Activities
Yoga & Meditation:
Meditation early in the morning, observation of three-phase breathing
Information on dimensions of yoga, Ghatasta yoga, meaning and benefits.
Movement exploration practice, laterality exercises and simple asanas
Andean Cosmology :
Our Pachamama ceremony to mother earth
Lessons about APUS the meaning of the mountains
Viracocha: The one who creates and give order
Meals Included:
Snacks
Breakfast
Lunch
Dinner
Dessert
Day 3: Wind
Chaullay - La Playa - Santa Teresa
On this day of the Salkantay Trek we will wake early again, have breakfast and continue our adventure towards Sahuayaco.
As always, before departing we will do meditation with breathing techniques, and then learn about Hatha Yoga and energetic Yoga, and how this knowledge works with the duality.
During the trek, we will get a look at rural life in the valley, and, if in season, we can harvest some tasty "granadilla" from the passion fruit family, or maybe some of the region's incredible avocados. We'll pass through this beautiful valley, and after lunch we cross the river to head through the upper edges of the rainforest to a place called Sahuayaco. From here, we will take a minivan to Lucmabamba, known for its Organic coffee production Honey production and native fruits.
At Lucmabamba we will enjoy lunch, sample some local coffee and then take transport to our camp for the night in Santa Teresa.
At Santa Teresa we will enjoy yoga and then make our way to the Hot Springs to enjoy the warmth of the natural pools for a few hours before arriving back at camp to have dinner and dessert for the night.
Holistic Activities
Yoga & Meditation:
Meditation early in the morning, observation of breathing – Anapana
Information about Hatha yoga, energetic yoga, the duality and relationship of female-male duality with the environment.
Movement exploration practice, laterality exercises and simple asanas
Andean Cosmology:
Taita Wayra Father wind
Hatun Chaska The great starts
Inti and Mama Quilla: The Sun and mother moon
Meals Included:
Snacks
Breakfast
Lunch
Dinner
Dessert
Day 4: Fire
Santa Teresa - Hydroelectric - Aguas Calientes (Machu Picchu town)
We will take a 2-3 hour ascent up the Inca road to Llactapata. Llactapata is a well preserved Inca road which once ran all the way to Quito, Ecuador.
Following the trail up the side of the ridge, we may see a multitude of butterflies, citronella plants, rocky streams, and stunning vistas of the Santa Teresa valley. Here we will take advantage of the place to do some Yoga activities and meditation for have the connection with the nature.
From the pass, it is a short walk to Llactapata and a view of Machu Picchu that few others get to see. We will explore the site, still covered in vines and jungle vegetation, before descending to the Rio Aobamba and on to the train station at "hidroelectrica," the hydroelectric site. From there, we will catch the train to Aguas Calientes (2000m / 6561ft) and check into our hotel. In the evening, there are plenty of restaurants, markets, the hot springs, or simply a period of relaxation in your hotel room to enjoy.
Holistic Activities
Yoga & Meditation:
Meditation early in the morning, observation of sensations – Vipassanā
Information about yoga raja yoga, posture meditation.
Foot postures, group exercises or shanghai yoga.
Andean Cosmology:
Inka sun of son
Ayni & Kausay key humanist principles
Meals Included:
Snacks
Breakfast
Lunch
Dinner
Dessert
Optional: You can take the tourist train from Hydroelectric stop to Machu Picchu pueblo.
Day 5: Joy & Celebration
Aguas Calientes - Machu Picchu - Cusco
We will get up early to catch one of the first buses up to Machu Picchu and in time to watch the sunrise over the mountains. After enjoying the views, we will have a two-hour tour of the Inca citadel, visiting the principle sites. After the tour we recommend the following activities:
Climbing Wayna Picchu and visiting the Temple of the Moon (requires an additional pass and must be reserved at the time of booking – see below).
Climbing Machu Picchu Mountain (requires an additional pass and must be reserved at the time of booking – see below).
Hiking to the Sun Gate, where the first rays of sunshine fall on the winter solstice.
Visiting the Inca Bridge, where you can marvel at the incredible engineering skills and ingenuity of the Incas.
Sitting on the terraces below the Temple of the Condor and taking in the energy of the site.
Walking through the site again, ducking into hidden corners and little-visited rooms to refine your own theory about Machu Picchu.
In the afternoon we will return to Aguas Calientes to catch the train to return to Cusco.
Holistic Activities
Yoga & Meditation:
Meditation and Integration in the river early morning before climb up to Machu Picchu
Information about the trip benefits. and about Volunteering opportunity.
Meditation and Integration in Machu Picchu
Andean Cosmology:
Kintu: Ceremony of gratitude
Meals Included:
Snacks
Breakfast
Lunch
About This Event
This sacred Salkantay Trek to Machu Picchu is like a pilgrimage where the body and mind become bright and strong because we integrate spiritual, physical and mindful activities to help integrate the best of this adventure. Here you can increase your mindfulness transformation, creativity for your work, family or social life for a brighter future.
What's Included
Multiple ceremonies
Healing Activity with an Andean Priest
Offering to mother earth or Blessing by an Andean Priest for protection during your trek.
Despacho offering to Mother Earth
Multiple Yoga sessions
Multiple adventures and tours
Machu Picchu entrance fee
1 Day at Lake Humantay
Hike through Salkantay Mountain
Hike through the Andean cloud forest
Hike through Llactapata Trail
1 Day at Machu Picchu
An evening at the Santa Teresa thermal pools
What's Not Included
Breakfast on the first day and lunch on the last day.
Sleeping bag (available for rent).
Tips for staff (optional).
Extra costs. (You will come across snack bars on the trail)
Visit the hot springs in Santa Teresa. This is a relaxing way to end-up the trek while you're awaiting the return train to Cusco. Only 10 minutes from the village center, entrance fee is Peruvian Soles s/10.00 per person. Towels can be rented in Aguas Calientes.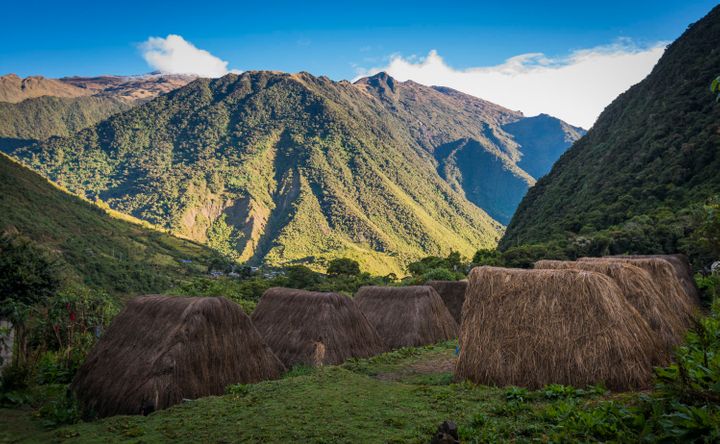 Accommodations
Campsite (Day 1 to Day 3)
Hotel 3 Stars (Day 4)
Menu Types
Vegetarian
Organic
Nut Free
Menu/Cuisine
Day 1 to Day 3
Breakfast, lunch and dinner
Day 4
Breakfast
Day 5
Breakfast
Reviews To review this event, visit the page for the venue or retreat leaders (above).
Similar Retreats You Might Like

Thank you!
We're glad you've joined our retreat community. See you around :)
Return to my event
×