Goddess Reiki Attunement & Activation Certification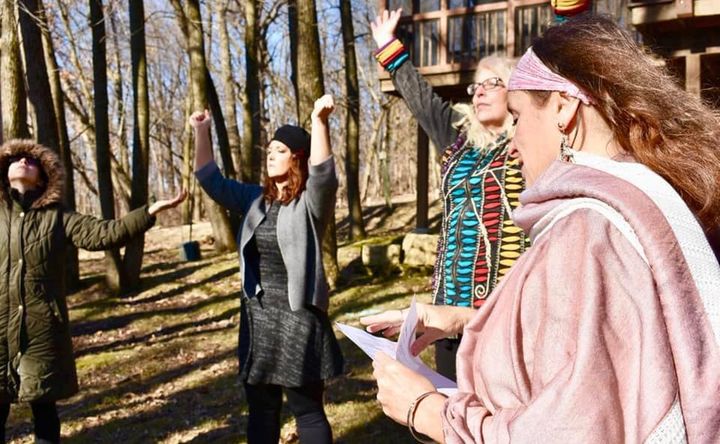 Event Highlights
Goddess Reiki Level 1 Certification Includes:
An exclusive Goddess Reiki Code that has been transmitted specifically for this certification
Level 1 Goddess & Usui Reiki Certification
Meditation & Moving Affirmations to Awaken the Healing Channels
Sound Crystal Chakra Clearing
Goddess Reiki Attunement and Activation
Energy Expansion in sacred sites or magical nature settings
Sacred Rituals and Ceremonies
Get Attuned to codes for Clearing, Grounding and Protection
Guided Visualization
Hands on Partner Practice
PDF manual (or $30 for printed glossy manual)
For 2 day Reiki trainings only - includes accommodations & breakfast
Bonus- Goddess Toolkit, Light Activation Codes, 7 chakra crystal bag set
Goddess Reiki The Angelic Realm Level 2 Certification Includes:
• Angelic Reiki Codes & Symbols

• Usui Reiki Heart Opening Symbol & Sei Hei Ki Emotional Release Symbol

• Angelic Clearing by the Archangel Trinity of Gabriel, Raphael & Michael  

• Angel Oracle Card guidance

• Angelic Light Frequencies to be a clear vessel of Divine Love & Light

• Learn about Guardian Angels, Archangels, Ascended Masters & their attributes

• Archangel Metatron spiritual transmissions 

• Goddesses to call upon to amplify your healing abilities

• Learn Chakra Crystal Healing 

• Purification ceremony to be a clear channel

• Understanding Light & Dark energies 

• Distance Healing

• Healing on Animals & Mineral Kingdoms

• Partner practice 

• Chakra Sound Toning 

• Reiki as a Business: Legal, Insurance & Client Questionnaire 

• For 2 day Goddess Reiki trainings only - includes accommodations & breakfast

• Bonus- Angelite Crystal, Chakra Banner, Archangel Reference Guide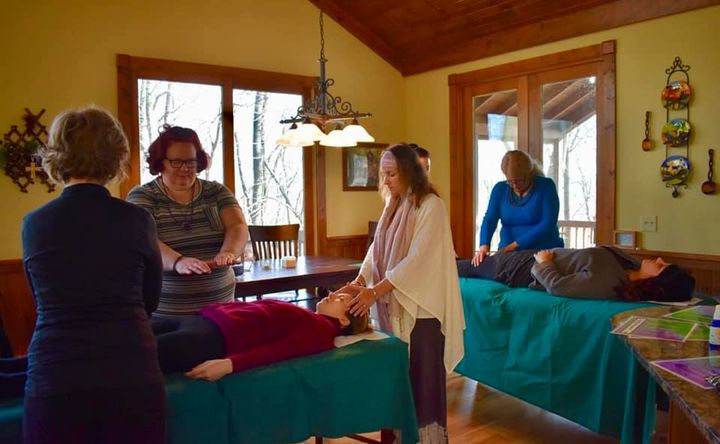 Schedule
Itinerary:
Opening ceremony on the land
Moving Affirmations to Awaken the Healing Channels/
Grounding Meditation
Quick Intro/Oracle Deck
Goddess Reiki Training
Re- Ki
Reiki Master-Teacher Lineage
Goddess Reiki
How Goddess Reiki works
The Goddess Healer
Definition of Usui Reiki
Reiki Guidelines
Reiki Principles
The Illusion of Ego
The Chakra System- Chakra Meditation
Seven Layers of the Aura
Sound Healing with their crystal bag, activate them, clear them, smudge them, read the affirmation for each chakra
Creating Sacred Space the Goddess Way
Tool Kit
Goddess Brushing and Etheric Combing
Goddess Decree
Gratitude to Goddesses
Secret Symbol: Goddess Symbol
Secret Symbol: Cho ku rei- trace with sound
Codes for protection, clearing, grounding 
12 Hand Positions
How To End Session
Attunement
PARTNER PRACTICE
21 Day Clearing
Personal Practice to accelerate the healing process
Mindful Practice
Closing Ceremony
Goddess Reiki Meditation
River of Light Poem
About This Event
These unique training programs are designed by Light Energy Intuitive Lisa Gniady of YogaGong4Life & Veronica Ruiz of Sacred Divine Goddess.
What makes our Goddess Reiki Level Training Different?
The Goddess Reiki training will be a day weaved with Ritual, Partner Connection, Meditation, and Creative Movement to spark the Kundalini Goddess Energy. We will call in the Earth Mother to renew our Feminine connection to the Mother of all Healers. Our journey begins with Ceremony to merge with the collective sisterhood energy, opening the next layer of our Consciousness. Through guided Meditation we will explore our Inner world, Illuminating the Magic within. There is nothing more rewarding than improving yourself to help Heal the world.
You tap into an Infinite Source of Power when you combine the Ancient Symbols of Usui Reiki & Goddess Reiki in a Ritualistic manner, activating the Divine Feminine. You will receive a New Goddess Light Activation Code along with codes for Clearing, Grounding and Protection. Through Ceremony we will create a Healing Sanctuary of Sisterhood as we Elevate our Consciousness, Activate our Priestess selves and open a channel to our Pure compassionate heart.
What is the benefit to taking our Goddess Reiki Training even if you are already trained?
Learn about:
The Ancient Codes & Sacred Symbols
Healing through Love, Light & Intention
Ritual and Ceremony
Being a channel of Healing Golden Light
The Mystical Ways
Goddess Energies: Kuan Yin, Kali, Isis, Mother Mary, Magdalene
The Chakra System
Chakra Crystals
7 layers of the Aura
Essential Oils
Creating Sacred Space
Usui Reiki Symbols & history
How to Clear, Activate & Protect the Healing Space
Vibrational Healing Tones
The Illusion of the Ego
Elemental Clearing
Reiki Hand Positions
Calling in Goddesses and Ascended Masters
Being a conduit of Universal Energy, opening your heart and helping heal humanity
Goddess Reiki The Angelic Realm Level 2 Certification
This next level of Goddess Reiki connects you to the Angelic Realm. Angels are the guiding force of Love and Light. In this training you will be gifted an exclusive 3-part Angelic Clearing Light Code Activation for transformation that has been transmitted specifically for this Goddess Reiki certification. 
Angelic Reiki is a multidimensional form of healing that calls upon the assistance of the Angels. It teaches you to be a channel of this pure divine angelic energy. This Crystalline Angelic Clearing Light Frequency offers a powerful gentle healing energy. The Angels can be found within your heart. So when you connect with the heart center and access the angel within, you raise your vibration to be a conduit of healing energy for all.
This next level of Goddess Reiki training will amplify your healing capabilities as with each training and subsequent attunement your channels become clearer, strengthening your Healing Rays.
The Goddess Reiki training was the most thorough and comprehensive Reiki training I have ever experienced. The educational aspect is unparalleled. -Jenna Tighe
What's Included
For 2-day Goddess Reiki trainings only - includes accommodations & breakfast.
What's Not Included
Airfare, ground transportation, lunch & dinner and suggested travel insurance are not included.
1 day trainings do not include accommodations or breakfast.
Accommodations
Our training will take place in a beautiful private property. Shared occupancy with other retreat guests.
---
Cancellation Policy
100% deposit refund for cancellation 60+ days before event.
50% deposit refund for cancellation 30-59 days before event.
0% deposit refund for cancellation 0-29 days before event.
The remaining balance (total price minus deposit) is due upon arrival.
Get full details...
Reviews To review this event, visit the page for the venue or retreat leaders (above).
Similar Retreats You Might Like

Thank you!
We're glad you've joined our retreat community. See you around :)
Return to my event
×