300 Hr. Kundalini Tantra, Dharma Yoga TTC in Rome
Event Highlights
+ Kundalini Tantra practice every morning
+ Dharma Yoga practice every morning
+ Sound Healing and Kirtan daily
+ Asana breakdown
+ Teaching practice
+ and More
Schedule
***Daily schedule for example***
In some days and optional 6h-6h30 yogic cleanses
6h30-8h00 Kundalini Tantra practice
Tee break
8h15-10h15 Dharma Yoga
10h15-10h45 Breakfast
11h00-12h00 Class
12h00-14h00 lunch break
14h00-15h15 Class
15h15-16h45 Class
17h00-18h30 Yin yoga/Yoga Nidra/hands on Adjustment
18h30-19h15 Light Dinner
19h30-20h30 Satsang: Meditation, Chanting and spiritual discourse.
About This Event
****Kundalini Tantra, Dharma Yoga Inspired 300 hours Yoga TTC with Shir Shemesh, Satlaya Yoga Journey. Near Rome, Italy. Two modules: February 10th-23rd, and 3rd-19th April, 2020****
This booking include only the first module (10th-23rd Feb) and one can join only this first module and get 150 hours certification!!!
***About the Program***
This program is design for yoga teachers who wish to deepen there own knowledge and practice towards more subtle aspects of the yogic practices, as well as to get new inspiration and support for there own teachings. The program can fit also to experienced yoga practitioners, who wish to explore other type of practices apart from Asana.
We will focus in this program on Dharma Yoga, Kundalini Tantra, Sound Healing, Mantras and Bhakti Yoga, Subtle Anatomy, Meditation, Yoga Nidra, Hands on Adjustment and Yoga Philosophy. Dharma yoga, the main inspiration of this program is a heart opening and mind-expanding yoga practice following the teachings of Sri Dharma Mittra, who has been teaching yoga since 50 years.
The Asana practice during the course will be in the mornings Dharma Yoga, which is a Hatha-Vinyasa mixed style, and in the afternoons Yin Yoga or Yoga Nidra.
There is a limit of 12 students in this training. This way, we can make sure that we give individual attention and support that each student needs during this very special time.
The course language is English, but it will be translated simultaneously to Italian. The manual will be provided in English or Italian.
***Course Curriculum and Yoga Alliance***
In the Satlaya Yoga school 300 hours yoga TTC you will get a Yoga Alliance certification, upon the completion of the contact hours, as well as the home-works and given self practice, between the modules. These 300 hours can be added to any basic TTC (200 hours) to register as a RYT 500 hours, Yoga Alliance teacher.
As part of the program there will be pre-reading and home-works, and given Sadhana in-between the modules. The pre-reading and home works are specified below the program.
These following topics will be covered during the course in theory and practice:
***Kundalini Tantra***
Kundalini Yoga is part of the Tantric tradition. Tantra and Kundalini are dealing with transformation of matter and energy, using the Chakra system (energy centers) to transcend our consciousness, by activating the dormant potential of our body, called Kundalini. The seat of Kundalini is in the base of the spinal cord. Yogis have found systematic ways to awaken this potential power and let it flow freely up along the spine.
In this field we will explore:
+ Subtle anatomy: The Chakra System, The main Nadis (energy tubes) and their function, The 5 different Pranas and the Psychic passages.
+ Meditations/Concentrations: the old Tantras offer various dynamic meditations to activate the different Chakras and Nadis.
+ Advanced Pranayamas: Nadi Shodhana (alternated nostrils), Bandhas (energy locks), Mudars, Khumbaka (breathe retentions), Sheetali (cooling pranayama), and much more.
Hand On Adjustment and Yoga Asana:
+ How to perform a posture in a correct alignment.
+ How to analyze a yoga pose, according to 5 basic key points.
+ What are the different ways we can Adjust a student.
+ How to perform hands on Adjustment. We will share a few important guidelines for this art, and will have lots of practice.
+ How to create a successful and balanced sequences, which serves different goals.
+ Exploring what one can do with Variations of Poses.
+ Exploring Advanced Yoga Asana.
+ Teaching practice and Practicum.
***Sound Healing, Bhakti yoga and Nada Yoga***
+ Sound healing in the modern science view and traditional view.
+ Chanting Mantras and proper pronunciation of Mantras
+ What is Bhakti yoga, the yoga of the heart.
+ How to transcend our emotions through chanting.
+ What are Mantras, their meaning and use.
+ Laya yoga, the yoga of absorption of the mind into the inner sounds
***Yoga Nidra***
+ We will practice 2-3 times a week Yoga Nidra.
+ Learn how to build our own script of Yoga Nidra.
+ Practice on your own as part of your Sadhana.
+ Teaching practice of Yoga Nidra.
+ Theory of Yoga Nidra: what is its goal and origin. What are the most important ingredients of this practice. How to guide and support your students before and after the practice Yoga Nidra.
***Yoga Philosophy***
+ We will read together from the following scriptures and discus different ways to interpret their meanings; The Yoga Sutras, Bhagavad Gita, Hatha Yoga Pradipika, and Gheranda Samhita.
+ During the readings we will focus how these scriptures can be applied in our daily lives.
+ Other topics to be covered are Yamas and Niyamas, Advaita Vedanta, Karma and Karma Yoga, and different definitions, paths and goals of yoga.
***Yogic cleansing***
+ Learn in theory about the different cleansing yogic techniques called Shatkarmas.
+ Will practice daily tongue scraping, nasal cavity cleansing (Jala Neti and Neti Sutra), and will explore cleansing of the stomach (Vamana Dhauti, Agni Sara, Nauli). That will be optional!
***Daily schedule for example***
In some days and optional 6h-6h30 yogic cleanses
6h30-8h00 Kundalini Tantra practice
Tee break
8h15-10h15 Dharma Yoga
10h15-10h45 Breakfast
11h00-12h00 Class
12h00-14h00 lunch break
14h00-15h15 Class
15h15-16h45 Class
17h00-18h30 Yin yoga/Yoga Nidra/hands on Adjustment
18h30-19h15 Light Dinner
19h30-20h30 Satsang: Meditation, Chanting and spiritual discourse.
***Course fees***
Early birds – 1950 Euro (before 21st November)
Regular registration – 2200 Euro (After 21st November)
Registration fee – 300 Euro (non refundable, but will reduced from the total fee) need to be paid in order to keep your spot. Also one should fill up an application form, which you can ask for in the following mail.
The course fees include; teachings, accommodation in shared room, meals, the course manual (in English or Italian), snacks and tea, and Shatkarma (yogic cleansing) tools.
Course fees don't include: traveling costs.
***Location of the course***
BeWater - Thai massage and Yoga center
via Torre Bruna, 5 (730.91 km)
04011 Aprilia, Lazio, Italy
BeWater Home (FB)
Home-works and practice before the course:
+Reading the Hatha Yoga Pradipika (recommended translation by Brian Dana Akers), the Yoga Sutras (recommended translation by Sri Swami Satchidananda), and from Kundalini Tantra of the Bihar School of yoga: read the first section "Kundalini"
+There will be questions assignment on these reading send to you, one month prior to the beginning of the training.
+Watching the videos for the Pranayama practices to practice for one month before the training commence.
Looking forward to see you on the training
With the best wishes of health and inner peace
Om Namah Sivaya
Shir Shemesh, and Mariella Matic
Hanna: "I recommend these blissful beings with all of my heart! I participated in the summer sounds retreat in south of France and it was an amazing experience; words are not enough, it has to be experienced."
What's Included
+ 3 vegetarian meals
+ drinks: tea, coffee, water, green juice
+ All classes, about 10 hours a day
+ Accommodation
+ pick up from Aprilia train station
What's Not Included
+Flights and traveling to the venue
Amenities
Free Wifi
Towels
Free Parking
Kitchen
Coffee/Tea
Yoga Studio
House Keeping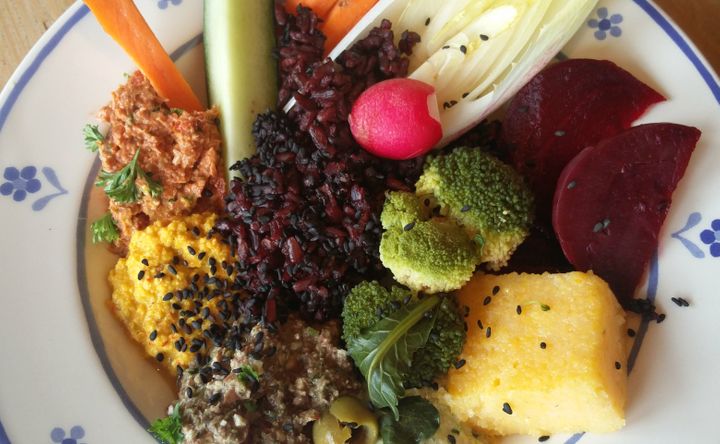 Menu Types
Vegan
Ayurvedic
Gluten Free
Dairy Free
Reviews To review this event, visit the page for the venue or retreat leaders (above).
Similar Retreats You Might Like
Apr 3 - 11, 2020 (9 days)

Jun 6 - 13, 2020 (8 days)

Jun 13 - 20, 2020 (8 days)

Jul 18 - 25, 2020 (8 days)

Thank you!
We're glad you've joined our retreat community. See you around :)
Return to my event
×