Children's retreat Explore your power
Event Highlights
3 meals a day
lots of fun activities
hiking trip in the mountains
Self exploration
building confidence
Schedule
A day on the terrain of Brise Suave (the hike has a different schedule):
8:00 - 8:45 Breakfast
09:00 - 12 Activity
13:00 - 14:00 Lunch (warm meal)
14:00 - 14:45 Rest (do something alone like reading a book or drawing)
14:45 - 15:00 Drawing meditation
15:00 - 17:00 Time to play
17:30 - 18:30 Dinner
19:00 - 20:00 Evaluating the day and reading a story together
20:30 - 21:30 Bedtime (older kids can choose to meditate with the adults)
About This Event
In the first years of our lives we build our self-image and our self. We learn who we are and what distinguishes us from all other people we know. We need this to stand firmly in the world as a person. In this children's retreat we will explore in a playful way (self) confidence, autonomy and empowerment. You will get to know yourself better and experience that you can do much more than you thought!
During the retreat we will play a lot of games and do activities. There are games and creative materials available, but you can also bring or think of something yourself. After three days, when we know each other better, we'll go into the mountains. You will learn how to take care of yourself in the wilderness and we will do all kinds of fun activities such as building a raft, archery and taking care of our own food.
We prepare everything together and after the adventure in the mountains we'll spend the remaining days on the grounds of Brise Suave. On days 8 and 9 we decide what we will do together. Maybe a trip to the city or swimming in a lake? We conclude with a party evening with games, plays and good food.
Every day of the children's retreat we start with a joint breakfast. In the morning it is not that hot yet so we will do the more active activities. After lunch we have a break in which all children do something quietly on their own. After the break we do a drawing meditation that suits the children. The dates of the children's retreat overlap with the dates of the "stay in nirvãna" retreat. In order to give both parents and children the opportunity to fully participate in the retreat, the children stay together on the grounds of Brise Suave. The lower terrace with small pool is reserved for the children's retreat.
Parents can participate in the Stay in Nirvana retreat Brise Suave offers at the same time or book a room in the village and enjoy the Portugese mountains.
What's Included
Meals
10 days camping
all activities
hiking trip
What's Not Included
- airfare and transportation to Brise Suave
Venue Highlights
We don't believe that 'new' is always better. Sometimes change means going back to very old values. Traditionally, keeping the good and discarding what's not. This is also reflected in our center. Brise Suave is organized and guided by a family. Bert and Krista are longtime therapists, supervisors and Bert is a recognized Buddhist teacher. Their son, Egbert, is a conceptual artist and guides artists that wish to deepen the concept and motivation behind their art. Daughter-in-law Tessel is an art therapist and focusses on families, relational difficulties and individuals with psychosocial problems. The basis for our work are the spiritual and psychological values of Tibetan Buddhism.
As a family and as a centre we try to be open towards everyone and to put love, even in hard times, at the forefront of our lives. Of course, we're also human and fervent debaters when it comes to our family meetings, but it is always with the best intentions. We speak Dutch, English and are learning Portugese.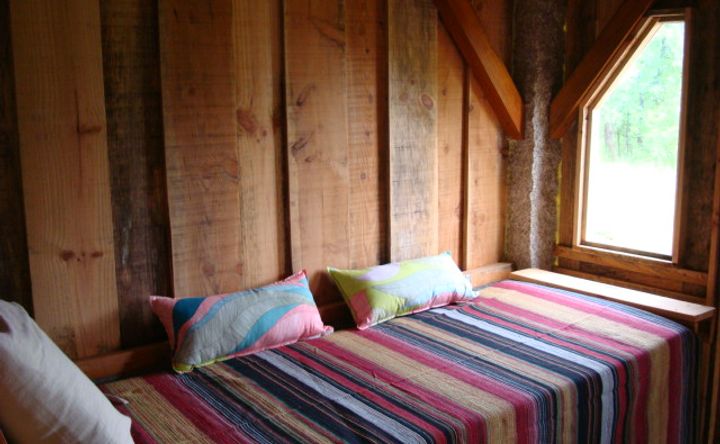 Accommodations
Our centre in Portugal is located just outside the small village Melo, near Gouveia. It is a beautiful one hectare piece of land. On the terrain, we have several places where you can put up a tent and two small cabins with a bed and table. There is an outdoor kitchen, toilet and shower. We ask that you bring your own toiletries, towels, etc.
We have a small pool that's connected to our watermine and that you can use to cool off. The pool isn't yet in the pictures, but at least twice the size of the well.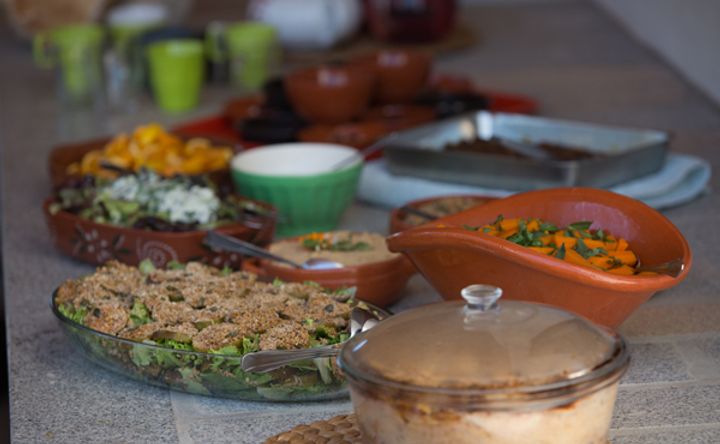 Menu/Cuisine
During the organized retreats we provide the meals. The meals are always vegetarian and often vegan.
Directions
The nearest airport is in Porto. From there you can take the train to gouveia and a taxi to our centre. The taxi in Gouveia isn't very expensive (approx. 15 euros). If you wish, we can bring you in contact with the taxi-service in Melo to support the local community.
Reviews To review this event, visit the page for the venue or retreat leaders (above).
Similar Retreats You Might Like

Thank you!
We're glad you've joined our retreat community. See you around :)
Return to my event
×