BREAK FREE! TANTRIC SHAMANISM RETREAT
Event Highlights
- Daily mindfulness yoga
- 1 San Pedro ceremony and hike to a beautiful lake in the Sacred Valley
- 1 Ayahuasca ceremony
- 1 visit to the Q'ero tribe
- 1 Temazcal (sweat lodge) ceremony
- 1 guided tour of the Inca site above Pisaq in the Sacred Valley
- 1 cacao ceremony and healing dance
- 1 cacao and kirtan ceremony
- 9 nights accommodation, transportation and exquisite vegetarian meals
MACHU PICCHU: If you are interested in visiting Machu Picchu, we are happy to organize your guided tour to this magnificent Inca site prior or after the retreat (consider that you should add one more day)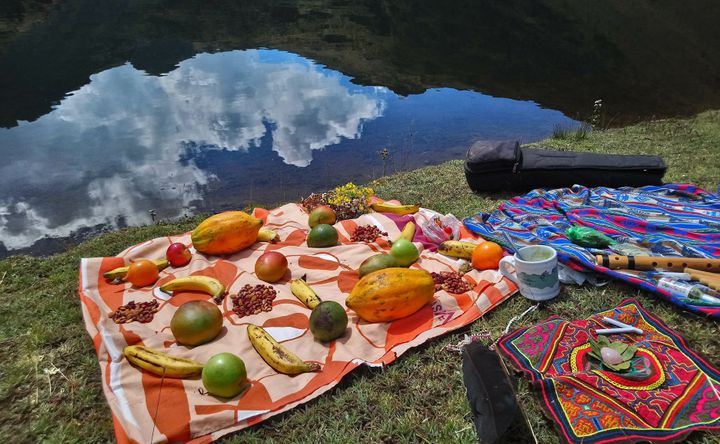 Schedule
DAY 1
Arrival & Lunch
Intro - Mindfulness, Tantra & Shamanism.
Mooladhara Workshop: Inner Child & Trust. Beliefs & Safety.
Dinner
DAY 2
Mindfulness Yoga
Breakfast
Swadhistana Workshop: Self-Identity & Self-Care. Consent & Boundaries
Lunch
Cacao & Kirtan (Mantra singing).
Light Dinner
Introduction to Master Plant San Pedro. Shiva Energy. The Sacred Masculine.
DAY 3
Full day gentle hike at the magical lake Kinsaccocha for San Pedro ceremony.
Manipura Workshop: Remembering our Inner Power. Emotions & Habits.
Rapé Meditation.
Dinner at a local family's house.
DAY 4
Anahatha Sweatlodge (Temazcal Ceremony): Self-Compassion
Lunch
Free Afternoon
Optional: Heart Chakra Dynamic Meditation
Dinner
Sharing Circle: San Pedro
DAY 5
Early Breakfast
Hike to Pisac Ruins
Lunch
Daka-Dakini Ritual: Healing Sexuality through Breathwork & Vishuddha
Dinner
DAY 6
Mindfulness Yoga
Introduction to Master Plant Ayahuasca. Shakti Energy. The Sacred Feminine.
Optional Light Lunch & Rest
Pre-Ceremony Ajna Meditation
Ayahuasca Ceremony
DAY 7
Sahasrara Cacao Ceremony Brunch & Healing Dance: Re-Connecting with All
Ayahuasca Sharing Circle
Rest
Dinner
DAY 8
Early Breakfast
Departure to Pacchanta community, at the feet of Mountain Ausangate.
Coca Reading with Q'ero Maestro
Free afternoon at the local Hot Springs
Dinner
DAY 9
Early breakfast
Gentle 2-3h trek to the sacred lakes of Azul Cocha, Otorongo Cocha and Ancash Cocha. Traditional Despacho dedicated to Pachamama (Mother Earth) at the pristine Lake Otorongo as practiced by the Q'ero people for centuries.
Lunch at Pacchanta
Final sharing circle around fire
Departure from Ausangate to Cusco
Dinner
DAY 10
Breakfast & Checkout
About This Event
TANTRIC SHAMANISM RETREAT
Do you feel like something is missing in your life but you don't know what it is?
Do you ever wonder if there is something else? Do you ask yourself: Is this it? Is this life?
Do you feel stuck, deflated unfullfilled?
Do you need that little extra "something" to make the changes you feel you need?
This year you have the opportunity to break free from old patterns and take the first step towards leading your life in a whole new direction in the magical mountains of the Sacred Valley of the Incas of Peru.
We will be guiding you through a journey into your self-empowerment with the help of master plants and shamanic rituals that will help you upgrade energetically so you have the strength to make the necessary changes in your life.
With the help of ancient Tantric teachings and Mindfulness yoga practices to ground in the here and now and find a healthy way of relating to each other and our sexuality.
And also:
– Re-inhabit your body as the vehicle of your creativity.
– Remember who you are.
– Remember how to exercise your personal power in a healthy way.
– Find alternative ways of living your life.
– Allow your mind to become your ally in your self-development process.
– Open yourself to receiving healing insights through Master Plants.
– Experience the powerful clearing and cleansing process of shamanic ceremonies.
– Immerse yourself in the local culture by spending two days at the beautiful Pacchanta community.
– Visit the ancestral Q'ero culture and attend a traditional offering at a sacred lake.
– Enjoy the local hot springs and get a coca leaf reading.
– Trek, dance, sing, sweat, breathe, meditate & heal
ABOUT OUR TOOLS: Shamanism, Tantra & Mindfulness Yoga
Shamanism reminds us that the spirit is an essential part of the bigger picture.
It connects us to the elements, our roots, our ancestors, our guides and protectors, the most simple but essential things that exist all around us and that we forget in the daily city life.
Our intentions become clearer and stronger when the power of ritual is involved. Ritual is the way we connect to the divine matrix. It's a rite of passage, the way we tell the world that we are ready to take the next step in our spiritual evolution.
Why Tantra?
Tantra helps us relate from a place of embodied consciousness.
Learning how to honor our body and handle our energy enables us to be joyful, thrive and share love with all else.
The more modern neotantric teachings focus on harnessing our most powerful creative force: the sexual energy.
This energy helps us create the most amazingly complex miracle in human life: another life. But not only babies are creations, so are projects, arts & crafts, how we choose to dress and express ourselves.
Master plants use our sexual energy to convey messages to us and it is important to learn how to honor, cultivate and handle it.
Why Mindfulness Yoga?
Mindfulness helps us take responsibility of our inner world.
Mindfulness is a tool that helps us become aware of our mental attitudes and cultivate healthier ones that will help us navigate through life with more ease and freedom of choice.
The ego is not our enemy. Without it we wouldn't bother to relate and co-create things bigger than ourselves. That is why it is important to acknowledge it and learn how to handle our inner experience.
Mindfulness Yoga comes from Thich Nhat Hanh's Mindfulness teachings and involves meditation, body consciousness and gentle asanas. It helps us to practice how it is to feel good in the body so we can take it to our daily life. A calm body is a calm mind and viceversa.
Why join?
~You have felt the call of Ayahuasca and/or other Plant Medicines and you're searching for a safe and conscious environment to do it.
~You always wanted to visit Peru and the magical sites in the Sacred Valley of the Incas.
~You love exploring sound, movement and breath.
~You would like to stop looking outside yourself for validation, love or direction, and be complete unto yourself.
~ To explore and understand your own patterns and self-restrictions while opening up towards acceptance, self-love, ease, and devotion to loving relationships.
~ You not only like to do personal development workshops but also hike and be in nature.
Language
The retreat will be in English, but we do also speak Spanish and Italian, and are happy to assist and stimulate our minds with the respective languages.
Shamanic Healing is a Journey. It involves stepping out of our habitual roles, our conventional scripts and improvising a dancing path. - Gabrielle Roth
What's Included
- airport pick up and drop off on departure date
- Daily mindfulness yoga
- 1 San Pedro ceremony and hike to a beautiful lake in the Sacred Valley
- 1 Ayahuasca ceremony
- 1 visit to the Q'ero tribe
- 1 Temazcal (sweat lodge) ceremony
- 1 guided tour of the Inca site above Pisaq in the Sacred Valley
- 1 cacao ceremony and healing dance
- 1 cacao and kirtan ceremony
- 9 nights accommodation, transportation and exquisite vegetarian meals
What's Not Included
flight ticket to/from Cusco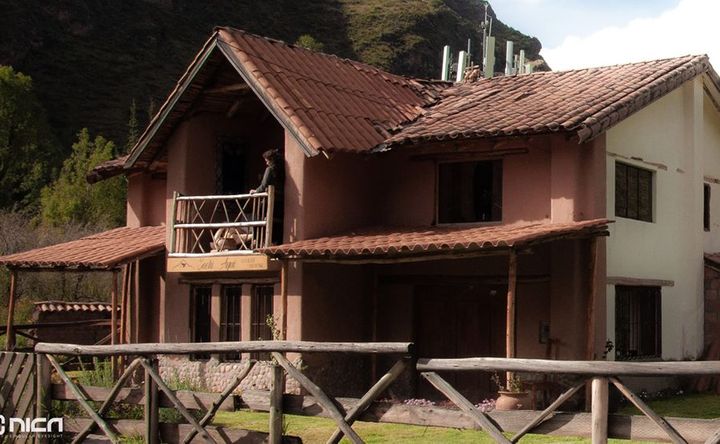 Venue Highlights
Sachi Ayni Guesthouse is located just outside the town of Pisaq on the main road towards the famed Pisaq ruins. A beautiful space perfect for families and small groups. .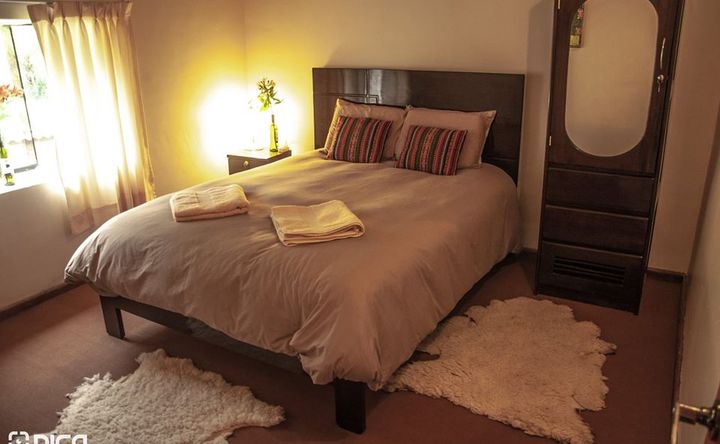 Accommodations
We have options for a double room, a triple room and a single room.
Amenities
Free Wifi
Towels
Kitchen
Tour Assistance
Yoga Studio
Ceremony Space
Reviews To review this event, visit the page for the venue or retreat leaders (above).
Similar Retreats You Might Like

Thank you!
We're glad you've joined our retreat community. See you around :)
Return to my event
×