Yoga and Ayurveda Holistic Teacher Training 300HRS
Event Highlights
CURRICULUM
HISTORY & PHILOSOPHY
Introduction to Ayurveda
The Four Vedas
The Shad Dharshan: Understanding the Macrocosm and the Microcosm
The Samkya Philosophy & Involution of Consciousness: The Journey from the Doshas to Samadhi
The Four Ashrams of Vedic Life: Brahmacharya, Grihastha, Vanaprastha, Sannyasa
The Goals of Human Life: Purusartha - Dharma, Artha, Kama & Moksha
The 4 Karmas: Balancing Laws of Cause and Effect - Sanchita, Prarabdha, Kriyamana and Agami
Ashtanga - The Eight Limbs of Yoga and The Eight Limbs of Ayurveda
Practicing the Yamas and Niyamas with the 5 great elements
Patanjalis Yoga Sutras, Hatha Yoga Pradipika, Siva Sutras, Upanishads, Puranas, The Vedas, The Gita
AYU-YOGA ASANA II
Warm Up Postures for the Doshas
Ayurvedic Asana: Balancing Poses, Seated Poses, Standing Poses, Forward Folding Poses, Back Bending Poses, Lateral Extension Poses,Twisting Poses for the Doshas
Sun Salutes for the Doshas
Moon Salutation & Cooling Practices
The Ayurvedic Approach to the Teaching and Practice of Yoga
Sequencing & Leading Yoga for Kapha Prakruti & Vikruti
Sequencing & Leading Yoga for Pitta Prakruti & Vikruti
Sequencing & Leading Yoga for Vata Prakruti & Vikruti
Sequencing & Leading Yoga group classes based on the seasons and the Doshas
Sequencing & Leading Yoga for the Gunas
Sequencing & Leading Yoga for each Element (Akash, Vayu, Agni, Jala, Prithvi)
Sequencing & Leading for Agni & Soma
​
ADVANCED YOGA ASANA
Anatomy Cues and Principles
Sequencing for the Subtle System: Chakras, Pancha Pranas & Marmas
Advanced Sequencing & Creative Complexity
Leading the body towards Sattva - cultivating stillness of the mind through Asana
Restorative Yoga for the Dosha Prakruti
Advanced Alignment & Adjustment
Advanced Asana Practices
The Benefits of Asana
​
MARMA & ASANA
Accessing the subtle energetic system through the practice of Yoga
Activating the marmas through Yoga asana
Activating, cleansing or balancing the organs through Yoga asana
​
AYURVEDA THEORY
The Panchamahabhutas (The Five Great Elements)
The Tri-Dosha Theory: Dosha Prakruti and Vikruti
The Tri-Guna Theory
The Indriyas – The Senses, The Organs of Action and Cognition
The Sapta Dhatus: The Seven Tissues
Agni & Soma
Malas
​
AYURVEDA & YOGA HEALING PRACTICES
Dinacharaya and Ritucharaya – Daily Routines and Seasonal Routines
Balancing the Doshas through Sensory Care
Tanmatra Cikitsa: Shabdha, Sparsha, Rupa, Rasa, Gandha
Abhyanga (Ayurveda Self-Massage) and the Marmas
Marmas and the gateway to the subconscious
Leading and Sequencing group classes for the Dosha Prakruti
Practices for stress management, improved sleep, digestion, elimination and detoxification
​
AYURVEDA DIETETICS
Shad Rasa: The Six Tastes and the Doshas, Food and Consciousness
The Energetics of Food: Ahar, Vihar, Vipaka
Agni & Digestion: 4 types of Agni & Agni practices
Food preparation, spices, herbs
Ayurvedic cooking - food preparation, spices and herb concoctions
​
AYURVEDA & YOGA FOR WOMEN
Hormonal balancing, working with menstrual cycles and menopause
Rejuvenation practices to build vitality and diminish depletion and fatigue
Facial Masks, Body Scrubs, rejuvenating tonics and teas
Ojas drinks, Flowers & Herbal care, Aromas and Spices
Anti-aging tonics and elixirs
Womb care and stomach massage
THE SCIENCE OF BREATH: PRANA, KRIYAS & SWARA YOGA​​
The 10 Prana Vayus
Shat Kriyas, Shankhaprakshalana Kriya, Kaya Kriya
Introduction to Swara Yoga
Nadi Shodhana, Kapalbhati, Agni Sara Dhauti & the Doshas
Pranayama for the Doshas & Healing: Dirga Pranayama, Brastrika, Brahmari, Subtle Ujjayi, Gross Ujjayi
Surya Pranayam, Chandra Pranayam, Surya Bedhi, Chandra Bedhi​
Bahir & Antara Kumbach
​
MEDITATION & PRATYAHARA
Balancing the Elements and Doshas with Meditation
So Hum Meditation
Mauna, the practice of silence
Speaking and the practice of Truth (Satya)
Walking meditation, Sitting Meditation, Contemplation, Mantra Meditation, Retrogression
Svadyaya: Self Inquiry with the elements and the tanmatras
Loving Kindness, Auto-genic practices, Visualization, Journeys
Bhuta Shuddhi - cleansing the elements through meditation
The Art of Facilitating Meditation
​
MANTRA & MUDRA
Mantra to balance the Doshas
Mudras to Balance the Elements, Vayus and the Doshas
A-kara, U-kara, M-kara
Bija Mantras and the Elements
Mantra for each the health of the Organs
SOUND, COLOR & AROMATHERAPY
Balancing the Elements and Doshas with Sound & Color
Shabdha Jnana (Knowledge of Sound Healing: Mantra, Mauna, Satya, Music)
Healing the body through ratna: gems
Aroma for the Doshas
​
YOGA & AYURVEDA PSYCHOLOGY
Cultivation practices for Sattva, Rajas & Tamas
The Ayurveda & Yoga Approach to Psychology and Psycho-Neuro-Immunology (PNI)
Yoga & Neuroscience
Patanjalis Yoga Sutras and the Mind
AYURVEDA & YOGA FOR TRAUMA​
Exploring Trauma through Yoga and Ayurveda
Signs and symptoms of trauma in the body and mind
Vata, Pitta & Kapha Imbalances as they relate to Trauma: physiology and function, mind, emotions and senses
Balancing Trauma for Vata, Pitta and Kapha through Food and Lifestyle, Herbs and Yoga Practice
​
SUBTLE ANATOMY
The Pancha Kosha Theory and the Elements
The Chakras and the Elements
Kundalini Practices
The Panch Pranas - Understanding how the Pranas and the Elements connect to the Chakras and Yoga Asana
Marmas, the Organs & the Elements
​
ADVANCED ANATOMY PRINCIPLES
Advanced principles and practice with anatomy cues
The Chakras and the Organs
The Panch Pranas - Understanding how the Pranas and the Elements connect to the Chakras and Yoga Asana
Structural alignment/postural integration: advanced methodology
Adjustments, modification and contraindications
Prop usage: Using physical props to support postural understanding and enhance benefit of pose (how you can use props to facilitate healing.)
​​
FACILITATION SKILLS
Refining your Teaching: Languaging, Guiding, & Transitioning
Leading Private Sessions
Theming & Cohesion
**Students have a series of assignments to complete during each section including class observations, written assignments, and practicums
*Final practicum will involve leading a class
INSTRUCTORS:
Nicole Mahabir is a certified International Yoga Therapist, certified Ayurveda Practitioner, Ayu-Yoga Therapist and Energy Medicine Practitioner with over 3000 hours of study and teaching. She has lead professional certified courses in Ayurveda, Ayu-Yoga and Yoga Therapy for the past 15 years. She is also seasoned teacher of natural medicine, holding designations and extensive practice of Shamanic Healing Masters, Ayurveda Body Treatments and Ayurvedic Neurotherapy. When Mahabir isn't teaching or seeing clients, she is leading international professional programs and wellness retreats. Mahabir is a Senior Health and Wellness Contributor for CBC, drawing focus on yoga therapy, ayurveda and natural medicine.
Alvaro Esteban is an International mind-body practitioner, senior yoga instructor, musician and osteopath. His journey began as a child, through movement, breath and energy, during his study of martial arts. As a teenager, he then commenced the study of yoga, dance and somatic techniques. Alvaro's interest to learn more about the energetics and mechanics of the body, impassioned him to travel to International shores and study with masters of yoga and health. His expertise and skilled knowledge was then applied in various holistic healing centers, where he was able to empower others through teaching and applied yoga therapy. As a seasoned musician who leads group meditations and mantra practice, Alvaro maintains a multi-disciplinary approach, with continued study and teachings from various traditions under the guidance of accomplished masters.
Oana Deac has been practicing and studying Yoga and Ayurveda for over eight years and has completed trainings in Bali, Thailand and India, where she also received her certifications. Her yoga classes combine Ayurvedic principles with classical Hatha teachings, which emphasize linking the breath with proper alignment to deepen each posture. For the last five years she has supported people during their detoxification programs and has helped them find a therapeutic practice that speaks to their unique structure, constitution and needs.
Dr. Sujatha Kekada is a certified Ayurvedic doctor (B.A.M.S), who completed her degree in Karnataka, India. Before coming to Bali in 2004, Dr. Kekada worked as an Ayurvedic Doctor in one of the most respected and successful clinic in Kerala, South India. She has also practiced as Ayurvedic Consultant in Europe and at one of the top Health Retreats in Asia. She is the Head Physician and Co-Founder of Amrtasiddhi Ayurvedic Centre in Bali. She has been training Ayurveda practitioners and yoga students in science of Ayurveda for last eight years.
Schedule
*Daily Schedule
6:30 - 8:30 Kriyas, Yoga, Pranayam and Meditation Practice
Breakfast
10:30-12:30 Ayurveda, Practice and Lecture
12:30-14:00 Lunch, Pool side relaxation
14:00- 15:00 Yoga Philosophy
15:00-18:30 Asana practical labs
18:30pm Dinner followed by free time
Once or twice a week there will be evening practices including yoga Nidra, Fire ceremony, Sound Healing and Kirtan
* Schedule may be subject to change
About This Event
Together Yoga, Ayurveda, and Meditation offer deep transformation and wisdom. Learn to teach practical yogic methods to support total health through the applied knowledge of ayurveda, yogic cleansing, digestion practices, nutrition, daily routines, seasonal routines and ayu-yoga integration practices of the mind, body, spirit, and senses.
Your guided instructors will ensure that you have a strong and clear background to teach and will take time to answer your questions with care and compassion.
We will bring over 20 years of experience and mastery in the science of Yoga, Ayurveda, Meditation and Yoga Therapy and share to our fullest capacity.
Align with the science of nature through the healing power of Yoga, Ayurveda & Meditation
As a Yoga & Ayurveda 300HR Integrative Holistic Specialist you will be able to:
· Teach holistic classes that include Pranayama, Mudra, Mantra, Meditation and Yoga asana
· Lead Yoga group classes based on the season, the person's Ayurvedic constitution and the stages of their life (age)
· Create individualized and general Yoga classes, one-on-one sessions and group workshops
· Incorporate and understand how the season and time of day, are important considerations to class design and daily protocols
· Offer basic Ayurvedic lifestyle recommendations to bring balance and harmony to the body, mind and emotions
Together, Ayurveda and Yoga endeavour to create balance for each unique individual, and by doing so it can help to eliminate suffering and disharmony, allowing us to become unified, healthy and empowered.
This 300HR Yoga & Ayurveda Teacher Training, offers an authentic, integrative and comprehensive way for you to study and teach the advanced practices of health, longevity, therapeutic approaches to yoga and individualized in-depth and personalized yoga classes and private sessions.
Experience full facilitation and instruction to learn how to master your own voice, guide others in practice and return to your passion, through the principles and practices of self-healing and self-realization, Yoga and Ayurveda.
Learn to guide a complete holistic and integrative yoga practice including ayu-yoga asana, pranayama, kriyas, mudra, mantra and meditation for the DoshasDiscover how to create yoga classes based on the science of Ayurveda and tailor your classes to the season, the Ayurvedic constitution of each person, their age and life transitions.This 300Hr Ayurveda Training, offers an authentic, integrative and comprehensive way for you to apply the wisdom and therapy of Ayurveda to daily life. As a Holisitc Specialist and Instructor you will be able to: Teach holistic classes that include Ayu-Yoga Asana, Pranayama, Mudras, Mantra and Meditation-Lead Yoga group classes based on the season, the person's Ayurvedic constitution and the stages of their life
-Create individualized Yoga programs with cleansing and rejuvenation
-Incorporate and understand how the season and time of day, are important considerations to class design and daily protocols
-Offer Ayurvedic lifestyle recommendations to bring balance and harmony to the body, mind and emotions
"THE COURSES WERE UNBELIEVABLE, ONE OF THE BEST TRAVEL EXPERIENCES I'VE EVER HAD. I AM SO HAPPY WITH THE DEPTH, THE WISDOM AND THE TRANSFORMATION. THERE AREN'T MANY COURSES OUT THERE LIKE THIS. I WOULD DEFINITELY STUDY WITH JAI AGAIN." Xenia Brenner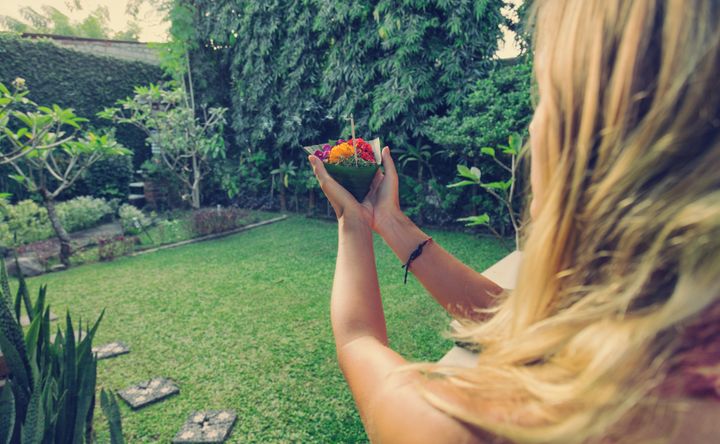 What's Included
Tuition, Manual, Certification
Course related events and activities
Accommodation
Breakfast & Lunch each class day
Free Wifi
Air conditioning
Daily Housekeeping
What's Not Included
Flight
Ground transportation
Additional Events on days off
Travel Insurance
Dinner Meals
Laundry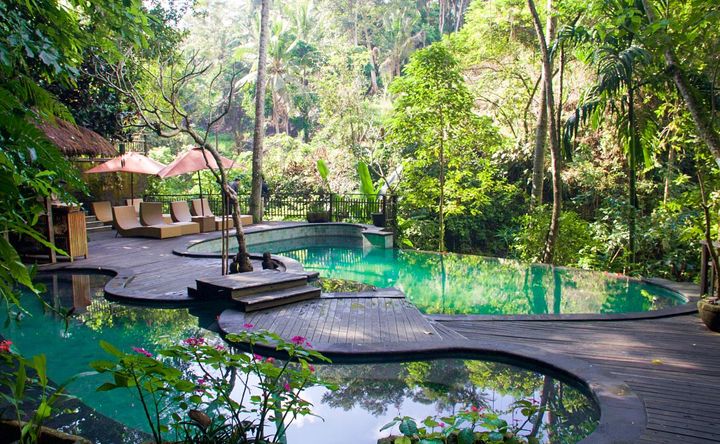 Venue Highlights
Adiwana Svarga Loka Resort is located in the quiet and peaceful area of Ubud, a few minutes drive from the Monkey Forest, the Yoga Barn and a host a variety of local and western restaurants and stylish boutiques.
LOCATION
90 minutes from the Ngurah Rai International Airport, also known as Denpasar International Airport.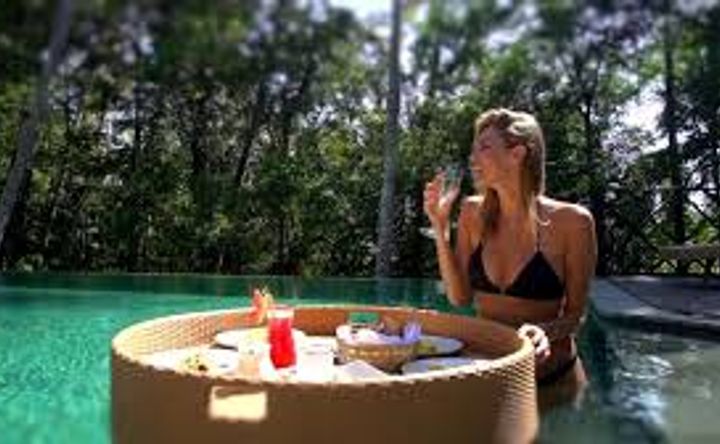 Accommodations
Our accommodation package includes 28 nights and 29 days at Saka Village Resort in Ubud, Bali.
All of the rooms have air-conditioning, free WIFI, private bathroom, mosquito nets over the beds and daily housekeeping.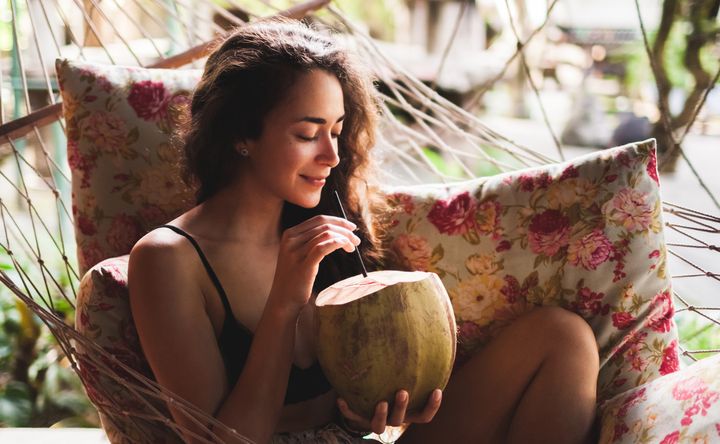 Amenities
A/C in Rooms
Free Wifi
Spa
Pool
Towels
Free Parking
Kitchen
Tour Assistance
Coffee/Tea
Cafe
Restaurant
Yoga Studio
House Keeping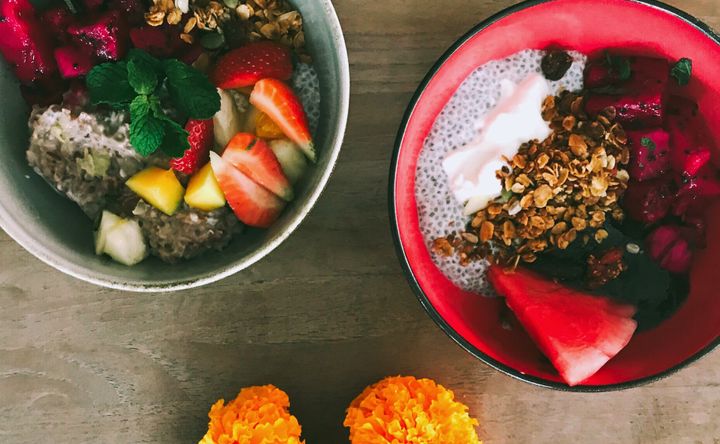 Menu Types
Vegan
Vegetarian
Ayurvedic
Gluten Free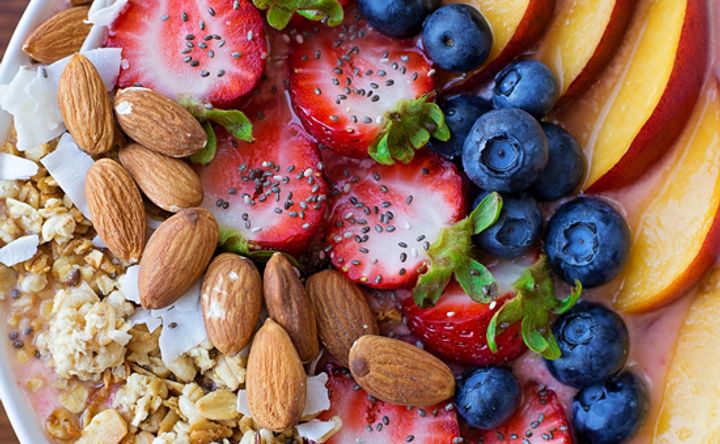 Menu/Cuisine
Food is medicine, consciousness, and health. Your retreat will include breakfast and lunch, with beverages of your choice, plus fresh fruit.
Enjoy the delicious delights of all natural, vegetarian meals with raw and cooked selections, gluten-free options and an epic salad bar - there are abundant options to choose from.
An array of Indonesian, Indian, European and American dishes are served each day to suit your tastes. Fresh juices, herbal teas, and coconut water are also available throughout the day.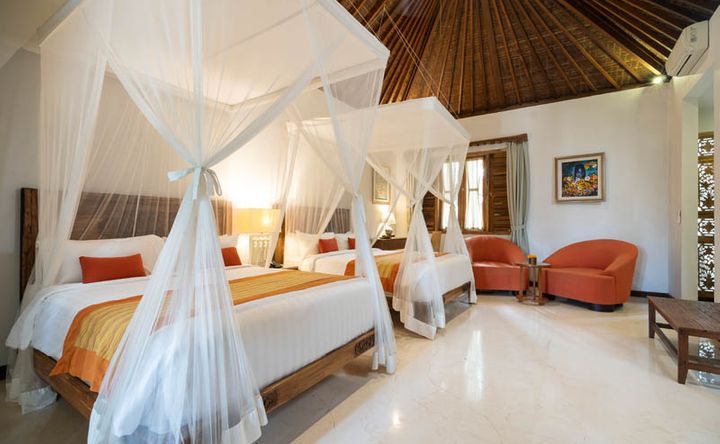 Directions
LOCATION
Adiwana Svarga Loka, Ubud
90 minutes from the Ngurah Rai International Airport, also known as Denpasar International Airport.
---
Cancellation Policy
100% deposit refund for cancellation 60+ days before event.
50% deposit refund for cancellation 30-59 days before event.
0% deposit refund for cancellation 0-29 days before event.
The remaining balance (total price minus deposit) is due upon arrival.
Get full details...
Reviews To review this event, visit the page for the venue or retreat leaders (above).
Similar Retreats You Might Like

Thank you!
We're glad you've joined our retreat community. See you around :)
Return to my event
×