One-week "ETC" Winter Retreat in Villa de Leyva, Colombia
Event Highlights
- Leisurely savor every single moment: smell the grass after the rain, listen to cowbells, observe the majestic mountains, and taste a peach freshly picked from the tree.
- Temporarily erase urban memories of hurriedness, traffic, hustle & bustle, and smog
- Nourish ourselves with fresh food of vibrant colors and flavors, grown according to tradition
- Enjoy an informal chat over dessert about the world's oldest and most effective diet up to date
- Meet other souls with similar concerns to ours, curious, honest, and eager to share and learn
- Delve into the essence of life, the essence of the Inner Being through engaging existential, esoteric, and spiritual conversations but without entering into dogmas or theories from faraway schools.
- Calm that restless mind that drives us crazy so we can relax and see things calmly, without so much drama.
- Participate in shamanic, ancestral rituals in alliance with our hostess—Mother Nature--, to be reborn and recognize other souls like us.
- Do a little yoga and contemplation but in an easy way, without comparisons, without any desire to do it right or wrong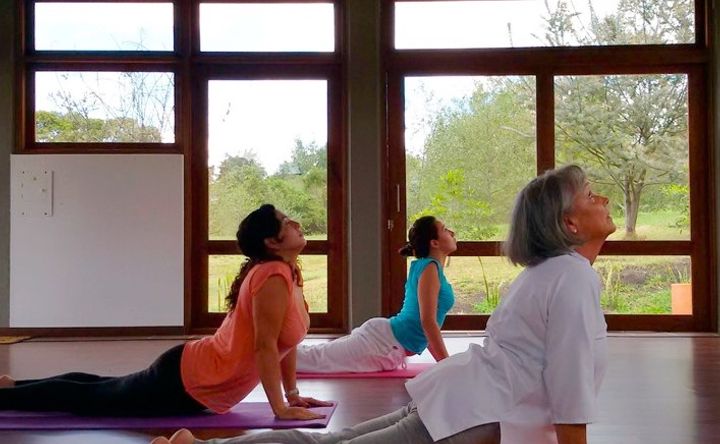 Schedule
SATURDAY
- Private group arrival transfer (departure at 2pm) from Bogota International airport to Villa de Leyva (based on your arrival time, we may stop along the way for lunch—not included)
- Meet your fellow retreat comrades during a general retreat introduction
- Dinner
- Fire ritual
SUNDAY TO FRIDAY
- Yoga and contemplation
- Breakfast
- Morning spiritual discussions
- Lunch
- Ayurveda informal Q&A sessions
- Time at leisure
- Excursions, rituals, life mandala, yoga nidra, etc
- Dinner
- Spiritual Nightcap: Message circle, chanting circle, movies, meditation, etc
SATURDAY
- Yoga and contemplation
- Breakfast
- Private group airport departure transfer (based on departure flights)
About This Event
There is a place up in the Andes mountains where the air is still fresh, the water abundant, and the forests pristine. A peaceful community of small farms, beautiful waterfalls, colonial towns, and long spells of silence. In this idyllic setting, we have built a healing center, where travelers from all over the world come to rest and restore through the ancient practices of Ayurveda and the communion with nature through fresh, vibrant foods and rejuvenating treatments.
We want to invite you to leave the bustle and hustle of the city, the deadlines and endless meetings, the long commutes and traffic jams. We want to invite you to calm your racing mind, put away your anxiety, slow down your heartbeat, and rest your soul for an entire week.
We want to invite you to swap the game of survival for a game of magic, where you can begin to understand your fears, frustrations, depressions and existential doubts. Where you can begin to appreciate the taste of fresh foods, the exhilarating power of silence, and the healing embrace of Nature.
We want to invite you to discover who you are beyond your emotions, to explore what life is beyond survival, to have fun at the level of your heart, at the level of your soul.
We do not pretend to be a "new age" experience, a new source of spiritual information, or a mini self-help course. Our honest intention is to share a true path of personal discovery through the connection to your heart and the deepening in ancestral practices that will help you integrate who you are with your circumstances so you can live a conscious and happy life.
We want to invite you to find your PERSONAL TRUTH during a peaceful vacation in a natural paradise, to feel the energy of this magical place, and to share experiences with other people who vibrate on your same frequency.
"There are processes in life driven by a HIGHER FORCE, which help us remember who we are, rediscover our essence, harmonize our well-being, and reconnect with our truth."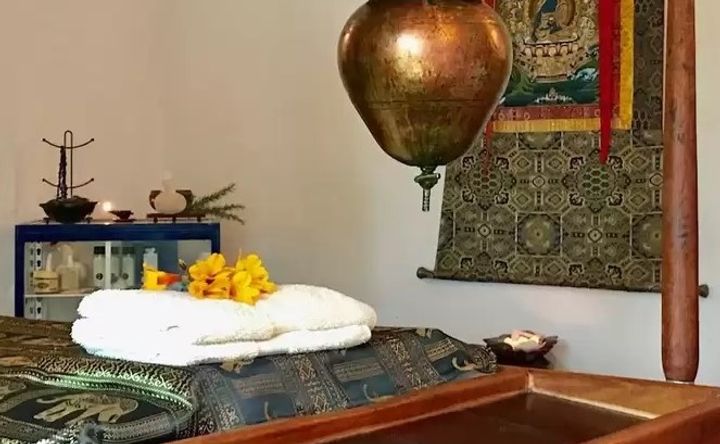 What's Included
- Lodging for 7 nights in a shared double room with private bathroom
- Roundtrip transportation from Bogota
- Three daily meals based on the principles of Ayurveda
- One Shirodhara session
- Daily yoga and contemplation classes
- Three rituals: Fire, Water and Earth
- Daily spiritual talks and discussions
- Ayurvedic nutrition Q&A sessions
- Silent walks through ancestral forests
- Message circle provided by clairvoyant Patricia Ríos
- Chanting circles
- Creation of a live mandala
- One Yoga Nidra class (yogic relaxation)
- Surprise activities
What's Not Included
- Alcoholic beverages
- Personal treatments (except one shirodhara per person)
- Personal consultations (available at additional cost)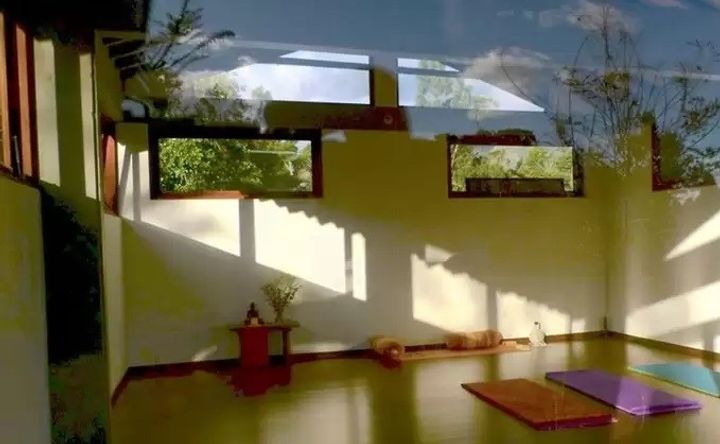 Venue Highlights
12 km (7 miles) from Villa de Leyva, a charming colonial town just two hours from Bogota, in Colombia.
Peaceful environment, surrounded by majestic mountains, small farms, beautiful waterfalls, and plenty of silence.
Two Mediterranean-style, modern houses with double rooms with private bathrooms
Beautiful, covered yoga pavilion
Ayurvedic treatment center
Expansive gardens with ponds and organic orchard
Small temple for meditation and rituals.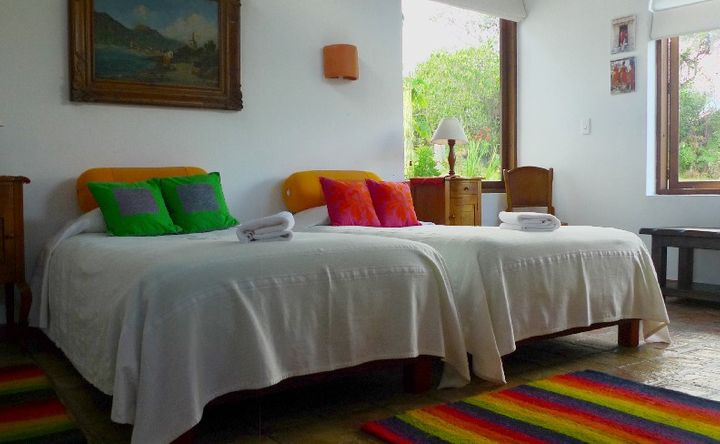 Accommodations
Five double rooms featuring private bathroom, two beds, cable TV, and Wi-Fi. A/C is not necessary.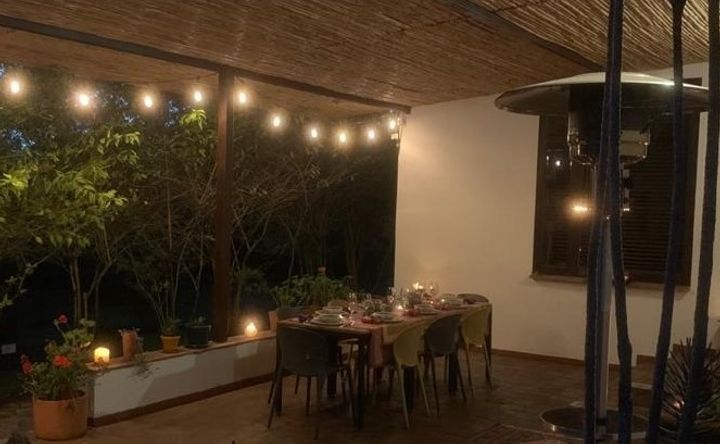 Menu/Cuisine
Meals are prepared according to Ayurvedic principles and mainly consist of plenty of fresh vegetables and grains, legumes, fruit, and some animal protein.
Directions
Pick-up and drop-off transfer service from the Bogota airport to the retreat center is included.
---
Cancellation Policy
100% deposit refund for cancellation 60+ days before event.
50% deposit refund for cancellation 30-59 days before event.
0% deposit refund for cancellation 0-29 days before event.
The remaining balance (total price minus deposit) is due upon arrival.
Get full details...
Reviews To review this event, visit the page for the venue or retreat leaders (above).
Similar Retreats You Might Like
Thank you!
We're glad you've joined our retreat community. See you around :)
Return to my event
×