200 hours tantra yoga teacher training in Ecuador - February 2016
About This Event
Yoga
65% of the course content is focused on tantra yoga
35% of the course content is focused work with chakras through the kundalini yoga technique
Techniques of pranayama and principles of methodology are taught in both practices.
Other practices
Heyoca – the shamanic clown
expressive arts of the being
Shamanistic practices
Tantric and shamanistic rituals
Chakra work
Durga's Tiger Dance
Applied Tantra philosphy
Mantra chanting
Extras & weekend offers
Yoga exploration laboratories where students discover other yoga techniques like Ashtanga, Ashtanga Vinyasa, invberse postures workshops, yoga in pairs with the school Akire Yoga
Work with a shaman and medicinal plants of the jungle or the andes
Day trips to hot springs, the mountains or to Otavalo Market etc.
The daily schedule
Morning meditation
Breakfast
Morning session of theory or practical learning and yoga practice
Lunch and afternoon break
Afternoon session of theory or practical learning and yoga practice
Dinner
Teachings of tantra philosophy, mantra chanting, dancing or special arts events related to the course material two – three evenings per week.
Tantra yoga works with deep relaxation. Students learn the feeling of flowing into the asanas without struggle, developing a deep form of a deep Yoga Meditation. This technique is completed by the practice of bandhas, pranayama, the mantra chanting, Samadhi, sitting meditation and kundalini kriyas. During their time at Durga's Tiger School, students will explore tantra yogic lifestyle, philosophy and arts with us. Together we will discover the ways in which to implement the yoga experience into every day life. Through the Tantra teachings students also learn about the energetic exchange between Shiva and Shakti, the two polarities, and how to integrate sexual energy into their yoga exploration.
Students are given time for self-study, reflection and practicing teaching tantra yoga classes between themselves. During the course of the month students will also complete a written project.
During theory and practical learning classes students learn about tantra yoga philosophy and its application in every day life, yoga methodology, massage and ayurvedic medicine. Students learn the ayurvedic walking massage
As we are living in Ecuador with a huge American Indian population, students also have the opportunity to learn about Andean culture, its Cosmo-vision and its similarities with eastern culture. During the course, shamanistic energy concepts are explored together with the Tibetan tantric tradition

Shamanic clown is an energetic training that combines improvisation, clowning, dancing, musical/rhythm work, meditation and practical shamanism among other things.
The work is a fusion of tools and experiences that you can use for art & life, to get more in contact with your inner child and intuition, develop the right side of your brain and your lateral thinking, release patterns and blockings, to open your ears and eyes to the present moment and the others, to work in group in more effective and loving ways, to increase your creativity and artistic skills by looking at things in a completely new perspective.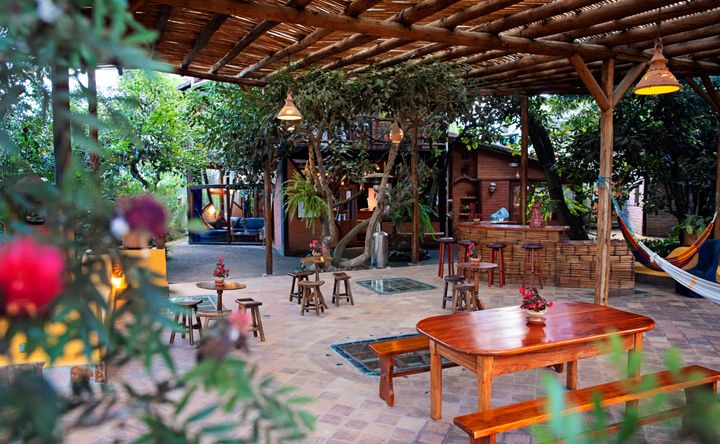 Venue Highlights
The yoga retreat will take place in Casa Kiliku, in the Andes of Ecuador, close to the capital Quito, and on the edge of a natural reserve. You will be located three kilometers from the village of Tumbaco surrounded by high trees and mountains. The Kiliku is a little hawk living here on the volcano, the Ilal. For them, this is the symbol of freedom and as he is seeing the reality from high above.
It means that this place helps the yoginis to get a distance from their everyday life to fly into the experience of living in a yoga ashram, enjoying the green garden surrounding with flowers and old trees.
Casa Kiliku is an ecological place created by artists. The houses are built by materials from our volcano, with bricks, adobe, and wood. Every space is unique. You can stay on the big terrace and chat with others, just lie in the hammock to read, or meditate on treetops dancing in the wind.
For us it is pure luxury to offer a retreat in a rural environment at the edge of the ecological reserve Ilaló and so close to the center of Quito, 25 minutes by car.
Our place is made by ecological local materials and we promote a sustainable way of living.
We love to share our paradise, where we have lived and created films, radio plays, articles and compositions over the last 19 years. The little village bus stops in front of our door. The new airport is close as well – you reach in 25-45 minutes, depending on the traffic.
Closeby there are places where the national and international community mingle, such as La Casa de Rafa, the Bio Market, and CaféArte. Here you can buy organic food and German bread, having a coffee and a chat, enjoy story telling, or a concert.
Just three kilometers down the road in Tumbaco, you find everything you need: local shops, banks, and shopping malls.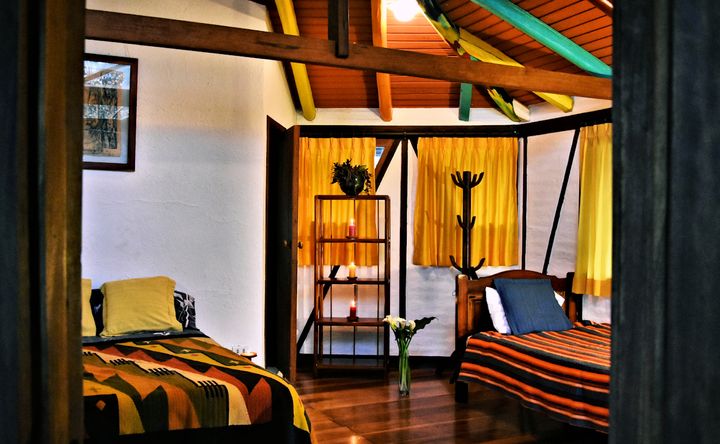 Accommodations
Spacious double or triple rooms
Shared Bathrooms
Balconies or Verandas
Single or double beds with good matrasses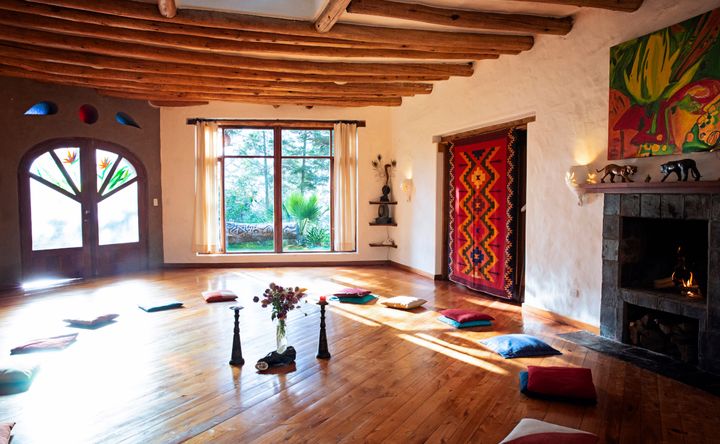 Amenities
Free Wifi
Towels
Coffee/Tea
Yoga Studio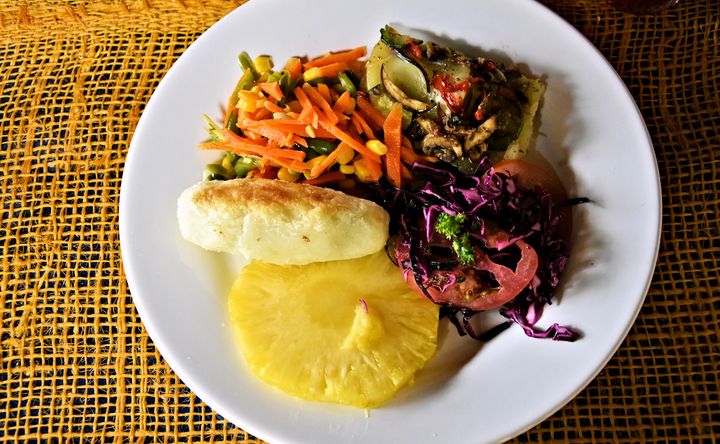 Menu Types
Vegan
Vegetarian
Gluten Free
Dairy Free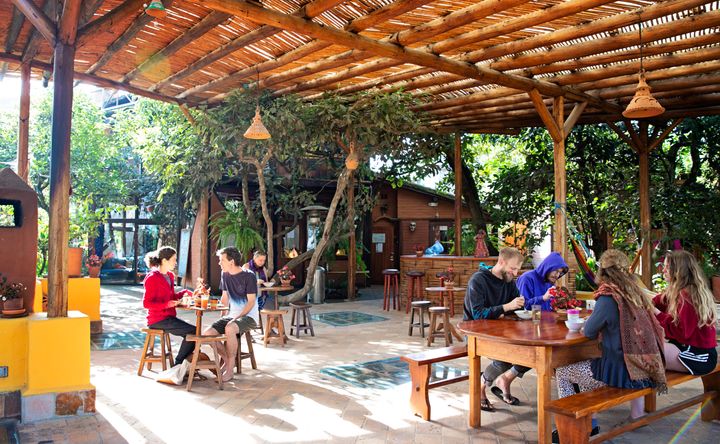 Menu/Cuisine
During this training, you will enjoy three daily vegetarian and locally sourced meals. All meals are always prepared with a lot of love mixing the Ecuadorian tradition with healthy and conscious recipes. Fresh fruits and vegetables are also available. If you have some allergy or specific need of special menu, Durga's Tiger School for Tantra Yoga Shamanism can serve vegan or gluten-free menus for a supplement of 5 USD per day.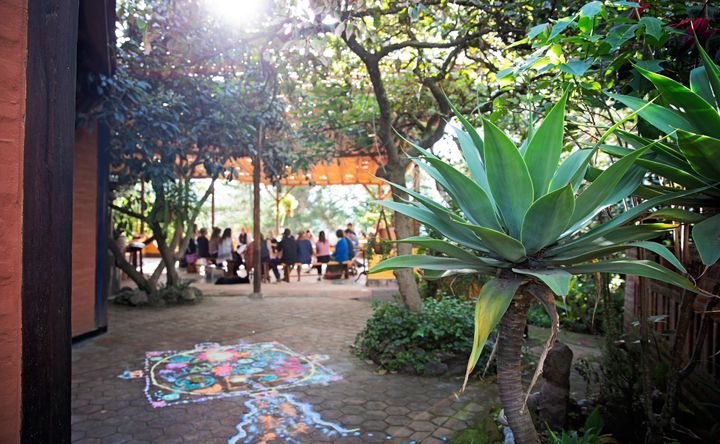 Directions
Directions for taxi drivers
Arriving from Quito you'll enter in Tumbaco through the Interoceánica. You will see a Santa María supermarket on your right, keep going straight on for about one kilometer more. Turn right on Guayaquil Street, opposite a "Gasolinera Primax" (gas station) by the "Semaforo" light. Drive towards the "Colegio Pachamama," cross a bridge over the "Ruta Viva" highway, until you get to a big football field in Rumihuaico area (Comuna Leopoldo Chávez). Go straight up to the hill, after 100 meters the street makes a Y split. Then you keep right (the opposite direction from Pachamama) uphill on the new paved road. Continue 1.5 kilometers, more or less, and on the right side you will see a blue house. Casa Kiliku is directly behind it. Look for the little sign that says "Casa Kiliku lote 169".
If you arrive by the Ruta Viva from Quito take the exit after "Intervalles," just after the 8th Km. This entrance doesn't have a sign, it's located between "Intervalles" exit and "Tola Chica" exit. It goes up to a bridge that connects with "Calle Carchi". When you arrive up to the bridge you turn right and continue until you reach Rumihuaico football field. From there follow directions as explained above.
From the airport by the Ruta Viva you enter after "Tola Chica" exit. (KM 8th). When you get to the bridge that connects with "Calle Carchi", you turn left.
If you take the wrong exit and you enter from "Tola Chica," you'll find another bridge where you can turn back and follow a lateral street of Ruta Viva until the bridge that connects with "Calle Carchi."
Reviews To review this event, visit the page for the venue or retreat leaders (above).
Similar Retreats You Might Like

Thank you!
We're glad you've joined our retreat community. See you around :)
Return to my event
×