BliXX Level 1 Retreat: Erotic-Self Awakening
Event Highlights
It is the first conscious kink retreat, a retreat that strives for the era of a new human kind. Where love and awareness set the standard of how we relate to each other and ultimately to our self.
It is an experience of :
Empowerment by discovering and claiming parts of ourselves that we kept consciously or unconsciously in the darkness.
Healing by allowing us to integrate these hidden parts being witnessed by a loving, non-judgemental community.
Expansion by breaking out of limiting beliefs, societal or parental conditionings, comfort zones and everything that diminishes us towards embodying our authentic Erotic-Self
Intimacy by removing masks and daring to live our truth
Love by practicing self-love first and from there opening up to others
Health, connection, joy, and pleasure​
The retreat is inclusive. It invites all genders, welcomes all sexual orientations and is for singles as well as couples who seek to open up. *If you are in a couple and want to dive deeper in your relationship, then please visit our couple conscious kink retreat.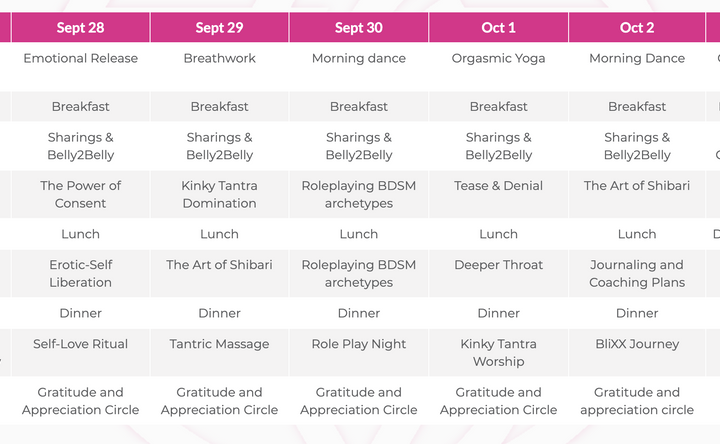 Schedule
The timing of all our session will be similar every day. We will have three scheduled meals, sharings and gratitude circles every morning and evening.
The retreat is structured in 3 parts:
liberating (1,5 days), sexploring (3,5 days) and celebrating (1 day) the Erotic self. In each part we will focus on different tools and techniques to increase our juicyness and go into tantra kinky together.
Please see an overview of all our activities below.
Sessions include:
Emotional release
Orgasmic yoga
Morning dance
Breathwork
Orgasmic yoga
Tease & Denial
BDSM archetypes embodiment
The art of Shibari
​Erotic-Self liberation ritual
Connecting to the Erotic Self
Kinky tantra self-love ritual
Tantric yoni/ lingam massage
Sharing circle and Belly2Belly
Gratitude and appreciation circle
About This Event
Make the unconscious conscious to become whole by diving deep into intimacy and self-empowerment.
This retreat offers the space for you to sexplore NeoTantra, BDSM, Shibari and other kinks to find and liberate your very own Erotic-Self. Our sexual expression is as unique as we are as creatures.
The main intention of BliXX Level 1 is to decondition and expand consciousness through the use of sexuality. We will focus on self-growth and growth as a tribe, redefining ways of being in the body and relating to each other.
We are all unique creatures, so is our sexual expression. This retreat offers the space for you to s.xplore NeoTantra, BDSM, Shibari and other kinks to find and liberate your very own Erotic-Self. The main intention of BliXX Level 1 is to decondition and expand consciousness through the use of sexuality.
We will focus on self-growth and growth as a tribe, redefining ways of being in the body and relating to each other.
The retreat is divided into the 3 parts :-)
Part 1: Liberating our erotic-self:
In this first part of our experience we will reclaim the natural innocence of our s.xuality. Our intention is to free ourselves from all limiting beliefs, fears, shame and other mental constructs that are holding us back from the connection with our Erotic-Self and the empowerment which comes with it.
Core tools:
​Emotional release techniques
​Masks removal ritual
​Fire ritual
​Intention setting technique
Part 2: Sexploring to our erotic-self:
This part it is about sexploring our Erotic-Self and cultivating a deeper sense of self-awareness and self-love. If we want to be perceived as powerful beings, we must first embody that power. If we want to become a great lover, first, we need to be our best lover and know what we truly desire and how to get there. We will sexplore with others the power of speech to express our Erotic-Self needs and desires. ​
Core tools:​
​Kinky tantra domination
Kinky Tantra Worship ritual
​Tantric yoni and lingam massages
BDSM archetypes embodiment
Surrender in the art of Shibari
Part 3: Celebrating our erotic-self:
This is the "grand finale" of this retreat. In our signature BliXX Journey, participants of the retreat will meet other BliXXstars and we all create together a playing field of around forty people, celebrating the initiation of the Erotic-Self in communion with others in all the ways it wants to s.xpress.
Core Tools:
Kinky tantra speed-dating
​Free flow play-party
​Collective tantric s.x magic ritual for manifestation
The experience provides:
"BliXX Level 1 was an incredible eye opener. I connected with aspects inside of myself that were unknown to me. I am standing in my power in all my relationships (private and business). ThXX" Jana, Germany
What's Included
6 nights accommodation at New Eden, residential retreat centre
3 healthy, locally grown vegetarian and vegan meals daily
Daily morning practice to activate our body and reach our highest orgasmic potential
Our signature workshops to awaken your Erotic-Self
Rituals to consecrate our divine Erotic-Self in all its colours and ways it wants to sexpress
Post-event coaching in 3 groups and 2 individual online sessions
An amazing community that acts as support and mirror. To be witnessed is key for shadow integration
A getaway from routines and time for self-care in magical dutch country side
What's Not Included
Transportation to and from New Eden
Personal expenses
Pre xperience STI´s check (mandatory)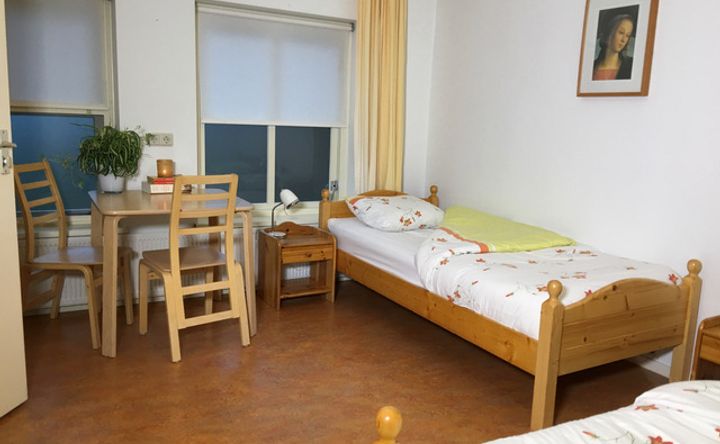 Accommodations
Our intention is to allow as much freedom as possible so you can really dive deep into the process. That is why we will have our sessions in a residential retreat centre surrounded by mesmerising nature.
The accommodation in shared rooms offers participants a deep dive into a community experience.
There will be double, triple and quadruple rooms available.
The room assignment is upon arrival and will be performed by the universe. Through a lucky draw you will find your room and mates.
If you desire more privacy for an extra of 40€ per night you can book your single room, just let us know.
Amenities
Sauna
Towels
Free Parking
Coffee/Tea
Restaurant
Yoga Studio
House Keeping
Ceremony Space
Menu/Cuisine
Locally sourced and in own garden grown vegetables and fruits will nourish your body, mind and soul for breakfast, lunch and dinner.
Food is our medicine and brings our cells to swing.
Directions
VENUE ADDRESS: New Eden Retreat Centre, Sparjeburd 2, Hemrik, 8409CK, The Netherlands
The closest airport is Schiphol Airport in Amsterdam, Netherlands. New Eden is located approximately 1.5 hours away by car and 2.5 hours away by public transport.
Reviews To review this event, visit the page for the venue or retreat leaders (above).
Similar Retreats You Might Like

Thank you!
We're glad you've joined our retreat community. See you around :)
Return to my event
×