Kundalini Yoga Teacher Training Course in Rishikesh India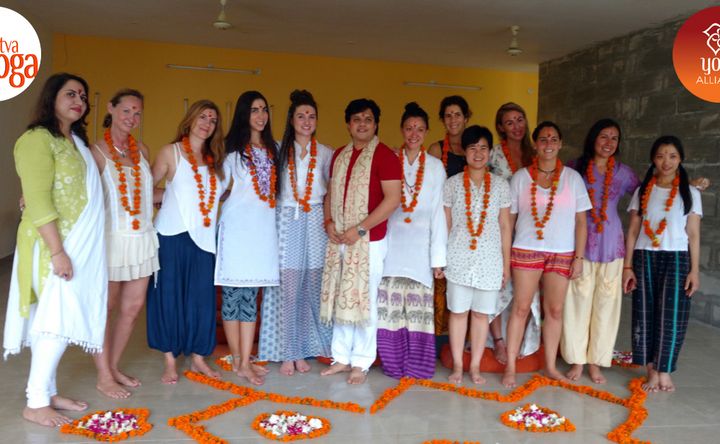 Event Highlights
At Shiva Tattva Yoga School we conduct 200 Hour Kundalini Yoga Teacher Training which has course syllabus of Yoga teacher training along with Kundalini yoga which emphasizes the science of consciousness, the awakening and raising of Kundalini energy through chakra of the body( body wheel).
Our 200-hour Kundalini Yoga TTC is the beginner level program and a top-up of regular teacher training where aspirants are introduced with Kundalini force by experiencing the perfect harmony of cosmic energy with eliminating energy. The science of this bodily energy awakening requires the code of conduct mentioned in the yogic text and one should not expect unrealistic achievement without following them. During the course, the participants are instructed to follow the guideline derived by our instructor and have to practice breathing control in leisure time. Since the objective, of course, is very intense and one has to be ethical as per the yogic textbook and principle, hence it needs a long time practice and one should not expect the immediate effect just after completion of course.
The course syllabus will include the regular yoga teacher training along with practice and introduction to understanding Kundalini, Chakra, the various layers of Pranayama and Meditation along with the practice of various Mudra and Bandha. Along with these topics this 200-hour Teacher training program includes traditional Hatha Yoga, Astanga Vinyasa style asana, Teaching methodology, Philosophies, Medieval teachings, Mantra chanting, Anatomy, and Kriyas.
200 hours kundalini yoga teacher training-India
On successful completion of this course, participants will be provided certification that acknowledges you as a registered yoga teacher RYS 200 affiliated by Yoga Alliance and to qualify you as professional yoga teacher who can teach globally, although it is necessary for enthusiasts to practice yoga on a daily basis as per the measures derived by our teachers in future.
Schedule
Daily Schedule: Kundalini Yoga Teacher Training Course
6:00 am - 7:00 am Pranayama / Meditation
7:30 am - 8:30 am Yoga Asana Practice
8:30 am - 9:00 am Tea Break & Breakfast
10:00 am - 11:10 am Mantra Chanting / Meditation Technique
11:30 am - 12:30 pm Rest & Self Study
1:00 pm - 2:00 pm Lunch
2:00 pm - 3:00 pm Anatomy (15 Sessions)
3:00 pm - 4:00 pm Alignment / Balancing
4:00 pm - 5:00 pm Yoga Principles / Philosophy / Patanjali Yoga Sutra
5:30 pm To 7:00 pm Kundalini Asana Class
7:00 pm To 7:30 pm Rest Time / Free Time
7:30 pm - 8:30 pm Dinner Time
8:30 pm - 10:00 pm Self Study
10:00 pm Lights Off
About This Event
We are offering, 200 hours hatha yoga teacher training course in Rishikesh- India.
Shiva Tattva Yoga School is renowned for its affiliation with Yoga Alliance USA and has many yoga programs of varying level of difficulty and expertise. The most prominent is a 200 hour residential Hatha Yoga teacher training program. The 200-hour teacher training course is the beginner level programs that enlighten the student with the primary basics of yoga that are paramount in attaining inner peace and discipline necessary for the advanced level course of yoga. Additionally, RYT 200 provides a certification that acknowledges you as a registered yoga teacher.
Shiva Tattva Yoga School has customized routines for beginners. On top of that this 200-hour course makes you eligible for applying as an assistant for a yoga teacher. That being said it is enough in itself to make you learned enough to teach others to heighten their awareness and inculcate yoga into their lifestyle. The certificate makes one qualified to teach yoga anywhere in the world. It is a necessary course for enthusiasts who aim to practice yoga on a daily basis. If you are going to do it every day, it is better to do it right. Anyone who signs for a 200-hour course learns about the Pranayama, Asanas, Meditation, Teaching methodology, Philosophies, Medieval teachings, Mantra chanting, Anatomy, and Kriyas. This course is usually taken up by those looking to become professionals.
Our Yoga school is situated on the banks of River Ganga with its pristine presence. Pure breeze full of oxygen flowing from the virgin forests and mountains will help you to attain a higher sense of involvement while practicing Kriya, Pranayama, Yoga style. You will not only learn about the synchronizations of yogic postures with rhythmic breathing but will also learn means to explore divinity inside you through these 200 hours of Hatha Yoga Teacher Training in Rishikesh. This holistic environment of our school will give you most amazing experience while practicing yoga.
200 Hour Yoga Teacher Training (2019 – 2020), Rishikesh, India
(Course Fee – Single-USD 1600 :: Shared-USD 1300)
200 Hour Yoga Teacher Training in India Status Double Sharing Private Room
➢ 5th December 2019 to 1st January 2020 Registration Open $ 1300 USD $ 1600 USD
➢ 5th January 2020 to 2nd February 2020 Registration Open $ 1300 USD $ 1600 USD
➢ 5th February 2020 to 2nd March 2020 Registration Open $ 1300 USD $ 1600 USD
➢ 5th March 2020 to 2nd April 2020 Registration Open $ 1300 USD $ 1600 USD
➢ Booking amount due with the application is 20% of the total fee (i.e. non-refundable advance towards the program fee).
➢ Remaining fee needs to be paid upon arrival before starting of the course.
Topics Covered in 200 Hour Hatha Yoga Teacher Training
• Residential 200 Hour Yoga Teacher Training in India
• Yoga Philosophy
• Hatha Yoga
• Kriyas (cleansing techniques)
• Pranayama (breathing techniques)
• Bandhas (Yogic locks)
• Meditation
• Mantra Chanting
• Human Physiology and Anatomy
• Teaching Methodology
• Learning to teach yoga classes for beginners, intermediate and advanced levels students.
Inclusions:
• Teachers Training Course
• Yoga classes (Mon ~ Sat)
• 02 Ayurveda Massage
• Accommodation with attached bathroom and free WIFI
• Three Ayurvedic vegetarian meals / Vegan and dairy free on request
• Day Excursion / River rafting (depending on availability) nature walk in the foothills of the Himalayas, guidance and escort services for local sightseeing.
• Yogic T Shirt / Carry bag / TTC Manual
Exclusions:
• Any other expense other then mentioned in the course.
• Airfare and Travelling
Airport Transfer (On Request*)
• New Delhi Airpot to Rishikesh School by taxi- US$ 70
• Dehradun Airpot to Rishikesh School by taxi- US$ 15
OVERVIEW OF 200-hour Yoga TTC:
• Teaching Process (Theory & Practical subjects)
• Evaluation process
• Code of conduct
AIMS AND OBJECTIVES:
• Principles of yoga
• The concept of Yoga therapy
• Integration of modern and ancient knowledge
CODE OF CONDUCT:
• We observe 95% of attendance in all sessions.
• We observe punctuality and regularity.
• Students have to complete the assignments.
• Follow the disciplinary activities as per management.
• Generate required efforts to taste the Yoga life.
Outings/ Tours:
• Ashram visits
• Ganga arti
• Kunjapuri
"Yoga is the journey of the self through the self to the self."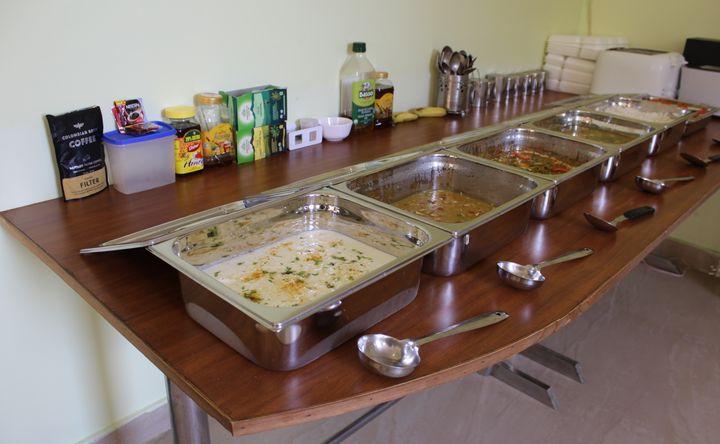 What's Included
our school facilities:-
1. free wi-fi.
2. internet cafe.
3. excellent rooms with attached bathroom and 24- hrs water supply.
4. amazing view and amazing location and environment.
5. we provide experienced yoga trainers.
6. yoga training, course material, organic food, accommodation with attached bathroom.
7. pick & drop facility available from the nearest following:- airport, railway station, bus station.
8. two outdoor tours on the weekend.
9. 2 ayurvedic massages
10. 3 times meals per day
11. 2 times tea
12. Shiva Tattva yoga t-shirt
What's Not Included
AIRPORT TRANSFER(ON REQUEST*)
We have a tie-up with local transporter, you can ask us if you need an airport transfer for our school and our team will be happily assisting you. The fastest and easiest way to reach Rishikesh is a flight from Delhi to Dehradun.
New Delhi Airport to Rishikesh School by taxi- US$ 70.
Dehradun Airport to Rishikesh School by taxi- US$ 15.
EXCLUDING
Any other local travel or sightseeing, other items of personal expense.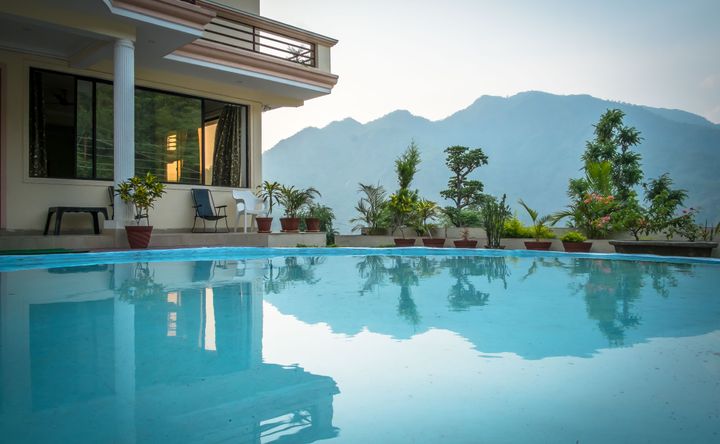 Venue Highlights
This retreat will take place at Shiva Tattva Yoga School in Rishikesh, India. Popular all around as the Yoga capital, Rishikesh is a perfect place to learn and study yoga. Surrounded by beautiful mountains, lush green surroundings, holy and mighty Ganges, Himalayan foothills, and tranquility, one can instantly get a natural feeling of sigh, contentment, and happiness. All set to take you on a spiritual and enjoyable journey to India, and cherish the yoga teacher training with an enhanced and uplifted spirit and feel compassion and love for everything life has given to you and for all that, which is surrounding you. Have the unique chance to experience nature & the animals around the school such as different types of monkeys, squirrels, birds, and cows. It provides an extraordinary feeling to all who are dedicated to spiritual transformation, internal development, and environmental sustainability. The staff will overwhelm you with their hospitality and desire to make your stay the best ever.
Our School is located in the Indian state Uttarakhand at Rishikesh which is also called the World Capital of Yoga and this place has a spiritual connection as per Hindu mythology as every year millions of pilgrims visit this land for various holy rituals across the globe. One of the greatest reasons is the Holy river Great Ganges flow through this state and among pilgrim the significance of this river is highest and also worshipped as Mother Ganges. Every year many yoga and spiritual enthusiast visit this city across the world and is the considerably safest place if you are a lone traveler or even a solo female traveler. Our Indian culture is based on the rule of ATITHI DEVO BHAW which means Guest is the form of GOD.
The local people here are very welcoming and friendly and used to of multi-culture people, and full of innocence as compare to Indian metro city crowd. This mystic land is a surely nice and safe place for everyone and we look for an unforgettable moment for those enthusiasts who come looks India as a land of mythology, spirituality, and human relation and cultural value.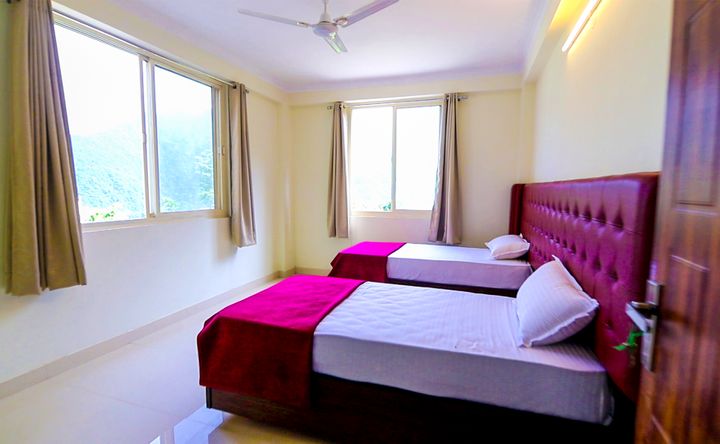 Accommodations
Shiva Tattva Yoga School offers single and double rooms based on the student's requirements. Every room has attached bathroom with western toilet and hot shower, Beautiful mountain or garden view from the room. The rooms for the yogis are well maintained and clean. They offer bed sheets, pillows, bath towels, blanket and welcome amenities upon arrival. Good Wi-Fi is included on every floor. Water and laundry service are also available.
Menu/Cuisine
Vegetarian
Organic
Menu/Cuisine
1)We could provide a vegetarian meal.
2)Non- veg is not allowed in our School.
3)In vegetarian meals, we provide cereals, bread, butter, fruits, vegetables, tea, sweet dishes, etc
Directions
From Delhi to Rishikesh The distance from Delhi to Rishikesh is generally 6 hours but traffic, time of day and holidays/ festivals can make the journey longer. The three major methods of transportation to get from Delhi to Rishikesh are a private car, bus or plane. Hiring a private car to take you from Delhi to Rishikesh is the easiest option for first-time travelers to India with bus and train being more complicated.
Private:
Car A private car will cost around $80 USD from Delhi to Rishikesh. You have the opportunity to meet up with other students in your yoga teacher training group to arrange to share a private car in order to keep the cost down.
Bus:
Depending on the time your plane arrives in Delhi, this can be a tricky option. Volvo buses (best condition) from Delhi to Rishikesh stop running around 9 PM at night. If your plane arrives in Delhi around evening time, you will have to get a hotel for the night and then make your way to Delhi ISBT (Interstate Bus Terminus) in the morning.
From the airport, get a prepaid taxi to take you to Delhi ISBT. Only go to the government-approved taxi stand located right outside the airport exit. The price from the Delhi airport to Delhi ISBT will be 600 INR (Indian Rupees).
Once you arrive at Delhi ISBT, navigate your way to the bus station's ticket stands on the second level (go up the escalator). Go to the Uttarakhand State booth and ask when the next Volvo bus (best quality) will be leaving for Rishikesh. That bus ticket should cost between 500 INR - 700 INR.
Make sure to ask the bus driver/bus director where they drop off at Rishikesh. You should depart from the bus at Rishikesh Bus Station (there's only one) which is usually their last stop if their destination is Rishikesh.
Once you arrive at Rishikesh Bus Station, find an auto-rickshaw (tuk-tuk) to take you to Upper Tapovan at Shiva Tattva yoga school.
Plane:
You can also book a plane ticket from Delhi airport to Dehradun airport (Jolly Grant). The price of that ticket ranges depending on when you book it, but it's usually around $40 to 60 USD. The taxi from the airport to Laxman Jhula is around $16 USD.
---
Cancellation Policy
100% deposit refund for cancellation 60+ days before event.
50% deposit refund for cancellation 30-59 days before event.
0% deposit refund for cancellation 0-29 days before event.
The remaining balance (total price minus deposit) is due upon arrival.
Get full details...
Reviews To review this event, visit the page for the venue or retreat leaders (above).
Similar Retreats You Might Like

Thank you!
We're glad you've joined our retreat community. See you around :)
Return to my event
×