BliXX Couples Retreat: Raising in Love
Event Highlights
PIMP YOUR LOVE LIFE AND EXPAND INTO ECSTASY WHILE LEARNING THE TOOLS TO DEEPEN YOUR CONNECTION TO YOURSELF AND YOUR PARTNER.
This is an expansive and exciting week-long immersion into the vast field of Eros. Best of all, you get to spend it with your favourite being, your partner. An xperience for you and your beloved to:
​EXPLORE different s.xual practices and rituals, learn new tools and techniques from "sacred" to "dirty".
INCREASE the chemistry between you and your partner through learning how to polarise your energies.
RAISE IN LOVE, instead of falling, by removing masks, being witnessed and held by your beloved in your utmost vulnerability.
EMPOWER by discovering and claiming parts of yourselves that were kept consciously or unconsciously in the darkness.
EXPAND by breaking out of daily routines, entrenched habits and relationship dynamics to freely and authentically relate to one another.
NOURISH yourself and your partnership in a private venue with gardens, swimming pool and the beach at your doorstep.
This week offers the space to s.xplore Neotantra, BDSM, Shibari and other kinks and practices together with your partner.
The main intention of BliXX Couple Retreat is to decondition and expand consciousness through the use of s.xuality. We will focus on self-growth and growth as a couple in a small group of maximum 7 couples.
​The retreat is inclusive. It invites all genders (men, women, queer & transgender) and welcomes all s.xual expressions.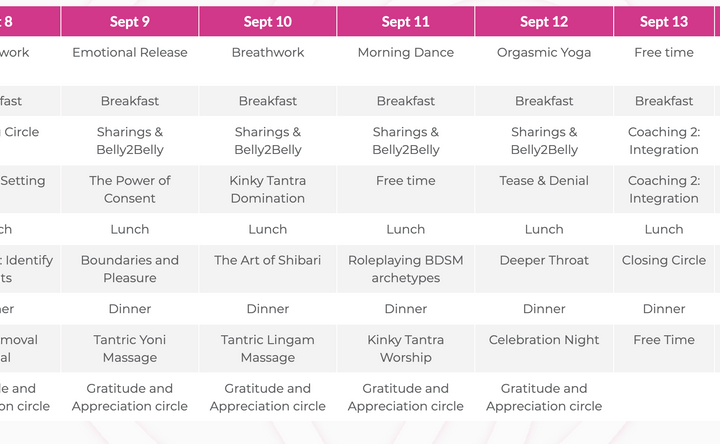 Schedule
Please have a looked at our pre-defined schedule (subject to slight adjustment to better suits the group).
We will start everyday in the morning with some breath and movement to arrive in our body and loosen up.
After breakfast there will be sharings and belly2belly, what is an amazing somatic relationship tool. Then the first workshop and after lunch another one.
The evenings will be more ritualistic and ceremonial ending in a gratitude and appreciation circle to reflect and integrate the learnings of each da
About This Event
The retreat will be divided into 3 parts
♛♛♛ PART 1: LIBERATION AND CONNECTION TO THE HEART ♛♛♛
In this first part of our xperience we will reclaim the natural innocence of our sexuality. Our intention is to free ourselves from all limiting beliefs, fears, shame and other mind constructs that are holding us back from the connection with our Erotic-Self and the empowerment which comes with it.
From that space of truth and liberation we will xplore fantasies and boundaries and how to communicate them to our partner.
Core tools:
​▸ emotional release techniques ​
▸ masks removal ritual ​​
▸ conscious communication
▸ the power of consent
▸ boundaries
▸ fantasies and pleasure
♛♛♛ PART 2: CONSCIOUS KINK S.XPLORATION ♛♛♛
This part it is about sexploring conscious kink. Conscious kink refers to any non-normative sexual practice. We will learn tantric tools and tecniques: presence, rituals, massages, sacred space creation...Further, we will dive into bondage (Shibari) and BDSM archetypes such as Dom and Sub roleplays. It is about discovering new desires while honouring our natural Yes' and No's.
​
Core tools:
▸ kinky tantra domination
▸ surrender in the art of Shibari
▸ roleplaying BDSM archetypes
▸ tantric Yoni and Lingam massage
▸ kinky tantra worship
♛♛♛ PART 3: CELEBRATION AND INTEGRATION ♛♛♛
After all this inputs and revelations, it is time to harvest, integrate and celebrate what has been experienced.
We will support you on the how to integrate all insights into your daily lives with coaching.
And we will cebrate it all by creating a free flow play field.
Core Tools: ​
▸ ritual
▸ relationship coaching
▸ free flow play-party ​
▸ collective tantric s.x magic ritual for manifestation
❀ THE XPERIENCE PROVIDES ❀
▸ A getaway from routines and time to nourish your relationship in a wonderful nature retreat centre close to Barcelona.
▸ Healthy and local vegetarian & vegan meals (3 times a day)
▸ Daily morning practice to activate our body and reach our highest orgasmic potential.
▸ Workshops to sexplore your spiciness and expand your juiciness.
▸ Rituals and tantric tools to bring more presence and sacredness into your love making.
▸ Post- event coaching: 2 couple online sessions.
▸ Experienced and embodied facilitators to guide you through the retreat while holding a space of healing and freedom.
▸ BliXXperts-team to support you to move through emotional triggers.
▸ An amazing community which acts as support and mirror. To be witnessed is key for shadow integration.
❀ WHY YOU SHOULD BE THERE ❀
▸ SELF GROWTH: Decondition and stretch, meet yourself in new roles and integrate your "new" truth
▸ INTIMACY: Get closer to yourself and your partner by removing all the masks
▸ LOVER SKILLS: Juice up your love life, re-spark your flames and merge into ecstasy
▸ HEALTH: Yoga, food, meditation, nature and movement for optimal physical health
▸ RITUALS: Learn how to bring more presence and focus into your love making
▸ BONDING: break through all that holds you back from authentically relating in your utmost vulnerability
What's Included
Tuition, rituals and coaching
​
Accommodation in double rooms
​
Breakfast, lunch and dinner
What's Not Included
Transportation to and from the venue
Venue Highlights
A lodge for body, mind and soul for adults only and clothing optional will be our place for this week. Surrounded by luxurious gardens for intimate walks, a swimming pool, sauna and fantastic rooms to dive into your bubble of love. Only 7 min walks away from the beach, to further relax and raise in love.
The venue is located on the Costa Dorada, in Catalunya – Spain, 45′ driving south from El Prat International airport of Barcelona. Just in between Sitges and Tarragona, 20km from each town.
Nested on the small rocky hill, refreshed by the breeze from the Mediterranean Sea and shaded with palm trees.
Accommodations
Luxurious double rooms provide you with coziness and comfort to fully enjoy and dive into our xperience.
Amenities
Sauna
Pool
Coffee/Tea
Ceremony Space
Menu/Cuisine
The food is daily cooked by the kitchen team (see the "Volunteer" info), is mainly organic and vegetarian.
If you have a special diet, please let us know in advance, the Chef cook will do their best to satisfy your needs.
Directions
By plane
From Barcelona airport El Prat> 45′ (65km)
From Reus > 25′ (35km)
By train
From Barcelona: Take the train at Plaza Cataluña or Sants Estació train station and get off at St Vicenç de Calders (Coma Ruga) station, taxis are waiting at the exit.
We can pick you up or take you back for very late or early arrival/departure.
Reviews To review this event, visit the page for the venue or retreat leaders (above).
Similar Retreats You Might Like

Thank you!
We're glad you've joined our retreat community. See you around :)
Return to my event
×