ANUPA - Water Healing retreat.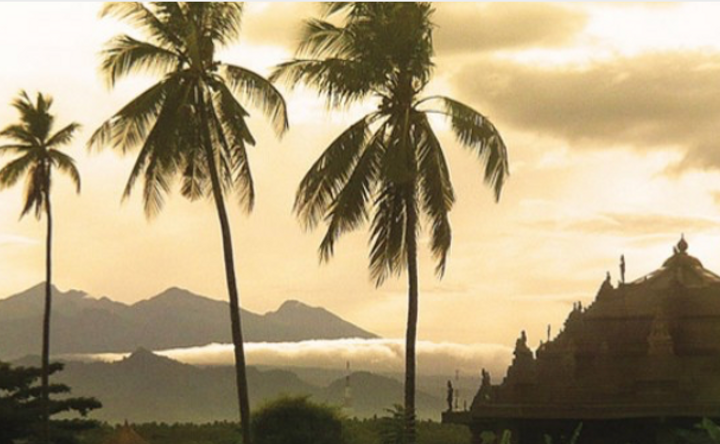 Event Highlights
Each component offered on the retreat shall be devoted to this essential source (WATER).
∞ Entwine in a 5 nights luxury stay within the majestic terrain of Lombok, surrounded by sacred Hindu Shrines.
∞ Wake up to the sounds of sea breeze & step into ease, as we move with lightness & grace in a fluid morning Level 1-3 YOGA, MOVEMENT & BREATH practice. Committed to Svadisthana, second Chakra; anchoring our connection & grounding to Earth.
∞ Submerge into the stillness of your centre & cocoon yourself in a bundle of bliss by receiving soothing THERAPIES which cup a water based foundation.
∞ Cool down the day & let passivity breath your way, as we slide into an unwinding practice of Slow Hatha, Yin, pacifying breath work & meditation.
∞ Speak to the spirit of the sea & be in awe with the fishes you see, as we dive into a world of sparkle & magic under Indonesian turquoise waters. Beginning our journey by setting sail into this warm wonder on one of Lombok's limited ancient traditional antiquely carved boats.
∞ Re-vitalize yourself on a cellular level with fresh, locally sourced food & vibrantly filled OCEAN produce. Peppered with light, watery, tantalising Indonesian spices, ALL to be savoured amongst a Lotus Pond of Magic.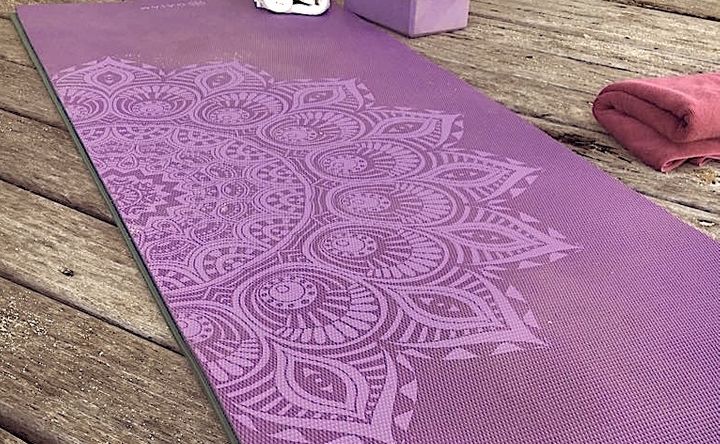 Schedule
∞ AM ∞
7.00: IGNITE: Magical morning wakeup
7.30 -: CONNECT: with a Level 1-3 Fluid flow
9 am
9.30 -: BOOST: with BREAKFAST @ Tugu
10.30: REWIND:
~ FLOAT into Bliss: Snorkel Magic
~ RELAX & RESTORE: By the shore
~ DROP DEEP: into SUBMISSION with nourishing therapies.
12.30: LOVE: with LUNCH
∞ PM ∞
14.00: UNWIND:
~ Afternoon ACTIVITIES or more Treatment Time
17.00: SURRENDER:
Unwind into stillness with soothing evening Yoga, Movement & Meditation.
19.00: DEVOUR: Divine Dining
About This Event
" GIVE YOURSELF ALLOWANCE TO LET GO! "
ANUPA meaning WATERY or NEAR WATER, offers the essence of this Retreat: to FLOW & LET GO. A retreat infused with the fundamental source WATER, one of the universal ELEMENTS. We are COMPRISED of it, we THRIVE it, it SUSTAINS our EXISTENCE. When we physically become more fluid, we mentally flow, life flows. ANUPA RETREAT, is a dedication to honour this Element, intended to bring us back to the source.
-Move with grace in an early rising Fluid Flow Yoga & movement practice,
- Submerge & cocoon into the stillness of your centre with Water based THERAPIES,
- Let passivity breath your way, as we melt into an unwinding practice of Slow Hatha, Yin, Breathwork & Meditation.
All guided toward finding more ease & grounding in our daily endeavours; offering you allowance to truly LET GO!
"Submerge into Submission & Give allowance to Let Go! "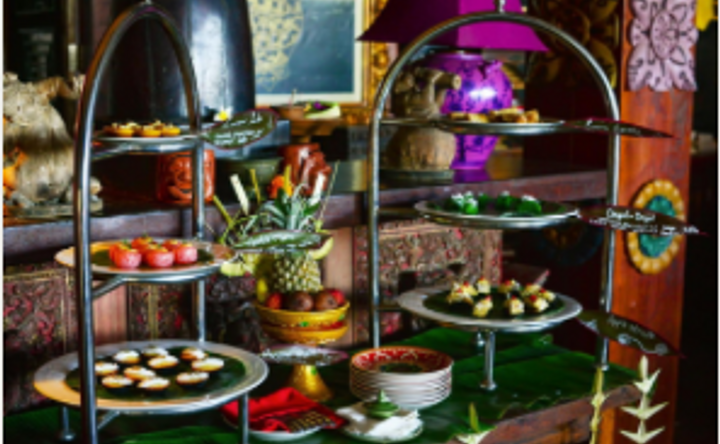 What's Included
THE PACKAGE includes:
During you stay:
Room:
ℑ. 5 Nights Stay
ℑ. Daily Mineral Water per person per room
ℑ. ANUPA invites you to disconnect from the external world & limit your use of internet & social media connection. However, Wifi is available.
Please refer to Tugu's website for Room facilities & inclusions :
(Please note There is ONE TWIN BED available in the Kampong Bungalow selection on a first come first serve basis)
Activities:
ℑ. Morning & evening Yoga & Meditation classes
ℑ. 2 Therapies
ℑ. 1/2 Day Snorkelling Trip
ℑ. Canoeing, Kayaking, Cycling, Paddle Boarding.
Food:
ℑ. Breakfast: Unlimited Buffet
ℑ. Lunch: 1 Drink -Juice or Tea, 1 Bite OR Dessert, 1 Main.
ℑ. Afternoon High Tea & Snacks
ℑ. Dinner: 1 Bite, 1 Main, 1 Dessert.
The Tugu Menu has a varied range of vegetarian & vegan food. Please request by informing the staff upon your order.
Getting there:
ℑ. Shared Transport to & from the airport.
Based on 4 persons per private Van.
Co-ordination of flights shall be requested.
Should you wish to hire a Private Car for one or 2 people, there will be an extra charge of 500, 000 IDR per person.
What's Not Included
The package excludes:
Extra Food & Drinks:
ℑ. The Lotus restaurant is arranged on an a la carte basis. Food charges above, are an average of the dish & beverage inclusion listed.
Any items not consumed from the choice list can be accounted for & refunded at the end of the retreat.
Any selection of food, snacks, drinks & alcoholic drinks consumed as extra during or outside the dining or High Tea times shall be charged & payment requested before or upon departure of the retreat.
ℑ. There is an optional choice to add: A Grand theatrical Dinner. Based at an extra $ 32 US to the normal Evening Dinner rate.
Activities & Luxuries:
ℑ. Extra activities such as or Massage
ℑ. There is an optional choice to add: 1.2 Day trip to Gangaa Waterfall rated at $ 92 US
Getting there:
ℑ. Flight & Visa cost
ℑ. Extra transport aside airport transfers, should you need to exit & venture out of the Resort during your stay.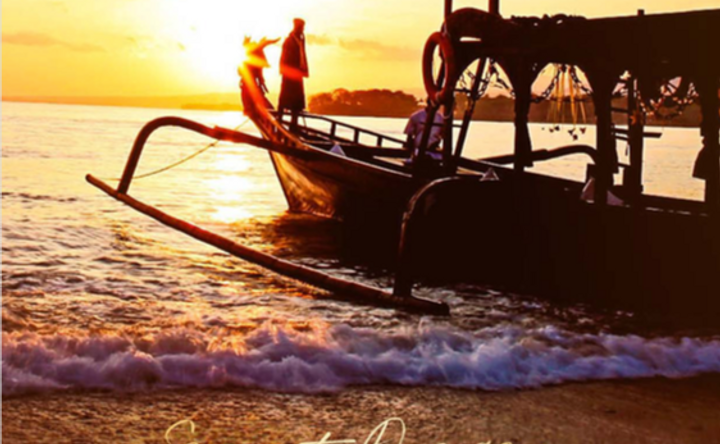 Venue Highlights
Dip into a cool salt water pool to invigorate your day
Dine amongst a Lotus Pond of Magic.
Privacy at its most: All rooms & Resort areas honour this important essence with upmost respect.
Sweep your feet along white sand on the Resorts' privately owned pristine beach.
Detox & destress in a personal soothing massage.
Tap into stillness & quiet as the Resort moulds an attitude of peace & Magic.
Optional Extras:
The Art of Dining: Experience traditional ancient dining, encountering Lombok tradition from hundreds of years ago. A Magical display where Ambience, Presentation, Art, Ritual & History merge to create an evening of mesmerising wonder.
Salute to the day with either a Sunrise or Sunset Boat Trips.
Herbal Drinks & Cooking classes to learn more of the potent ingredients splashed into Indonesian food.
Golf by the Sea
Local Indonesian Fishing Boat adventure
Cycling Tours: Meander the Cultural countryside, skim through local markets & glide along the lush green Rice Paddies to empower & enhance your connection with nature.
Waterfall Tour: Wonder to 3 Waterfalls nestled within Rice Paddies. 2 of them cocooning infinity Pools which overlook the Jungle, Mountainous & Rice Paddy terrain.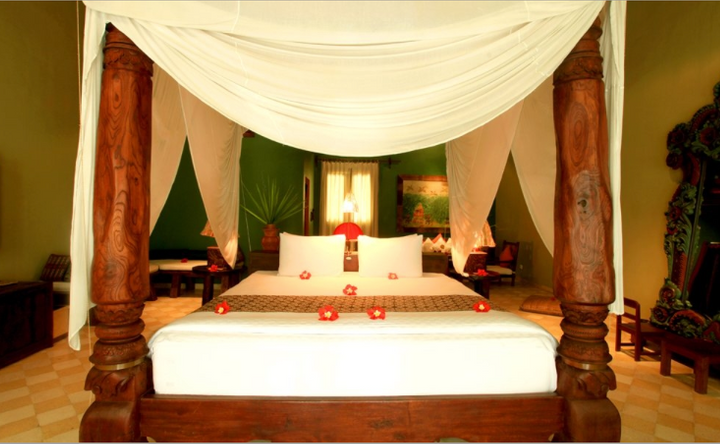 Accommodations
All guest accommodations are within steps from the beach, housed in traditional buildings. The clear blue water in front of Tugu Resort is most ideal for swimming and snorkeling during the day. At night, a picture perfect tropical dream takes over; sparkling waters and shadows of the whispering palm leaves float seductively under the silvery full moon and a million stars.
Ocean view suites and has the private pool
· Bhagavat Gita oceanfront suites are housed in a beautiful private building from the main colonial era.
Offering traditional high thatched ceilings, Mystical antique doors and furnishings,
Hosting a lotus and fish pond within large private tropical garden, outdoor bathing areas with tubs carved out of boulders,
Indulge in an oversized custom-made rainshower, private large plunge pools looking directly onto the ocean and magnetic beachfront.
Sleep like a king & queen in a plump & plush oversized king bed measuring 2.5 meters wide with "melt into"goose-down pillows.
If the wonder of natural surroundings isn't enough - the Villa includes an Ipod, DVD player, 42-inch flatscreen televisions discretely hidden amongst pretty wooden paintings. Sleeps 1-2 people.
· Aloon-Aloon Garden Villas are sumptuous suites each in individual buildings surrounding a plaza of tropical gardens. Each has its own gardens, outdoor dining and lazing areas, spacious oversized copper sunken tubs, opening onto plaza of tropical gardens. Sleeps 1-2 people.
· Ampenan Bungalows are intimate units that celebrate the Peranakan culture (the acculturation between the Chinese settlers and the local natives) of Lombok in the late 19th century. Hosting simplicity within Character - a perfect fit to unwind into undoing. Sleeps 1-2 people.
· Kampong Lombok Bungalows - traditional meets Chic, are intimate units with an authentic Indonesian atmosphere characterized with wood and bamboo. Providing an authentic native Lombok Village house feel, yet still incorporating modern luxury. Including a private outdoor dining area. Sleeps 1-2 people.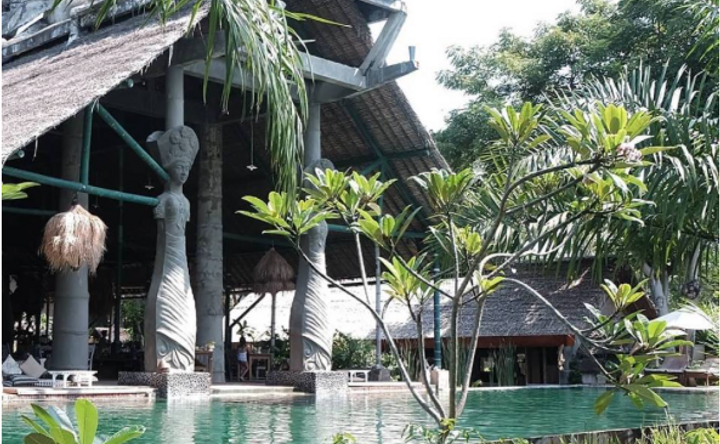 Amenities
A/C in Rooms
Free Wifi
Spa
Pool
Towels
Free Parking
Coffee/Tea
Cafe
Restaurant
House Keeping
Bicycles
Ceremony Space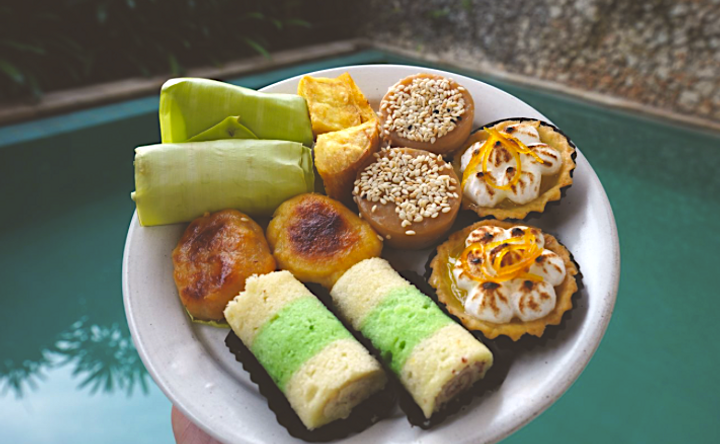 Menu Types
Vegan
Vegetarian
Pescetarian
Meat
Gluten Free
Dairy Free
Nut Free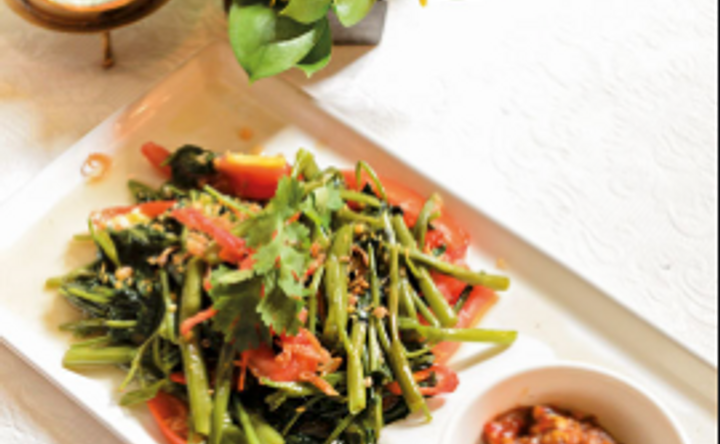 Menu/Cuisine
Fresh Local Foods peppered with tantalising spices.
Dish Examples:
GOHU IKAN TUNA
Raw tuna tossed with typical Ternate spices
SATE IKAN LILIT TANJUNG SAMBAL SANTONG
Seasonal fish skewer on lemongrass stick, young jackfruit curry and red rice
IKAN BUNGKUS DAUN
Yellowtail marinated with turmeric, galangal candlenuts, and lemongrass wrapped in banana leaves
SIRE VEGETABLE RENDANG
Broccoli, fern tips, long bean, bay leaf, young papaya, bamboo shoot wrapped in banana leaf,
soy bean cake satays, steamed rice, eggplant relish, soy cracker
COCONUT CRÈME BRULEE
Grated coconut and vanilla cream custard, caramelized crust
Directions
Arriving at Lombok Airport - a pick up car will take around 1.5 hrs to the Resort.
---
Cancellation Policy
100% deposit refund for cancellation 60+ days before event.
50% deposit refund for cancellation 30-59 days before event.
0% deposit refund for cancellation 0-29 days before event.
The remaining balance (total price minus deposit) is due upon arrival.
Get full details...
Reviews To review this event, visit the page for the venue or retreat leaders (above).
Similar Retreats You Might Like

Thank you!
We're glad you've joined our retreat community. See you around :)
Return to my event
×