8 Day "Tantra Revelation" Masterclass & Retreat near Sora, Italy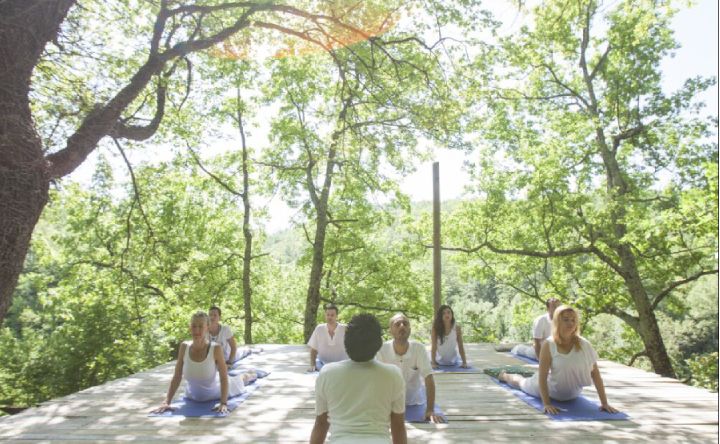 Event Highlights
Introduction on the function of the chakras
Discussion of the universal laws that influence the function of the chakras
How to balance your chakras
The secret of the awakening chakras
Self-healing and awareness of the chakras through tantra and tantra yoga
Kriya yoga for purifying the chakras
The non-dualistic nature of tantra
Kundalini energy & deeper meaning of the kundalini rising
The 3 transformations and the Metta-Ji of the Holy Union
The importance of pranayama and meditation
Mindfulness and Madhuvidya and how to incorporate them into your daily life
Tantric relationships and unconditional love
Tantric massage and healing (plus advanced techniques for lingam/yoni massage)
Transfiguration of sexual energy for healing body, mind and soul
Inner smile gazing
Tummo breathing
Techniques for sublimating energy
Techniques for purifying the physical and energetic body
Techniques for perceiving subtle energies in the environment
Techniques for clearing emotional and mental shadows
Techniques for balancing emotions and removing blockages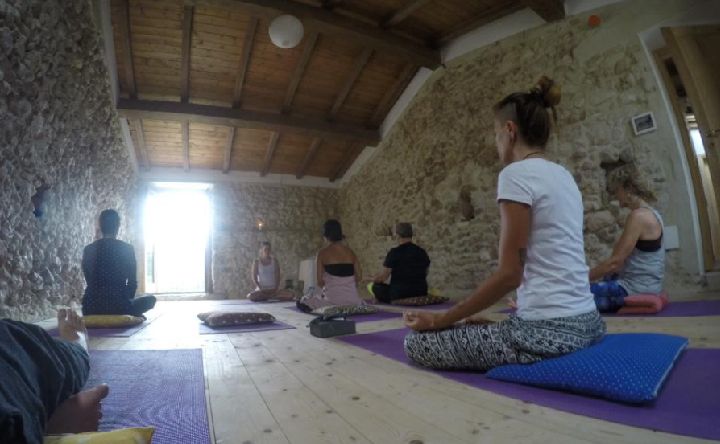 Schedule
Below you'll find a general outline for a typical day during the retreat.
• 7.00 – 9.00 a.m.: Pranayama, meditation and yoga (Practice/teachings)
• 9.00 – 10.00 a.m.: Breakfast
• 10.00 a.m. – 12.00 p.m.: Morning workshop/lecture (Theory/Learning)
• 12.00 p.m. – 2 p.m.: Lunch
• 2 p.m. - 4 p.m.: Afternoon session (Theory/Learning)
• 4 p.m. – 6 p.m.: Free activity / Tea Break
• 6 p.m. – 8 p.m.: Tantric practice (Practice/Teachings)
• 8 p.m. – 9 p.m.: Dinner
About This Event
Delve deeply into your inner being by exploring the core of the authentic Tantra during this 8-day groundbreaking masterclass. Experience the immense wisdom and tremendous power of this ancient spiritual tradition and practice. Discover its unique knowledge and tools for personal growth, self-realization and achieving your life's purpose and fulfilling your deepest dreams.
During this no-nonsense masterclass tantra will be stripped from all the frills added to it in the course of the centuries. After this truly transformative journey, you'll return home with a vast set of life-changing insights and practical techniques. This will allow you to find and keep balance in all areas of your life. You will be called to awaken your own inner guru. What's more, you will internalize all core tantric concepts in such a way that empowering and inspiring people to do the same will become your second nature.
The retreat above anything else is focused on holding a mystical and safe space for you. In a deeply nurturing setting you'll be able to release any blockages, repressions, fears or other barriers that may impede your soul growth. The close interrelation between the passing of esoteric knowledge and the effects of profoundly personal experiences is what makes this retreat unique. This powerful combination will empower you to bring about lasting change. You will be kindly triggered to move past any resistances, imbalances and fears that keep you from getting and staying aligned with your life purpose.
If this resonates with you, sign up for this transformational and life changing retreat in one of the most gorgeous settings. Choose to liberate yourself to establish a lasting connection to source power and the love that resides within all of creation.
A life based on the universal laws that lie that the very heart of tantra is more than worthwhile. A wide array of beneficial effects will manifest once you start applying the tantric lifestyle consistently in your daily life. This translates into more inner peace and willpower, and increased empathy. Buy not only that, you'll develop a sharper intuition and sensory perception, and a permanent heart-mind connection, and the list goes on.
If you like to start experiencing a constant feeling of flow in your life, this masterclass is the right fit for you. Discover how to develop a deep gratitude for every event or situation in your life. In the process of doing so, discover how easy it is to embrace the magic of life itself. Does the prospect of consciously experiencing the absolute oneness that lies past space and time excite you? Then don't hesitate any longer and register for this once in a lifetime masterclass. Find out how to gain more traction on your path of evolution and how to tap into your highest potential.
A broad range of topics interrelated with tantra will be in the focus of attention during this masterclass retreat. We will leave no stone unturned while laying out the essential theoretical concepts at the foundation of tantric practice. Especially with tantra, though, the proof of the pudding is in the eating. Therefore, you will explore many practical exercises and techniques you can easily integrate into your daily life.
The program is geared towards striking towards a fine balance between two clearly distinct but complimentary elements. On the one hand, you'll build a strong foundation for your knowledge of tantric philosophy. On the other hand, the program will also help you develop your life skills to achieve health, wealth and happiness.
EARLY BIRD PRICING UNTIL 11 MAY 2020: after this date prices will increase by approx. 20% !!!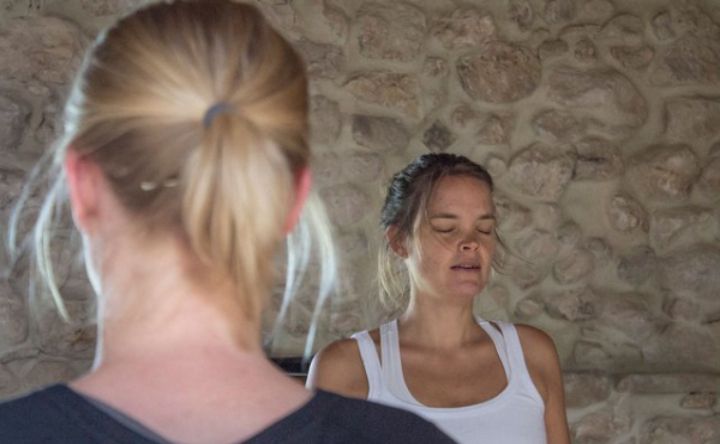 What's Included
8 nights Retreat accommodation
Healthy organic food (breakfast, lunch and dinner)
1 hour of daily yoga
1 hour of daily meditation
Healthy lifestyle coaching & mentoring
4 hours of daily interactive learning & workshop-based learning
2 hours of daily tantric practice
Wi-fi connection to keep in touch with your family and friends
Pre and post retreat support from our team
A healthy dose of positive vibes
What's Not Included
Travel insurance
Flights cost and transport from airport to the venue
Visa fee
Additional activities apart from the ones included in the daily programme
Personal expenses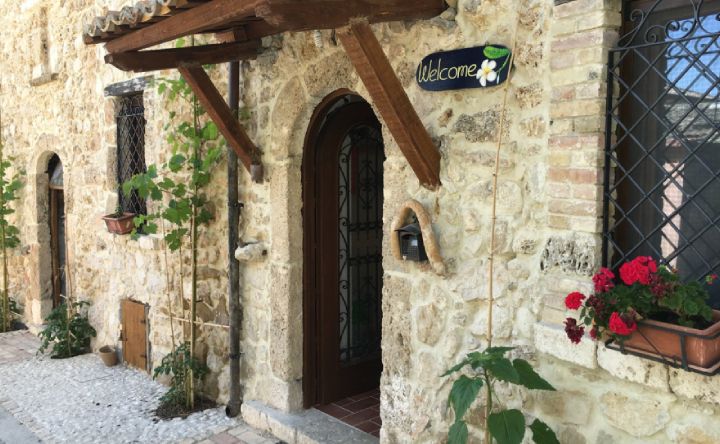 Venue Highlights
The location is absolutely wonderful, seated on the foot of the Apennine Mountains. The mix of fresh air, homegrown organic food, the close contact with nature and animals is truly unique. It all makes for a rejuvenating formula that guarantees you a genuine experience of a slice of heaven on earth.
The area is one of the most amazing places in the Italian peninsula and abundant with mountains, waterfalls, lakes and wildlife. Culturally, the region also has a lot to offer: enigmatic castles and ruins and peaceful churches in an area that is not packed with tourists like other parts of Italy.
The charming town of Sora is just a few stone throws away and has many interesting things to offer. On Thursdays, you can go to the colourful market to get some fresh fruit, vegetables or a wide range of local products. Don't forget to stop by the central 'piazza' to grab a delicious espresso or cappuccino. You can also hike in the mountains and to the spectacular waterfalls nearby. A bit less demanding but equally rewarding is the path up from Sora to the impressive 6th century San Casto castle.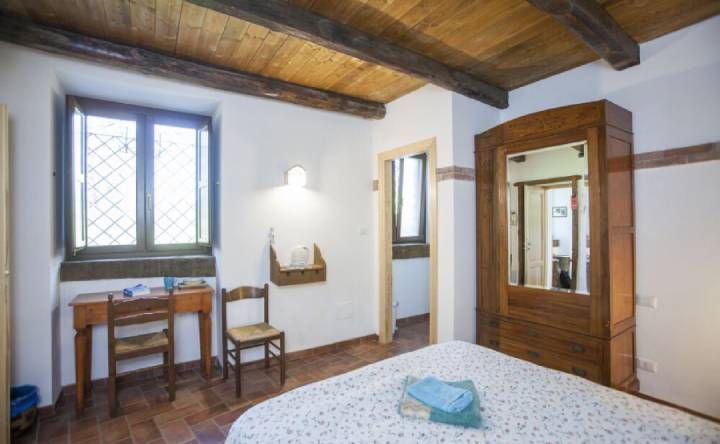 Accommodations
We have several choices of accommodation that will fit your budget. Private rooms, shared rooms and dormitory (male and female separate), and single rooms. The price of the retreat depends on the housing that you choose. If you want to keep it affordable sign up for a dorm room. If you want to have your own room, sign up for a private single room. Double rooms represent the "in-between" price.
The rooms are above and beyond what one would expect. They are very spacious, comfortable, quiet and the decor is lovely and picturesque. Most materials in the rooms have been hand-crafted and evoke a warm and cosy atmosphere that will make you feel at home. In conclusion, it's the perfect setting for delving deep into the heart of tantra and embarking on a transformative journey.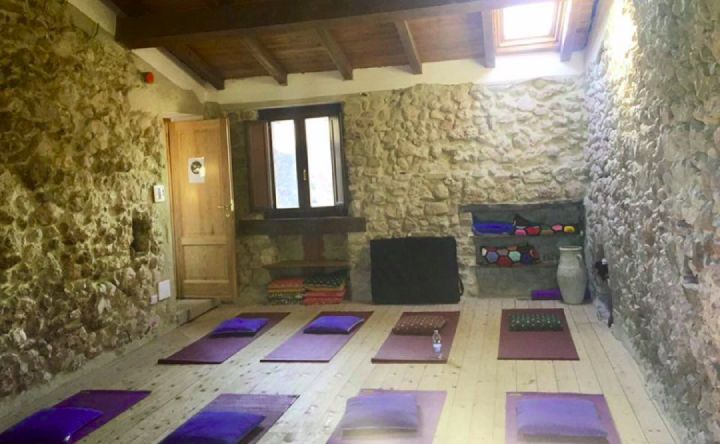 Amenities
A/C in Rooms
Free Wifi
Towels
Free Parking
Coffee/Tea
Yoga Studio
Menu Types
Vegan
Vegetarian
Pescetarian
Organic
Gluten Free
Dairy Free
Menu/Cuisine
The food is simply delicious and every meal consists of different styles of dishes. The hosts serve homemade bread, wild vegetables and herbs from the garden. After lunch or dinner, you can doze off in a hammock on the patio. Or sit back, relax and enjoy the breathtaking view on the valley below and the surrounding mountains.
First meal is dinner on 10 July, last meal is lunch on 17 July.
Directions
You travel to Roma Fiumicino Leonardo da Vinci Airport (FCO) or Roma Ciampino Airport (CIA) - arrival has to be before 12:00 p.m. noon at the latest on Tuesday, July 7th.
Public transport from Rome to Sora (train & bus) – duration: between 2 and 3,5 hours Free pick up/drop off in Sora on request – Pick up/drop off in Rome (at the airport) on request for 160 € (one-way ride) – duration: approximately 1 hour 20 minutes
---
Cancellation Policy
100% deposit refund for cancellation 60+ days before event.
50% deposit refund for cancellation 30-59 days before event.
0% deposit refund for cancellation 0-29 days before event.
The remaining balance (total price minus deposit) is due upon arrival.
Get full details...
Reviews To review this event, visit the page for the venue or retreat leaders (above).
Similar Retreats You Might Like

Thank you!
We're glad you've joined our retreat community. See you around :)
Return to my event
×