Rainforest Wisdom Retreat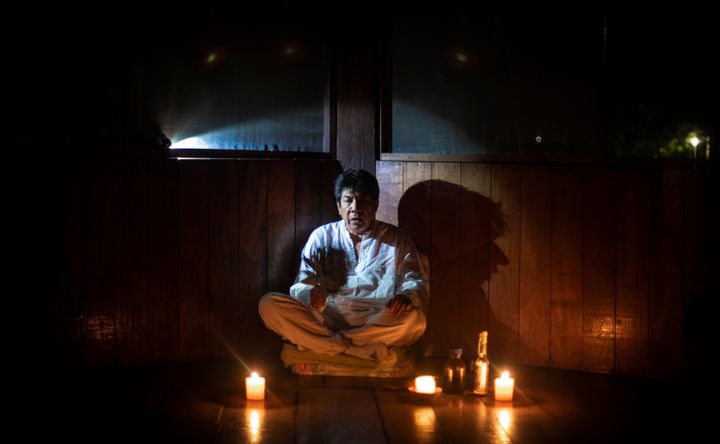 Event Highlights
- Tobacco purge.
At the begining of the retreat there will be a Tobacco purge to do a first powerful detox of the body. The purge is guided by the ayahuasquero Javier Zavala in the maloka.
- Ayahuasca ceremonies.
During the retreat we will have two Ayahuasca rituals, under the guidance and supervision of the ayahuasquero Javier Zavala.
- Master Plants diet.
During the retreat, the participan will drink some other customized Master Plants for a 3 days period. This diet will help to align the energetic points of the body, creates coherent vessels of communication between brain and heart, and increase the meditative and introspective state of the individual during the retreat.
- Healing Sounds Circle.
Guided by Ruy Hinostroza, a Peruvian musician and facilitator. This meditation uses different kind of ancestral instruments from different cultures, such as didgeriddo, tibetan bowls, quenas, rain sticks, guitars, indigenous flutes and others. Each instrument vibrates at a specific frequency, which connects with the different energetic points of the body.
- Meditative Yoga (Hatha Yoga)
Guided by Christine Brun, a French ayahuasquera that resides in Tarapoto. She utilizes and connects basic principles of Yoga with profound breathing techniques.
- The Ayahuasca on Neurogenesis.
Lectured by David Chaupis, a Peruvian scientific investigator on biotechnology and neuroscience. This is a neuroscientific explanation of the possibilities of the expansion of the brain potentials through the use of Ayahuasca.
- Flower Bath.
Use of different flowers and medicinal plants from the rainforest to bath yourself and feel on your skin their subtle fragrance to energize yourself.
- Temezcal or Sweat Lodge (optional and scheduled in advanced).
Immersion in a tent with boiling rocks and steam to detox the body at high temperature.
- Stories of the Rainforest
Lectured by Teska Young, Peruvian musician and storyteller. Together with his didgeriddo, he will take you through stories of the indigenious cosmovision about the origin of the world.
Schedule
This could be subjected to changes.
Day 1:
8am – 1pm: Check in (breakfast until 10am)
1pm - 2pm: Lunch.
2pm - 3pm: Group gathering and welcoming talk.
3pm - 4pm: Tobacco purge.
4pm - 5pm: Free time.
5pm: Flower bath.
7pm: Dinner.
Day 2:
First day of Master Plants Diet (morning and evening).
7am – 9am: Breakfast.
9am - 11am: Free time.
11am: Talk Ayahuasca on Neurogenesis.
1pm – 2pm: Lunch.
2pm - 5pm: Free time.
5pm – 6pm: Dinner.
8pm: Ayahuasca ceremony.
Day 3:
Second day of Master Plants Diet (morning and evening).
8am – 10am: Breakfast.
10am – 1pm: Guidance talk with the shaman about the Ayahuasca ceremony.
1pm – 2pm: Lunch.
2pm - 5pm: Free time.
5pm - 7pm: Sound Circle Meditation.
6pm – 7pm: Dinner.
Day 4:
Third day of Master Plants Diet (morning and evening).
8am – 10am: Breakfast.
10am - 12pm: Group meeting to share experiences with the shaman (optional).
12pm - 1pm: Free time.
1pm – 2pm: Lunch.
2pm - 5pm: Free time.
5pm – 7pm: Hatha Yoga Meditative.
7pm: Dinner.
Day 5:
8am – 10am: Breakfast.
10am - 11am: Free time.
11am – 12pm: Guided Meditation (Energy Centers).
12pm – 2pm: Lunch.
2pm – 6pm: Free time.
6pm - 7pm: Dinner.
8pm: Ayahuasca Ceremony.
Day 6:
End of the food diet.
8am - 10am: Breakfast.
10am - 1pm: Personal talk with the shaman about the Ayahuasca Ceremony.
1pm - 2pm: Lunch.
2pm - 4pm: Free time.
5pm - 6pm: Group meeting and farewell.
6pm - 7pm: Storytelling.
8pm: Dinner
Day 7:
8am - 10am: Breakfast.
11am: Checkout. 8am – 10am: Desayuno.
About This Event
A seven-day retreat in the rainforest of Peru, including rituals with Ayahuasca together with other nourishing transcendent  activities to connect with nature and yourself. Go beyond your senses and receive the wisdom from the Master Plants.
The Rainforest Wisdom Retreat is intended to be a tool to awaken a new level of awareness and understanding of ourselves and our place and purpose in the universe. It is also a bridge to personal healing and greater clarity on which path we must take to liberate our full potential. This Amaru's retreat involves the desire for personal fulfillment, going beyond our ego which we have been programmed. We need to be aware that we all are interconnected, we are a piece of the same whole: if one heals, it helps to heal the rest.
Thus, as part of the principles with which Amaru was created, the retreat welcomes any belief that is based on love for ourselves, for others and for nature. The Open your Mind, Heal your Heart Retreat is held at Hampichicuy Center in the city of Tarapoto, in the high rainforest of Peru. Hampichicuy means 'Place that heals' in native Quechua.
It is not necessary to have previous experience in similar activities to be part of this retreat, but be aware of the importance and intensity that the use of Ayahuasca and other Master Plants entails as the axis of personal development. At Amaru we have great respect for the origin and ancestral use of Ayahuasca as a nexus to help us to heal, transcend and understand our own negative programs and emotions like guilt and fear; to open doors to our subconscious and bring light to it; to join to the sacred and timeless spirit of nature by getting a glimpse of it, and to stablish a new coherence within ourselves, between our heart and our mind.
Therefore, the way we use Ayahuasca in our retreat goes along with the ancient knowedge transmitted by ayahuasqueros (shamans) and cultures that knew the transcendental power and guidance of the Master Plants for personal transformation. Once again, Ayahuasca is a bridge to the healing and evolution of each person.
We invite you to join this adventure of self discovery and release of patterns that prevent you from connecting to a greater force within yourself. Amaru invites you to connect more with whom you really are and receive the wisdom that the Master Plants provide.
Our mission is to provide profound and meaningful experiences to anyone that is seeking to open their minds and hearts. We want to provide you with a bridge to connect with your inner self and reach your full potential.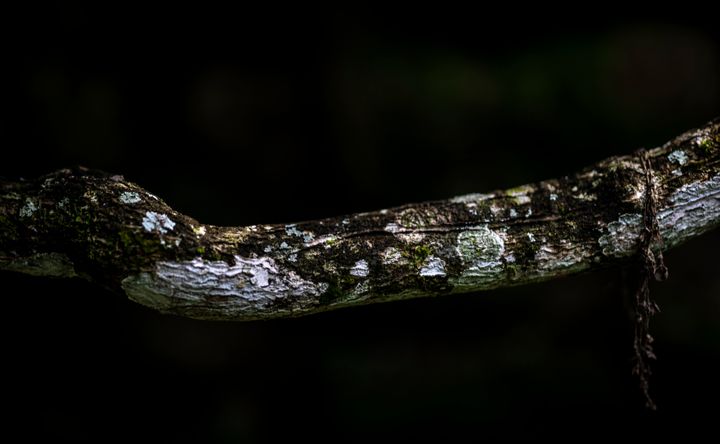 What's Included
- Accomodations.
- Food.
- Tarapoto Airport pickup.
- Two Ayahuasca Ceremonies (with a doctor on call).
- Tobacco purge.
- 3 days of Master Plants diet.
- Flower bath.
- 1 session of Sound Healing Circle.
- 1 session of meditative Hatha Yoga.
- 1 session on Ayahuasca on Neuroscience.
What's Not Included
- Fly tickets to Lima and Tarapoto.
- Transport to Taropoto airport.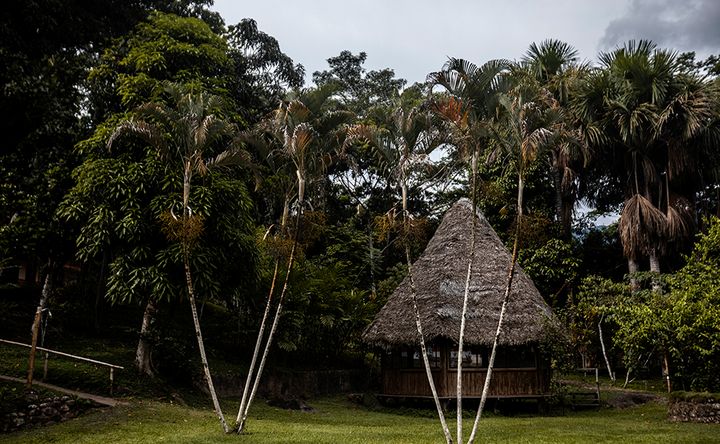 Venue Highlights
full retreat will take place in the Hampichicuy Center, which has everything necessary to make the work properly. It has two single/couple bungalows and a double/triple cottages as well. All cottages have their own bathroom. In addition, Hampichicuy has triple and quadruple rooms, all of them private with bathrooms.
Hampichicuy also has electricity, but no wifi. You can use your cellphone, but is best to be disconnected from any electronic device with access to Internet, so that the body and mind will not have any unnecessary distractions during the work that is done in the retreat. In this sense, it is also a great opportunity to lessen the anxiety that the electronic devices can generate and move away from the outside world, and the routine that we are accustomed to in modern life.
Also, Hampichicuy has common spaces such as the dining room and the swimming pool, which depends on the riverbed for use, as it is filled with water from the river. Worth mentioning the beautiful and bucolic surroundings of the Escalera Mountain Range and the lively sounds of Nature together with a pond where a family of ducks hatch.
It is important to mention that during the retreat it is not recommended to leave Hampichicuy facilities and go to the city, due to the energetic exchange with people not in the retreat. The diet with the Master Plants requires solitude and introspection and you have to treat them with all due respect. If someone needs something indispensable from the city, one of Amaru's collaborators will take care of it.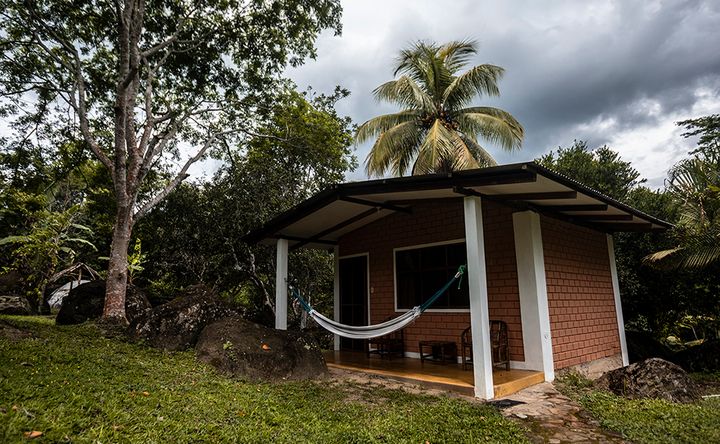 Accommodations
- 2 bungalows: for single or a couple, with private bathroom.
- 1 bungalow: double or triple, with private bathroom.
- Main building: shared double, triple rooms, with private bathroom.
- Pool: filled according to the river's tide.
- Living room.
- Maloka: the sacred space where activities take place.
- Big gardens.
- A small artificial lagoon where fish being cultivated.
- Staff kitchen.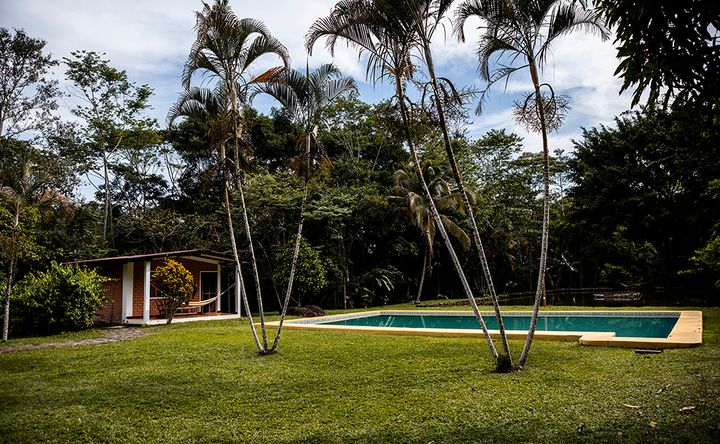 Amenities
Pool
Towels
Free Parking
Kitchen
Coffee/Tea
Ceremony Space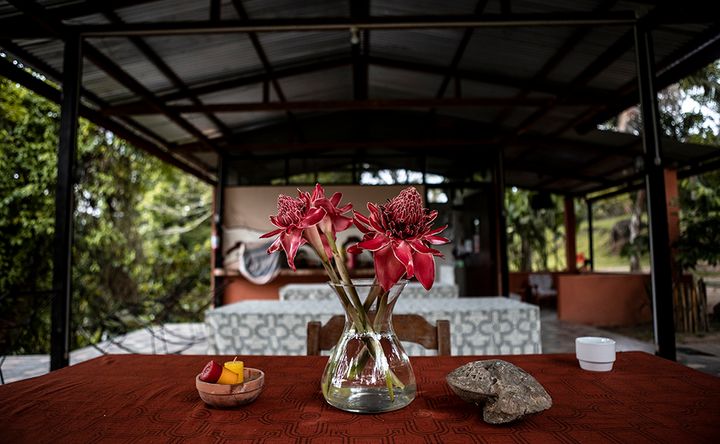 Menu Types
Vegan
Vegetarian
Pescetarian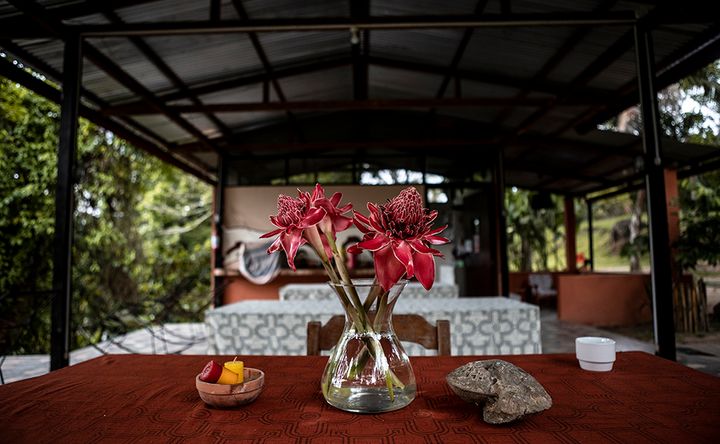 Menu/Cuisine
- Salads.
- Fruit salads.
- Oatmeal.
- Organic fish (if its necessary).
- Quinoa.
- Yogur.
- Plantains.
- Tea.
- Coffee.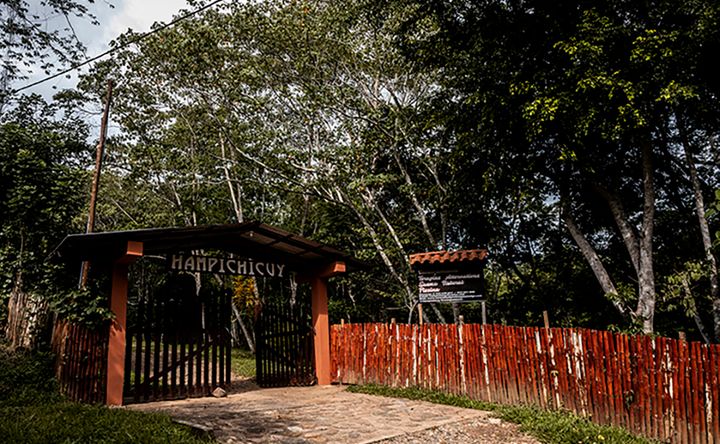 Directions
From Lima (Jorge Chávez Airport) to Tarapoto (Guillermo del Castillo Paredes Airport), where the participant will be pick up by Amaru, Inner Growth Alliance. Hampichicuy Center is around 20 minutes from Tarapoto`s airport.
Reviews To review this event, visit the page for the venue or retreat leaders (above).
Similar Retreats You Might Like

Thank you!
We're glad you've joined our retreat community. See you around :)
Return to my event
×