Yoga of Forgiveness: <i>A Course in Miracles</i> Retreat – ONLINE WEBINAR
About This Event
Forgiveness is the key to happiness. — A Course in Miracles
Join us on Easter weekend for this program based on Christian principles and terminology. A Course in Miracles focuses on "The Forgiveness Principle"– a crucial aspect of the path of Yoga and key to our emotional health. This weekend will explore the place of forgiveness in our spiritual practices. A Course in Miracles can be seen as a form of Christian Yoga, practicing forgiveness, which accelerates our progress in reuniting with our true Self.
Presenter Interview
(contact info blocked)(contact info blocked)/64955c60e5
Watch A COURSE IN MIRACLES -TV with Barry Bharata Wingham, Marianne Williamson, and Guests
Forgiveness ends any conflict. The Course's principles can guide us through those times when forgiveness doesn't come easily. It can help us open our hearts and restore health to our bodies and joy to our hearts.
Through the application of Course principles, you can learn to:
Release any guilt, fear or worry about anything in your life
Regain control of your life by illuminating the link between forgiveness and karma
End long-standing conflicts, arguments, and criticisms, making peace with anyone or any condition in your life
Undo any condition or addiction that causes you to suffer
Forgive mistakes, misdeeds or estrangements in your life
Strengthen the connection with your Inner Teacher and Guide
Forgive and be forgiven
Online Webinar
Live sessions might vary in length, between 1 hour and 1 hour 30 min, depending on participants' feedback, questions, and discussions
The material and handouts will be emailed in advance or at time of registration
Participants will receive a free copy of Bharata's book,  An Invitation to A Course in Miracles 
Discover and use simple procedures of the Course like the "Holy Instant" to overcome fear, anger or depression. You can become a "Happy Learner" in life, and transform unhappiness to the happiness that is your birthright. Transform over-seriousness into happy laughter.
Additional lessons: Why your part is essential in the world's healing; how to tell Truth from error and reality; how our judgment injures us, why there is nothing to fear, ever; why we are never upset for the reason we think; why we see only the past; that time is an illusion, "although a persistent one"; why Peace cannot be outsourced.
Continuing Education (CE) Opportunities
Yoga Alliance (YA): Approximately 7 contact hours.
You can input your contact hours using your YA login information.
Integral Yoga Teachers Association (IYTA) can provide you a CE certificate with your program's total contact hours for a $10 fee (free for IYTA members.) For more information, email (contact info blocked).
Testimonials
Beloved Bharata you have shared such loving and peaceful spirit that really joined us all together. Thank you for sharing this powerful wake-up call. I am believing. — Damayanty Eberle
Just wanted to let you know how much I enjoyed the Retreat with A Course in Miracles and how it has inspired me. I rediscovered where I need to put my attention. I was pretty lost in the world of form and illusion for awhile and was suffering quite a bit.  I feel reconnected to spirit thanks to you and all the loving people of Yogaville. — Melissa Alsbergas
Wow!!! Bharata, thank you so much. I have thought of all the lessons learned in class all week long. This bonus is truly welcomed and will help in keeping me focused on the Holy Spirit ( not the Ego) and staying in peace. — Ilka Chavez
Bharata offered an intellectually stimulating program based on A Course in Miracles. A consummate professional knowing the information inside and out, he created the perfect container for the intrigued participants who were full of deep questions. Many wish the program was longer, a week if not at least 5 days long. Bharata's humor came through subtly keeping a nice balanced atmosphere throughout the weekend. — Sita
Venue Highlights
Yogaville is home to the Light of Truth Universal Shrine (LOTUS). The LOTUS is a unique temple dedicated to interfaith understanding and the Light within all faiths. Individual altars represent and honor the different world faiths and spiritual paths. The vision, design and inspiration of Sri Swami Satchidananda, LOTUS was dedicated in 1986. It demonstrates, "Truth is One, Paths are Many." In the peaceful countryside of Virginia, the doors of LOTUS are open to welcome people of all backgrounds and beliefs.
Accommodations
The all-inclusive prices of our accommodations provides you with three delicious buffet-style vegetarian meals daily, meditation, and Hatha Yoga classes in addition to other activities.
Dormitory
The most popular accommodations we have are Dormitory Accommodations – shared room and shared bath. We have two dormitories, Vivekananda Vihar and Ramalinga Nilayam, which are centrally heated and air-conditioned and convenient to meals and programs.
Lotus Guest House (Private Room)
Each room in our six unit guest house is equipped with a small refrigerator, queen size bed and full bath. Each room in our nine unit guest house is equipped with a queen sized bed and full bath, and no refrigerator.
Tenting
Set off in a quiet, wooded area adjacent to the Lotus Guest Houses are twelve campsites. Campers have use of the bathroom, shower, and laundry facilities nearby Vivekananda Vihar dormitory. Camping is available from March 15th to December 1st.
Amenities
A/C in Rooms
Free Wifi
Towels
Free Parking
Tour Assistance
Coffee/Tea
Cafe
Yoga Studio
House Keeping
Menu Types
Vegan
Vegetarian
Organic
Gluten Free
Dairy Free
Menu/Cuisine
Organic, vegetarian/vegan food
Labeled ingredients
Lacto-vegetarian
Gluten-free and vegan options
Salad bar
Large herbal tea selection
Coffee is available for purchase at Mandala Cafe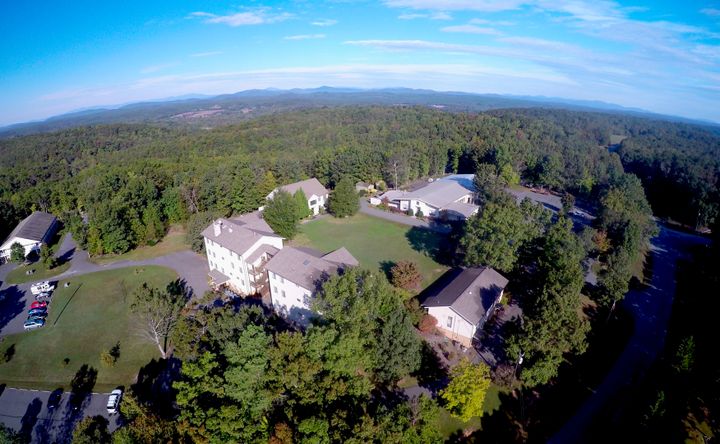 Directions
Yogaville offers transportation from the airport, train and bus stations in Charlottesville, VA. If you are driving Google Maps has reliable turn-by-turn directions.
Reviews To review this event, visit the page for the venue or retreat leaders (above).
Similar Retreats You Might Like

Thank you!
We're glad you've joined our retreat community. See you around :)
Return to my event
×