9 Day Bufo Initiation Intensive Retreat - Sacred Valley, Peru
Event Highlights
Daily Bufo Ceremony (maximum 2 per day per person)
3 Healthy Meals Per Day
Hot Tub Under the Stars
Sweat Lodge
Group Circles & Dream Analysis Every Morning
Trained Bufo Facilitators
Amazing Psychonaut Participants from All Over The World (Brave and Authentic People Committed to Deep Awakening)
Two Pet Lamas on the Property (They're So Fuzzy!)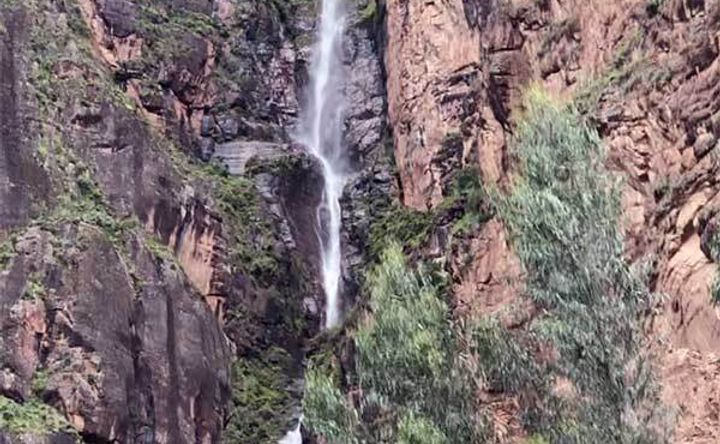 Schedule
7:00 AM Wake Up
7:30 AM Light Breakfast
8:30 AM Group Sharing Circle & Dream Interpretation
9:30 AM Bufo Ceremony
1 PM - Experience Sharing Pods
1:30 PM - Lunch
3 PM - Free Time, Yoga, Massage
7 PM - Dinner
8 PM - Temple Time (Deep sharing by the fire, hot tub under the stars0
About This Event
If it comes across their path, most people only try Bufo once or twice in their lives.
This alone can be a life-changing experience, but it's not what we are offering at the retreat.
We're inviting you to go deep.
At the retreat, what is being offered is a Bufo initiation, this is a profound healing and life changing experience that will take you to places within you beyond your wildest dreams.
If you should choose to accept this invitation, your relationship to life is likely to be forever transformed.
Very simply, at the retreat, Bufo ceremony will be offered every single day, with a maximum of twice daily per participant.
No-one will force you to come to ceremony, one always comes on their own will and volition.
Something very profound happens when Bufo is done daily,
The power of the medicine and the depth of healing expands exponentially.
At the retreat we encourage you to aim for 14 sessions, however you're welcome to stop or keep going at however many sessions you feel guided towards.
This may sound wild, but every facilitator of the Bufo Foundation always goes through an intense Bufo facilitator inititation consisting of 36 full back-to-back daily sessions.
We've walked this path before you, and are there to guide you every step of the way.
What Is Bufo?
Bufo (Also known as Otac, Sapo or simply Toad) is the wise and extremely powerful medicine of the Sonoran Desert Toad. The glands on either the side of the head contain the venom which has in it more than a dozen tryptamine compounds. The glands of the toad are extracted (without causing any harm) and then dried.
This dried substance can then be smoked in a pipe for Bufo ceremony. The heat generated from smoking the venom through a pipe removes all traces of toxins, leaving only a pure medicinal substance used for healing purposes.
When smoked, this profound substance causes rapid healing of traumas and complete disillusion of the ego; a life transforming experience comparable to Moksha, Samadhi and Nirvana. Among many ingredients, the main psyochoactive ingredient (5-MeO-DMT) is known as the God or Spirit molecule.
The Beautiful Bufo Alvarious toad is currently on a path to extinction if something is not done in the next 5 years. The Bufo Foundation is on a mission to protect and preserve this amazing animal. When you participate in a retreat, your involvement also supports charities in Mexico that are actively working to solve the problem.
What Does Bufo Feel Like, and What Are The Benefits?
Every Bufo ceremony is unique for each participant, as the medicine always meets you at where you are at and helps you rapidly accelerate your healing and evolution forward, below you will find a brief account of what you may expect to experience.
The maximum effects of Bufo begin in less than 1 minute and last for about 5-15 minutes.
During this process, the loss of a sense of identity, sense of time, and dissolution of the ego is common, as well as sensations of merging with everything. The total duration of the most prominent effects is around half an hour to one hour, with residual effects of up to three hours. However, the reason why people come back to Bufo is not because it's a "trip", it's because of the results and lasting positive transformation...
What Are The Benefits?
A Massive Dose of Unconditional Love, Peace, and Compassion
The best metaphor we love to use to describe Bufo is that of a massive Jumbo-jet landing on a runway.
The runway(or the airport) is you, your physical, emotional, mental and spiritual body.
The jumbo-jet is Bufo, a massive dose of pure divine unconditional love and compassion unlike you've ever felt before.
If the run-way is clear, the jumbo-jet will land.
However if the runway is obstructed, the jumbo-jet will plow right through all the obstacles until it reaches it's destination.
The obstructions in this metaphor are all the emotional traumas, core wounds, heart-aches, repressed emotions, unhealthy attachments and any other distortions within your psychic and emotional make-up that are not congruent with your truth and are holding you back.
With the assistance of a trained facilitator, Bufo can clear these obstacles very rapidly... leaving you free to enjoy your life in a way that is hard to imagine...
Deep and Rapid Healing of Emotional Traumas
As your being is surrounded and filled with peace and pure cosmic compassion, the first layer of blockages that pops is usually related with deeply stored emotional traumas and negative emotions...
You may experience:
* Rapid and spontaneous release of repressed emotions.
* Liberation of suppressed emotions from past life-times.
* Deep healing of your heart and your emotional body.
* Profound reclamation of your emotional power and strength.
Dissolution of Repressed Memories and Core Wounds
Session after session, as emotional traumas melt away, so do repressed memories and core wounds which are often associated with addictions, compulsions, depression, psychosomatic illnesses, manias, fears, suicidal thoughts and suffering in general. You may start to feel...
* The end of inner conflict, absolute forgiveness towards yourself and all people in your life.
* The sudden absence of fears, negative emotions, and limiting beliefs that were previously holding you back.
* A profound and lasting authentic peace and joy from the depth of your being.
Extreme Merging With Source Consciousness and Higher Self
You may experience...
* A deep connection with pure consciousness, the source of the Universe, and your higher self.
* Experience of non-duality and a sensation of Oneness with all that is
* The sensation of the body and mind evaporating into millions of particles and completely embodying existence and non-existence.
* A sudden burst of inner-knowing, intuition and alignment with your heart and true path in this life.
If you feel like you've come to Earth for a powerful reason but you're frustrated and haven't found it yet, Bufo can help.
Effortless Living: Deep Abiding Trust in Yourself and Surrender With Life
After a Bufo Initiation, life is never the same...
Because Bufo is guaranteed to teach you one thing really well: Surrender. This is a beautiful and very deep lesson that spills into every cell and atom of your being, and into every aspect of your life.
Your ego takes a back-seat and a new force begins to move through you that slowly pulls synchronicity and right action into every aspect of your life as you integrate deeper and deeper.
An unshakeable abiding trust in yourself, your life, and life over-all may arise that cannot be conveyed or taught through words, it's just something you have to experience and live.
The Rapidness of Healing and Ease of Integration
The rapidness of healing with Bufo is what is drawing more and more people to this Medicine...
This is not a 6-8 hour journey which leaves you with a bag of questions towards the end and "homework" to integrate.
This is a 5-15 minute extremely intense experience that may feel like the compression of countless years of deep personal growth, 15 minutes could save you 15 years of therapy(or more)
Integration with Bufo is also very different in comparison with other plant medicines or psychedelics... there is not much for your conscious mind to do, as the transformation and healing largely happens on a subconscious level... after each ceremony you come out a different person, and life begins to re-organize around your new self.
How Past Life Recollection Feels During Bufo Ceremony
Recollection of past or future lives with Bufo can be very unique.
With Bufo one doesn't just have "visions" or "inklings" of other lives or incarnations, with this extremely powerful medicine it is very common to be teleported into moments and times in other lives with your heart and soul and every atom of your consciousness.
If you have a hunch that all time is an illusion and that all your lives are happening simultaneously, you will be in for a treat.
Deep Healing With The Spirit of the 5MEO-DMT Toad Into The True Dreaming of Your Heart
What's Included
Taxi from and to Cusco Airport
9 nights of Accommodation
3 Healthy Meals Per Day
Daily Bufo Ceremony (every day)
Unlimited water and juice (*no caffeine allowed during ceremony days)
Hot Tub Under the Stars
Sweat Lodge
Follow Up Integration Coaching
1 on 1 Time with Facilitators and Private Ceremony
What's Not Included
Airfare
Additional excursions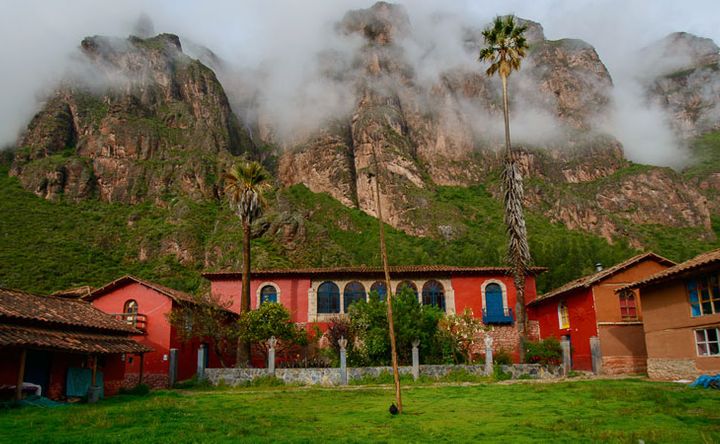 Venue Highlights
Situated in the Lamay region of the sacred valley in Peru is the beautiful Hacienda Paucartika retreat center.
Built right in front of a majestic water-fall, this secluded retreat center is dedicated to sacred medicine retreats, and we've rented the entire place for our retreat
When we first found this venue we were blown away by the beauty of the environment and the openness and support of the owners and staff who can't wait to host and pamper us during the retreat.
Everything that you will possibly need during your process will be provided (even a hot-tub under the stars and pet llamas on the property.)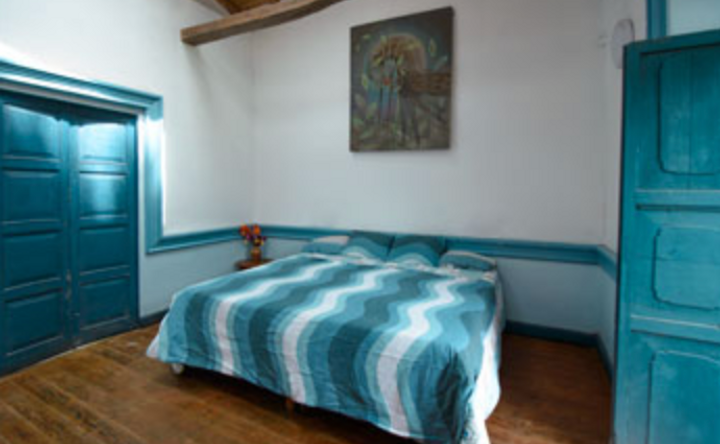 Accommodations
The Hacienda is built to house 25+ guests with 9 bedrooms available. There are 4 shared massive shared bedrooms available which can house 2-8 guests, 4 private rooms available which can house 1-2 guests and 1 very Bungalo. Our Bufo Retreats are designed as very intimate gatherings for a maximum of 10 participants. You will be sharing your room with no more than 1 person and private rooms are available as well. The Hacienda has an excellent shower and bathroom facility designed for 20+ guests with electrically heated hot water, the staff is incredibly friendly and there for your support, the entire hacienda is dedicated to plant medicine retreats and there is psychedelic art everywhere.
Amenities
Towels
Free Parking
Kitchen
Hot Tub
House Keeping
Ceremony Space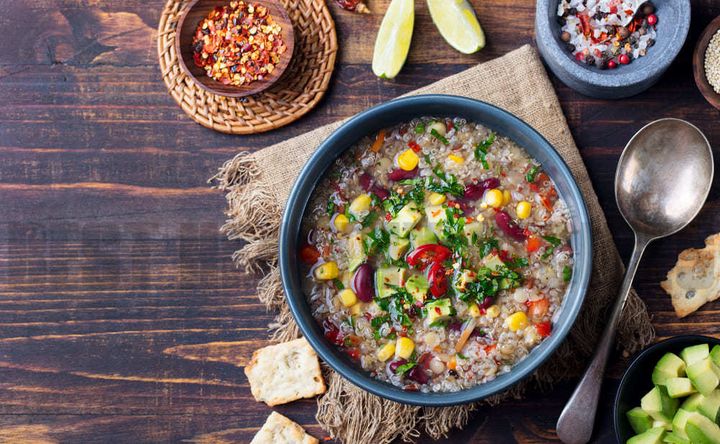 Menu Types
Vegan
Vegetarian
Pescetarian
Gluten Free
Dairy Free
Nut Free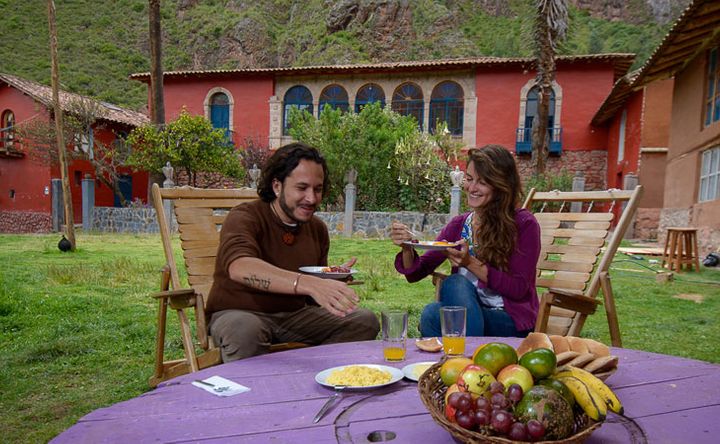 Menu/Cuisine
During the retreat we will be eating vegetarian Peruvian food - the kitchen is staffed by Paucartika's in-house chef. If you've ever been to Peru then you may know that Peruvian food is one of the best in the world. The chef is very amenable and she will cook and prepare anything that we ask her to, if you have any specific dietary needs just let us know.
Breakfast will always be very simple and light because Bufo ceremony follows right after(It's very rare to purge on Bufo, as you are not ingesting anything, but we highly recommend a small and very light breakfast)
However we've instructed the chef that during Lunch and Dinner we want to be very impressed and eat VERY well (Bufo Belly!) We've asked for the best of the best in Peruvian cuisine.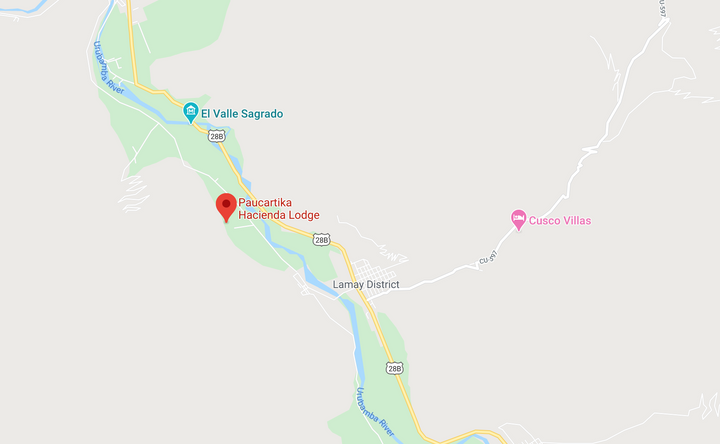 Directions
There is an airport shuttle provided and a shuttle from the nearest town where we recommend you stay right to the retreat center, however if you need directions here's the Location Pin on Google Maps:
It's easy to get there, but it's best to use your phone/GPS along with these directions:
1. From The Airport Drive to Pisac
Once you arrive at Pisac, cross the bridge into the town and take a left.
2. Drive to Lamay
It will be really obvious when you get to Lamay, there are signs.
3. At Lamay take a left over the only bridge in the town. 4. Drive until the dirt road and take a right.
5. Drive for 1 minute and enter the drive-way to your left, follow it all the way up to the Hacienda
Reviews To review this event, visit the page for the venue or retreat leaders (above).
Similar Retreats You Might Like
Jul 13 - 19, 2020 (7 days)

Aug 1 - 23, 2020 (23 days)

Thank you!
We're glad you've joined our retreat community. See you around :)
Return to my event
×