Haiku Walking In Japan
About us
Nov 1- 11, 2016. Join us on a unique 10 day creative adventure following the footsteps of Japan's famous haiku poet, Matsuo Basho, through an extraordinary autumn landscape. Beginning in Tokyo we will follow Basho's pilgrimage route staying in inns, hot springs and local hotels, walking 2-3 hours most days ( train and car in between) and ending our tour in Kyoto. Open to writers, poets and creative artists of all modalities. Daily creativity workshops will take their inspiration from our explorations of the haiku and haibun forms. Bringing our attention to observing the small details of nature in the present moment, we learn how to take this stimulus into our chosen art form, creating a haiku journal of poems, observations, sketches and writings as we go.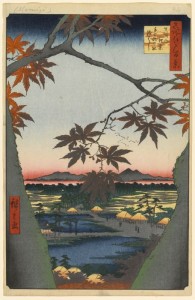 Our Itinerary.
Day 1

Tokyo
Meet in Tokyo in the lobby of our accommodation at 6 pm
for the tour briefing followed by our dinner at a lively
izakaya restaurant where the varied set menu should cater
to all tastes.
Total walking: N/A.
Meals:Dinner provided.
Accommodation : Hotel Mystays Nihonbashi.
 Day 2

Tokyo- Matsushima
After breakfast we travel by train, including Shinkansen
Bullet Train, to Kokufu-Tagajo. Before starting along the

path Matsuo Basho (1644~1694) took to Shiogama, we

stroll through the remains of Taga-jo Castle. At Shiogama

we board a boat that wends its way following the

spectacular coastal route Basho also took from Shiogama

to Matsushima. Matsushima, its bay dotted with a multitude

of pine tree covered islands, is one of the Three Views of

Japan. Basho relates that he had longed to visit here and

with good reason; it provides one of Japan's classically

beautiful vistas. Basho though, so overcome by

Matsushima's beauty, was lost for words and never put pen

to paper here.

After checking into our accommodation for the night we

have the first of our writing sessions. A relaxing soak in the

onsen thermal hot spring baths and a gourmet feast of

Japanese cuisine follow.
Total walking: Approximately 8km (5 miles) on pavement
and country lanes.
Meals: Breakfast and dinner provided.
Accommodation: Matsushima Century Hotel
http://www.centuryhotel.co.jp/gaikokugo/en/
 Day 3
Matsushima
After breakfast we visit Matsushima's historic Zen temple,
Zuigan-ji. Our path to Zuigan-ji is along the avenue of
imposing pine trees and caves where monks used to
meditate. A workshop takes after lunch.
Meals: Breakfast and dinner provided.
 Accommodation : Matsushima Century Hotel
http://www.centuryhotel.co.jp/gaikokugo/en/
Day 4
Matsushima – Hiraizumi

We depart by train mid-morning for Hiraizumi, Japan's

latest UNESCO World Heritage site. During the reign оf the

Fujiwara Clan (866-1184), Hiraizumi wаs said tо rival Kyoto

іn grandeur and sophistication. Nоw, though, the only

significant reminders of this past glory аre the temples оf

Chuson-ji and Motsu-ji.

We lunch in the grounds of Motsu-ji temple among the

foundations stones of the many buildings that graced this once grand temple.
However, the elegant garden representing the pure land buddhist paradise has been

restored to its 12th Century splendour.

We check in at our accommodation, where we have some

workshop time.
A bus later takes us to Chuson-ji. The temple's Konjiki-do,

or Golden Hall, has been reconstructed and is probably the

most elaborately decorated buddhist structure in Japan. We

learn about the decline of the Fujiwaras, the demise of

Hiraizumi as a cultural and religious centre and Japan's

Warring States Period (approx.1450-1600). While visiting

here Basho composed his reflection on impermanence:
Summer grass,

All that remains of a warriors dreams.

Another Japanese feast tonight in our modern Japanesestyle

accommodation with onsen baths.

Total walking: Approximately 8km (5 miles) on pavement,

garden paths and hiking trails.

Meals: Breakfast and dinner provided.

Accommodation:  Musashibo

http://www.musasibou.com/
Day 5
An early start for train transfers, including a very rapid but

short Shinkansen Bullet Train journey, to Naruko Onsen.

Here we walk from the site of Shitomae-no-Seki, an Edo

Period (1603~1868) checkpoint, on a well maintained trail

linking valleys and crossing forest streams on the old Dewa

Kaido Highway to the home of a senior local official. Basho

stayed here on his travels, which from the poetry

associated with his visit does not sound so glamorous:
Fleas and lice, horses urinating,

Close by my pillow.

Unlike Basho's slumbers, our evening accommodation is a

sumptuous traditional Japanese inn with onsen thermal hot

spring baths. A workshop follows dinner.

Total walking: Approximately 14km, (8.5 miles) on

pavement and hiking trails.

Meals: Breakfast and dinner provided.

Accommodation: Yunohara

http://yunohara.main.jp/
Day 6
A writing session this morning before transferring by taxi to

the Mogami-gawa river. Like Basho, here we board a small

boat to navigate down this still mighty waterway.

Gathering early summer rains,

How swiftly it flows, Mogami-gawa.

On to Mt Haguro-san, where we ascend to our accommodation up a long series of stone steps,through

this spectacular Shinto shrine complex. The shrine is one

the of the most important centres in Japan of shugendo, a

shinto-buddhist ascetic and mystical practice.

Like many travellers of his day, Basho was a pilgrim of

sorts and often relied on the hospitality of locals. The

tradition of pilgrimage along the great highway systems of

Japan became important in the Edo Period, and we spend

the night in similar fashion to Basho in an unembellished,

temple accommodation.

After some workshop time, we descend early evening to the

nearby village to their onsen hot springs, which are also

used by yamabushi mountain ascetics before venturing

into the wilderness. This is followed by a restored

farmhouse for a delicious dinner of local produce.

Total walking: Approximately 4km, (2.4 miles) including a

long and steep flight of steps at the end of the day.

Meals: Breakfast and dinner provided.

Accommodation: Haguro Saikan

http://www.dewasanzan.jp/publics/index/64/
Day 7
Haguro-san – Kanazawa

For those who wish to attend, morning Shinto prayers in

the main shrine room between 7:00am and 7:20am. This is

an unusual experience for both Japanese and overseas

visitors alike.

After a simple vegetarian breakfast, a medley of transport,

including Japan's newest Shinkansen Bullet Train, takes us

along the Sea of Japan coast and eventually to Kanazawa.

Arriving mid-afternoon in Kanazawa, we stretch our legs

with a visit to Kenroku-en, a classic strolling garden and

regarded as one of the three most beautiful in Japan.

Feeling inspired, we check into our ryokan near the station

for a writing session before dinner.

Total walking: Approximately 6km (3.5 miles).

Meals: Breakfast and dinner provided.

Accommodation: Ryokan Kashimaya

http://www.ne.jp/asahi/kanazawa/kashimaya/
Day 8
Kanazawa – Kurikara Pass – Kanazawa

After breakfast a short, local train ride to the start of our

walk to the Kurikara Pass. This follows the Hokurikudo, an

ancient highway that today is a lovely, hilly path that Basho

also followed on his way to Kanazawa. We first reach

Hanyu, originally a post town serving travellers on this

highway, but which is now a rural backwater. A small

museum relates the story of a battle here during the

Genpei Wars (1180~1185), a legendary period of conflict

between the great Taira and Minamoto Clans. Finally, we

reach the pass, where we enjoy a picnic lunch.

A vehicle takes us back to Kanazawa. Spared from large

scale bombing during the Pacific War, Kanazawa retains

much of its distinct charm and we undertake an exploration

of the evocative former Geisha quarters before returning to

our hotel.

Dinner is not included tonight but your tour leader will be on hand to advise on and settle you in to the restaurant of your choice.

Total walking: Approximately 8km (4.9 miles).

Meals: Breakfast provided.

Accommodation: Ryokan Kashimaya
Day 9
Kanazawa – Kyoto

In the Edo Period, Kanazawa flourished economically and

culturally under the powerful Kaga Clan. The Kaga' wealth,

second only to the shogun's was the wealthiest family, was

valued at one million koku; one koku was defined as enough

rice to feed one person for a year. The city's glorious past is

still palpable in its samurai quarters, former pleasure

quarters and temples, which we stroll through this morning.

Today's lunch is included in the tour and is at Kanazawa's

best Japanese inn. With only a few rooms and at US$700

per night per person, we can save our pennies and come

back again to stay here another time. Instead today, the

welcoming owners provide a feast of kaiseki ryori, a formal,

multi-course meal, in rooms overlooking the Sai-gawa river

or charming Japanese gardens.

Transfer by train to Japan's cultural capital, Kyoto. Dinner is

not included tonight but your tour leader will be able to give

recommendations.

Total walking: Approximately 6km (3.5 miles).

Meals: Breakfast, lunch and dinner provided.

Accommodation: Urban Hotel Kyoto

http://uh-urban.com/kyoto/en/
Day 10
Kyoto

After breakfast we transfer to Arashiyama in the west of

Kyoto, where the scenery is more reminiscent of rural Japan

than a city. We stroll through the low hills and its famous

bamboo forest. We visit Rakushisha, which is forever

associated with Japan's greatest poet, Basho, followed by a

gorgeous, almost delicate, temple that is associated with

Gio, a concubine of Taira-no-Kiyomori. Taira was a central

figure in The Tale of Heike, the epic story of the power

struggle between the Taira and Minamoto Clans that

engulfed Japan in the 12th Century. Here we lunch on soba,

buckwheat noodles, a simple but delicious and popular dish.

Heading back into the centre of town, we head to a delightful

renovated machiya townhouse, now used as a gallery and

event space. We have several hours to spend here writing

by the traditional courtyard garden.

We return to the hotel and later reconvene to eat at a

hospitable local restaurant for our last meal together.

Meals: Breakfast and dinner provided.

Accommodation: Urban Hotel Kyoto

http://uh-urban.com/kyoto/en/
Day 11
For those who wish, an early breakfast and short walk to

Fushimi Inari, a shrine famous for its extensive paths of

red torii gates.

The tour ends at the accommodation. Transfer to Tokyo's

airports is achievable from Kyoto Station, approximately

15 minutes away by taxi.
Depart to airport on on own itinerary.
Notes

1.

This itinerary is ground only beginning in Tokyo and

ending in Kyoto. The Walk Japan tour leader will join your

group at the accommodation in Tokyo and escort you

throughout the tour to the end of the tour in Kyoto.

2.

Your Walk Japan tour leader is an experienced guide,

knowledgeable about Japan and the Japanese, and

fluent in English and Japanese.

3.

Meals provided in the tour are noted in the itinerary

above. Japanese cuisine is as varied as it is high in

quality. Your tour leader will advise you how you may

best enjoy meals not provided in the tour.

4.

Japanese inns are traditional Japanese style

accommodation. Here we will enjoy some excellent

Japanese cuisine.

5.

Drinks are not included in the price of the tour. However,

water and green tea are provided with most, if not all,

meals.

6.

Entrance fees for visits with your tour leader to

museums, etc. are included.

7.

Luggage: As there is no porter service in Japan one

piece of luggage per person is advised. If you are

travelling before and/or after the tour and have extra

baggage this can be forwarded by a secure and efficient

luggage service to the hotel in Tokyo at the end of the

tour or another destination in Japan. The cost, not

included, is between Yen 1,200 ~ 1,800 per item of

luggage.

8.

Travel costs are included from Tokyo to Kyoto.

9.

This itinerary may change.By submitting your payment you are agreeing to Writers Journey Terms and Conditions. Read here.
Reviews
Write a review - tell others about your experience.

Thank you!
We're glad you've joined our retreat community. See you around :)
Return to my event
×