Seminar – Seminario (Español / English)
Respiremos
Feb 22 - 27, 2017

(6 days)

Double - $1,725.00 Sencilla / Single - $1,750.00
About us
Un patrón de respiración restringida tiene muchos efectos físicos adversos en el cuerpo, tales como:
dolor de cabeza
hormigueo en las manos, pies o extremidades
bostezo excesivo
falta de aliento
ardor en el estómago
hinchazón y molestias abdominales
dolor de cabeza, el cuello, los hombros y entre los omóplatos
espasmos y debilidad
deterioro de la memoria y la concentración
trastornos del sueño y pesadillas
llanto e inestabilidad emocional
También hay un componente emocional asociado a los patrones de respiración restringidos, por desgracia, a menudo es difícil deshacernos todo nuestro equipaje emocional.
Cuando usted se encuentre listo para transformar y mover su vida en una dirección positiva la Respiración Transformacional® es probablemente la herramienta más eficaz a su disposición.
Acompáñenos durante 6 días de increíble trabajo personal en donde usted aprenderá cómo desbloquear patrones de respiración restrictivos. Este programa proporciona una poderosa herramienta para una rápida curación y transformación personal de los aspectos físicos, mentales / emocionales, y espirituales del ser. Notará cambios sorprendentes en la salud, la conciencia y el bienestar utilizando la respiración y otras poderosas modalidades.
El curso, que es residencial se llevará a cabo en la Casa de Retiro de Santa María de Guadalupe, un ex convento situado en la bella Morelia, Michoacán Patrimonio Cultural de la Humanidad. Aquí va a disfrutar de comidas saludables y vegetarianas y de ambiente tranquilo de amor y paz.
El curso es Bilingüe Inglés – Español
Impartido por Eugenia Altamira Senior Trainer y Coordinadora del Plan de Estudios de la Transformational Breath® Foundation.  Eugenia fue profesora titular e investigador en la Universidad Latina de América durante ocho años. Es licenciada en Psicología y ejerció su carrera durante varios años en su natal México. Su necesidad de encontrar técnicas más eficaces y potentes para ayudar a otros a crear la vida que desean, la llevaron a la Respiración Transformacional®. Ella es una profesora amable y cálida con habilidades de entrenamiento de gran alcance. Su capacidad de conectar con la gente y guiarlos en su camino de crecimiento ha cambiado muchas vidas.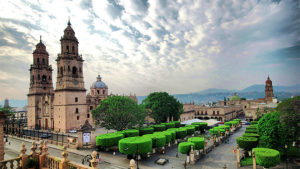 El curso es residencial, favor de solicitar información sobre descuentos para parejas y por registro anticipado.
A restricted breathing pattern has many adverse physical effects in the body, such as:
feelings of instability
headache
pins and needles of the hands, feet or limbs
excessive yawning
shortness of breath
heartburn
bloating and abdominal discomfort
pain in head, neck, shoulders and between the shoulder blades
twitching and weakness
impaired memory and concentration
disturbed sleep and nightmares
tearfulness and emotional instability
There's also an emotional component to restricted breathing patterns, unfortunately it is often hard to clear all of our emotional baggage.
When you find that you are ready to transform and move your life in a positive direction Transformational Breath® is probably the most effective tool at your disposal.
Join us for 6 days of amazing personal work where you will learn how to unblock restrictive patterns. This Program provides a powerful venue for rapid healing and personal transformation of the physical, mental / emotional, and spiritual aspects of one's being. Amazing shifts in health, awareness and well-being are experienced using the breath and other powerful modalities.
Located in beautiful Morelia, Michoacán a UNESCO World Heritage Site we will enjoy healthy, vegetarian, home cooked meals and the caring, peaceful atmosphere of Casa de Retiro Santa Maria de Guadalupe, an ex-convent run by nuns.
Bilingual English – Spanish
Taught by Senior Trainer and the Transformational Breath® Foundation's Curriculum Coordinator Eugenia Altamira. Eugenia was a tenured professor and researcher at Universidad Latina de America for eight years. She has a degree in Psychology and practiced for several years in her native Mexico. Her need to find more effective and powerful techniques to help others create the life they desire, brought her to Transformational Breath®. She is a kind and warm teacher with powerful coaching skills. Her ability to connect with people and guide them in their path of growth has changed many lives.
Course is residential, inquire about early bird and couple discounts.
Reviews
Write a review - tell others about your experience.
Thank you!
We're glad you've joined our retreat community. See you around :)
Return to my event
×