Maha Shivratri Varanasi – Shiva-Shakti Mandala Festival Retreat
Yogadventures
Feb 22 - 26, 2017

(5 days)

Varanasi - Basic Room (single) - $560.00 Varanasi - Classic Room (double) - $570.00 Varanasi - Classic Room (single) - $1,030.00 Varanasi – Deluxe Room (double) - $850.00 Varanasi – Deluxe Room (single) - $1,496.00…
About us
Special guests: Arjun Baba and Demetri Velisarius
Dates:

Yatra 2 Maha Shivratri Shiva-Shakti Mandala North India

Maha Shivratri-Drupad Mela in Varanasi
For Yatra 1, Shiva Shakti Tandava – Rasa Rejuvenation Retreat   REGISTER HERE
*Featuring South and North Indian Ayurvedic Cuisine – Vegan-Vegetarian/Gluten and Sugar Free

all yoga, meditation, rituals, special evening programs, transportation within Varanasi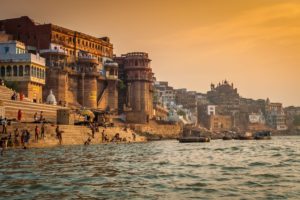 Rejuvenate and awaken your life-force with our winter retreat during the sacred time of Maha Shivratri – the celebration of the union of Siva and Shakti and one of the great sadhana festivals in the world. Our special India Yatra (sacred journey) is for the art of life-rejuvenation while opening to pilgrimages of ancient power and in giving back through solar light program
Come together within the ancient mandala of Varanasi – Kashi – for 4 nights including the all-night Maha Shivratri with a day to be in silent yoga retreat with massage the day after. We will gather together for yoga at the Jukaso Heritage Hotel everyday for bhakti prana vinyasa and then rest in the middle of the day before our sunset sessions on the Ganga with kirtan, meditation and rituals. We will be joined by kirtan artists, pujaris and friends from around the world as we become pilgrims together and offer seva of solar lanterns to the local community. Receive the depth of yoga sadhana on the Ganga at the same time open to magic of Varanasi and the evening Drupad (ancient style of classical music/voice) celebrations.
Includes: yoga, kirtan, boat rides on the Ganga and accommodations with brunch and dinner
Not included – airfare cost and arrangements to Varanasi, taxi to your hotel, boat rides as taxis, and nightly Drupad Mela tickets, temple offerings, tips.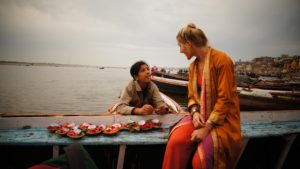 Travel to and within India
As this is the age of personal travel made easy, we have found that our retreat participants are often coming from other parts of India, where they are traveling before hand or after continuing their travels. For that reason, we are unable to get involved in your airfare questions except to make recommendations (see below).
If you are in need of a travel agent, you may contact:

Misha Tours

Misha Jovanovic

info@mishatours.com
February is high season and most accommodations in Somatheeram (Kerala) and Varanasi are getting almost full.  For Kerala airport transfer to Somatheeram retreat center: send us your travel details for arrival on the day of. For Kerala and Varanasi, make sure you get travel insurance and an India visa (according to your passport and country of origin).
Airfare Information

1) For flights to India – use your own search engine or travel agent to fly into TRV for Kerala retreat. We have pick up service on the day of travel. Check in by 4:00 p.m.

If you want to arrive early, please contact Somatheeram to book rooms directly in advance at mail@somatheeram.in
2) For those continuing on to Varanasi – please book right away – ONLY if you have registered with us as the Varanasi portion is wait-listed.

Jet Airways and Air India have morning flights arriving Varanasi in the afternoon. – airport transfer is not included but can be arranged by Sagar Travels.

Email : sagartoursrishikesh@yahoo.com

web :http://www.rishikeshyatra.in
The best thing would be to just book your ticket for now and many people will share taxis and it is high season for MahaShivratri.  Our retreat closes with our Kerala Thali celebration lunch and the last practice on Feb. 21st so you will have the evening and next day to get settled and prepare for Varanasi.
Please visit http://www.ShivaRea.com for additional retreat details and stay connected with the tribe through Shiva's PULSE e-newsletter.
Questions can be directed to retreats@yogadventures.com
Reviews
Write a review - tell others about your experience.
Thank you!
We're glad you've joined our retreat community. See you around :)
Return to my event
×