The Yoga of Sound Retreat
About us
When Your Voice Becomes An Offering, The Power Of Spirit And Breath Moves Through You In Alchemical, Healing And Empowering Ways.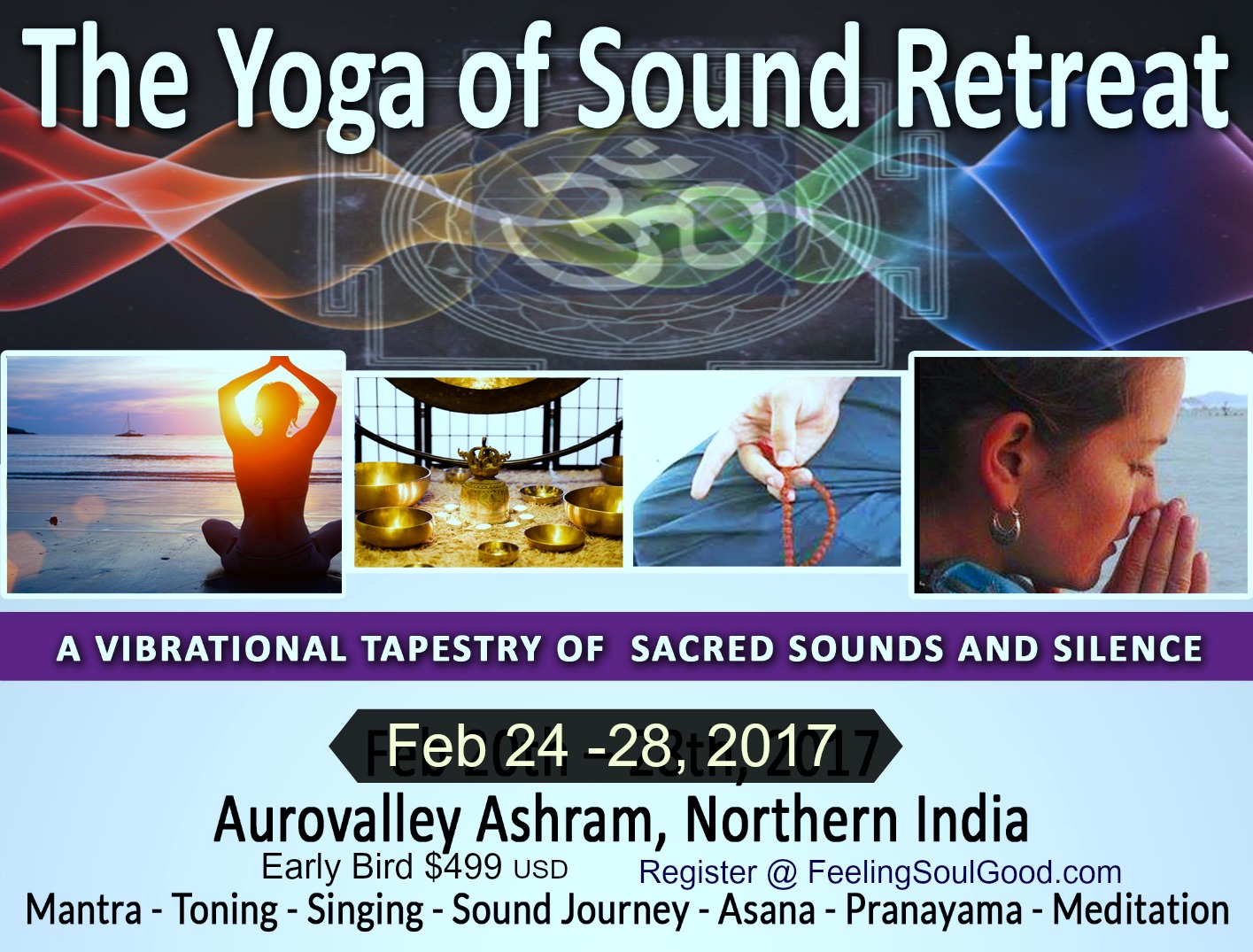 Connect your voice with your heart, and create long-lasting health through the use of Sacred sounds: Ancient Sanskrit Mantras, toning, singing, and vocal play infused with the complimentary practices of pranayama, asana, dance, yoga nidra, and meditation.
Your sound holds the possibility of freedom and self-empowerment when used in an intentional way. If you wish to tap into this power and tune into subtle vibrations both inside and out, this retreat is for you.
What Are You Going To Come Away With?
–Knowledge of how to use Sound/Silence for your well-being
–Tools to transform stuck emotions
–Deeper breathing, increased energy and improved health
–Stronger, freer singing/speaking voice
–Greater self-expression and improved communication
–Confidence, self-appreciation and love
–Expanded personal vibration and consciousness
–Deeper meditations and ability to be in silence
–Heightened presence and awareness
–Connection to your sacredness
–Inner peace and joy
Who Is This Retreat For?
This retreat is for those interested in using sounds to heal, open and express a freedom through sound regardless of previous experience. Whether you are an expert, or a beginner when we come together with open hearts and unite our voices, we dissolve into one.
The Yoga Of Sound Is An Aspect Of Nada Yoga.
Nada is a Sanskrit word that means sound. Though the practice of Nada Yoga is not one specific practice it covers a wide range of practical exercises. Some practices include vocal play, singing, sounding the Indian scales and mantras. Part of Nada Yoga is learning to fine-tune your ability to listen to audible and inaudible sounds, which is an aspect of subtle vibration.
Benefits To Nada Yoga
This video is how we can move sound through the chakras. Just a sneak peak, which will happen on the retreat.
Greater awareness and presence through deep listening practices

Deeper breath for improved health

Transforms stuck emotions

Deeper meditations

Inner peace and joy

Builds your confidence to express and communicate more freely

Expanded consciousness, creating new neurological networks in the brain

Releases endorphins (the brain's "feel good" chemicals)

Increased energy (Sounding moves inner pranic energy & increases your energy)

Improved communication

Stronger speaking/ teaching voice

Quiets inner chatter and thoughts
Schedule
The schedule is subject to change. Morning sessions will alternate between the Yoga hall and will start times as well and in the Yoga Hall), to have the best of both worlds.
7:30-9:30 Meditation, asana, breathing, mantras and sounding.
9:30 Breakfast
11:00 – 1:00 Exploring sounds and silence
11:00 – 4:00 Relax, let go, reflect, explore, enjoy
4:00 – 6:30 Evening practice include a variation of vocal play, toning, healing with sound, and silent meditation.
7:00 – 8:00 Buffet Dinner
8:00 – 9:00 There will be three night of evening events, that include, Sound journey, meditation and Yoga nidra
Retreat Begins at 5:00 pm on Feb 24th, 2017 Check is any time after 1:00 pm on the 24th
Last Session is the morning session of Feb 28th Check out is by 12:00 pm
Our Venue
Unlike most other trainings in India, we are hosted by a traditional ashram that is in nature and close to the holy river Ganga. Removed away from the hustle and bustle of the sea of car horns in Rishikesh, it is a beautiful and ideal setting to learn the teachings of Yoga.
Cuisine
The food is completely vegetarian.

It includes milk products and is not spicy.

Filtered drinking water is available.

The ashram will do their best to accommodate your dietary requirements.

Simple foods assists one in having a healthy digestion system. In Yogic terms its known as sattvic foods.
What Is Included
For 5 days and 4 nights you will be hosted in the beauty of nature at Aurovalley ashram in single accommodation.

Two daily devotional sound and yoga practice ( includes asana, pranayama, mantras, yoga nidra, nada yoga, meditation and kirtan.)

The use of yoga mats, straps or bolster

Three healthy vegetarian meals

Two lectures on sound healing

Unlimited drinking water

Quality time by the Holy river Ganga
What Is Not Included
Airfare

Indian Visa

Airport transfer



Accommodations
The rooms are simple and clean.
Each room has a private bathroom and solar water heating system.
All rooms have mattresses, bed sheets, pillows and quilts for the wintertime.
Aurovalley is free of smoke, drugs, stimulants and alcohol.
Investment
Early Bird Price is only $499 USD if paid in full by Jan 30, 2017
Regular Price is $599 USD, after Jan 30, 2017
Getting To The Venue
You Have A Few Choices:
Bus – this would be for those more adventurous, as you would have to make your way to the bus station and get off at Raiwala, which is half way between Rishiksh and Hardiwar.

Train – this would have to be arranged in advanced. http://www.indianrail.gov.in is the website for train reservations in India

Taxi – we can arrange airport pick up and drop directly at the venue for an additional $80

Plane – check out local airlines,for connecting flights to Deradun
Reviews
Write a review - tell others about your experience.
Thank you!
We're glad you've joined our retreat community. See you around :)
Return to my event
×