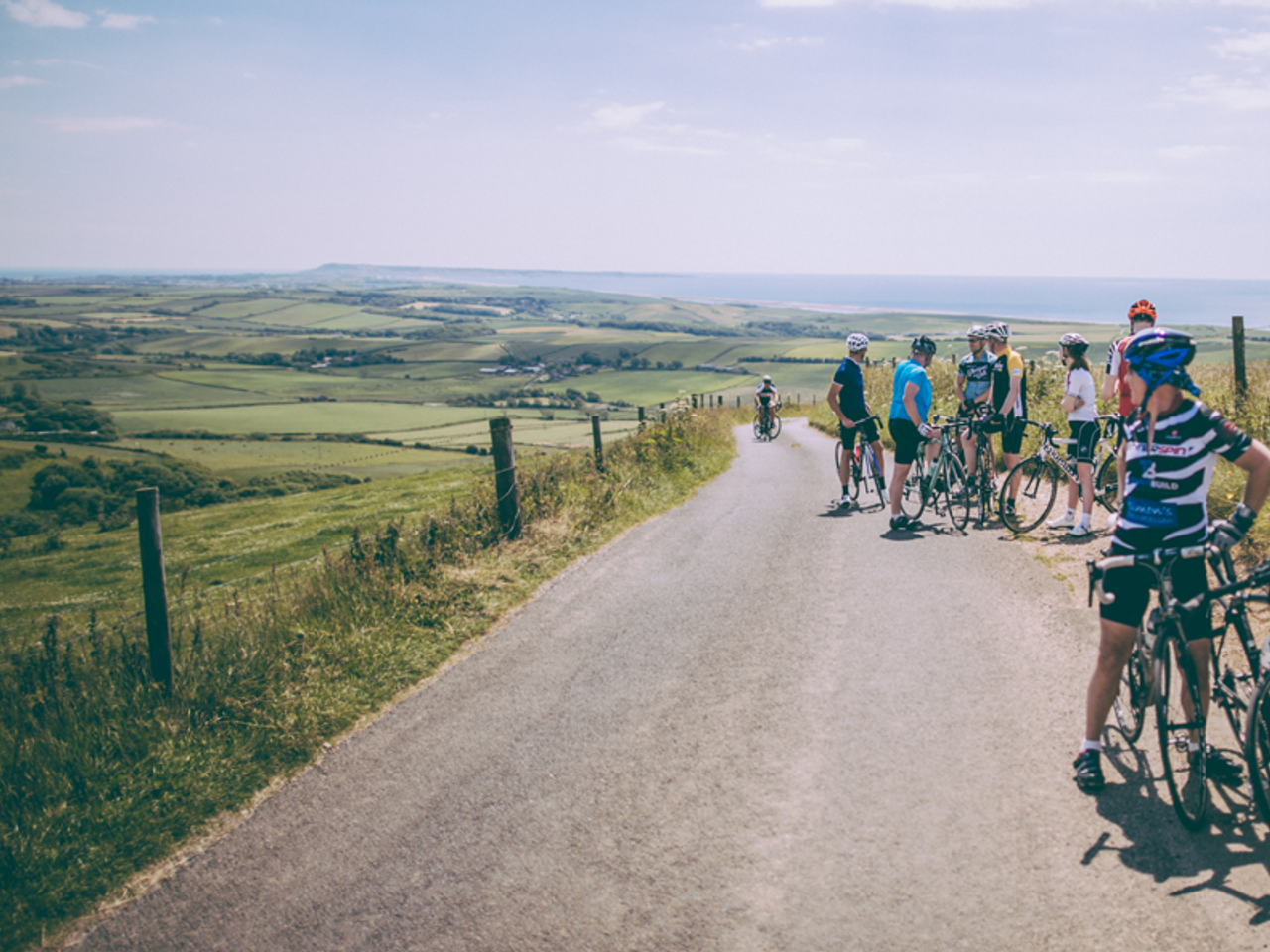 On the Rivet
Featured Centers
I recently had a chance to sit down and chat with Jim and Debs of On the Rivet – a cycling retreat operation based out of Dorset, England. This conversation got me super inspired to consider hoping back on the bike saddle again!
KATHY
What's your story – how did you get started?
JIM STYRIN
Prior to setting up On the Rivet, Debs worked as an events coordinator. Once we had kids, I decided I wanted to become a personal trainer and British cycling coach. Then we thought 'Wouldn't it be a fantastic thing to offer something that hasn't been done before'?
I'm good at coaching, have a pretty relaxed manner and Deb's really good at making sure everything's perfect behind the scenes.
Setting up this business took having the mind of a cyclist. Cycling is a massively growing market place. In fact, it's one of fastest growing sports in the UK. But in these busy times, people just don't have the time to deeply indulge themselves in their passion.
We thought it would be a fantastic thing for people who love cycling to come and just immerse themselves fully into the experience.
KATHY
Who is your ideal client?
JIM STYRIN
Our perfect clients are those who love cycling and want to get better but find that they have plateaued in their skills and ability. Besides indulging themselves in cycling, they also want to learn something. We give them the wings, skills and technique so they can come out of the experience stronger and further along in their cycling.
90% of our customers returned to us this year. For instance, last year we had a group of women who came that all have children, love road cycling and wanted to do an escape and indulge themselves with doing something they love together. Some came along because they just kind of liked cycling but they've become stronger, fitter and more powerful cyclists and now they will be coming back in a couple of weeks' time.
And now there's the corporate perspective. Corporate wellness is really important and cycling seems to have become the new golf where new deals and networking take place. So we started to run company retreats as well.
We just arranged one for a wealth management company. We gave them the most amazing 24 hours that consisted of two rides: One in the afternoon after they arrived, one in the morning, and in the evening they really relaxed.
They said it was the best event they have done, and the main reason is probably because they had the opportunity to spend time with their client in an informal environment and have it be quality time.
KATHY
What can people expect from your retreats?
JIM STYRIN
Back home, a typical guest gets back from a ride and has to be off the bike, changed, and then quickly on to the next thing: preparing dinner, getting back to work, or playing with the kids.
On our retreat, everything is provided for so they can do whatever they want to – even if it's just talking about cycling (which isn't always an option with a non-cycling partner)!
We build comfort to go along with the cycling. We offer a beautiful bed to lie in with Egyptian sheets and a local chef creating amazing food. With all the exercise the food has become almost as important as the cycling itself.
To further help guests with the quest to relax, we offer a spa experiences: massage, hot tub, sauna and morning yoga classes to stretch tight muscles.
We also invested in hiring fantastic professional photographers for every time we run a retreat. Occasionally, some guests say they don't want to be photographed, but more so than not they don't mind. Then we can give them this fantastic record and they look really good.
KATHY
What is the magic of your retreat setting?
JIM STYRIN
We are based out of Dorset which is very hilly and cyclists love the climbing. It's not for the faint of heart. We have the use of a few houses, set in the most idyllic locations with creeks running through. One has a natural swimming pond and a teepee – it's the perfect environment to go and completely relax and unwind.
KATHY
What challenges have you faced on this path and how has that turned into a gift?
JIM STYRIN
The financial side of it has been a challenge. We used our own money which can been quite scary at some moments. We have to hire houses and then hope we can get the bookings. But we just kept on going and then finally found a couple of young guys to help us do our social media.
They helped us put together a fantastic newsletter with quality content, training tips, wellness, mindfulness articles and a lot of psychological features for the cyclist. We often give away really great prizes on there too. It's a really well-rounded magazine that we send out every month. Our email list has really grown thanks to this.
These guys continue to help us with the newsletter and other online promotion and have since decided they want to be part of our business success. So at the end of the year we reward them financially depending how we do on a profit perspective.
Friends and partners are really committed to our love for what we're doing with On the Rivet and they want to help grow our business with us. We have a lot of people around us willing us along!