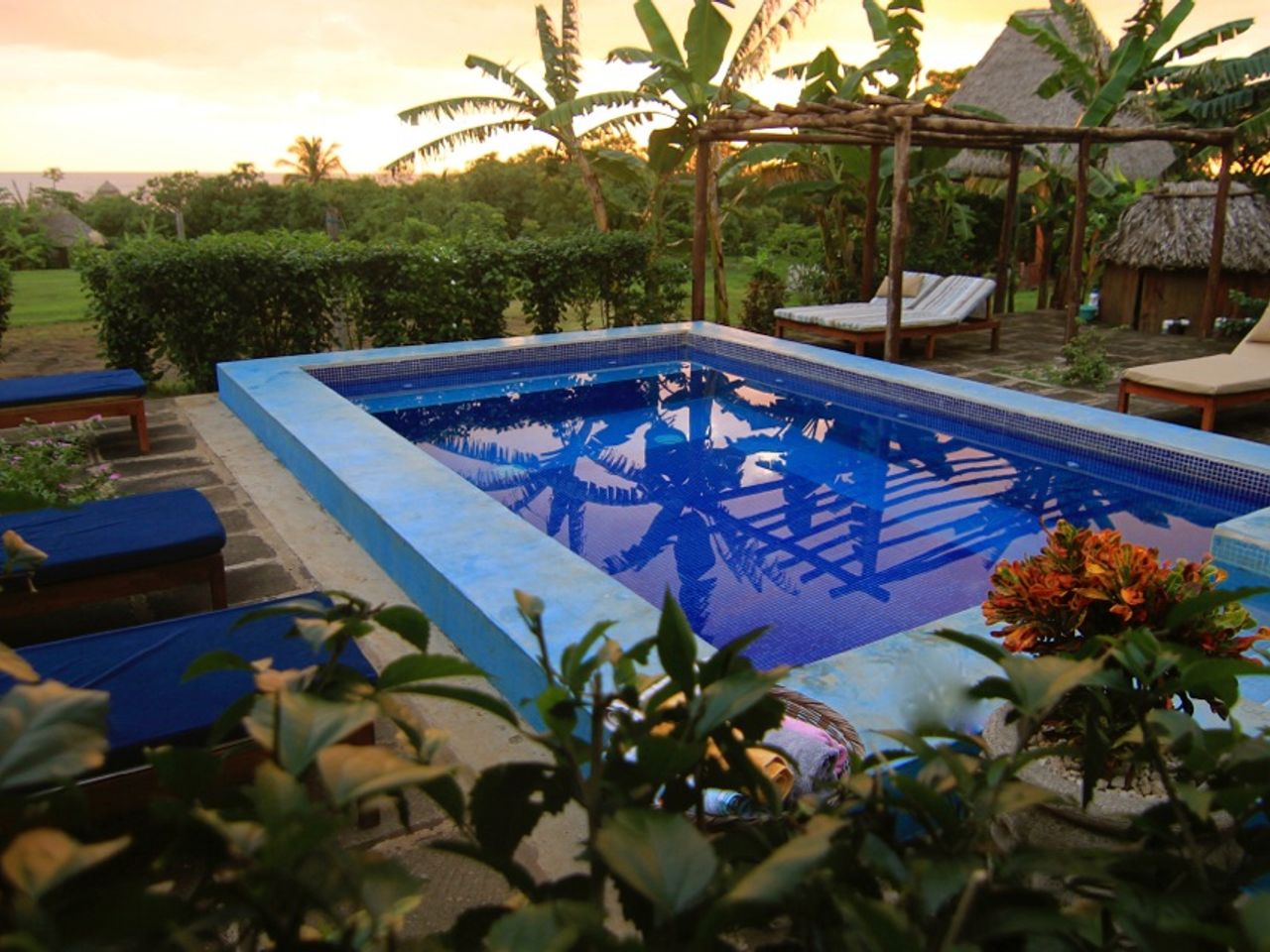 El Coco Loco Resort – Yoga retreats, surf and service.
Featured Centers
This article follows a conversation we had with Earl Cahill from El Coco Loco Resort.
DARCY
How did El Coco Loco get started?
EARL CAHILL
Jamie, Ben and myself are good friends from our days at the University of Ottawa. We reconnected in Central America in 2005 and travelled around together for six months. During that adventure the idea of pooling our money together and purchasing some land was developed. After returning to our respective homes in order to save, we eventually returned to Nicaragua in 2007 and were able to purchase our land. The construction of El Coco Loco began soon after and our resort has continued to evolve over the next several years to the point it is today, with eight cabanas, two yoga studios, a pool, restaurant and bar. We are currently in our seventh year of being open and have a full-time staff of twenty-five local employees. Although we are very proud of what we've been able to accomplish, we continue to strive to grow and further improve all aspects of the "Coco Loco experience".
DARCY
What kind of retreats do you offer?
EARL CAHILL
We offer several different retreat options all throughout the year. We host basic week-long yoga retreats, yoga teacher training programs, surf camps for beginners or experienced groups, and also volunteer service trips, where groups can help out with one of our community development projects through our non-profit, Waves of Hope (waves-of-hope.com).
DARCY
What can participants expect from their time with you?
EARL CAHILL
Regardless of the type of retreat, all of our guests can expect a fun Nicaraguan adventure that combines relaxing on the beach or by the pool, delicious food and beverages, and various activities like yoga, surfing, volcano hikes, SUP tours, chocolate making workshops and much more. Getting to know the Nicaraguan people and culture is also one of the highlights of visiting Coco Loco. We feel very connected to our community and relish the opportunity to introduce our guests to the local people and customs. The warmth and generosity of the Nicaraguan people is, after all, what first drew us here in the first place.
DARCY
Tell me about some of the community work your involved in?
EARL CAHILL
When we were initially developing our idea for Coco Loco we realized that we were going to be living in a developing country and felt that it simply made sense to do whatever we could to help out the local families. Waves of Hope was registered as a Canadian Non-Profit in 2009. Our basic mission is to improve the quality of life in our community through education, development and volunteer efforts. Since 2009, we have raised over $250,000 and helped to support a number of initiatives including re-furbishing several elementary schools, building a brand new High School, establishing a community clean water program, supporting local clinics and much more. Currently we're planning to build an additional four classrooms onto the new High School as numbers have exceeded our expectations and the demand is continuing to grow. Although none of us had much development work experience prior to moving to Nicaragua, we do feel that we have made a positive impact, and plan to continue working to make a difference.