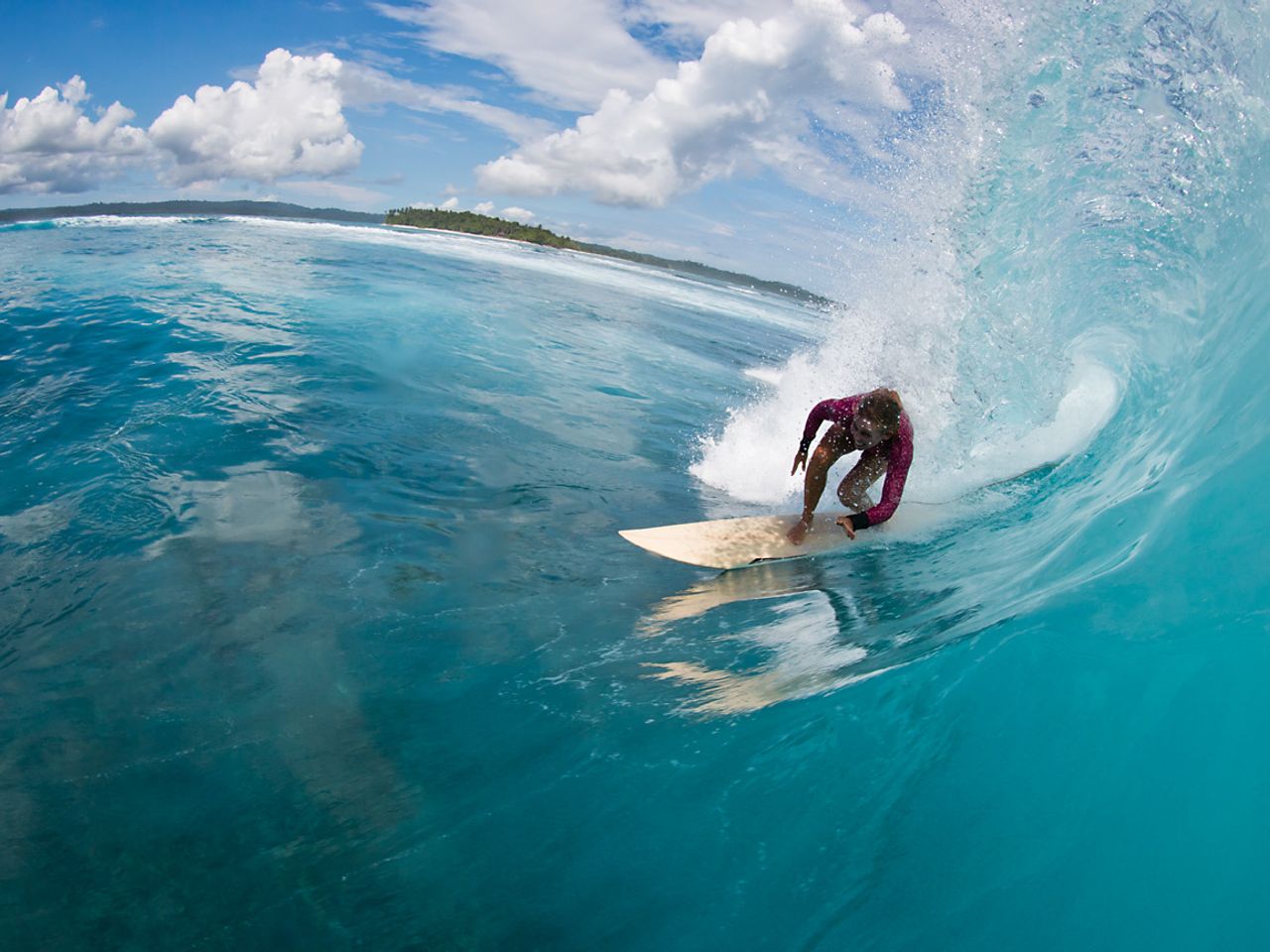 Togat Nusa Retreat
Featured Centers
This article follows a conversation we had with Ainsley Ocean from Togat Nusa Retreat.
DARCY
What's your story? How did you get started?
AINSLEY OCEAN
Slip sliding my way through life. Time is flying. Suddenly the twenties are gone in a puff of smoke, then the thirties.
Now I find myself really trying to gracefully embrace the wisdom and surrender of my forties. All of it has been in an effort to get in the water and surf.
Realizing I am not going to be a super hero or world leader – just weaving the fabric of my own experience.
Here I find myself in The Mentawai Islands…sliding through the calendar, here at Togat Nusa Retreat, the center of the unknown universe.
It's not easy living out here in the far reaches of Sumatra. Life in general isn't easy, and does get messy at times.
The whole time having the gift and blessing of being able to ride waves the whole time.
What a lucky person I am, we are , you can be…
My surfing journey has seen me based in Canada, Hawaii and now Indonesia. All supremely beautiful wild and untamed places, kind of like me. Creating a space with my husband John that attracts like minded guests. Built on a private Island, with scavenged and recycled materials, it has taken a few years to manifest, but this place is absolutely amazing. We wanted to runaway and surf on a private island and that is what we have done.
It's a busy planet, and comforting for some of us to know there are still private remote safe spaces, away from staring eyes. To relax and do as you please.
DARCY
You could be doing anything – why on earth are you doing this?
AINSLEY OCEAN
John and I love surfing, we can't imagine a lifestyle not surfing. So we had to make a life plan that helped us surf as much as humanly possible in tropical waters.
This is it!
DARCY
How many years have you been doing this?
AINSLEY OCEAN
We have been out in the Mentawai Islands 13 years.
DARCY
Is there magic on the land or in the environment that you are in? If so, how does that manifest and how does it support the work that you do?
AINSLEY OCEAN
The island is magical and friendly, such an awesome place to stay, it's like a national geographic special everyday. We are truly blessed that a place like Togat Nusa exists at all on this busy planet.
It's so clean and quiet.
DARCY
What is your favourite spot on the land? Favorite place in the world?
AINSLEY OCEAN
Togat Nusa Retreat, is my favourite place on the planet, hands down.
My favourite place on the island is the back of the island, where the sand is super silky and it drops off very deep about 16 meters, straight off the beach. The water is such a beautiful color blue!
DARCY
What can people expect from your retreats?
AINSLEY OCEAN
We offer a safe private space, where guest can do as they like on their very own private island, whether that be, surf your brains out, or focus on doing yoga or relaxing .
DARCY
What challenge have you faced on your path that has been a gift?
AINSLEY OCEAN
I think the isolation, at times has been really challenging, but has given us time and space to really look at ourselves and figure out what is important to us. What we hold precious and value most.
DARCY
What does your family think about what you're doing?
AINSLEY OCEAN
Our families think we are slightly crazy, but are happy for us that we have followed our dreams and proud of what we have accomplished.