About The Teacher
Born in London, Chris has worked as a professional Psychic, Tarot reader and Astrologer since 1979, and during this period has given over 10,000 consultations. For over 20 years he studied with British Astrologer Dr Geoffrey Cornelius, who pioneered astrology as a form of divination.
At the end of 2000 he had spiritual crisis – a series of increasingly vivid dreams and visions, which he resisted for four years. In desperation he finally sought help by going to the original Blue Morpho camp deep in the Peruvian Amazon, where he met Hamilton Souther, Don Alberto Torres Davila, and later on, Don Julio Llerena Pinedo. During this first retreat in 2004, he was formally accepted as an apprentice, and so began dividing his time between Peru and England, where he ran a telephone psychic reading business. In December 2008, he was to move full time to Iquitos, allowing him to finish his apprenticeship reaching the level of Maestro in February 2010. At the end of that year, he realised it was time to move on.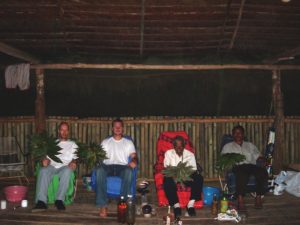 He will always be grateful to Hamilton, Don Alberto, and Don Julio, for opening the door and sharing their medicine so fully. In 2012 he and his wife were surprised and honoured to be asked by Don Alberto to be Padrino and Madrina (best man and matron of honour) at his wedding. Every year whenever possible, he continues to visit Alberto in his hometown of Herrera.
He was introduced to Don Ricardo, a vegetalista (medicinal plant healer) of 35 years' experience. In 2014 he agreed to teach Chris what he knew, and so began a new journey of learning with the plants.
Chris's non-fiction books include "Mix and Match Astrology" Barons 1997, "Practical Visualisation", Aquarian press/Harper Collins 1991, and "A Meditation guide to the Chakras", Triangle company Ltd. Japan 1990. His first novel, StarToucher, a New Age Science Fiction was published  in February 2018, and is available now free on Amazon., Ibooks, and Smashwords.
For Chris's full mind-body-spirit bio, please see: la-medicina.org/biography
Source: la-medicina.secure.retreat.guru
Reviews
Write a review - tell others about your experience.
Katie Bouva December 11, 2018

Chris Odle

As a Plant Medicine practitioner Chris Odle is a what I would call a perfect combination of a traditionally trained Amazon shaman and a Western mind that could understand many of Western world issues that to a traditional Peruvian shaman might look less important or unknown. His sensitivity and intuition as well as knowledge of the plants will guide you to getting the work done and your transformation process complete. I feel very grateful that our Medicine paths crossed and I have completed two diets under his supervision.

Chris Copp November 14, 2018

Heart centered shaman

I consider myself very fortunate to have experienced the medicine under the guidance of Chris. His approach is straightforward yet relaxed with an openness and sense of humor that is hard to find. I felt completely safe and cared for with his heart centered personal attention. His medicine helped transform me deeply, I couldn't recommend working with him enough.

John Patton November 07, 2018

La Medicina, Chris Odle

I have known Chris for over 12 years at this point and have always been impressed with his discipline and dedication to the practice of plant medicine and shamanism. I have sat in ceremony and dieted with Chris and I can't speak highly enough of his focus and dedication to the deep work guests at his center come to engage in.