Suaad Ghadban
About The Teacher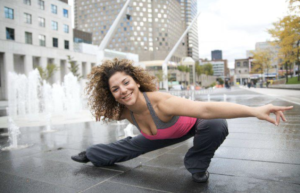 Suaad Ghadban is a young, fresh and dynamic health and fitness expert in the Montreal area and the creator of the signature classes such as the Hot Booty Ballet workout program, Hip Hop Abs, Aerial fitness class and the Flex-Ability. Currently working with the people in the community, olympic athletes, celebrities and privates businesses, Suaad's goal is to create, develop and implement programs that provide concrete solutions in areas of health, wellness and weight loss.
Suaad is a former World Dance and Sport Aerobic Champion, and holds a College degree in Sports and Leisure and a B.A. & Sc. in Therapeutic recreation. With 12 years of teaching experience and 22 years of training under her belt, she has been involved in the dance and fitness industry since the age of five. She holds certifications from leading programs in the country, including Can Fit Pro (personal training and fitness certification) and Reebok's Jukari Fit to Fly & Fit to Flex Instructor. She is a versatile instructor, teaching a variety of classes including classical stretch, Hip hop Abs, Belly dance, Antigravity yoga, Ballet bar, Boot camp, Lebarre, TRX, Drums alive and Bender ball classes at the Montreal Athletic Association (MAA, Cambridge Group of Clubs) recognized as the top gym in Canada. Her extensive artistic and athletic background has allowed her to develop a unique and effective training method which is accessible to all.
Learn more about Suaad at her website, www.suaadfitness.com. Learn about her teaching certification program, Hot Booty Ballet.
Source: fitbodiesinc.secure.retreat.guru
Reviews
Write a review - tell others about your experience.