About The Teacher
Yeshe has been practising within the Tibetan Buddhist tradition for 33 years.  Yeshe left her teaching career to be ordained and travelled on the path as a nun for 18 years. She has felt very fortunate to receive teachings, transmission and guidance from her main teacher Venerable Thrangu Rinpoche and lineage masters of the Kagyu lineage.  Retreat is an important part of her spiritual path and having completed the traditional 4 years in retreat (1989-93) she continues to spend 1-3 months in solitary retreat yearly.
On the completion of her 4 year retreat Yeshe was the resident monastic in Thrangu House Centre, Oxford, teaching and directing the centre until 2000. When at Oxford, Yeshe started to take groups on pilgrimage to Nepal, especially to the places associated with Guru Rinpoche and his 'secret valleys'. This interest was forwarded academically under the guidance of Khenpo Tsultrim Gyamptso Rinpoche within an MA in Mystical and Religious Experience (2001)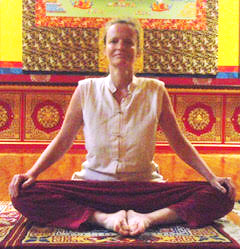 Challenged by physical difficulty in sitting and energetic challenges that come with scoliosis over many years, Yeshe started working with yoga and a yogic approach to contemplative practice. This has become pivotal in her own healing process and in what she offers.  She completed her teacher training within the Krishnamacharya tradition of yoga with the Mohans in Chennai, India (2007) and has gone on to explore, research and develop this approach. With the support and encouragement of Gwalwa Karmapa, Yeshe conducted research into preparing for meditation and retreat using yoga within an MA in Yoga and Meditation Traditions (SOAS university London 2016).  Her current main interest is in offering small groups the foundations of embodied spiritual practice; this is done through working with breath, movement and posture.
Yeshe is a qualified counsellor within the humanist tradition (2005) and a qualified supervisor for people offering therapy (2008).
These different strands of training, experience and interest come with her in what she shares in her classes.
Source: dorjedenmaling.secure.retreat.guru
Reviews
Write a review - tell others about your experience.