MAESTRA OLGA MORI
About The Teacher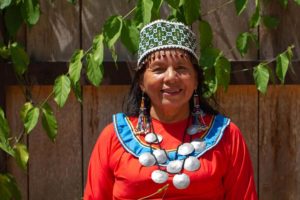 Maestra Olga is the only member of our team that is not blood related to the family but as she said it herself, they all belong to one Shipibo family. As soon as Olga joined our team of Shamans there was an instant connection with the rest of the family and they have been working harmoniously since the first ceremony. Maestra Olga's grandmother gave her a Shipibo name Senen Jisbe which translates to "a woman with a lot of knowledge". Olga is very proud of this name since it was given to her in honour of her great-grandmother who was a famous healer known amongst people for her big knowledge on plants and even bigger heart. Olga grew up with her grandparents who were both Shamans and since very young age witnessed her grandmother working with various plants. From the earliest years she was told that being a healer takes a lot of dedication, good intentions, a tranquil mind and a compassioned, loving heart and that is exactly how we could describe Maestra Olga's nature and approach to her work. Olga was introduced to Ayahuasca at the age of five when she participated in a ceremony conducted by her grandmother. Maestra Olga is a single mother of two sons, and when facing the circumstances of having to find a way to support her family by herself, could not see herself taking any other path than the healer's. Olga felt very strongly connected to the plants her whole life, and even though learning the ways of Ayahuasca was not an easy task for her, she now has 12 years of experience working as a healer. Olga has dieted many plants as she wanted to gain as much knowledge possible on the healing power of plants and says that Shamanism flows through her veins. Maestra Olga's approach to healing at ceremonies is very individual and she likes to improvise according to the energy that she receives. Olga's tender yet very powerful icaros have touched and healed many hearts. She always has a smile on her face and her entire charisma radiates pure love and unconditional desire to only help and heal through her work.
Source: pachamamatemple.secure.retreat.guru
Reviews
Write a review - tell others about your experience.
Center