Maestra Sulmira Vela
About The Teacher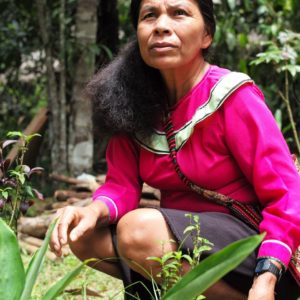 Maestra Sulmira is Maestro Jorge's wife and the two make a powerful healing couple. Maestra is now in her early forties and already has over twenty years of experience as Curandera with Ayahuasca and other medicinal plants. Sulmira began her Shaman training when she was 19 with her father who served her first cup of Ayahuasca and immediately after that she started dieting and living one whole year of "pure medicine lifestyle" dedicating herself completely to the ways of the Plant Medicines. Maestra Sulmira comes from a family of Shipibo healers and along with herself, her father passed his knowledge to both her siblings. After dieting for one year with her father, Maestra Sulmira began working alongside him as a Curandera. The father and daughter healing team spent six months working together in Lima and then moved back home and continued working there. Maestra Sulmira continued deepening her healing practice in years to come and has since lead many through their healing process.
Source: pachamamatemple.secure.retreat.guru
Reviews
Write a review - tell others about your experience.
Center