Samuel Loncar
Retreats
About The Teacher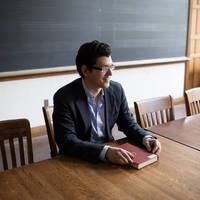 Samuel Loncar is a philosopher and historian of religion, poet, and writer working at the intersection of spirituality and modern life and teaching at Yale Divinity School. His writing has been read at Google, taught in writing classes and universities across the world, and translated into Chinese and Farsi. As a consultant and speaker he has recently worked with the United Nations, Oliver Wyman, and Redbull Arts. He blends scholarly and creative concerns and seeks to revive the ancient and marginalized voices of the gods and their peoples, and show how patterns of oppression in the past shape the exploitation of power today. He is the Editor-in-Chief of the Marginalia Review of Books. Samuel earned three graduate degrees at Yale University, and is currently working on a book, Philosophy as Religion from Plato to Posthumanism, and a collection of poems, After the Gods Died There Was Still Rain.
Source: trinitywallstreet.secure.retreat.guru
Reviews
Write a review - tell others about your experience.