About The Teacher
Paola grew up in the highlands of Mexico and was introduced to Temazcal practice as a teenager. Later, she studied nutrition and became interested in learning different practical tools to support the health and happiness of people and the planet. After graduating as a nutritionist, she traveled to India and Nepal, where she gathered knowledge of Ayurvedic nutrition and massage. While in India, she practiced classical Indian flute, yoga and trained in Ayurvedic massage. After spending a year in Asia, she came to Guatemala. At Lake Atitlan, Paola could finally put into practice all the knowledge she had gathered. She has been living on the mountainside outside San Marcos for 16 years, developing an ecological home and way of living.
Practicing and teaching yoga to people from all over the world who come to this magical lake to heal and find their true nature, she started offering her services at Villa Sumaya as a yoga teacher and massage therapist and found her biggest gift as a space holder for cacao and Temazcal ceremonies.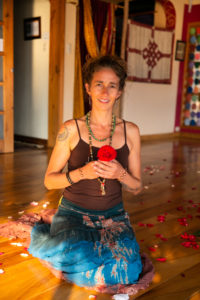 Testimonials 
Paola, Thank you again for presiding over Cacao and sweat ceremonies. You have a gift for decoration and a sweet aura about you. I feel spiritually changed by the ceremonies and so invigorated by the sweat. I will never forget our time together and the hot, cold and salt. Many blessings to you. ~ Pam
Dear Paola, my friend, My heart is so full and my spirit at peace as I wish to express my gratitude to you for this week. It has been a week of spiritual growth, deepened searching and of newly awakened excitement for what is yet to come! Your gentle steadfast spirit has opened my eyes to a new way of moving through life – in tune to the pace of Nature while accepting all the universe has to offer – thank you. I am honored to have traveled into new spiritual realms with your guidance. I was blessed to have shared in your daily life meeting your precious family and visiting your beautiful temple sanctuary. I will never forget you Paola and the truths you exude. Thank you for sharing of yourself and your wisdom. With heartfelt love, Deb Kern
Sometimes we meet extraordinary people that give freely of themselves. You are one of those people. Thank you for all that you did this week. Blessings. ~Jerry
Thanks for sharing your life with us and being a model for building the life of your dreams. It really affected us to see someone able to really practice + ground their spirituality + incorporate it into every aspect of life. You're an inspiration + keep doing your thing! ~Tara + Mel
Paola, Thank you for being our leader in the temezcal! Your heart, spirit, and presence is beautiful and you were the reason we had such a great experience! ~Jaime
Dear Paola, Thank you for nurturing me with your sweet, motherly, Cancerian love this week! It has been such a gift to get to know you and spend time healing with you. The sisterhood in the sweat ceremony and the amazing swim in the lake after is a memory I will cherish forever. All the best to you beautiful woman! Thanks for being so strong and so tender! With love, Morgan
Source: villasumaya.secure.retreat.guru
Reviews
Write a review - tell others about your experience.