About The Teacher
Paola is trained as a nutritionist and has also studied Ayurvedic nutrition extensively in India. She takes the best of both complementary traditions. For the past 13 years, she has been living at Lake Atitlan, where she practices and teaches hatha yoga and offers Ayurvedic massage, Shiatsu and Thai massage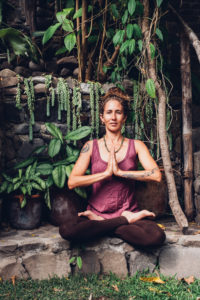 Her bodywork offering is a fusion of Ayurvedic, Shiatsu and Thai massage.
This is an invigorating massage that stimulates vital energy channels and points, infusing more energy into your system, helping you detox and restore your body, soothing your emotions and relaxing your mind.
This is a full body oil massage that uses aromatherapy, crystals and sound healing as a complementary experience.
This ceremonial has the intention of holding a space where you can reach a deep healing stage.
Ceremonies:
Paola also facilitates 2 different rituals
CEREMONIAL SWEAT "TEMAZCAL"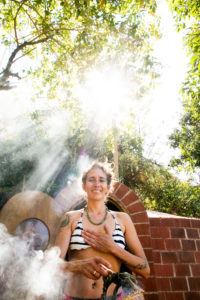 This a native American inspired ceremony where we help our body to detox and release what no longer serves us, expanding into oneness through the power of our voice, singing and sharing prayers in deep gratitude towards the elements of life.
In this ritual, we use a blend of sea salt with medicinal plants, raw honey, coconut oil and yummy essential oils to exfoliate the skin and aloe vera to rejuvenate face and hair.
In this ceremony, you are encouraged to open your voice as the work is done through singing, and to listen to your body always. Herbal tea will be provided in between the doors and cold shower will help you cool down as well. This is by far the most amazing ritual you can come across and will leave your body nourished, relaxed and your mind in a peaceful meditative state.
CACAO CEREMONY
In sacred communion with the spirit of cacao you will open your heart using the power of an empathetic sharing circle. This ceremony has the intention to heal your heart and connect with joy and gratitude towards life and all your relations and for the benefit of all sentient being we offer this joy into the universe.
This ceremony is shared in a circle with an amazing crystal flower mandala to inspire your heart.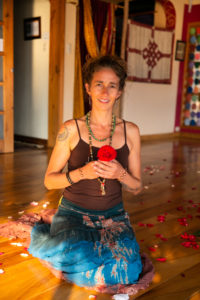 Testimonials :
Paola, Thank you again for presiding over Cacao and sweat ceremonies.
You have a gift for decoration and a sweet aura about you. I feel spiritually changed by the ceremonies and so invigorated by the sweat. I will never forget our time together and the hot, cold and salt.
Many blessing to you,
 Pam
 Dear Paola my friend,
My heart is so full and my spirit at peace as I wish to express my gratitude to you for this week. It has been a week of spiritual growth, deepened searching and of newly awakened excitement for what is yet to come! Your gentle steadfast spirit has opened my eyes to a new way of moving through life – in tune to the pace of Nature while accepting all the universe has to offer – thank you.
I am honored to have traveled into new spiritual realms with your guidance. I was blessed to have shared in your daily life meeting your precious family and visiting your beautiful temple sanctuary.
I will never forget you Paola and the truths you exude.
 Thank you for sharing of yourself and your wisdom.
 With heartfelt love
Deb Kern
Source: villasumaya.secure.retreat.guru
Reviews
Write a review - tell others about your experience.
Center