About The Teacher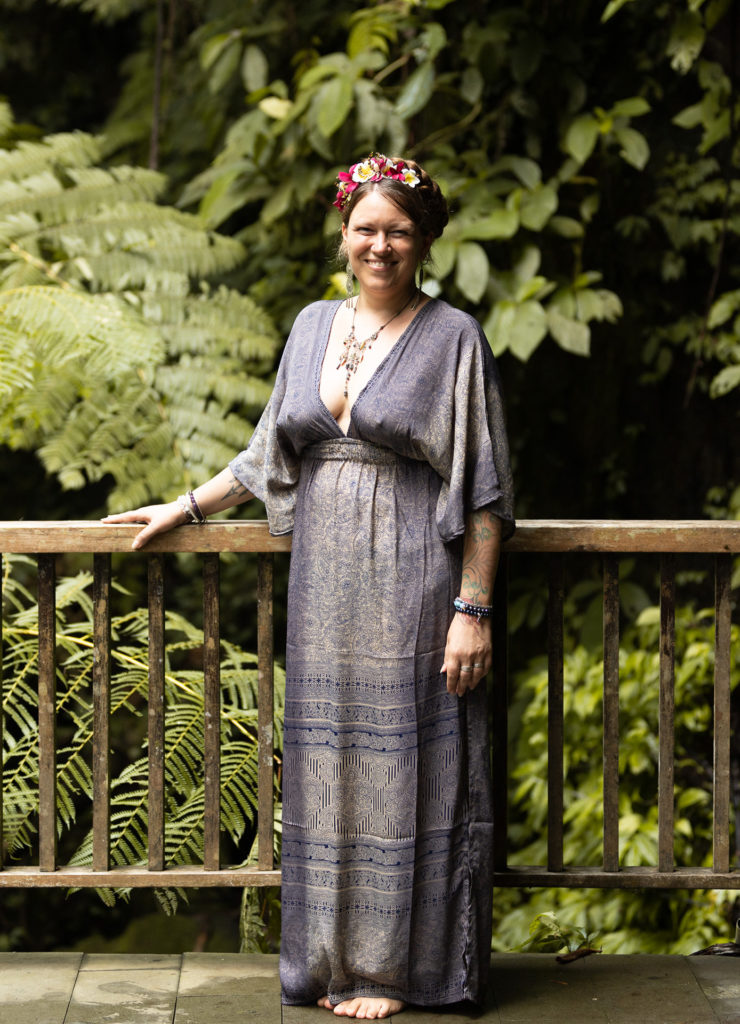 In YOUniverse Revival Elena holds energetic space and on the Water element day of the retreat she holds a workshop on free expression to unleash your creativity. She will paint with you to powerfully connect you with your innate creative force and will hold sacred sunset circles for you to keep yourself anchored in your heart during the retreat, so that you may explore, ground and shape yourself further.
Born in Bavaria, southern Germany, raised in Portugal, Berlin and Munich Elena has been exploring living on Madeira Island, the southern Andes of Ecuador and the tropics during the past six years.
Her 42 years of life are filled with witnessing, listening to and facilitating life stories of different cultures while living her own, which has always been tied closely to the experiences of others.
Elena likes to fly high and dive deep. She radiates love and joy, loves to laugh and to support others in making their dreams come true, through naturally calling them into their truth and full expression.
She has consciously carried and expressed her natural gifts of artistic creation, eliciting transformation and wisdom of the shaping of the human psyche and the universe during all her life. Having deliberately experienced the emotional depth of shadow and light in intensity she works as a counsellour, artist, illustrator and writer in different areas. She is always guided by her heart and her burning passion for seeing human beings unfold into their gifts, for calling extrasensory impressions into the beauty of art and for exploring as well as comprehending the nature of reality.
Elena intuitively designs and inks Sacred Tattoos, writes articles about realization, poetry and lyrics, draws and paints manifold works of art as to catch ripples of the unexpressed, yet unseen. Further, she illustrates ideas and stories to capture the essence of joy for children, and loves to tell stories in images – through comics, graphic novels and intricate, layered artworks.
She dedicates a lot of her time to raising awareness about frequency, leading you back into your heart, and consciously reminds of the deep joy of being utterly alive.
She studied communication design and is certified in Reiki level 1 and 2.
Elena loves to breathe life, to embody spirit as deeply as she can and to help others in coming alive in their truest expression. Her highest joy is to ignite joy and wholeness in another, to enable feeling and experiencing and to give from the fullness of love.
Deeply empathic and comprehending her commitment is to love, compassion, truth and authenticity.
She sees Youniverse Revival as such a beautiful chance for you to reconnect with yourself at depth, redefine who you want to be in this world and rise into deeply loving yourself in all your aspects. To hold space for yourself and your authentic expression of the moment. She desires for you to share the gift of your universe with the world.
She perceives the sensation of separation as a soul journey away from our Origin as to experience various aspects of Self and as an invitation to become whole again in different ways than priorly known.
Hence she would classify it as an integrative process of enrichment in sensing the variety of emotion – of energy moving through our various bodies.
"Separation is feeling disconnected from ourselves in higher form. I want to raise awareness on how we project this onto our entire relating and offer suggestions of how we can come back into wholeness as to relate from a better feeling, rather nourishing point of view."
All her experiences of separation she has integrated into the invitation to come home into the all of herself.
My message to YOU, dear one:
"Everything starts with you. You are the universe – having a human experience. Expressing the All through a unique facet. You are here to feel, not to shy away from feeling.
Relating to yourself is the foundation of all relating to all and everyone else.
We are here to assist you in the deeper comprehending of yourself through various angles, and to inspire and empower you in building this foundation strong and healthy."
Source: universerevival.secure.retreat.guru
Reviews
Write a review - tell others about your experience.
The mind is empty in essence.
Although empty, everything constantly arises in it. 3rd Gyalwang Karmapa.