About The Teacher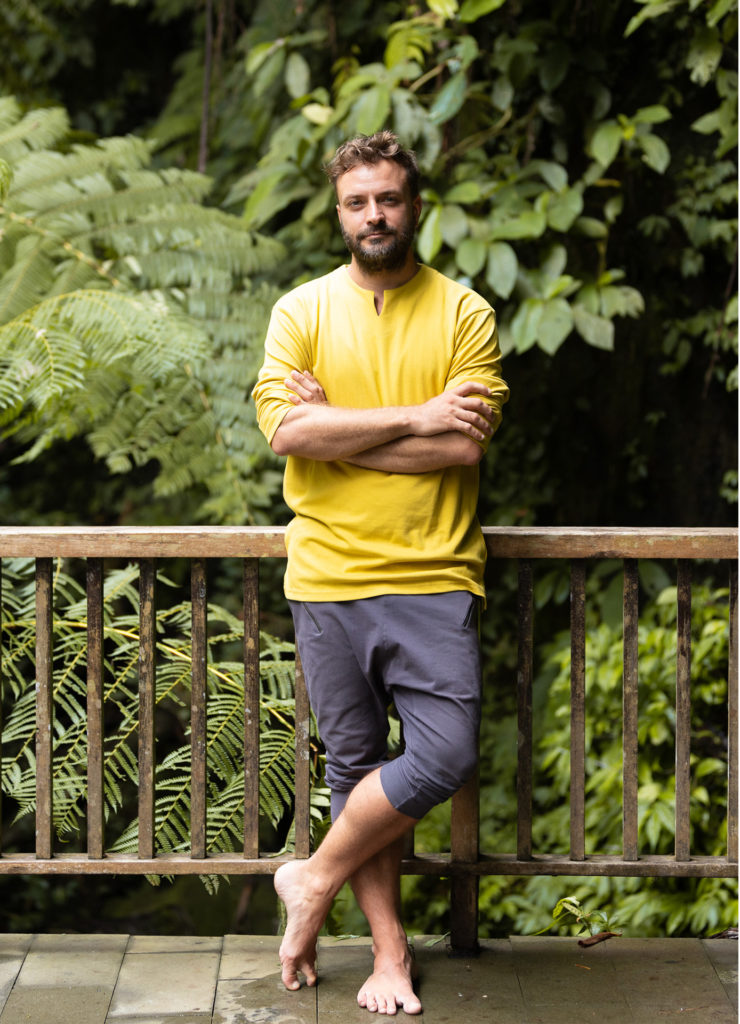 Ruy is designing all the products for YOUniverse Revival, in respect to the five elements of life: fire, water, earth, air, ether, as to offer practical tools for you to re-align with your natural balance.
He touched this planet 38 years ago and spent his entire childhood in Curitiba, Brazil. Then moved to Buenos Aires, Argentina, with his family.
Loving to explore different countries, cultures and artistic expressions on the planet his travels led him to South East Asia not long ago, and he was instantly captured by the beauty and magic of this fascinating region. Taking the step to move to the tropics was a natural consequence.
Ruy is characterized by his love for art and artistic expression – he observes, feels and translates outside appearances within. His photo camera is his constant companion on his trips of savouring life with all his senses. He feels captivated by the beauty of shapes and spaces and by form following function.
Back in Buenos Aires, anthropology and architecture used to be Ruy's area of study and his main profession. However, after working for many years in designing airports, train stations and houses, he discovered the perfect combination of all his vocations in art and photography.
With time, small spaces and work on architectural details became his major focus of attention. Since then he has devoted himself to weaving his understanding of pragmatic needs into his calling for art and design and to create energetically rich products.
His main professional quality is to understand people's needs in life and to pull them into matter in areas of practical utility. As an artistic soul, Ruy's passions clearly lie with architecture, art, photography and design, which he continuously brings to expression. He also loves to read and to explore the world, to see and feel new places at depth that organically flow into his artistic expression as well as to revisit places dear to him like New York, Morocco, Vietnam, Guatemala and Cambodia.
Apart from that he has a sweet spot for food and continuously expands his horizon through learning new things.
He loves to spend time in the company of friends and also new people, preferably around a table with delicious food. A good conversation for him enriches moments full of joy and pleasure.
Ruy is and remains a traveler. His favourite trips are the ones with deep approaches to the inside of cultures as to comprehend and integrate their offerings. Moving around countries with means that allow him to stop and linger enables him to let his attention be called naturally as to find the enhancing pieces to his comprehension of spirit in form.
Ruy never misses out on any cultural event around him, especially related to plastic art, performing and music.
In Ruy's comprehension of reality not only the spaces we live in end up transforming us, but also the objects that surround us. He perceives a devoted respect for nature in the architecture of Asian countries and sees as well how the five elements originating from nature itself are integrated in all matters of design. He deeply feels that the natural equilibrium of air, water, earth, fire and ether need to be consciously reflected in our daily life. Thus, in our community he desires to emphasise the opportunity to start living in resonance with all the elements that build us. He wants to raise awareness on how to incorporate the five elements into our lives and use their power to guide us back into harmony.
"When you go through loss and separation, moments of loneliness can be very difficult. Turning them into art, creative processes of any kind, allows us to rediscover and reconnect with the parts that we did not know about ourselves and allows us to truly know ourselves."
My message to YOU, dear one:
"Personally, the fact of allowing myself to have creative moments in solitude, in any of the areas of art, brings fulfillment. To translate the essence of the five elements into objects is my mission to inspire you and to kindle and enhance your own creativity."
Source: universerevival.secure.retreat.guru
Reviews
Write a review - tell others about your experience.
Center