About The Teacher
Dru Erin is a yoga living, animal loving creative flowing through this undiscovered liquid we humans call "LIFE". Her path towards yoga and healing began early on as a competitive Equestrian Gymnast. These initial ties to nature and creative physical movement ushered in a desire to study the art of Beauty and Photography. After working in the Fashion and Lifestyle industry for many years, Dru decided to switch gears and became a 200-hr Certified Yoga practitioner. Currently studying Aromatherapy & Intuitive Medicine, aspiring to inspire, Dru strives to help her fellow souls find their own inner light and peace through guided expressive movement and inner viewing.
Dru's Unique Restorative Flow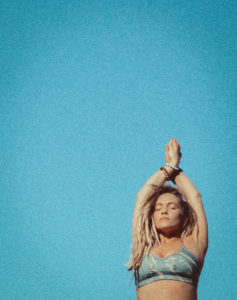 Creation joins the union of body and spirit, movement with breath, and yourself with the community through meditative guidance. Restorative flow is a practice that works to promote mental focus, cope with stress and anxiety, increase flexibility, calm the nervous system, create better sleep habits and balance emotional patterns. She focuses on connective tissue movement and building a relationship with conscious breath in an effort to unwind, relax and recalibrate to operate at our highest self in all dimensions of our lives. *Includes: One Hour of Practice, Five Minute Meditation, Gentle Hands On Adjustments, Aromatherapy Head Massage, Closing Blessing

*Suitable for all levels*
Dru is also the co-founder of the Five Sense Collective 
Source: lifesourceretreats.secure.retreat.guru
Reviews
Write a review - tell others about your experience.
Center