Retreats
About The Teacher
** OFFERING INDIVIDUAL BODYWORK SESSIONS **
Feeling stuck in your head?  Want more pleasure in your body?  Let's co-create a new experience for you with Somatic bodywork.
About Amanzi Umoya – I am a somatic sexual educator, dating assistant, and sexuality & intimacy coach.  Do you want more authentic connection in your life?  I have found that shame and fear often subdues our pleasure with ourselves and our connections.  With empathy and patience I've been able to create a different story for myself. Somatic sexological bodywork gives me a framework to share and assist others with their discoveries and healing.  What is Somatic Sexological Bodywork?  Think of it as exploring movement and touch to help process things instead of thinking and talking. The focus is on empowering you. I will be fully present, clothed, and meeting you at your comfort level. All are welcome.
My approach has been informed by my own healing journey from decades of being misinformed and wounded from childhood sexual trauma.  I have found courage and peace with the use of mindfulness and somatic practices.  I work privately with individuals or couples and facilitate group workshops on embodiment and intimacy, as well as, boundary and consent work based on Dr. Betty Martin's wheel of consent model.
When not in session, I do martial arts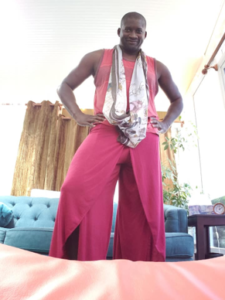 My Key Offerings:
Rainbow rub:  A sexual meditation that is helpful with finding pleasure, relaxation, and mental clarity 
Ecstatic Dance Massage – A fusion of movement and massage while on a massage table.
Pleasure mapping – Embark on an intentional journey of your own pleasure.  Increase your pleasure through exploring what you like.
Dating & Relationship Coaching – Feeling stuck or unhappy with
your dating and relationship life.  Let's talk and practice strategies to help you get what you want.
Rosebud massage – A massage that focus on increasing relaxation and curiosity about the anal area.
I tailor my offerings to the needs of the client.  Let's talk and see how I can assist you on your journey to celebrate your body!
 Rates:  $100 per 90 min session.  If you are in an economic hardship, please talk to me and I will work with you.  Don't let money keep you away from the care you need.
Source: eastonmountain.secure.retreat.guru
Reviews
Write a review - tell others about your experience.